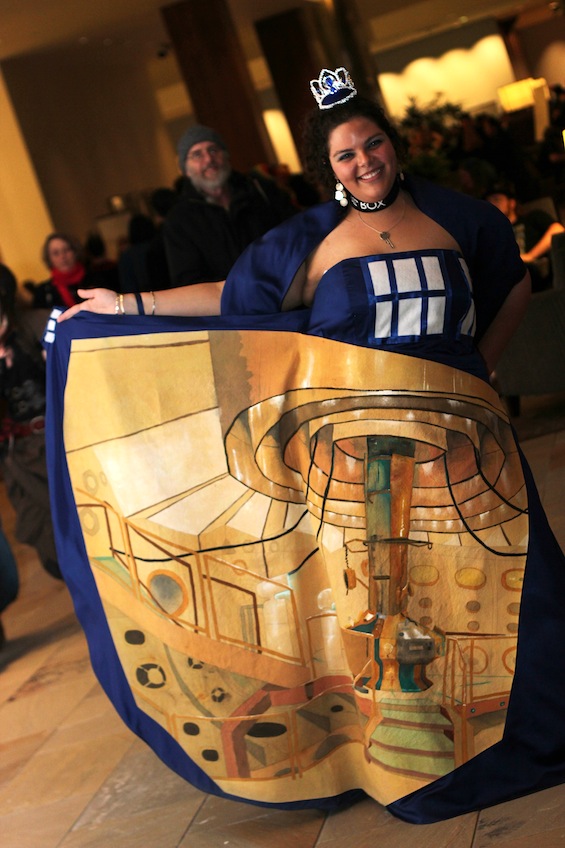 (larger at io9)
Merrick here...

...with a look at The Twin Dilemma, a four part Colin Baker DOCTOR WHO adventure first transmitted March 1984. This marks C. Baker's first full appearance as the Doctor (who regenerated from Peter Davison's incarnation at the conclusion of the previous episode), and to many viewers denotes one of the most desperate, profoundly low points in the 50 year history of the show. Is it? More below.

But first...
IN CASE YOU MISSED IT: AN ADVENTURE IN TIME AND SPACE DOCUDRAMA CASTING ANNOUNCED!!
We've previously reported on AN ADVENTURE IN SPACE AND TIME, and upcoming TV movie dramatization of behind the scenes machinations, trials, and triumphs during DOCTOR WHO's formative years.
At long last, we're getting further details about the project, which'll be scripted by actor/writer Mark Gatiss - frequent author on Steven Moffat's contemporary DOCTOR WHO series, and a writer/co-creator of the magnificent SHERLOCK (also alongside Moffat).
Per THIS piece at BBC, David Bradley will portray William Hartnell, the first-ever 'Doctor' who was cast against type. Bradley recently appeared as thoroughly douchey intergalactic mercenary/opportunist Solomon in a seventh Season/Series DOCTOR WHO episode called Dinosaurs on a Spaceship, likely my favrorite S7 stories thus far. You may also recognize him as Argus Filch in the HARRY POTTER films.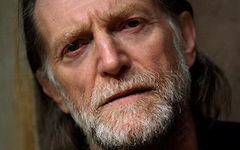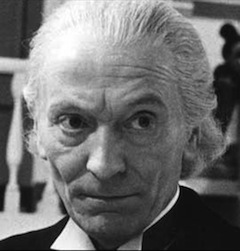 (l - David Bradley, r - William Hartnel)
Jessica Raine (THE WOMAN IN BLACK and Ridley Scott's ROBIN HOOD) will portray Verity Lambert, DOCTOR WHOs visionary producer. At the time she was BBC's first female producer, as well as being the network's youngest producer. She also had a vision for the show's outside-of-the-box theme music, which would ultimately develop into the now iconic tune brought to us composer Ron Grainier and BBC Radiophonic Workshop's Delia Derbyshire.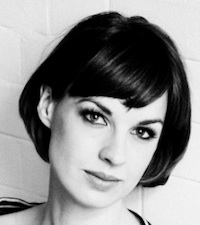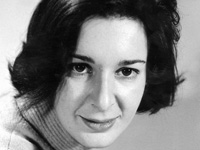 (l - Jessica Raine, r- Verity Lambert)
Sacha Dhawan is the great Waris Hussein - director of DOCTOR WHO's very first episode and integral in bringing the overall series shape. Dhawan previously appeared on BEING HUMAN and OUTSOURCED.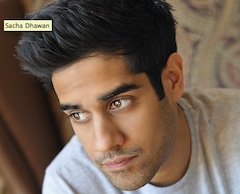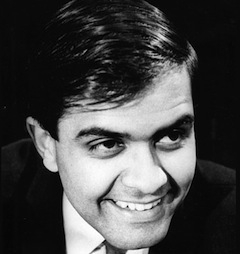 (l - Sacha Dhawan, r - Waris Hussein)
BBC Head of Drama, Sidney Newman, will be played by Brian Cox. Newman is essentially the "creator" of DOCTOR WHO, although its ultimate form was shaped and filtered by a number of other factors and persons (including the ones mentioned above).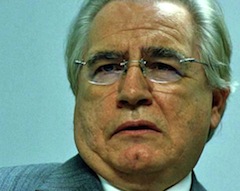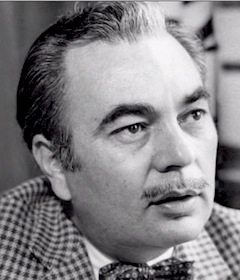 (l- Brian Cox, l - Sidney Newman)
AN ADVENTURE IN TIME AND SPACE is directed by Terry McDonough (BREAKING BAD) and Executive Produced by Steven Moffat. BBC America will co-produce, per this press release...
BBC AMERICA TO CO-PRODUCE AN ADVENTURE IN SPACE AND TIME

TO MARK DOCTOR WHO'S 50TH ANNIVERSARY

Harry Potter's David Bradley, Call the Midwife's Jessica Raine and The Bourne Supremacy's Brian Cox to star

BBC AMERICA will co-produce and premiere An Adventure in Space and Time as part of the channel's celebrations to mark the 50th anniversary of Doctor Who. AnAdventure in Space and Time will tell the story of the genesis of Doctor Who – which first aired on November 23, 1963 - and the many personalities involved.

Announced today, David Bradley (Harry Potter) is set to play the first ever Doctor, the iconic William Hartnell, in the drama written by Mark Gatiss (Sherlock, Doctor Who), who will also serve as executive producer alongside Steven Moffat (Doctor Who, Sherlock) and Caroline Skinner (Doctor Who, The Fades). An Adventure in Spaceand Time (1x90) is a co-production between BBC Cymru Wales and BBC AMERICA. The drama will premiere later this year on BBC AMERICA.

The BBC's Head of Drama Sydney Newman, credited with the creation of the show, will be portrayed by Brian Cox (The Bourne Supremacy, Bourne Identity) and the producer, Verity Lambert, by Jessica Raine (Call the Midwife). The director of the first ever episode An Unearthly Child, Waris Hussein, will be played by Sacha Dhawan (History Boys, Last Tango In Halifax).

Mark Gatiss, writer and executive producer said: "What a cast! I'm utterly delighted that everyone's favorite Time Lord will be in such brilliant and stellar company. We have a terrific team who can't wait to tell the fascinating and surprising story of how the Doctor began his journey through Space and Time."

Richard De Croce, SVP Programming, BBC AMERICA added: "We're excited to work with BBC Cymru Wales on this co-production, allowing us to bring An Adventurein Space and Time to Doctor Who fans on both sides of the pond. Mark and the talented team behind the project are sure to create a special that will delight audiences while commemorating this incredible series' 50th anniversary."

Commenting on his upcoming role, David Bradley said, "I'm absolutely thrilled. I first heard about this role from Mark while watching the Diamond Jubilee flotilla from the roof of the National Theatre. When he asked if I would be interested, I almost bit his hand off! Mark has written such a wonderful script not only about the birth of a cultural phenomenon, but a moment in television's history. William Hartnell was one of the finest character actors of our time and as a fan I want to make sure that I do him justice. I'm so looking forward to getting started."

An Adventure in Space and Time is a co-production between BBC Cymru Wales and BBC AMERICA. Filming begins at the beginning of February at BBC's Television Centre in London before moving to Wimbledon Studios. The drama is produced by Matt Strevens (Misfits, Skins) and directed by Terry McDonough (Breaking Bad, The Street).

Doctor Who recently delivered record ratings for BBC AMERICA when the Christmas Day special Doctor Who: The Snowmen became the channel's best ever telecast indemo, delivering 2.4 million total viewers and 1.3 million A25-54 in Live+7, rounding out a year of success. Doctor Who returns on March 30 as part of BBC AMERICA's Supernatural Saturday programming block, alongside world premieres of new original series The Nerdist and Orphan Black.
Rather amazing casting, from a physical/lookalike perspective at least. I'm very, very interested to see how this project shakes out. The genesis of DOCTOR WHO is tremendously interesting - and should prove a compelling insight into both industry and creative processes when all is said and done.
More as we know more...
HORNORSILK DISCUSSES 'THE WRONG DOCTORS' BIG FINISH AUDIO...
As mentioned last week, we're hoping to make reader reviews/discussion of stuff like DOCTOR WHO books, audios, and comics a regular (or at least ongoing) feature here on the Docback. A number of folks have written about contributing...and if you have, please know that I'll get back to you very shortly.
Up this week is Docbacker HornOrSilk, who looks at The Wrong Doctors. He'll next be bringing us insight into The Auntie Matter. I very much appreciate HornOrSilk's time and look forward to whatever he has for us next.
=================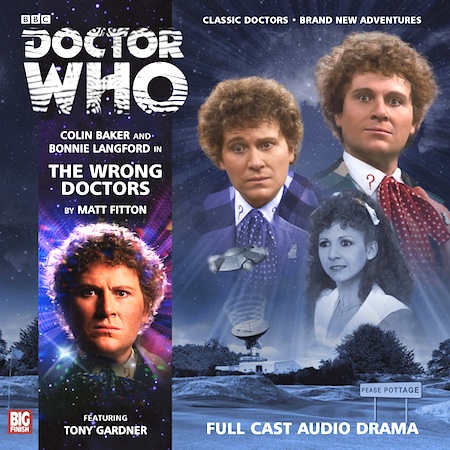 If you do not know much about the history of Doctor Who, and especially The Trial of a Time Lord, let me give a one word review for The Wrong Doctors which you can read and take and skip over the rest if you don't want to be spoiled: EXCELLENT.
Now, the spoiler is very, very minor but it deals with the setup for The Wrong Doctors. At the end of his Trial, the Doctor, who had not yet met Mel (Melanie) Bush in his timeline, was to find himself having to take her aboard his TARDIS, giving him a premonition of a companion he would one day meet. This has caused all kinds of problems for the Doctor Who universe, and many have speculated as to how that worked out. The Wrong Doctors is Big Finish's attempt to do this. And it is an excellent attempt, full of humor, mystery, time paradoxes, two versions of the Sixth Doctor, and two versions of Mel.
That's right. Two Mels. For all of you Mel haters – shame on you! I understand her character was not the best executed companion on screen, but, as with much in this era, I always felt as a problem with the production of the show and not with Bonnie Langford.
The Sixth Doctor, after the trial, decides to take Mel back to her home, believing his future self would be able to come and pick her up afterward. But, another version of the Doctor, one who just lost Evelyn Smythe's companionship, decide it is time for him to face the inevitable and finally have his "first" meeting with Mel. Why didn't the later version of the Doctor know this would be a problem? As it turns out, Mel's home has become a place where time has been cauterized and its own separate little bubble of existence. The later version of the Doctor only remembers what happened after it has happened to the earlier version, similar to what we see in Looper. The two versions of the Doctor are different: we have the younger, brasher Doctor, and the older, more tamed Doctor with his "indigo" coat. We have two versions of Mel: one who does not know the Doctor, and one who is being dropped back home after being a witness for the Doctor at his trial.
Now, I do not want to ruin the story, its twists and turns, too much. Obviously something is going astray to caused "cauterized" time. And obviously the doubling of Mel is central to this. In Mel's home of Pease Pottage, the cauterized time has led to a place with people and creatures from all of time interacting with each other. The older Mel is just as confused as both Doctors as to what is going on. Will the Doctor be able to figure it out in time, and fix everything so that Pease Pottage and Mel will go back to normal?
This is really an excellent Big Finish story. It's the kind of story which keep me listening to the audios and makes up for those which I think are a bit dull. It highlights, in a creative way, Sixth Doctor, and the kinds of changes he went through between television and the audio adventures. And the Doctors interact with each other, with the younger, brasher Doctor often frustrated that he can't take the lead because he knows his future self is more experienced and capable than he. The interactions are just as funny as one would expect, and they go not only with the Doctors, but with both Doctors interacting with both Mels. At times, only at times, one could get confused as to which Doctor was which, especially when they were talking to each other. You do have to pay attention with this story. But it is worth it. Though no story is perfect (I dislike Mel singing peas porridge hot, peas porridge cold), I would give this one 10/10, with most of the parts, and the whole, being superb.
If you have not listened to Big Finish audios before, I think you should be able to follow this one, despite the fact that one of the Doctors is grieving over the loss of a companion you know nothing about.
- HornOrSilk
=================
The Twin Dilemma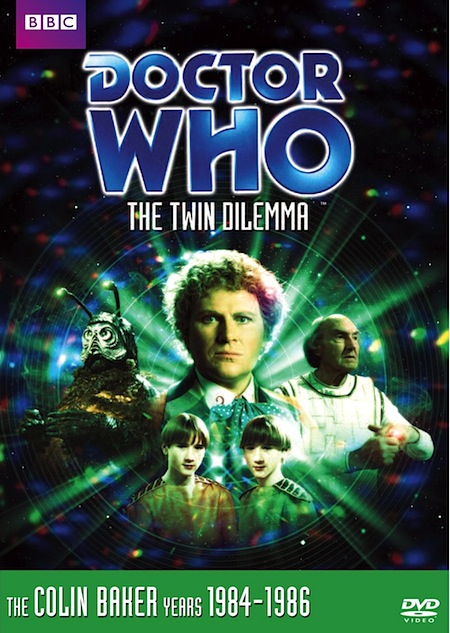 "What we need is a cave - some utterly comfortless place - where you and I can suffer together..." - the Doctor, The Twin Dilemma Episode One


Dangerously intelligent kids named Romulus and Remus (Gavin and Andrew Conrad, respectively) - dweeby math geniuses wearing tiredly futuristic clothes and sporting criminally inadequate Medieval peasant haircuts - are kidnapped by a bored-seeming and uninvested old guy (Maurice Denham), and not very interesting stuff happens. Slowly.




One of the very first things Docbackers warned me about when I announced my intent to explore the entirety of 'classic' DOCTOR WHO episodes was...The Twin Dilemma. The amount of vitriol and hostility heaped upon this story far surpasses the warnings and qualifications similarly afforded a multitude of other, lesser episodes. There are a number of DW stories many people don't like very much, but invariably there's that one voice...somewhere...via e-mail, on the Docbacks...or amongst friends...who defends such stories. One voice which says, "Wait a minute...story "X" isn't totally shitty, and here's why..."

Not so with The Twin Dilemma. In my past few years of DOCTOR WHO viewing, nobody has defended it and no one has even come close to presenting as being anything short of deplorable. And, despite some promising concepts and movements, such assessments would be wholly correct.

When going in, even suspecting that TTD is an High-Yield Atomic Stinkbomb can not prepare a viewer for the multitude of sins this episode commits. As a DOCTOR WHO tale, there are a few vaguely interesting conceits herein. One of the overarching plot points involves a conspiracy to physically move planets, and touches on the troubles of actually doing so - which is kind of cool. The concept that twins Romulus and Remus are needed for their ability to more clearly intuit math and science is also rather sharp. But none of these gags are realized to any rewarding extent. Little here pays off. The Twin Dilemma takes a very, very long time to travel very short distances, and the destination upon our arrival is invariably lackluster at best...if it's even comprehensible at all.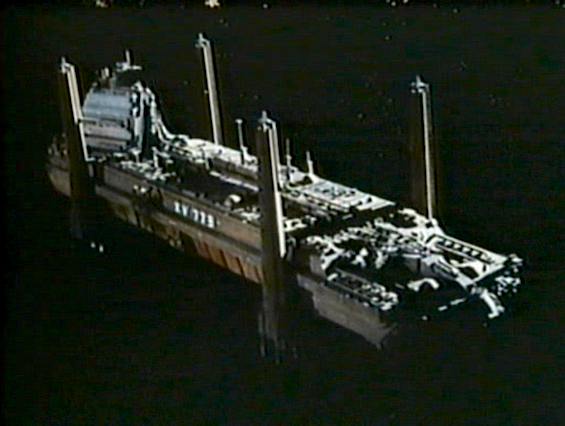 Some of TDD's model work, especially planet sequence featuring take-offs and landings, is not to bad at all.


Scripter Anthony Steven provides enough universe to for a diverse, fun, and interesting template (conniving alien kidnappers, space police in cool(ish) space fighters, etc). Yet, under the the direction of Peter Moffatt (The Five Doctors , Davison # 129), The Twin Dilemma emerges as limply assembled, tediously paced, and gratingly executed. Even the most brilliant DOCTOR WHO script ever written (which this is decidedly not) couldn't escape the aggressive gravity well of Moffat's flaccid style, and Ian McKendrick's doddering cutting. The pair realize Steven's script with criminally indifferent meandering and unwavering lifelessness. There is no energy evident on screen here, and performers seem neither convinced or invested in what they're doing (except for C. Baker...more on this below). Aliens look often convey as more slipshod and less convincing than the earlier years of the show...even two decades previously.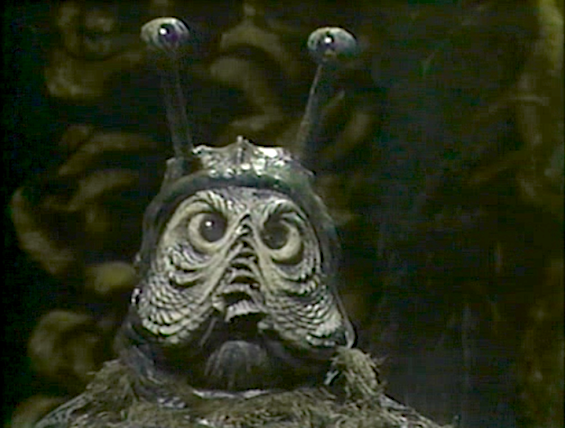 One would think that...given this is the first full adventure of C. Baker's Doctor, a higher-than-average degree of effort would've been extended to defining his inaugural story in some way that mattered - in some way which rendered his first bow memorable or distinctive. The Twin Dilemma's only distinction is that it may very well be the most roundly inadequate DOCTOR WHO TV story ever produced.
It's an affront to C. Baker, who tries, so, SO hard here...and an insult to DW in general. At times, it almost feels as if those involved had thrown their towels in long before this story went before cameras. Almost as if they were determined to abuse The Twin Dilemma into being all the things naysayers vocally hate about DOCTOR WHO. Whether intentional or not, TTD often feels like a deliberate assassination of a show, and a concentrated effort to undermine its new lead's vast potential.
Its new lead...

I've yet to be exposed to many C. Baker episodes, but I very much enjoyed his take on the Doctor in episodes like Venegance on Varos (C. Baker, Story #138). Here, C. Baker's attempt to shape and define the character he'd eventually grow into presents TDD's best and most inspired material.

C. Baker's Doctor is immediately self-absorbed, self-congratulatory, misogynistic as hell, and also dangerously imbalanced...essentially manifesting PTSD symptoms he describes as the "side-effects" of his "swift but volcanic" regeneration, and suffering psychotically paranoid episode which at one point drives him to assault companion Peri (Nicola Bryant). Where Matt Smith's 11th Doctor giddily discovered fish fingers and custard upon his regeneration, C. Baker's Doctor is a nut job when he wakes up - a bit bipolar, and very dangerous.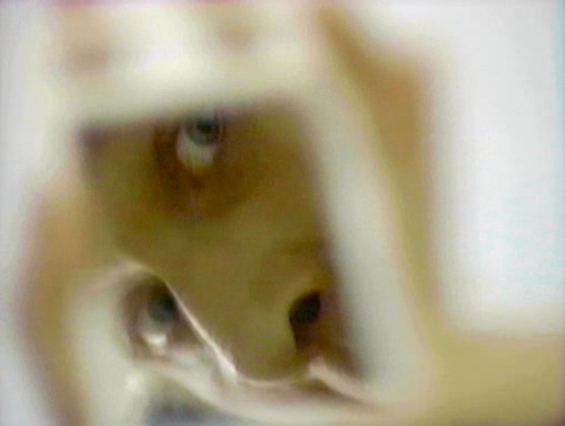 During his vicious attack on companion Peri, the Doctor catches his reflection and realizes his true nature...
This ties into a theory I have about his overall performance of the Doctor. If The Twin Dilemma serves any purpose at all other than being a verifiably non-addictive sleep aid, it's that it lays the ground work for C. Baker's two year tenure. In fact, I'm wondering if much of his Doctor's character definition was built around holdovers from the rocky regeneration illustrated herein. I.e...perhaps he was a Doctor who was damaged at birth?

I fully note C. Baker's Doctor is not everyone's 'cup of tea'- and I have a theory on why this might be the case. C. Baker realizes the Doctor's insufferable qualities perhaps far more convincingly than many of (any of?) the other actors who have played the part. Most (all?) other Doctors also brought with them some level of charm...which C. Baker certainly has, too, with those curly locks and disarming grin and wonderfully soft-spoken moments. But his grating and arrogant qualities, also evident in all Doctors before and since C. Baker, feel more real in him. More amplified, and are even unnerving. More alienating. When C. Baker spins his role this way - he's almost smarmy, distancing. Unlikable. Bringing about a brilliant duality (or multiplicity) which is tremendously risky for the performer, but still suits the character wonderfully and appropriately. With C. Baker, the Doctor's irascibility and smugness are not usually cute or exasperating, as is the case with so many other takes on the character. C. Baker goes in for the kill...commits to that side of the Doctor fully...and I believe this pushes some viewers away from him. They don't like him because C. Baker's Doctor was never designed to be entirely likable. I'm not sure if this iteration of the character could ever be entirely likable. In this context, C. Baker's performance might be seen as visionary, and perhaps even brilliant. Just thinking aloud here, but I think there might be something to this...

For The Twin Dilemma, there are no ultimate excuses - although I've no doubt there are ample explanation. Colin Baker and the model makers give it their all, but who the hell knows what everyone else was doing or thinking. When all is said and done, we can only judge art on the merits of the end product we see before us. And here, regardless of however such an abomination came about, the judgement can be nothing less than 'disgraceful' and 'pitiful.'
The Twin Dilemma is available HERE in the US and HERE in the UK.
-------------------
Glen Oliver
"Merrick"
- e-mail
- Twitter
- Google +
[[[[[ A LIST OF PREVIOUS DOCBACKS CAN BE FOUND HERE!! ]]]]]
DOCBACK CODE OF CONDUCT
1) a Docback should be about completely open and free discourse regarding all things WHO with, obviously, some variation on subject matter from time to time - the real world intervenes, discussions of other shows are inevitable, etc.)...

2) matters of SPOILAGE should be handled with thoughtful consideration and sensitivity. Posts containing SPOILERS should clearly state that a SPOILER exists in its topic/headline and should never state the spoiler itself . "** SPOILER ** Regarding Rory" is OK, for example. "** SPOILER ** Battle of Zarathustra" is fine as well. " **SPOILER** Why did everyone die?" Is NOT good.
And, above all...

3) converse, agree, disagree, and question as much as you want - but the freedom to do so is NOT a license to be rude, crass, disrespectful, or uncivilized in any way. Not remaining courteous and civil, as well as TROLLING or undertaking sensational efforts to ignite controversy, will result in banning. Lack of courtesy may receive one (1) warning before a ban is instigated. Obvious Trolling or Spamming will result in summary banning with no warning. One word posts intended to bump-up any Docback's figures on AICN's "Top Talkbacks" sidebar will be considered actionable Spam - they not only complicate efforts to access Docback from mobile devices, but impede readers' abilities to follow or engage in flowing conversation.
In short, it's easy. Be excellent to each other. Now party on...