We've previously reported on AN ADVENTURE IN SPACE AND TIME, and upcoming TV movie dramatization of behind the scenes machinations, trials, and triumphs during DOCTOR WHO's formative years.
At long last, we're getting further details about the project, which'll be scripted by actor/writer Mark Gatiss - frequent author on Steven Moffat's contemporary DOCTOR WHO series, and a writer/co-creator of the magnificent SHERLOCK (also alongside Moffat).
Per THIS piece at BBC, David Bradley will portray William Hartnell, the first-ever 'Doctor' who was cast against type. Bradley recently appeared as thoroughly douchey intergalactic mercenary/opportunist Solomon in a seventh Season/Series DOCTOR WHO episode called Dinosaurs on a Spaceship, likely my favrorite S7 stories thus far. You may also recognize him as Argus Filch in the HARRY POTTER films.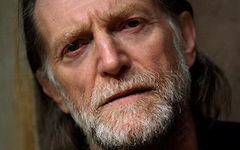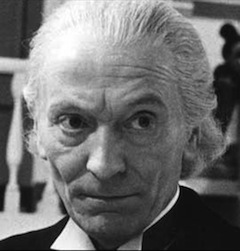 (l - David Bradley, r - William Hartnel)
Jessica Raine (THE WOMAN IN BLACK and Ridley Scott's ROBIN HOOD) will portray Verity Lambert, DOCTOR WHOs visionary producer. At the time she was BBC's first female producer, as well as being the network's youngest producer. She also had a vision for the show's outside-of-the-box theme music, which would ultimately develop into the now iconic tune brought to us composer Ron Grainier and BBC Radiophonic Workshop's Delia Derbyshire.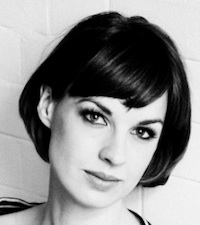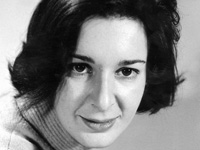 (l - Jessica Raine, r- Verity Lambert)
Sacha Dhawan is the great Waris Hussein - director of DOCTOR WHO's very first episode and integral in bringing the overall series shape. Dhawan previously appeared on BEING HUMAN and OUTSOURCED.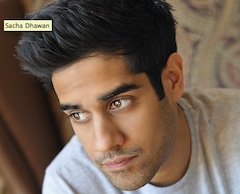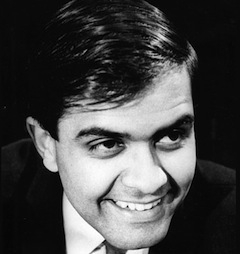 (l - Sacha Dhawan, r - Waris Hussein)
BBC Head of Drama, Sidney Newman, will be played by Brain Cox. Newman is essentially the "creator" of DOCTOR WHO, although its ultimate form was shaped and filtered by a number of other factors and persons (including the ones mentioned above).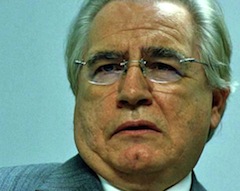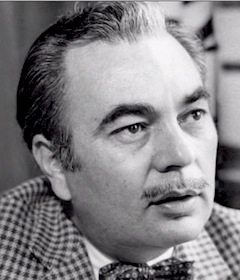 (l- Brian Cox, l - Sidney Newman)
AN ADVENTURE IN TIME AND SPACE is directed by Terry McDonough (BREAKING BAD) and Executive Produced by Steven Moffat. BBC America will co-produce, per this press release...
BBC AMERICA TO CO-PRODUCE AN ADVENTURE IN SPACE AND TIME

TO MARK DOCTOR WHO'S 50TH ANNIVERSARY

Harry Potter's David Bradley, Call the Midwife's Jessica Raine and The Bourne Supremacy's Brian Cox to star

BBC AMERICA will co-produce and premiere An Adventure in Space and Time as part of the channel's celebrations to mark the 50th anniversary of Doctor Who. AnAdventure in Space and Time will tell the story of the genesis of Doctor Who – which first aired on November 23, 1963 - and the many personalities involved.

Announced today, David Bradley (Harry Potter) is set to play the first ever Doctor, the iconic William Hartnell, in the drama written by Mark Gatiss (Sherlock, Doctor Who), who will also serve as executive producer alongside Steven Moffat (Doctor Who, Sherlock) and Caroline Skinner (Doctor Who, The Fades). An Adventure in Spaceand Time (1x90) is a co-production between BBC Cymru Wales and BBC AMERICA. The drama will premiere later this year on BBC AMERICA.

The BBC's Head of Drama Sydney Newman, credited with the creation of the show, will be portrayed by Brian Cox (The Bourne Supremacy, Bourne Identity) and the producer, Verity Lambert, by Jessica Raine (Call the Midwife). The director of the first ever episode An Unearthly Child, Waris Hussein, will be played by Sacha Dhawan (History Boys, Last Tango In Halifax).

Mark Gatiss, writer and executive producer said: "What a cast! I'm utterly delighted that everyone's favorite Time Lord will be in such brilliant and stellar company. We have a terrific team who can't wait to tell the fascinating and surprising story of how the Doctor began his journey through Space and Time."

Richard De Croce, SVP Programming, BBC AMERICA added: "We're excited to work with BBC Cymru Wales on this co-production, allowing us to bring An Adventurein Space and Time to Doctor Who fans on both sides of the pond. Mark and the talented team behind the project are sure to create a special that will delight audiences while commemorating this incredible series' 50th anniversary."

Commenting on his upcoming role, David Bradley said, "I'm absolutely thrilled. I first heard about this role from Mark while watching the Diamond Jubilee flotilla from the roof of the National Theatre. When he asked if I would be interested, I almost bit his hand off! Mark has written such a wonderful script not only about the birth of a cultural phenomenon, but a moment in television's history. William Hartnell was one of the finest character actors of our time and as a fan I want to make sure that I do him justice. I'm so looking forward to getting started."

An Adventure in Space and Time is a co-production between BBC Cymru Wales and BBC AMERICA. Filming begins at the beginning of February at BBC's Television Centre in London before moving to Wimbledon Studios. The drama is produced by Matt Strevens (Misfits, Skins) and directed by Terry McDonough (Breaking Bad, The Street).

Doctor Who recently delivered record ratings for BBC AMERICA when the Christmas Day special Doctor Who: The Snowmen became the channel's best ever telecast indemo, delivering 2.4 million total viewers and 1.3 million A25-54 in Live+7, rounding out a year of success. Doctor Who returns on March 30 as part of BBC AMERICA's Supernatural Saturday programming block, alongside world premieres of new original series The Nerdist and Orphan Black.
Rather amazing casting, from a physical/lookalike perspective at least. I'm very, very interested to see how this project shakes out. The genesis of DOCTOR WHO is tremendously interesting - and should prove a compelling insight into both industry and creative processes when all is said and done. More as we know more...
_________