Merrick here...

...with a Docback of a slightly different nature.

Some interesting newsbits have come our way this week - many of them have yet to appear on our site (although they may've been alluded to in other non-Docback Talkbacks). As such, we'll touch and those items herein, as well as introducing a new...ongoing?...feature I truly hope you'll enjoy.

So here we go...
UPCOMING DOCTOR WHO TOY RELEASES TEASED

TheDoctorWhoSite has some interesting images of upcoming DOCTOR WHO toy product, evidently nabbed during the recent Toy Fair. Click any image to jump to a gallery of more.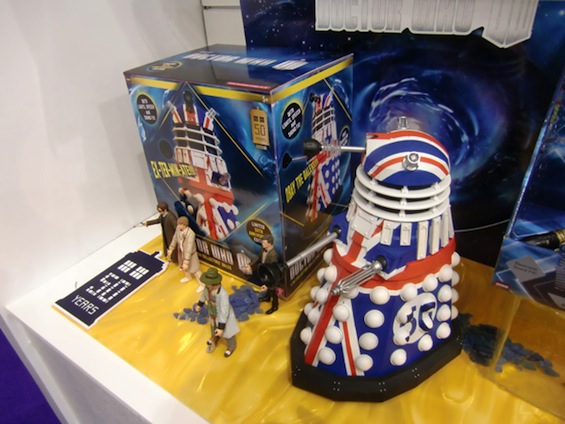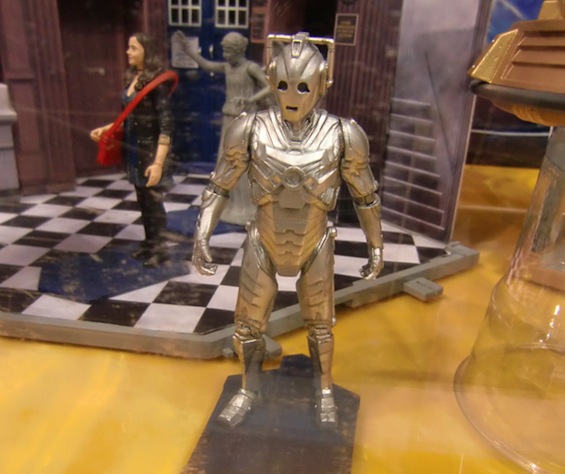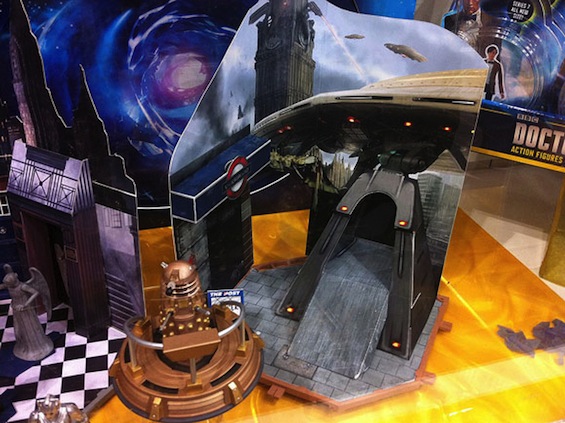 As utterly dopey as it it...and it is rather ludicrous, when one thinks about it...I truly love that 50th Anniversary Dalek and simply must get my hands on one. ANNNNDDDDD, it looks like we'll be getting a Jenna-Louise Coleman figure.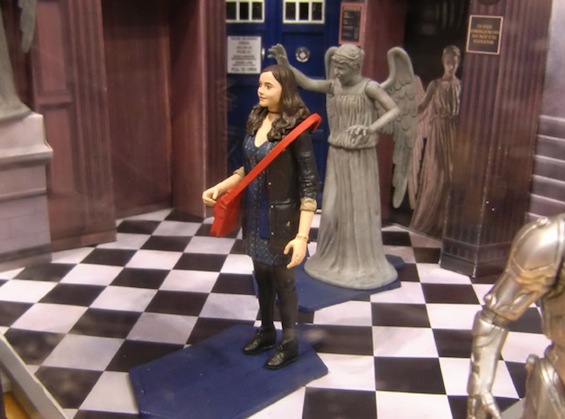 I don't even want to think about what many male viewers will be doing with/to those poor figures. Of course, why did such impure thoughts spring to my mind? That Dalek playset is interesting. Is it from a previous DOCTOR WHO story I've yet to see? Is it from an upcoming tale? Or is it a stand-alone toy not directly related to any episode?
A huge, heartfelt, and belated thanks...by the way...to the wonderful readers who've contacted me offering to help me get the forthcoming DOCTOR WHO Anniversary Stamps. I truly appreciate the outreach and will be in touch with you shortly.
Thanks to John Ary - a good friend and a great man - for pointing us towards the toy images.
A BBC BANNER REVEALS THE 50th ANNIVERSARY SCHEDULE

As many readers already know, 2013 denotes DOCTOR WHO's 50th Anniversary. One of the biggest questions of the past many months has been: 'what type of special programing might BBC have in store for us...to mark such an unlikely, momentous milestone?'
This week, we're finally getting a better sense of upcoming WHOlebration programing. Docback reader @pakazmir called my attention to the following banner...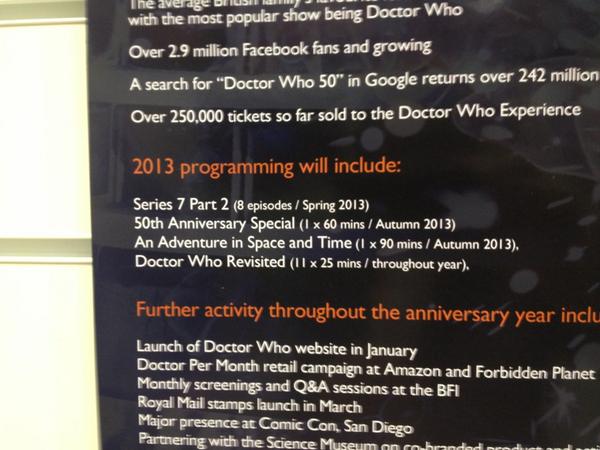 ...which appears on the DoctorWhoTV site. In case you can't make out the banner, it specifically indicates (per DWTV):
The 2013 line-up:


Series 7 Part 2 (8 Episodes / Spring 2013)
50th Anniversary Special (1 x 60 minutes / Autumn 2013)
An Adventure in Space and Time (1 x 90 minutes / Autumn 2013)
Doctor Who Revisited (11 x 25 minutes / throughout year)
Doctor Who Revisited refers to the BBC America specials to coincide with the premieres of classic stories. They are showing one story from each Doctor, beginning 27th January with Hartnell story The Aztecs.

Further activity throughout the year:

Launch of Doctor Who website in January
Doctor per month retail campaign on Amazon and Forbidden Planet
Monthly BFI screenings and Q&A sesssions at BFI
Royal Mail stamps in March
Major presence at Comic Con, San Diego
Partnering with the Science museum on co-branded pro


Note that the banner specifies "2013 programing will include" - which, by inference, means "including, but not limited to..." I hope this is the case, as the pickings thus far appear rather unremarkable and paltry at face value.

That AN ADVENTURE IN TIME AND SPACE special is one we've previously reported on - it's a dram about the formative years of DOCTOR WHO as a show, scripted by Mark Gatiss. You can find refresher details HERE.

Note that the DWTV piece also features a few more toy shots.
DOCTOR WHO REVISITED BEGINS ON BBC AMERICA THIS WEEKEND

As mentioned above, one of the 50th Anniversary plans calls for a sequence of shows called DOCTOR WHO Revisited - which'll revisit classic episodes, one Doctor a month, once a month.

Interestingly, this is the exact same plan we were planning to follow for our ongoing theatrical screening series this year (we were to screen stories representing a different Doctor a month throughout 2013) - a design which was later altered. I learned about the DOCTOR WHO Revisited plans a few days alter - so I'm guessing it has something to do with the change in plans...
DOCTOR WHO Revisited begins with The Aztecs (Hartnell, Sotry #6) on BBC America this Sunday.
SPEAKING OF CLASSIC EPISODES REVISITED...

BFI is hosting an ongoing series of panels examining the history of DOCTOR WHO. The first of these sessions examines An Unearthly Child (Hartnell, Story #1). The panels are embedded below for your consideration...look for Mark Gattss (a scripter on current WHO and co-creator & a writer on SHERLOCK), Unearthly Child director director Waris Hussein (who was also instrumental in the formation of early WHO), Carole Ann Ford (the first Doctor's granddaughter, Susan), William Russell (first Doctor companion Ian), and more. Very interesting stuff...check out these embeds, via BFI's YouTube channel.
DOCTOR WHO SEASON/SERIES 7 RETURNS MARCH 30
Earlier this week, BBC/BBC America announced that the second wave of Season/Series 7 episodes would resume March 30 with a Steven Moffat scripted episode.

DOCBACKER HONORSILK TEASES HIS UPCOMING BIG FINISH WRITE-UPS

If you've read Docbacks over the past few weeks, you may recall that we've been looking to launch an ongoing/occasional-to-regular series of explorations of DOCTOR WHO stories which aren't exclusively visual in nature: i.e. the various novels that are out there, the number of audio adventures that are available, etc.
Towards this end, one of our contributors will be HornOrSilk, a long-time Docbacker whose discussions in our forum I have very much enjoyed over the years. HornOrSilk's copy of the newly issued The Wrong Doctors audio didn't arrive in time for him to fullly write it up, but that review is coming...and he wanted to set-up said review with a brief introduction to Big Finnish audios.
Interestingly, many folks are still not aware of Big Finnish audios - I'll confess to knowing little-to-nothing about them myself when I first undertook our Docback adventure. As such, I think this intro is a fine notion...and a nifty little primer for what's to come.
Here's HornOrSilk...


=======================

For those who are unfamiliar with Big Finish, let me give you a brief overview of what Big Finish does and why it has achieved a significant place in Doctor Who fandom.

In 1989, classic-era Doctor Who had its last televised story with the story Survival. The story of the Seventh Doctor and Ace felt like it was just beginning and yet the series ended. Within a couple years, Virgin Books was given permission to continue the story, to provide "current Doctor Who" stories. The novels were more "mature" in style. While many Doctor Who greats produced excellent stories, there was something missing – Doctor Who was meant to be performed and not just read.

In 1996, the Seventh Doctor's reign ended with the Fox Televised Movie with Paul McGann. The story wasn't the greatest, but the 8th Doctor had potential. It looked like Doctor Who was coming back, but, in the end, it did not. But something happened as a result: the BBC took more interest in Doctor Who, took back the book rights, leaving Virgin Books with Paul Cornell's creation, Benny Summerfield, as their main series. Benny was the 7thDoctor's first companion after Ace, and she proved to be quite popular.

Big Finish wanted to do Doctor Who audios with classic Doctor Who actors. To convince the BBC to give them the rights to do this, they produced Benny Summerfield audios, showing the production values their recordings were to have. The BBC was convinced and gave them the rights to Doctor Who.

Initially Peter Davison, Colin Baker and Sylvester McCoy signed on to do more stories with their respective Doctors. The first story was a multi-Doctor story, the Sirens of Time, which came out in 1999. Originally, Big Finish planned to release an audio story every other month, but they quickly were able to speed production and do one every month (and later, several stories a month as they produced more and more Doctor Who related series).

The success of their audio range allowed Big Finish to recruit Paul McGann to do audio stories, giving life to the 8th Doctor. The first story, Storm Warning, came out in 2001, giving Big Finish the feel that they were giving the authentic continuation of Doctor Who. Until the BBC produced New Who, Big Finish was the closest thing Doctor Who fans had to a continuing, new storyline with Paul McGann given a chance to be "the current Doctor" for several years.

Big Finish audios are radio plays. Though there are side series which are more like spoken audio books, for the main range, the stories are like radio dramas of old. They have produced a great number of audios, some which I consider to be very some, some of which I find very dull. What I like often differs from what others like. With the number of stories which have come out, it might seem difficult for a new listener to know where to start. Obviously, one can try with the current monthly audio series, but there is no guarantee as to the quality of the story which is to come. Nonetheless, I think the following stories are good, and worthwhile and can be listened to without much difficulty:



5th Doctor

Spare Parts
Loups Garoux
The Eye of the Scorpion




6th Doctor

The Marian Conspiracy
Project Twilight
Davros



7th Doctor

Bang-Bang a Boom
The Harvest
Protect and Survive



8th Doctor

Storm Warning
Seasons of Fear
Company of Friends



There are many more one could suggest, but I wanted to give only three per Doctor. I will start doing occasional Big Finish reviews with the Sixth Doctor Story "The Wrong Doctors."


=======================


If you're interested in contributing write-ups and explorations of DOCTOR WHO books, audios, etc. - drop me a line! There's more than enough to go around, and even if titles end up being duplicated, consideration of differing perspectives is what out Docbacks are all about.

NEXT WEEK: Genesis of the Daleks (T. Baker, Story #78) - or maybe The Twin Dilemma (C. Baker, Story # 136 ). I haven't decided...but it'll be a Baker. Frankly, I'm guessing Twin Dilemma. It's been a super-bitch of a week, I hear nothing good about that story, and I'm feeling a tad masochistic.

Until then...






_________
Glen Oliver
"Merrick"
- e-mail
- Twitter
- Google +
[[[[[ A LIST OF PREVIOUS DOCBACKS CAN BE FOUND HERE!! ]]]]]
DOCBACK CODE OF CONDUCT
1) a Docback should be about completely open and free discourse regarding all things WHO with, obviously, some variation on subject matter from time to time - the real world intervenes, discussions of other shows are inevitable, etc.)...

2) matters of SPOILAGE should be handled with thoughtful consideration and sensitivity. Posts containing SPOILERS should clearly state that a SPOILER exists in its topic/headline and should never state the spoiler itself . "** SPOILER ** Regarding Rory" is OK, for example. "** SPOILER ** Battle of Zarathustra" is fine as well. " **SPOILER** Why did everyone die?" Is NOT good.
And, above all...

3) converse, agree, disagree, and question as much as you want - but the freedom to do so is NOT a license to be rude, crass, disrespectful, or uncivilized in any way. Not remaining courteous and civil, as well as TROLLING or undertaking sensational efforts to ignite controversy, will result in banning. Lack of courtesy may receive one (1) warning before a ban is instigated. Obvious Trolling or Spamming will result in summary banning with no warning. One word posts intended to bump-up any Docback's figures on AICN's "Top Talkbacks" sidebar will be considered actionable Spam - they not only complicate efforts to access Docback from mobile devices, but impede readers' abilities to follow or engage in flowing conversation.
In short, it's easy. Be excellent to each other. Now party on...