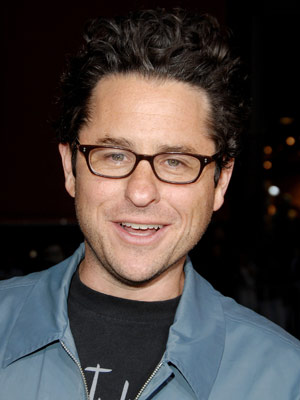 Beaks here...
It appears the aptly-named Lucas Shaw of The Wrap just broke the biggest geek story of the year. Citing "an individual with knowledge of the production", Shaw is reporting that J.J. Abrams is set to direct STAR WARS EPISODE VII.
If so... Hurray!
J.J. Abrams's affection for STAR WARS is well known. When he took on STAR TREK for Paramount, he never missed an opportunity to confess that STAR WARS was his true love. So now that he's applied the gee-whiz STAR WARS aesthetic to Gene Roddenberry's "WAGON TRAIN to the Stars", he's going to book first-class accommodations George Lucas's galaxy far, far away (working from a screenplay by TOY STORY 3's Michael Arndt).
What does this mean for STAR TREK? Well, I'm pretty sure STAR TREK INTO DARKNESS will mark Abrams's last time helming a film occuring in that universe. I'm confident he'll continue to produce those movies (should the series continue), but I can't imagine he'll have time to do much more than consult. The Orci & Kurtzman & Lindelof brain trust will probably stay in place, but your guess is as good as mine as to who will direct.
Back to STAR WARS... I think this might be the best-case scenario. When I visited Bad Robot's Santa Monica offices last December, I was impressed by the upbeat atmosphere that pervaded the place. Creatively, people seemed thoroughly engaged and just... happy. If Abrams takes that kind of energy with him to STAR WARS, he could very well come close to recapturing what we loved about the series in the first place - i.e. he'll make it fun again. Isn't that all we ever wanted from the prequels?
Interestingly, The Wrap is reporting that Ben Affleck was one of the other main candidates for the EPISODE VII gig. Fascinating to consider what might've been.
One last thing: Slashfilm's Germain Lussier and I spoke to Abrams off the record last month about STAR WARS. Even off the record, he betrayed nothing. We both walked away convinced he wasn't directing EPISODE VII. You're a crafty bastard, JJ. And now you own the STARs.
Update: Jose David Ortiz unveils the new STAR WARS logo!