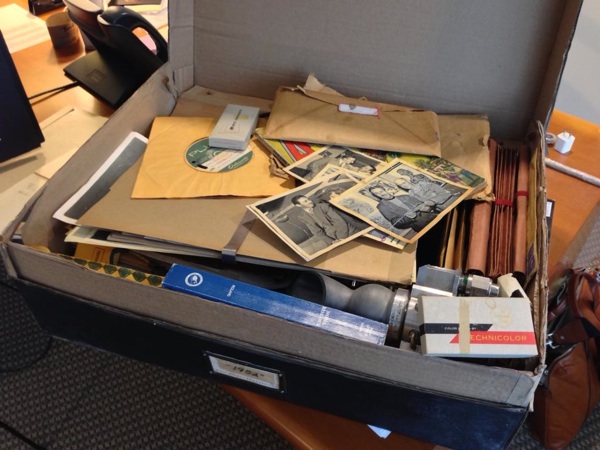 Beaks here...
Via Brad Bird, that's it up above: the contents of the box marked "1952" that Damon Lindelof allegedly discovered at Disney. These are the seeds of 1952, the mystery project Lindelof wrote for Bird to direct. George Clooney is attached to star. It's a very big deal. So what's it about?
Judging from the photographs of Walt Disney, those who speculated that it might center on the creation of Disneyland (which opened in 1955) could be onto something. But I'm more intrigued by that August 1928 issue of AMAZING STORIES buried under the pictures.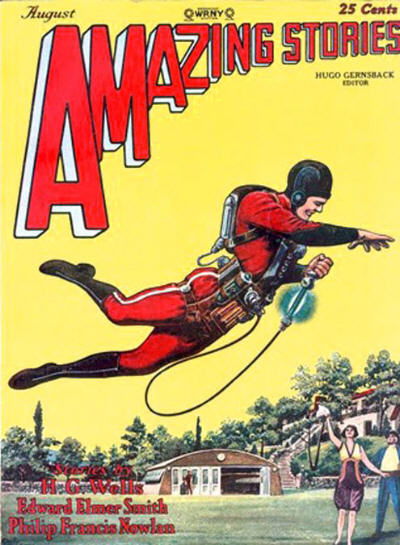 That's a very cool, Frank Paul-illustrated cover boasting stories from three of the most important science-fiction writers of all time: H.G. Wells, Edward Elmer "Doc" Smith (creator of the LENSMAN and SKYLARK series) and Philip Francis Nowlan, whose contribution to the above issue was a novella called "Armageddon 2419". The hero of Nowlan's tale is named Anthony Rogers, a World War I veteran working for the American Radioactive Gas Corporation. While investigating some strange occurrences in an abandoned Pennsylvania coal mine, Rogers gets exposed to radioactive gas, which causes him to fall into a state of suspended animation for 492 years. You're with me now, right? They'd change Anthony's name to "Buck" the following year.
Forty-nine years later, Buck Rogers would be cited as a huge influence on a certain space-bound saga that is now controlled by Disney.
I know, and, no, this isn't a sneaky way of announcing Bird and Lindelof as, respectively, the director and writer of STAR WARS: EPISODE VII. At least, I don't think it is. But the idea of controlling the rights to a creative property does come into play with another 1928 invention. Ever heard of Oswald, the Lucky Rabbit? He's a character created by Walt Disney and Ub Iwerks in 1927. The Oswald shorts were distributed by Universal, and were a near-immediate success. But when an emboldened Disney approached Universal for a budget increase, producer Charles B. Mintz basically said, "How 'bout I cut your pay by 20% and steal your entire animation staff?" Smarting from the loss of Oswald and his trusted collaborators, Disney asked Iwerks to create a new character, which he did. In November of 1928, they introduced him to an adoring public via a short titled "Steamboat Willie". The star of that short, Mickey Mouse, would become the most popular cartoon character in animation history, and the face of the Walt Disney Company.
If there's a direct connection between the August 1928 issue of AMAZING STORIES and Disney, I haven't found it yet. In fact, in the time it's taken me to research this little news item, I'm sure the hardcore Disney-philes have already beaten me to it. But my guess is that 1952 is some kind of Walt Disney biopic, and that Clooney will play Disney.
Postscript to the Oswald story: in 2006, when NBC was awarded the rights to Sunday Night Football by the NFL, the network desperately wanted broadcasting great Al Michaels to call play-by-play. Unfortunately, Michaels was under contract to ABC at the time. So the parent corporations, Universal and Disney, got to negotiating. Ultimately, NBC got Michaels and Disney got a sizable chunk of cash - and one more thing. They got Oswald.
Update: Zack Parks reminded me of SAVING MR. BANKS, the John Lee Hancock-directed film about P.L. Travers selling Disney the rights to MARY POPPINS. Tom Hanks plays Uncle Walt in that movie. Since this is a Disney-produced film, it's highly unlikely they'd follow that up with a full-on Disney biopic. I could be wrong, and I don't mind if I am, but that hidden AMAZING STORIES issue strikes me as somewhat more important than the rest of the items in the box. This is just a game, and I'm just playing along. Feel free to do the same.