The Kidd here...
All of the focus on J.J. Abrams' STAR TREK follow-up INTO DARKNESS has been on figuring out exactly who Benedict Cumberbatch is going to be playing in the grand scheme of things - Is he or isn't he Khan? But in setting up this one mystery, Abrams has provided enough misdirection for himself to do plenty of other things under such cover... like introduce the Klingons into this next chapter without fans questioning their role and/or appearance.
Well, we're finally getting our first look at what looks to be a Klingon on the cover of Issue #4 of the film's official comic book prequel, STAR TREK COUNTDOWN TO DARKNESS...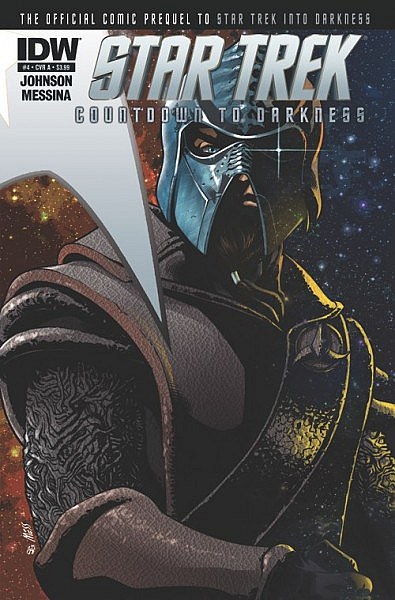 Well, what do you think?
We got a bit of a taste of the Klingons in Abrams' initial STAR TREK effort, but their subplot was cut from the finished film and relegated to a deleted scene on the DVD. They did share a similar look to what we're seeing here, but I guess this is the first "on the record" appearance of the Klingons in J.J.'s STAR TREK universe.
-Billy Donnelly
"The Infamous Billy The Kidd"
Follow me on Twitter.
Like me on Facebook.