Britgeek here.
This Monday, the devious minds behind DEAD HOOKER IN A TRUNK, Jen and Sylvia Soska (otherwise known as the Twisted Twins), unleash their latest mad marvel in the UK on DVD and Blu-ray, courtesy of Universal Pictures Home Entertainment. I am, of course, referring to AMERICAN MARY.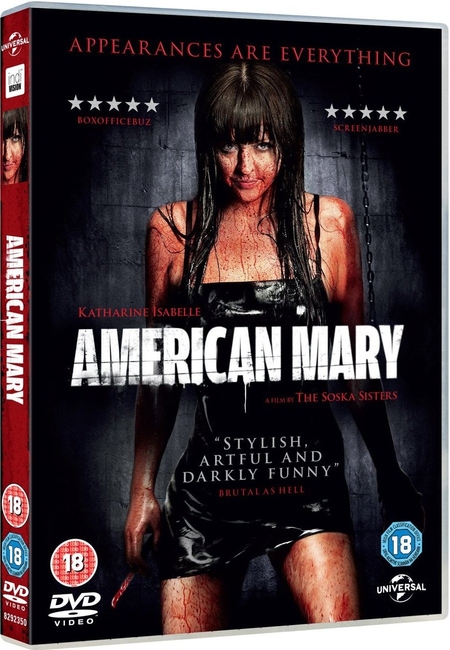 I saw the film back in August of last year at FrightFest in London in the company of over 1,000 fellow genre fans and it blew me away. It boasts an incredible performance from Katharine Isabelle (GINGER SNAPS) and showcases the movie-making talents of the Soska sisters in an amazingly bold way. While DEAD HOOKER IN A TRUNK was a wild slice of niche exploitation, AMERICAN MARY is darkly funny, disturbing, powerful and, generally, beautifully horrific.
My tag team partner in all things genre at FrightFest was none other than Dr Karen Oughton (follow her on Twitter!), who at the time not only contributed a review of the film that you can read HERE, but co-conducted two incredibly memorable interviews with both the Soskas and Katie Isabelle.
Now, Doc Karen is back, having just interviewed all three lovely ladies in London during the current AMERICAN MARY UK theatrical tour, and you can check out the full interview below:
AMERICAN MARY will be released on DVD and region-free Blu-ray in the UK from Universal Pictures Home Entertainment on January 21.
TTFN.
Follow me on Twitter!