Merrick here...
The new year has brought changes to AICN - evolutions I wasn't aware of myself until very shortly before the rest of the world learned about them, a few days ago.
Said changes bring a bizarre new way of posting articles and an entirely different Talkback paradigm, the later of which will be clearly and instantly evident in the Docbacks below.
What do such alterations mean to out long-standing Docbacks? Well, very little in the grand shcheme of things. I'll still be here...doing what I do. Talkback/Docback users will now hold more control over their own discussions (see details HERE) - but Docbacks will 'look' and 'feel' more or less as they have since their inception. THIS WEEK, however, the learning curve associated with these upgrades has thrown me for something of a loop. So, consider this particular Docback a skimpy dry run for us getting back up to speed next week...when we'll resume our exporation of 'classic' WHO.
In the meantime, here are a few info-bits which may be discussion worthy...to get us used to the new Docback format, to get me used to posting via this new method, etc.
SNOWMEN RATINGS VERY GOOD FOR BBC AMERICA!!
Per a press release on the matter...
==========================
DOCTOR WHO CHRISTMAS SPECIAL BREAKS RATINGS RECORD FOR BBC AMERICA

Channel celebrates year of success

New York – January 2, 2013 – Doctor Who: The Snowmen delivered record ratings for BBC AMERICA, rounding out a year of success. The Christmas Day special (9P-10:20P) was the channel's best ever telecast in demo, delivering 1.434 million total viewers and 807K/.95 A25-54 in Live+SD, up 54% from last year's Christmas episode in total viewers and up 60% among A25-54. The show was the channel's second best telecast ever in P2+ L+SD, after the Doctor Who S7.1 premiere (1.555 million, 9/1/12).

BBC AMERICA General Manager, Perry Simon, said: "It feels exactly right to be ending the year on a ratings high with Doctor Who. The show has really delivered for us this year on every level. Cinematic scale, superb acting, cracking storylines and a growing band of dedicated fans – we can't wait for the next series in spring 2013."
==========================
Sounds like NuWHO is continues to catch on...not-so-slowly but surely. On a tangentially related note: our recent Alamo Drafthouse / BBC Home Entertainment screening of DOCTOR WHO: A Christmas Carol and The Doctor, the Widow, and the Wardrobe (the weekend after Christmas here in Austin) went exceptionally well. The episodes represented our screening series' first presentation of current DOCTOR WHO, and our first presentation of DOCTOR WHO episodes in HD on a theatrical screen. They. Looked. Breathtaking. HUGELY cinematic and far more nuanced than even iTunes HD or Zune HD or direct delvery by Blu-ray might suggest. Truly an amazing experience...one which seemed to seduce and envigorate viewers both experienced and new. If you ever have a chance to enjoy a theatrical presentation of NuWHO in HD...I can't recommend the experience enough. it may well re-shape your sense of what the show is and is not...and evolve your perception of it in some very unexpected ways.
BBC AMERICA BRINGS AWESOME SNOWMEN SEQUENCES ONLINE
If you haven't already watched the new DOCTOR WHO title sequence...like...50,000 times....or if you're like me and yearn to look upon it at least 50, 000 more...here it is.
I wasn't able to discuss this much in our Snowmen Docback due to non-disclousre arrangements previously made with BBC, but I truly love this new title sequence. Just "classic" enough to be retro, just frenzied enough to be "new", and I really dig Murray Gold's fresh theme arrangement, which evokes Daft Punk and Hans Zimmer while still managing to stay evocative of more time-tested arrangements of Ron Grainier's music.
BBCA has also posted a video featuring The Snowmen's reveal of the new TARDIS interior. NOTE THAT THERE IS SPOILAGE PRESENT IN THIS SEQUENCE.
As I alluded in my Snowmen pieces (but, again, was asked not to discuss in detail), I really enjoy the hell out of this TARDIS remodeling. It is PERFECT '50s Sci Fi (mad scientists' lab, FORBIDDEN PLANET'S Krell) mixed with touches of STARGATE and the signature slickness we've come to expect from from Team Moff. I was a tad concerned when we saw those early publicity shots for the new set...I don't think those shots did this set justice, or photographed it particularly well (lens choices made the set appear smaller in earlier stills than it actually was, for example...IMHO).
DOCTOR WHO 50th ANNIVERSARY STAMPS!?!?!?!
Yeah, they're in the UK...but they're fucking cool and I will have them! I WILL HAVE THEM!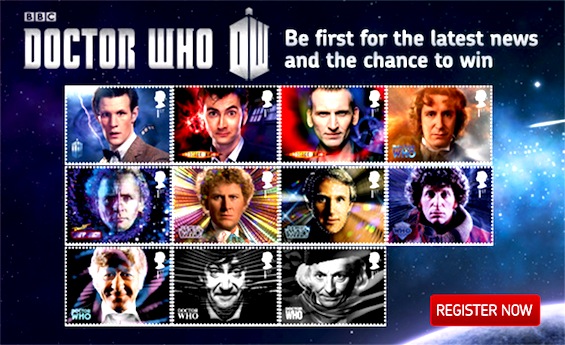 Further details HERE! UKvians can register for further details HERE, while non-UKvians can sign-up HERE. I don't know if they'll accept registrants from outside of the UK...but it's worth a try...cuz you know you want these...
That's it for now. Again, consider this a dry run for slightly (and forcibly) revamped Docbacks to come. In some ways what's happening to the site is a grand step forward, but there are also sacrifices being made...our ability to format creatively now seems curtailed dramatically, for example. And, unfortunately, all Docback/Talkback users will be required to re-register with a new screenname. This was even true for AICN editors. I once was 'Merrick'. I am now 'GlenOliver' - and my Black Box is gone. But I can still ban.
You can learn more about the re-registration process HERE. Try to get a new screen name as close to your original name as possible so we'll recognize you and know you instantly! Or, if you take this opportunity change your screenname altogether, be sure announce your new identity in the Docback below.
Until next time...wishing you all the Happiest, Healthiest, and Safest of New Years! Can't wait to see what's ahead...
--------------
Glen Oliver
PREVIOUS DOCBACKS
[Season / Series Seven Docbacks - MOST RECENT DOCBACK IS HIGHLIGHTED]
[SEASON / SERIES SIX DOCBACKS]
"The Impossible Astronaut"

"Day of the Moon"
"The Curse of the Black Spot"

"The Doctor's Wife"

"The Rebel Flesh"

"The Almost People"
"The Doctor, The Widow and the Wardrobe" (2011 Christmas Special)
[RETRO-WHO DOCBACKS ]
"An Unearthly Child" (Story #1)
"The Daleks" (Story #2)
"The Edge of Destruction" (Story #3)
"Marco Polo" (Story #4)
"The Keys of Marinus" (Story #5)
"The Aztecs" (Story #6)
"The Sensorites" (Story #7)
"The Sensorites" (Story #7 - full DVD release)
"The Reign of Terror" (Story #8)
"Planet of Giants" (Story #9)
"Planet of Giants" (Story #9, full DVD release)
"The Dalek Invasion of Earth" (Story #10)
"The Rescue" (Story #11)
"The Romans" (Story #12)
"The Web Planet" (Story #13) / SHERLOCK - "A Scandal in Belgravia" (Story #4)
"The Crusade" (Story #14)
"The Space Museum" (Story #15)
"The Chase" (Story #16)
"The Time Meddler" (Story #17)
"Galaxy 4" (Story #18)
"Mission to the Unkonwn" (Story #19)
"The Myth Makers" (Story #20)
"The Gunfighters" (Story #25)
"The Tomb of the Cybermen" (Story #37)
"The Mind Robber" (Story #45)
"The Krotons" (Story #47)
"The Seeds of Death" (Story #48)
"Spearhead from Space" (Story #51)
"The Abassadors of Death" (Story #53)
"The Claws of Axos" (Story #57)
"The Colony in Space" (Story #58)
"The Daemons" (Story #59)
"Day of the Daleks" (Story #60) + Preview of the DotD Special Edition
"The Three Doctors" (Story #65)
"Carnival of Monsters" (Story #66)
"Death to the Daleks" (Story #72)
"Invasion of the Dinosaurs" (Story #71) and SHERLOCK: "The Reichenbach Fall" (Story #6)
"The Claws of Axos" (Story #77)
"The Android Invasion" (Story #83) and SHERLOCK: "The Hounds of Baskerville" (Story #5)
"The Face of Evil" (Story #89)
"The Robots of Death" (Story #90)
"The Talons of Weng-Chiang" (Story #91)
"The Sun Makers" (Story #95)
"The City of Death" (Story #105)
"Nightmare of Eden" (Story #107)
"Kinda" (Story #118)
"Snakedance" (Story #125)
"The King's Demons" (Story #128)
"The Five Doctors" (Story #129)
"The Awakening" (Story #131)
"Frontios" (Story #132)
"Resurrection of the Daleks" (Story #134)
"The Caves of Androzani" (Story #136)
"Vengeance on Varos" (Story #138)
"Time and the Rani" (Story #144)
"Paradise Towers" (Story #145) + New WHOvian Documentary / Newsbits
"Dragonfire" (Story #147)
"The Happiness Patrol" (Story #149)
"The Greatest Show in the Galaxy" (Story #151)
"Doctor Who: The Movie" (aka TVM) - McGann)
DOCTOR WHO: THE COMPLETE SIXTH SERIES
Merrick's Personal Journey With The Doctor (How Merrick Got Hooked On DOCTOR WHO)
DOCTOR WHO Title Sequences & DW At Comic-Con 2011
"The Crash of the Elysium" (Manchester version - interactive DOCTOR WHO adventure)
Why Eccleston Left, Here Comes Caroline Skinner, And Season/Series Six Part 1 on Blu-Ray And DVD

New Trailer For Season/Series Six Part 2
The Companions of DOCTOR WHO + New Trailer & Artwork For Season/Series 7
Impromptu Docback!! + Galaxy 4 'Airlock' Coming to DVD, Christmas Special 2012, And More!!
The Friday Docback Mulls The 50th...
Newslet Roundup: Children in Need 2012, Christmas Special 2012, The Angel's Kiss Auido Book, And More!!
DOCBACK CODE OF CONDUCT
1) a Docback should be about completely open and free discourse regarding all things WHO with, obviously, some variation on subject matter from time to time - the real world intervenes, discussions of other shows are inevitable, etc.)...

2) matters of SPOILAGE should be handled with thoughtful consideration and sensitivity. Posts containing SPOILERS should clearly state that a SPOILER exists in its topic/headline and should never state the spoiler itself . "** SPOILER ** Regarding Rory" is OK, for example. "** SPOILER ** Battle of Zarathustra" is fine as well. " **SPOILER** Why did everyone die?" Is NOT good.
And, above all...

3) converse, agree, disagree, and question as much as you want - but the freedom to do so is NOT a license to be rude, crass, disrespectful, or uncivilized in any way. Not remaining courteous and civil, as well as TROLLING or undertaking sensational efforts to ignite controversy, will result in banning. Lack of courtesy may receive one (1) warning before a ban is instigated. Obvious Trolling or Spamming will result in summary banning with no warning. One word posts intended to bump-up any Docback's figures on AICN's "Top Talkbacks" sidebar will be considered actionable Spam - they not only complicate efforts to access Docback from mobile devices, but impede readers' abilities to follow or engage in flowing conversation.
In short, it's easy. Be excellent to each other. Now party on...