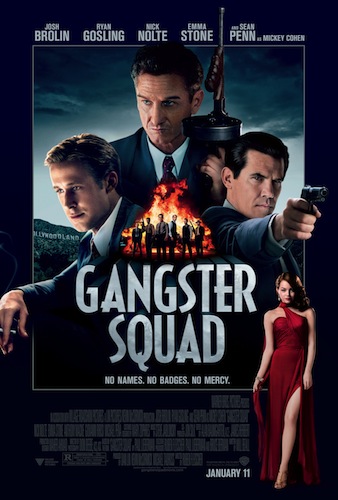 The Kidd here...
It's nice to finally be back in the mix amidst all these exciting changes going on around the site after succumbing to some awful illness over the holidays. Sniffling, coughing and throwing up is no way to get through the New Year. Back at full strength though and on the path to recovery, I've got something good for my people down in South Florida in order to kick off 2013.
We should have already seen GANGSTER SQUAD. This should have gone down months ago, but, due to some horrific events that really affected the movie community at large, that opportunity was pushed back from its September release date until now... and I want you to finally take advantage of the chance to see it.
I've got tickets for an advance screening of GANGSTER SQUAD this Monday night, January 7, at 7:30 p.m. at the AMC Aventura 24 in Miami, and this is your chance to claim a pair for yourself and a guest of your choosing.
Want to go? It's quite simple. Send in the name you'd go by if you yourself were involved in the mobster underworld.
Include that with your actual name in the body of an email to Contests@AintItCool.com with the following subject line exactly (in all CAPS):
YOU DIRTY RAT!!!
Make sure you have everything I'm asking for, or your entry won't count, and you can only enter once. I'll take the worthy entries as they come in and reward those individuals with tickets to the screening until I'm all out. Then winners will be emailed and posted up on the site.
If you're not sure if you're going to be able to make early enough to get in, it's quite simple - don't enter. If you don't think you can get out of work early enough, or if you have class, homework, chores, scheduled surgery, an unreliable car, prior engagements or previous commitments that may prevent you from attending this screening, don't try to win only to let these seats go to waste. We've been having far too many no-shows lately, so if you decide you're not going to go in the event you do win tickets, don't worry about playing again in the future. You're going on my Black List forever and ever.
Thanks to Warner Bros. for setting this up with us, and good luck to you.
-Billy Donnelly
"The Infamous Billy The Kidd"
Follow me on Twitter.
Like me on Facebook.