Nordling here.
We're still here! For now, anyway...
Why 20 instead of 10? Because it's my fucking list, that's why. But 2012 was a great year for movies, and honestly there are a few on this list that didn't make it. Movies like THE PERKS OF BEING A WALLFLOWER, or SKYFALL, or THE HOBBIT: AN UNEXPECTED JOURNEY, or LES MISERABLES. Other movies, like THE DARK KNIGHT RISES and PROMETHEUS, didn't make the list because... they didn't.
You also may notice there's no Worst Movie of the Year this year. That because I've decided that Worst Lists are counterproductive. Why steer people to bad movies at all? Better to not acknowledge them and move on to the great stuff. That's not to say if a movie's bad you shouldn't be told about it... but again, this was a fantastic year for good movies and I'd rather just forget about the movies I didn't enjoy or outright hated. If you corner me in the street and demand to know, I'll happily divulge. But otherwise, I'd rather talk about the movies that brought me happiness this year. So, without further ado...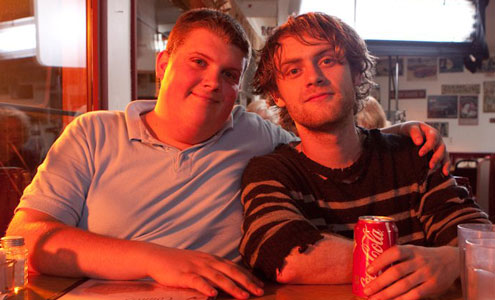 20. FAT KID RULES THE WORLD
Matthew Lillard has made a coming-of-age movie that would do John Hughes proud. It's sweet but not treacle, and Lillard avoids afterschool special clichés by staying true to the characters and to the story. Jacob Wysocki and Matt O'Leary are terrific as the two boys who form the unlikeliest friendship in the world, but Billy Campbell as the father does tremendous work here – he too avoids the clichés of the part and finds something honest and heartfelt in his performance.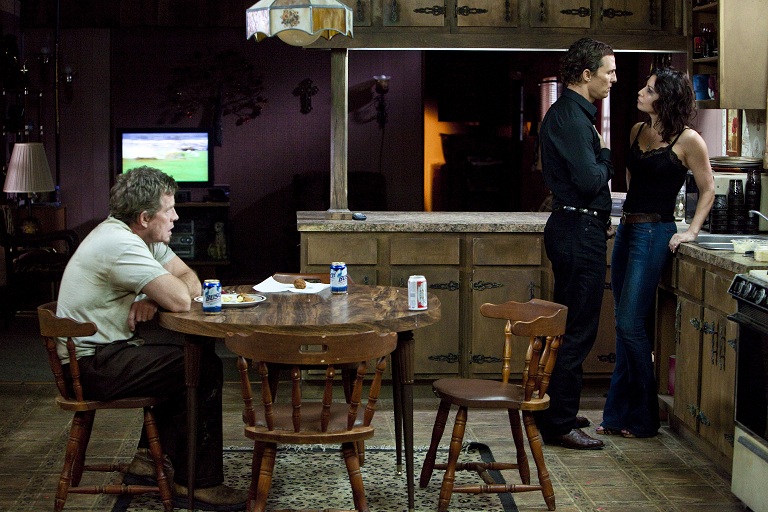 19. KILLER JOE
This is deep fried black comedy, served with a slice of wicked pie. Matthew McConaghey may have found the role of his career as Joe, a corrupt police officer who enters the orbit of a truly sick family. But the family discovers that Joe may even be sicker still. William Friedkin pulls no punches with this movie, and this is one of his best films in years. Hell, it's one of his best films, period. It's a shame the NC-17 didn't get the film a wider opening – KILLER JOE is a movie for grownups and a very bitter pill to swallow.
18. ANTIVIRAL
Brandon Cronenberg's debut feature film may seem straight out of his father David Cronenberg's wheelhouse, but be assured that Brandon's voice is just as vital. Set in a world where celebrity has truly become everything – to a point that people will eat slabs of DNA steak made straight from the latest tabloid obsession – ANTIVIRAL examines just how much of ourselves is lost. This isn't so much science fiction as speculative fiction, and to be honest, ANTIVIRAL feels like it's just around the corner. I'm wildly curious to see what younger Cronenberg has coming next, but ANTIVIRAL is a kicking-down-the-door kind of movie.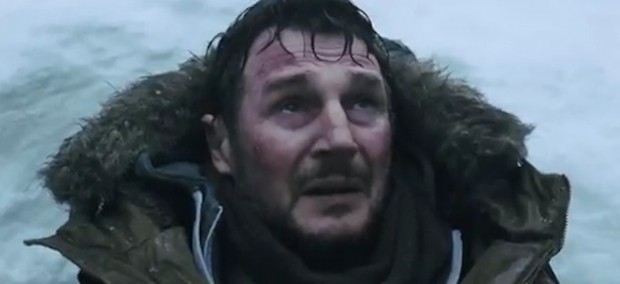 17. THE GREY
I feel that Joe Carnahan's tone poem on loss and spirituality was misinterpreted on release. That was mostly due to the ad campaign, and I'll admit that I even thought this film was going to be something other than it was. But what Carnahan and Liam Neeson have done is make a very personal film about faith, and even my shriveled atheist heart could not helped but be moved by Neeson's last stand as he and Carnahan rage against the dying of the light. There are moments in THE GREY that feel almost too personal, and Neeson gives one of the finest performances of his amazing career.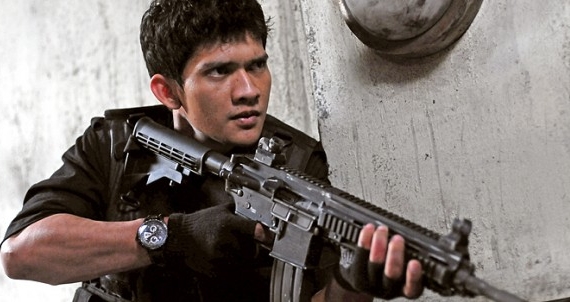 16. THE RAID: REDEMPTION
This was a shot of adrenaline for me – Gareth Evans' MERENTAU was a nice, fun martial arts movie, but THE RAID: REDEMPTION pushes him to a whole other level. I still can't believe the movie was made for less than half a million dollars. Iko Uwais has it in him to be the next big martial arts star, and considering what Evans did with a small budget, he created a master display of tension and action. The final fight with Mad Dog (Yayan Ruhian) is a Final Boss fight for the ages. DREDD has a similar story structure, and while I dig DREDD a lot (almost made the list in fact), THE RAID: REDEMPTION will be the one I put in the player more frequently.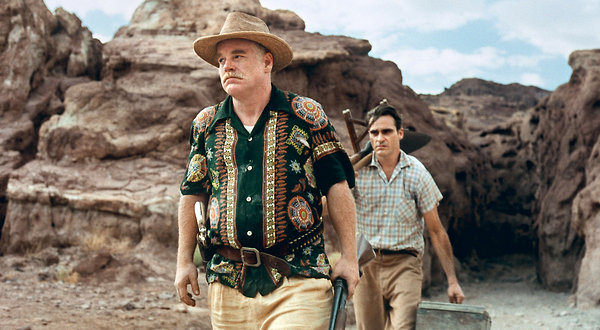 15. THE MASTER
Paul Thomas Anderson follows up his epic THERE WILL BE BLOOD with a more intimate movie, but the characterization and acting are just as rich and deep. Joaquin Phoenix gives the best performance of his career as Freddie Quell, an open wound of a man who may have found the one person who could heal him in Lancaster Dodd (Philip Seymour Hoffman, who is brilliant). Their relationship is tested by time and circumstance, and Amy Adams as Peggy Dodd is also great as the wife who may be quiet in public, but in private steers the ship that is Lancaster's new religion. Not as much a statement on Scientology so much as a movie about our need to find meaning in a meaningless world, THE MASTER continues PTA's amazing career, and I hope he's allowed to keep doing what he does for as long as he wants.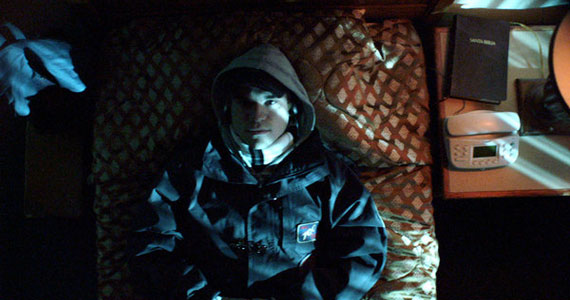 14. THE IMPOSTER
Real truth is mercurial, elusive. Bart Layton's fantastic documentary proves that certainty is a myth. A young boy in San Antonio goes missing, only to be found in Europe three years later. When his family brings him home, the lies begin, and the story takes as many turns as a Coen Brothers fiction. Frédéric Bourdin may be the strangest character, real or fiction, in cinemas this year. He lies like he breathes, and the more he lies, the more natural he seems. For some, THE IMPOSTER may be frustrating; it answers nothing and makes us question everything.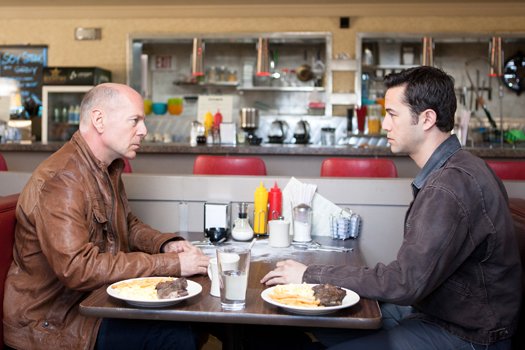 13. LOOPER
Time travel movies are really hard to get right – too many of them worry about the mechanics of the whole endeavor, almost as if the screenwriter can make the impossible possible. Johnson's script is a firecracker – Joe (Joseph Gordon-Levitt and Bruce Willis in dual – or is it duel? – roles) is fascinating, both in his younger and older iterations. But it's when the second act takes off that LOOPER really finds its voice. I'll just say this – someday, I hope Johnson gets the rights to Katsuhiro Otomo's DOMU, because I think he'd crush the shit out of it. As for LOOPER, it's Bradbury science fiction at its finest. Ray Bradbury was always more interested in the who than the why, and LOOPER feels like a story he would have been proud to have told.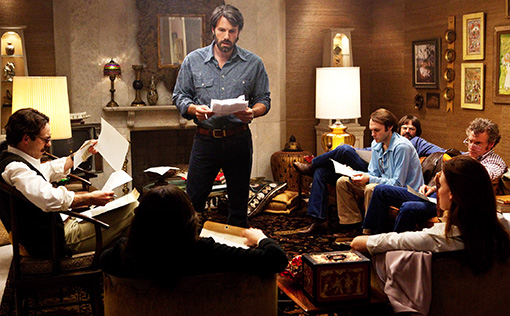 12. ARGO
Ben Affleck proves himself to be no fluke with ARGO, the story of the rescue of six American hostages from Iran in 1980, and the seemingly insane plan that it took to pull it off. Affleck directs with a confidence and a skill than more seasoned directors would kill to have, and he's even terrific in the movie as the CIA agent who pulls off this crazy scheme. Affleck tells his story with economy, humor and just the right amount of tension. The actual rescue may not have been as dramatic, but who cares – ARGO is a master class in directing, and Ben Affleck is filmmaker to be reckoned with. I hope he doesn't go into politics like he's been threatening to do – there are already enough politicians in the world, and so few great filmmakers.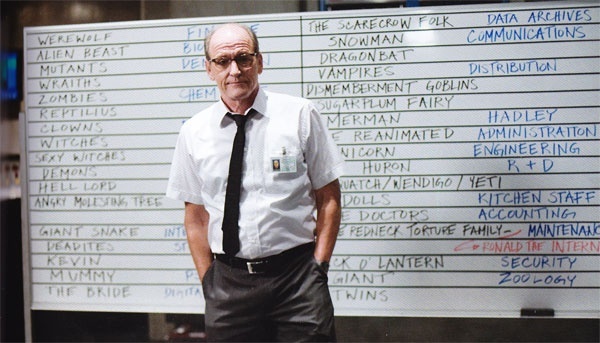 11. THE CABIN IN THE WOODS
This was Joss Whedon's year, without a doubt. It's difficult to understand now why THE CABIN IN THE WOODS waited so long on the shelf, and even though it didn't burn box offices down on release, it is undeniably the most original horror film of the year. Drew Goddard directs his and Whedon's script with confidence, and even more so than THE AVENGERS, we can hear Whedon's voice all over the movie. It puts the whole horror genre in perspective, and gives me hope that originality will always endure. THE CABIN IN THE WOODS is both a celebration and a rallying cry, and I can't wait to see what it inspires in the coming years.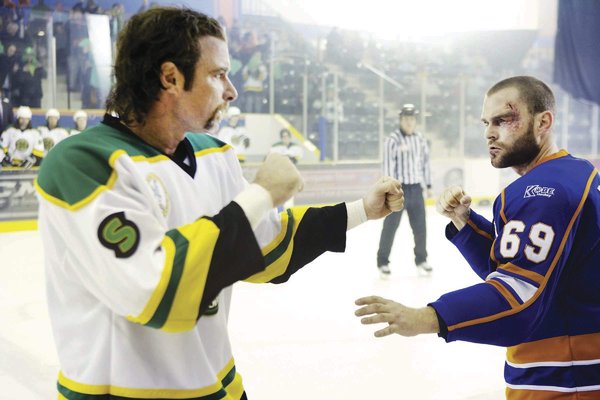 10. GOON
That's right. Deal. Michael Dowse's hockey comedy was one of the most enjoyable and fun movies of the year and it's got tons of terrific dialogue from Jay Baruchel and Evan Goldberg ("Two rules, man. Stay away from my fucking Percocets, and do you have any fucking Percocets, man?"). Seann William Scott plays Doug, a goofy bouncer who happens to be good at beating the shit out of people, and when he's not doing that he's the nicest guy you'd ever meet. His talent brings him fist-first into the world of minor-league hockey, and in particular into the path of Ross Rhea (Live Schreiber), the best goon in the game. Hilarious and full of heart, GOON was one of those least expected surprises that just knocked me out when I saw it. As I said in my review, GOON's a Great Fuckin' Movie.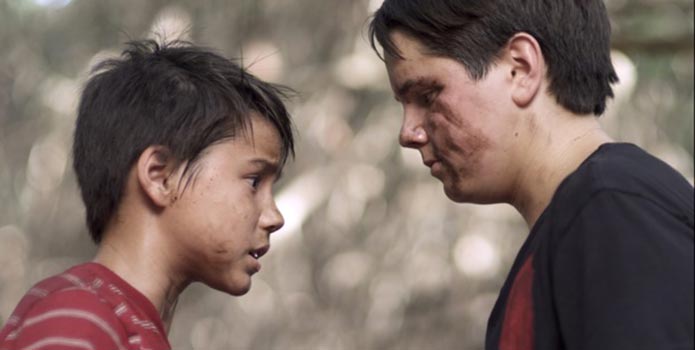 9. I DECLARE WAR
I worry about this movie now, especially after the events in Connecticut and elsewhere, because I know for a fact that idiots with agendas will feel the need to attack this movie with full blinders on, not understanding what they are seeing (if they deem to see it at all). I DECLARE WAR, hopefully released next year, is about childhood – the fantasy versus the reality, and all the complex emotions within. It's probably the best movie of its kind since STAND BY ME, and it is fertile with the power of a child's imagination. This movie feels like what it was like to be a kid, playing war with your friends, and figuring out your world and your place in it. The magic of childhood, as well as the unpleasant realities of life, come together in Jason Lapeyre's and Robert Wilson's fantastic movie, and its meanings and messages feel genuine and true.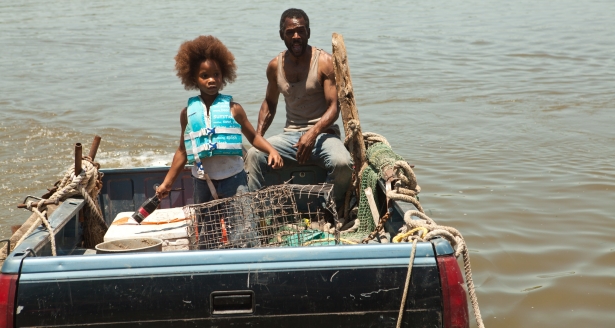 8. BEASTS OF THE SOUTHERN WILD
Quvenzhané Wallis gives such a good performance in Benh Zeitlin's BEASTS OF THE SOUTHERN WILD that I'm not sure it counts, so real does it feel. Everything Hushpuppy knows in her world, the Bathtub, is coming to an end, and she and her father Wink (Dwight Henry) must adapt. But for Wink, this is the only life he knows, and he will not give it up. Hushpuppy must choose between the Bathtub and outside, and her triumphs and tragedies become ours as well. Benh Zeitlin is an extraordinary new voice in cinema, and his and Dan Romer's score is easily one of the best of the year. There are moments of such beauty and heartbreak in BEASTS OF THE SOUTHERN WILD that it almost hurts to think upon them. It is a wondrous world that Zeitlin shows us, a world still full of the last bits of magic we can find. There is harshness and danger as well, and as we look through Hushpuppy's eyes, we see it all in this remarkable, wonderful film.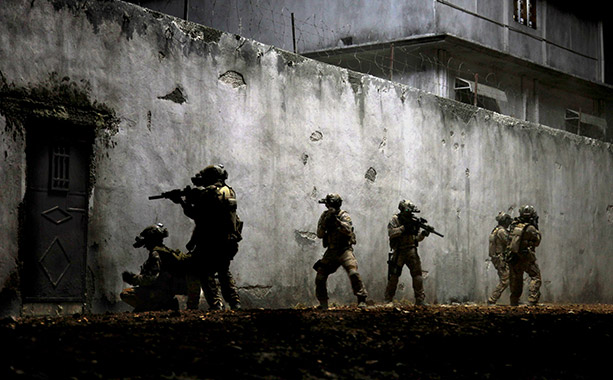 7. ZERO DARK THIRTY
Kathryn Bigelow and Mark Boal's script does what every great piece of journalism does – it seeks the truth, no matter how painful it might be. The controversy surrounding ZERO DARK THIRTY may threaten to overshadow the movie itself, but Bigelow and Boal navigate their way through those treacherous waters to tell the story of how Osama Bin Laden was killed. CIA agent Maya (Jessica Chastain) is obsessed with finding him, and Chastain is simply amazing in this role. The cracks in the façade are small but slowly become apparent, and she fills Maya with an inner purpose and passion. Whether or not you believe the story is irrelevant – ZERO DARK THIRTY is a movie, like ALL THE PRESIDENT'S MEN and ZODIAC before it, that isn't about the end results but about the journey getting there. It doesn't take sides – it simply shows us what happened and how we deal with that knowledge is up to us. It's a great movie that trusts us enough to do that.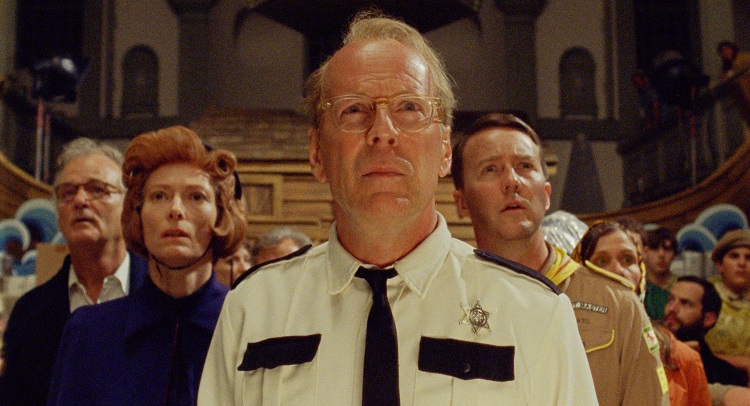 6. MOONRISE KINGDOM
Somehow, Wes Anderson knew me growing up. That's the only explanation, because movies like RUSHMORE, THE ROYAL TENENBAUMS, and now MOONRISE KINGDOM feel straight out of the stories of my life and childhood. He lived in Houston for a while, so it's entirely possible, or maybe that loosely shared experience living here rubbed off on the man. Either way, MOONRISE KINGDOM is a movie that tells cynicism to rightly go fuck itself. This is a movie for dreamers, and those dreams we make take solidity and bring us to rapture. It's about young love, and how nothing in the world ever feels quite like it, like seeing Technicolor for the first time after seeing all your movies on a black and white television. Because the movie lacks the smallest crumbs of pessimism, MOONRISE KINGDOM may feel too precious for some, but that's their loss. If I could, I'd live in Anderson's world any day of the week and twice on Sundays. And I'll happily revisit New Penzance and its residents over and over again.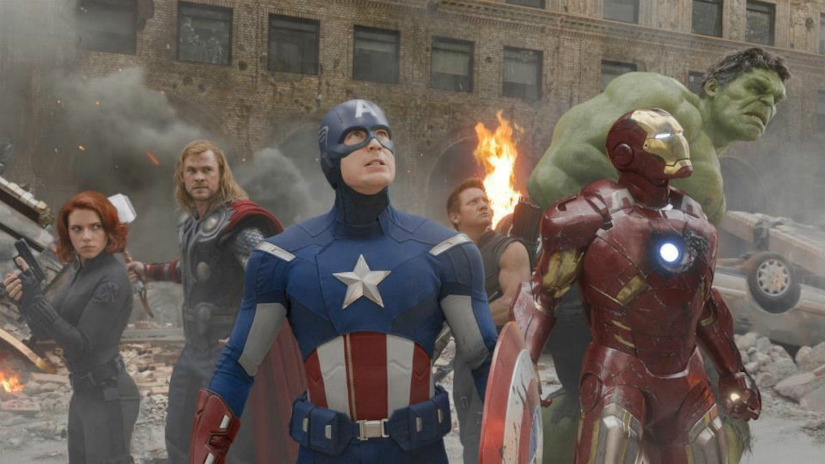 5. THE AVENGERS
Pound for glorious pound, this may be the most entertaining movie of the year. When Marvel started this crazy thing with IRON MAN, no one had any idea this would work, bringing all these characters together for one movie. But if there's anyone who can orchestrate the whirlwind of the Marvel Universe, it's Joss Whedon, and what he does with THE AVENGERS is practically a miracle. Every character retains their unique voice, every actor brings their all to their performance, and best of all, THE AVENGERS manages to walk that fine line of being truthful to the Marvel Universe without taking itself too seriously. There are too many moments to mention that brought such geek joy, but the fact that Whedon and Mark Ruffalo at last got the Hulk so damn right is alone cause for rejoicing. Joss Whedon has had a hell of a year, and more than any other director (except perhaps Brad Bird) he knows what makes this genre work. THE AVENGERS raises the bar for superhero movies, and at this point, everything looks great from here. Make Mine Marvel!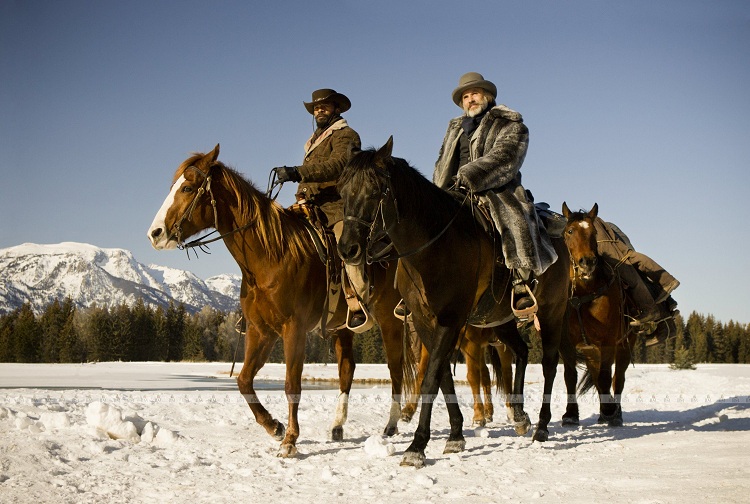 4. DJANGO UNCHAINED
DJANGO UNCHAINED is explosively violent, and uproariously funny. And yet, in the quieter moments you can tell that filmmaking has never felt so urgent to Quentin Tarantino until now. Tarantino makes movies like the entire artform is dying. He knows that he's fighting against the tides, in regards to film vs. digital, and I was worried that the death of Sally Menke may have put him off of filmmaking for good. UNCHAINED lacks the elegance of her editing style, but other than that Tarantino feels just as vital as ever. There's a ton of influences in DJANGO UNCHAINED – from Italian westerns, to exploitation cinema, to even obscene movies like ADDIO ZIO TOM to, yeah, even STAR WARS. Tarantino makes slavery into the disgusting, soul-destroying endeavor that it is. Jamie Foxx is terrific as the taciturn hero, but Christoph Waltz is the real heart of DJANGO UNCHAINED, and it's hard not to see Tarantino inside the character. Samuel Jackson plays what is probably his greatest part yet, and that's saying something – his Stephen is a conniving, evil man who tries to twist every situation to his advantage. Leonardo DiCaprio is an unredeemable worm, and you want to delouse after his scenes. DJANGO UNCHAINED, like INGLOURIOUS BASTERDS before it, looks at history through the prism of cinema, and if this isn't quite how it happened, well dammit, it should have been.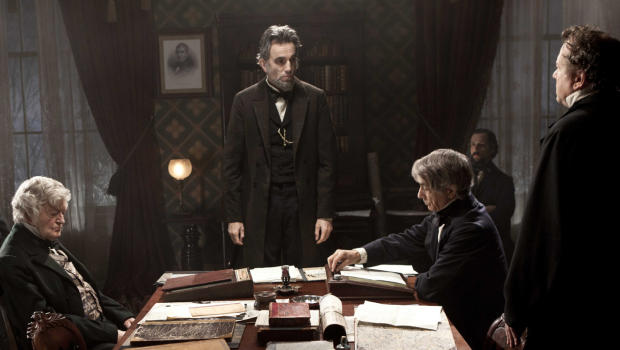 3. LINCOLN
It's not Steven Spielberg's direction that makes it a great movie, although he does fantastic work. No, Spielberg has sense enough to get out of the way of Tony Kushner's script, where every word is like butter dripped in the ear. The cadence and rich language of LINCOLN turns the movie into more of a joy to listen to than any of Spielberg's other movies, and Daniel Day-Lewis plays Abraham Lincoln with such empathy and warmth that again, if this wasn't reality, it damn well ought to have been. LINCOLN shows us that when it comes to politics, it's same as it ever was – people get dirty, backdoor deals are made, and through all the yelling, the insults, and the derision, somehow democracy pushes through. LINCOLN is a love letter to democracy in all its messiness, and although we may think we have it rough now, I wouldn't trade our tumultuous times for theirs in a second. Every actor Spielberg finds does great work – Tommy Lee Jones, Sally Field, James Spader, and the rest bring this script to life. This has been a passion project for Steven Spielberg for many years, and his passion and Kushner's words bring this movie to living, breathing life.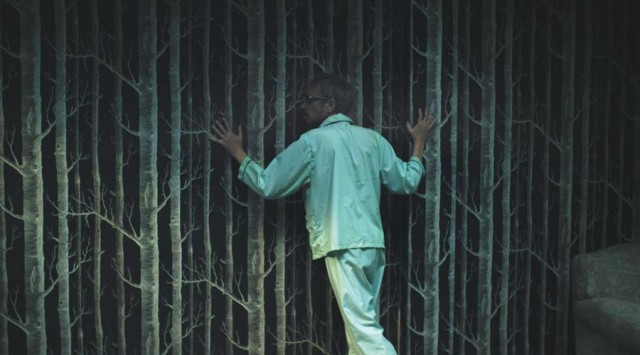 2. HOLY MOTORS
Leos Carax's masterpiece is about so many things, and the reason many critics are finding it difficult to sum up is because HOLY MOTORS plays different for everyone. For me, the movie didn't even register properly in my mind until days later, when I heard the wonderful "Let My Baby Ride" accordion scene and everything just clicked into place. Oscar (the triumphant Denis Lavant, giving the best performance of any actor this year) slips into identities and personas throughout one particular day in Paris, and as we follow him on his journey we realize that he is playing for us, the audience, the gods that demand so much and give Oscar so little. It is both a celebration of art and an acknowledgment of the pain that it can sometimes bring to create. HOLY MOTORS is a movie about loss, losing oneself in the transformative power of art, and the simple joys of cinema. No matter the heartache and the hardship, artists must create, and who they create for does not matter. HOLY MOTORS is one of those movies that come along and remind me why I am so insane in love with cinema – that sometimes, the heavens open up and show me the infinite.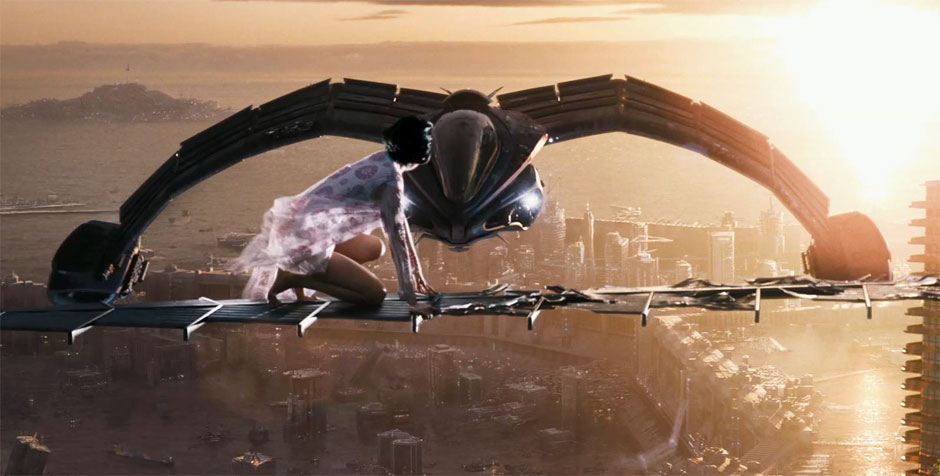 1. CLOUD ATLAS
First, know that I'm not putting CLOUD ATLAS here in some kind of rebellion against Time Magazine or the Village Voice, both who named CLOUD ATLAS as the Worst Film of the Year (have they even SEEN RED DAWN?). I'm putting it here because I believe that CLOUD ATLAS is the best film of the year. There are moments in CLOUD ATLAS so triumphant, so affirming to my worldview, that the few moments where CLOUD ATLAS doesn't work mean nothing to me because the heights that this film has achieved are so damn high. This film is a shot across the bow of cynicism and despair; CLOUD ATLAS assures me as a lover of film and as a human being that everything is worth fighting for. I am not a cynical man, and to see a movie that expresses everything I've always believed about my place in this world has to be recognized. It is a celebration of storytelling, and I can't understand why so many people had difficulty following the six story strands that intertwine themselves with each other. This is about as linear as storytelling gets – it's just that there are six lines instead of one. Andy Wachowski, Lana Wachowski, and Tom Tykwer have adapted David Mitchell's sprawling novel and give it a heartbeat, and the brave performances by Tom Hanks, Halle Berry, Jim Broadbent, Ben Whishaw, Jim Sturgess, Doona Bae, and others give it life. There is so much hope in CLOUD ATLAS that even now I tear up, thinking of certain scenes, certain possibilities. Even a simple child, asking her Grandpee where a certain planet is in the sky affirms to me that our journey through this universe has just begun, and where it takes us is worth waiting for. No film gave me as much pleasure, as much joy, and as much hope as CLOUD ATLAS did this year, and that's why I think it's the best film of 2012.
Thanks for reading, and keep reading in 2013. If the world doesn't end before then.
Well my filmfan friends, its THAT time of the year again when I LIST my favorite (not necessarily the best made) motion pictures that I have seen theatrically THIS calendar year. For those NOT familiar with what this means exactly I'll explain... These are the movies out of over 300 viewed in theaters with audiences at my local multiplex, festivals, premieres, etc... NOT on my phone, laptop, or TV. They are NEW films, NOT vintage, or ones I saw late in 2011. These are the mixed bag of cinema I MOST enjoyed from the year 2012 though they may not have been officially released as of yet. I see many films each year that may not be released in the USA sometimes for a couple of years. There's a couple of weeks of movie watch'n still this year sooo it is entirely possible this list will change a little...

ALPHABETICALLY HERE ARE MY 21 FAVORITE FEATURE FILMS SEEN IN 2012:

"Antiviral", "Argo", "The Avengers", "Beware of Mr. Baker", "Cloud Atlas", "Django Unchained", "Dredd 3D", "Frankenweenie", "Get the Gringo", "The Hobbit", "Holy Motors", "The Hunter", "Les Miserables", "Life of Pi", "Lincoln", "Looper", "The Master", "Moon Rise Kingdom", "No Rest For The Wicked", "Savages", "Skyfall."

There were 5 others that I had a hard time cutting from this list: "Abraham Lincoln Vampire Hunter", "Killer Joe", "Lawless", "Ma Ma", "Sinister." I've seen nearly all of these 26 movies multiple times already annnd still get a kick from them ALL.