Britgeek here.
Cult connoisseurs Severin Films have brought no shortage of obscure gems to the home entertainment market over the years, and have even stepped into feature film production with last year's wild horror anthology THE THEATRE BIZARRE, but today, the distributor drops perhaps its most mainstream – and best – release to date in the form of 1978's action classic THE WILD GEESE, as the film arrives on Blu-ray for the first time ever.
It had been a number of years since I had seen THE WILD GEESE, so with grey matter full of fond memories, when the opportunity arose to see the film once again for the benefit of discussing it with Sir Roger Moore, one of its three stars, needless to say I was rather keen.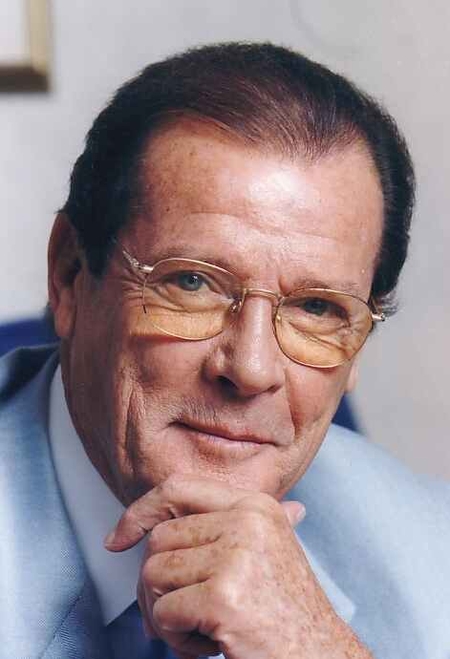 For those who are not familiar with the film, it stars Moore, Richard Burton and Richard Harris as a trio of ex-soldiers who form a mighty band of aged mercenaries for a mission to Africa, where they must rescue the President from a vicious dictator.
Having seen it over the weekend, one of the things that stuck out to me the most was just how much charm the film has, and it's the kind of exclusively British charm that unfortunately has been lost in this day and age with the changing of the times. In some respect, the film is a time capsule. Of course, aside from the abundance of charm it's occasionally politically incorrect (lest we forget medic Witty), but it's a film that raises an unshakeable smile from beginning to end, and largely because of its motley crew of memorable characters. On the phone from his home in Switzerland, Moore says, "The odd characters were the most interesting, [like] Ronnie Fraser. They were all well drawn, sort of a typical mix of what you'd find in the army … Andrew McLaglen had so much to do with it. I saw another Andrew McLaglen film the other day, NORTH SEA HIJACK, and he does draw his characters very well."
Despite ultimately being a classic action movie, THE WILD GEESE is also an adventure story that embraces a little bit of everything, and while there are exciting gunfights and fiery explosions along the way, there's also a great script that offers hilarious and powerful moments and dialogue in equal measures, which is no surprise given that Daniel Carney's novel was adapted for the screen by Oscar-nominated 12 ANGRY MEN writer Reginald Rose. The characters are broad and compelling, especially those of Harris, Burton and Moore, and their show-stealing performances are an exercise in on-screen chemistry, as Sir Roger remembers, "We had good camaraderie between the three of us and also with Hardy Kruger. I must say, I've very pleasant memories of having done that."
"We would have competitions [to see] who would do the least number of takes." When asked who was victorious, he says with a giggle in his voice, "As both gentlemen are not with us any more, I could safely say me."
Aside from the powerhouse leading men complementing each other seemingly effortlessly, THE WILD GEESE is bursting with recognisable faces. Despite occasionally hammy performances and some only having a line or two, the fact that a strong supporting cast comprising such talent was able to be formed is commendable to this day.
Another great element of realism in the film is the idea of a collection of retired soldiers who, with the initial exception of Harris' Rafer, are so keen to get back into the fold and away from the hardship that they have been facing trying to adjust to life a world removed from the battlefield. This is something that's frequently headline news with the wars in the Middle East and a deeply tragic idea, not wholly dissimilar from the concept of institutionalisation explored in THE SHAWSHANK REDEMPTION, making THE WILD GEESE a timely film to this day, as Sir Roger reminisces, "A lot of the reality was due to the fact that, Mad Mike Hoare they called him, was technical advisor on it and we had a couple of ex-mercenaries in the film. I remember one of them suddenly pulling a knife and it was just stuck at your throat and he said, 'That's the way you do it.' Oh dear, you wouldn't want to cross swords with him!"
Between its action, drama and witty sense of humour, THE WILD GEESE is a surprisingly ruthless film for 1978, switching gears and changing tone in a heartbeat. Burton opens the film with a hilariously hard-nosed attitude at a meeting with a millionaire in London, and but a moment later, Moore is graphically shooting a drug dealer in the head on the other side of town.
In 1985, WILD GEESE II, again an adaptation of a Daniel Carney novel by Reginald Rose, was released but could never live up to the magic of its predecessor. Moore good-naturedly says, "Euan Lloyd wanted me to do a sequel to THE WILD GEEESE about getting [Rudolf Hess] out of Spandau, but I passed on it. To me, WILD GEESE worked because it was logical. It wasn't a logical choice to dispatch Hess to Spandau!" None of the original movie's cast intended to reprise their roles except for Burton, who sadly passed away a matter of days before filming commenced. The sequel starred Edward Fox and Laurence Olivier as the aforementioned Hess.
Prior to THE WILD GEESE, director Andrew McLaglen cut his teeth on westerns and action-packed TV series such as RAWHIDE. Sir Roger has fond memories of working with him, describing him as a "Wonderful character, a wonderful man to work with. He once said, 'They think there's something wrong with me in Hollywood because I always bring pictures in a little ahead of time.' He was very good technically."
At 85, he shows no sign of stopping. This year alone has been incredibly busy for him with the release of his book BOND ON BOND to commemorate the 50th anniversary of 007, numerous television appearances and a stage tour, not to mention his continued work with UNICEF, for which he is a Goodwill Ambassador. When asked how he may have changed his approach to performing over the years, he says, as unpretentious as always, "I wouldn't know how it's changed 'cause I don't bother to do much now! Well, you have to flog your books and also keep up the awareness of UNICEF."
Speaking to Sir Roger has been a real honour and privilege.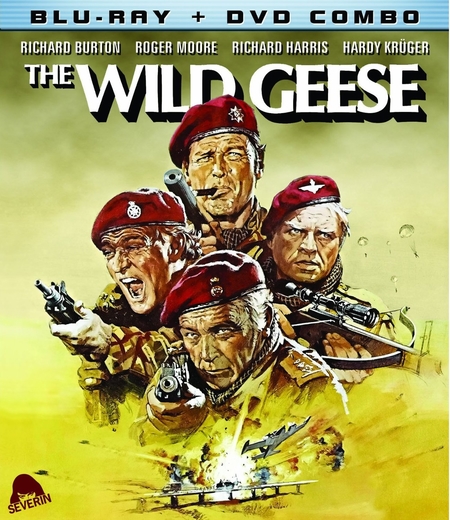 Thanks to Severin Films, I have five (5) copies of THE WILD GEESE on Blu-ray/DVD Combo to give away. International entries are accepted.
To be in with a chance of winning, just answer the following question correctly:
Which James Bond film did not star Roger Moore?

A) GOLDFINGER
B) THE SPY WHO LOVED ME
C) LIVE AND LET DIE
D) THE MAN WITH THE GOLDEN GUN
To enter, all you need to do is send me an email with the subject line "THE WILD GEESE" and include your full name, location and answer.
For a bonus entry, tell me your answer via Twitter.
TTFN.