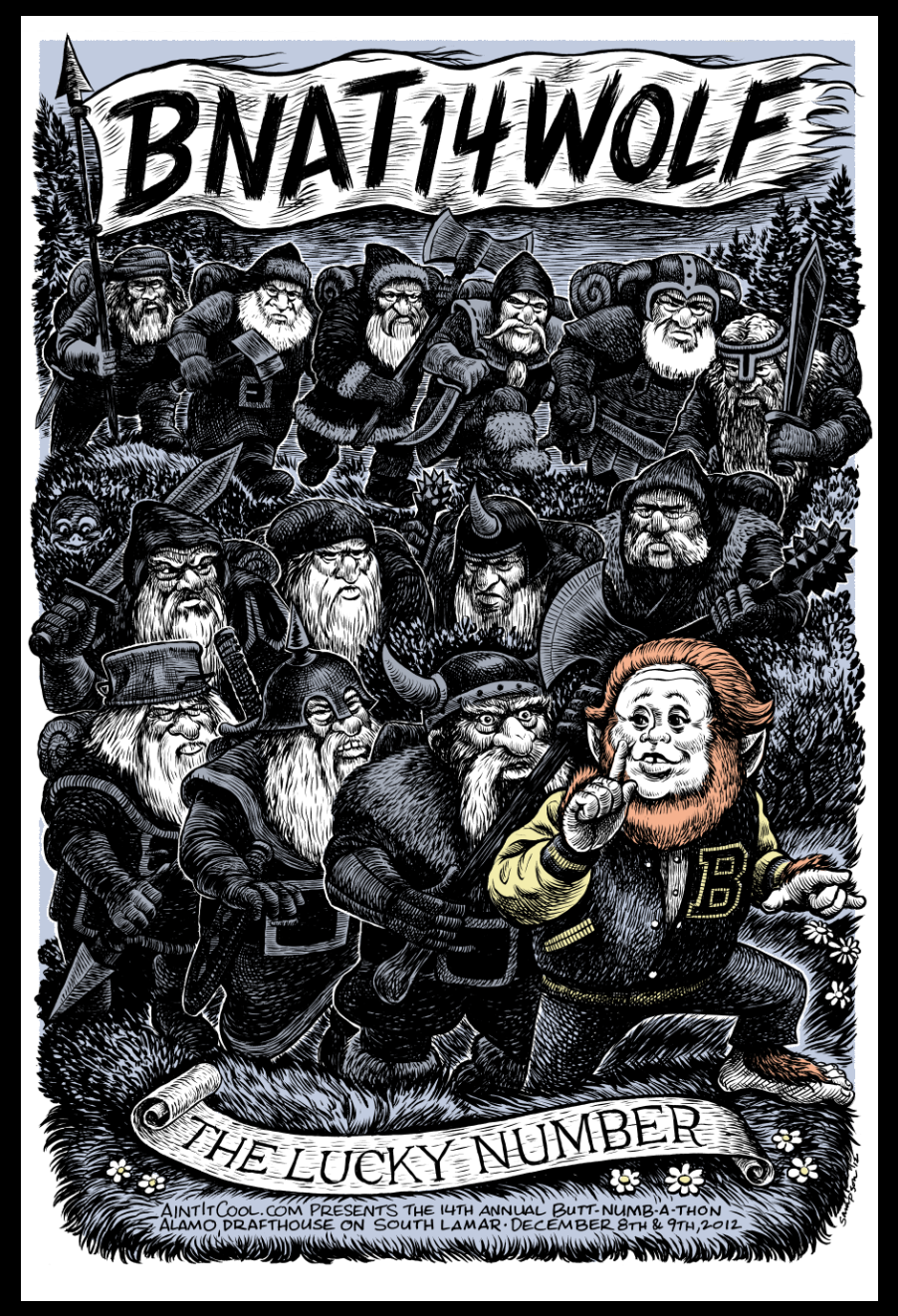 Hey folks, Harry here... The Austin Film scene changes over the course of BNAT every year. This jovial gang of BNATTERS descend upon my beloved city & the feeling of love & friendship & joy. I know, sounds like some Hippie stuff... and it kind of is. But mainly, there's a noted decline in cynicism. Optimism takes to the air. It's the hope. BNAT is constructed from the dear friends in my life - and then folks I don't know at all... but through the application process I read and discover... I'd love to meet this person, this couple or this small little group of geeks from this place and that.
The BNAT vets though... these are my favorite people on the planet. I only ever see most of these people once a year. This time of the year... for the past 14 years. For me, I can't imagine life without these people. Many of them I met at BNAT 1. They got it. I found it miraculous that by just creating this silly bit of fun... BUTT-NUMB-A-THON, that I managed to find people that LOVE film. They don't like it. It is something they can't quite. It is something that helps them to define their reality, their dreams and their hopes. Films created their fear, their fixations - and some have made it their manifest destiny. I love motivated self-empowered geeks that just know how to have fun.
The coolest news that's happened in the last 24 regarding BNAT - is that Eric Zala and Chris Strompolos, the RAIDERS! guys, the kids that made the brilliant shot for shot kid film, that just continues to win its audiences. Tonight, I hosted their BOOK SIGNING & RAIDERS Adaptation screening... And it's on the 10th Anniversary of the BNAT that introduced the world to this madness. They have a new book out, but Tim League gave the guys 2 seats from his block... AND I AM ECSTATIC!
Perhaps more than any attendee of BNAT, BNAT changed their lives... and now they get to attend one. They really don't know what they're in for.
First off - let me just state this right now.
I can't wait to wake at 9am and get going. This year's fest is closer to what I have wanted BUTT-NUMB-A-THON to be. A select group of early films that my excitement is palpable for. A series of hijinks and peeks at the future (that the Mayan Apocalypse will ruin for us all). But I'm in love with the vintage side of the program.
Right now, there's a very real Cinematic Holocaust occuring that will end in the death of 35mm. At the very least as film programmers around the country know it. Studios are making the change. It's becoming a Digital film world. I wonder if the word FILM itself may eventually disappear. But already, Film Libraries are starting to close their doors and the practices that have been in place for, the history of film.
BNAT has always been my baby. I can choose whatever we can get to play... And as I started planning this year's BNAT - and I started looking at the possibilities for early screenings and premieres - I realized there's a whole lot of really cool movies being released through the end of the year, but also in the first 4-6 months it gets crazy. The level of excitement that I have for film right now is probably a bit crazy. But from my vantage point, there's a crazy level of excitement for the film possibilities of the immediate future...
So why 3 new features? 4 if you count the WTF title. But for all intents and purposes, it's 3 new films.
Because, if we only have a few years left of this format which birthed my love of cinema... It'd be a damn irresponsible thing to not take advantage of the position I have to see films I've always dreamt of seeing on the big screen. SO... it's kinda what I've done. I'm very pleased with the line up.
As usual, I will do the FAKE LIST. That's what you're seeing below. It is there to invite you to try to unlock my brain. To figure out how my brain makes connections and just to test yourself to see if you can figure it out. So without further rambling, here's the FAKE LIST:
1. LIGHT OF DAY (1987)
2. SERGEANT YORK (1941)
3. THE ROCKETEER (1991)
4. SCHLOCK (1973)
5. INVADERS FROM MARS (1953)
6. RED-HEADED WOMAN (1932)
7. EL TOPO (1970)
8. THE GREATEST SHOW ON EARTH (1952)
9. KEY LARGO (1948)
10. XANADU (1980)
11. FULL CONTACT (1992)
Again, none of those are playing BNAT 14 WOLF. And in most cases they in no way really resemble the film that is playing. There's just something about these films that make me think about them when I think of the films I'm thinking of. Should be a lot of fun.
NOW - STAND BY people...
There should be a few seats available. Ultimately we'll find out tomorrow when people show up to buy their tickets.
I've had a couple of people drop out today, one due to actual physical pain & another that is just trapped by work.
I also have a sneaking suspicion that this year's STAND BY could possibly have the largest amount of STAND BYs we've had. I've nothing to base that on, but I have had a lot of folks writing about the state of it.
I'm anticipating that it could be as low as 5 seats, and as high as possibly 13.
Now, I want every person in their seat by 11:30am tomorrow. That means we'll really need BNATTERS to check in, get your Badge, Goodie Bag, Shirt, Poster, and get in your seat. Not doing so puts the whole show behind - and means Stand By folks are left out in the cold missing the introductions, which isn't cool. SO BNATTERS - Please, I know chatting up BNATTERS is a great thing, but try to get to your seat and start getting to know the people around you... IN THE THEATER.
Standbys - there's 0 reason to show up hours and hours and hours early - Standby won't be on a first come, first served basis. The drafthouse will most likely use the TICKET phenomenon, where they give standbys a number or a ticket and your number is drawn at random. Everyone there having an equal shot at getting in.
SO I would suggest getting there no later than 10:30am Standby folks. Wake up, take a shower, get a breakfast - then check with the Drafthouse Folks regarding STANDBY, do this politely, bad manners do not get rewarded. Just perhaps... this might be your LUCKY NUMBER!
And for an end time, BNATTERS? Closer to 1pm now. BTW. I know. I know, I said 8 minutes after noon, but you know how it is. Cool stuff happened.
Now I'm off to bed. To dream of Olivia Newton John & Gene Kelly singing and dancing. Night night sweet film lovers!