Bonjour mon ami, Harry here with the latest rumors from the UK about BOND 20. It sounds like the ol UK press is gearing up to begin dishing rumors about the Bond Franchise. Now you should be aware, that sometimes these British Tabloid stories don't even pan out... We'll see. M being replaced again? BEYOND THE ICE as a title? SOunds odd and weird. Meanwhile, I think I'm going to stick in my ON HER MAJESTY'S SECRET SERVICE dvd and delight to the greatest Bond film of them all in pristine glory!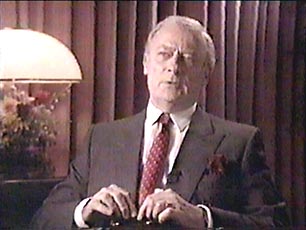 In today's Daily Mirror (UK tabloid) it says that Edward Woodward is going to be signed up to play M. Dame Judi Dench is retiring and Woodward willrelace her, he was in the the equalizor and last years New professionals (a series on a UK satellite station). He played a similar role in the seires as M in the Bond franchise (he was head of the new professionals), obviously made an impression. The working title is also said to be Beyond the ice. I don't know if this is just paper talk, but I thought I would drop you a line.
Booyakasha
And here's Jason's report
Harry, I don't know if you can verify this but the Daily Mirror over here in England have run an article stating that none other than the Equalizer Edward Woodward has signed to replace Dame Judi Dench as 'M'.
Bond 20 has the working title Beyond The Ice. According to the article Bond 20's opening sequence will be filmed in Alaska.
Jason