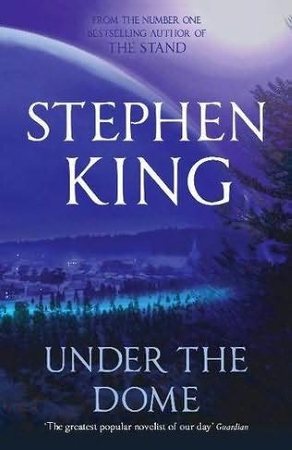 Last year we heard this was in development at Showtime, but Showtime's parent company CBS says differently.
Note that Brian K. Vaughn, missing from television since the 2009 demise of "Lost," is scripting:
CBS WILL TAKE VIEWERS "UNDER THE DOME" IN SUMMER 2013

Network Orders 13-Episode Series Based on Stephen King's Best-Selling Novel

CBS Entertainment and CBS Television Studios Join Forces with

Steven Spielberg's Amblin Television and Simon & Schuster For

Summer 2013 Television Event

STUDIO CITY, Calif. – CBS has given a straight-to-series order for 13 episodes of UNDER THE DOME, a serialized drama from Steven Spielberg's Amblin Television based on Stephen King's best-selling novel of the same name. The series will be broadcast in summer 2013.

UNDER THE DOME is the story of a small New England town that is suddenly and inexplicably sealed off from the rest of the world by an enormous transparent dome. The town's inhabitants must deal with surviving the post-apocalyptic conditions while searching for answers to what this barrier is, where it came from and if and when it will go away.

CBS and Simon & Schuster will cross-promote the television series and book in advance of the show's summer launch with the April 2013 re-release of trade paperback and electronic editions from its Pocket Books imprint. UNDER THE DOME was initially published by Simon & Schuster's Scribner imprint in November 2009, earning widespread critical acclaim and #1 best-seller status.

"This is a great novel coming to the television screen with outstanding auspices and in-season production values to create a summer programming event," said Nina Tassler, President of CBS Entertainment. "We're excited to transport audiences UNDER THE DOME and into the extraordinary world that Stephen King has imagined."

In addition to the featured broadcast on CBS, UNDER THE DOME will have a unique programming model tailored for a summer launch with a multi-platform window available for each episode shortly after the network airing. The series will be distributed domestically by CBS Television Distribution and worldwide by CBS Studios International.

CBS Television Studios will produce the series in association Amblin Television. Neal Baer, Stephen King, Justin Falvey, Darryl Frank, Stacey Snider and Brian K. Vaughan, who wrote the television adaptation, will serve as executive producers. Acclaimed director Niels Arden Oplev will direct the first episode.

About CBS Corporation

CBS Corporation (NYSE: CBS.A and CBS) is a mass media company that creates and distributes industry-leading content across a variety of platforms to audiences around the world. The Company has businesses with origins that date back to the dawn of the broadcasting age as well as new ventures that operate on the leading edge of media. CBS owns the most-watched television network in the U.S. and one of the world's largest libraries of entertainment content, making its brand – "the Eye" – one of the most recognized in business. The Company's operations span virtually every field of media and entertainment, including cable, publishing, radio, local TV, film, outdoor advertising, and interactive and socially responsible media. CBS's businesses include CBS Television Network, The CW (a joint venture between CBS Corporation and Warner Bros. Entertainment), Showtime Networks, CBS Sports Network, Smithsonian Networks, Simon & Schuster, CBS Television Stations, CBS Radio, CBS Outdoor, CBS Television Studios, CBS Global Distribution Group, CBS Interactive, CBS Consumer Products, CBS Home Entertainment, CBS Films and CBS EcoMedia. For more information, go to www.cbscorporation.com.

About Amblin Television

With UNDER THE DOME, Amblin Television produces five series at five networks; this joins season #2 of "Smash" at NBC, season #3 of "Falling Skies" at TNT, season #1 of "The Americans" at FX, and season #3 of The Borgias at Showtime. Amblin is run by Co-Presidents Justin Falvey and Darryl Frank, who have been with DreamWorks/Amblin for 17 years.