The awesome folks over at Titan Books sent over some goodies from their recently issued TARZAN: THE CENTENNIAL CELEBRATION. As indicated on the books' cover...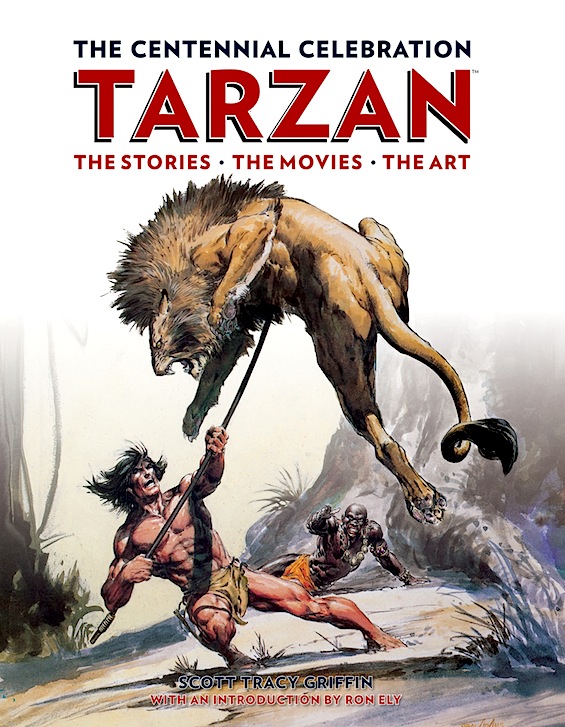 ...this plus-sized, 320 page publication encompasses "The Stories, The Movies, The Art" of everyone's favorite loin-clothed swinger.
Before centering on TARZAN however, THE CENTENNIAL CELEBRATION focuses on TARZAN creator Edgar Rice Burroughs' early years and writings (a shot of Burroughs as an Idaho cowpoke at age 16 is priceless), in a ramp-up which also includes a lovely introduction by movie Tarzan Ron Ely.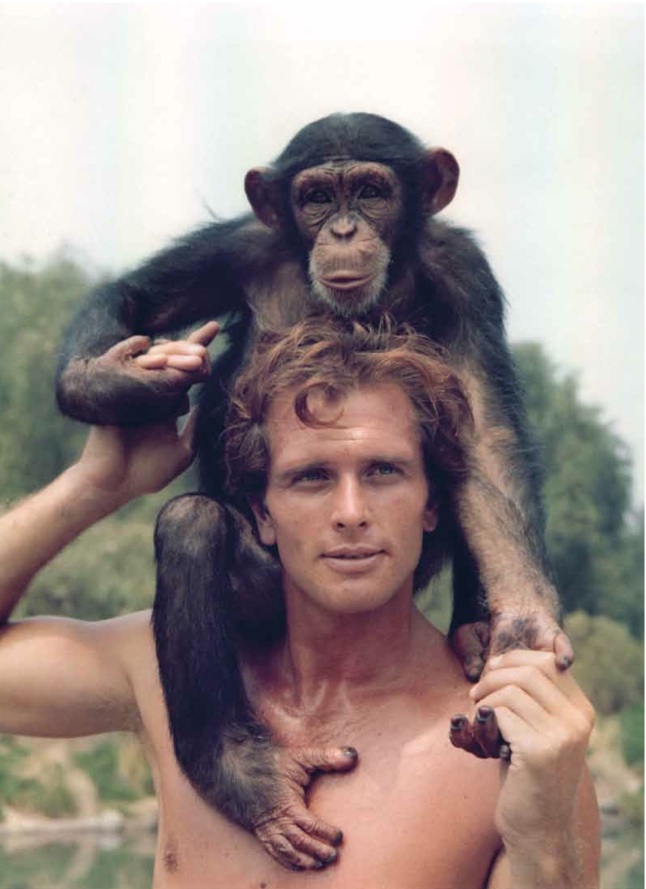 Griffin then moves on to offer an astonishing array of high-quality artwork samples (book covers, comics, Argosy pulp covers, etc.) - all backed with ample, hugely insightful written context.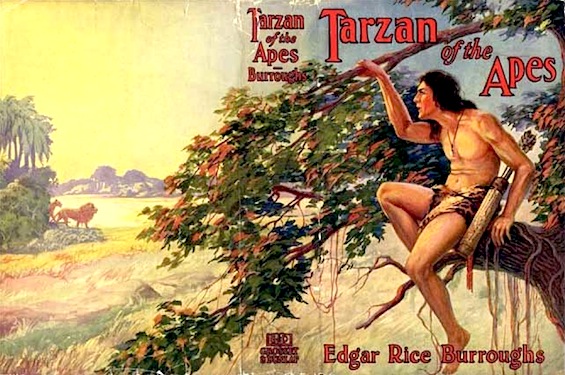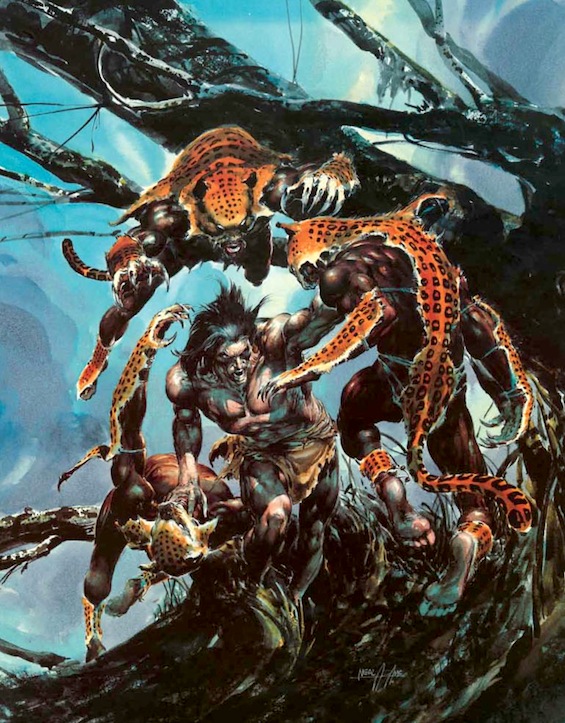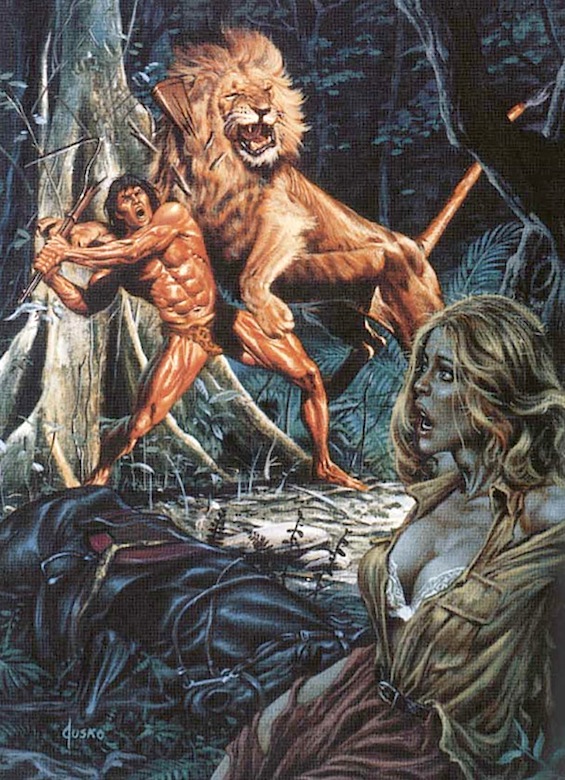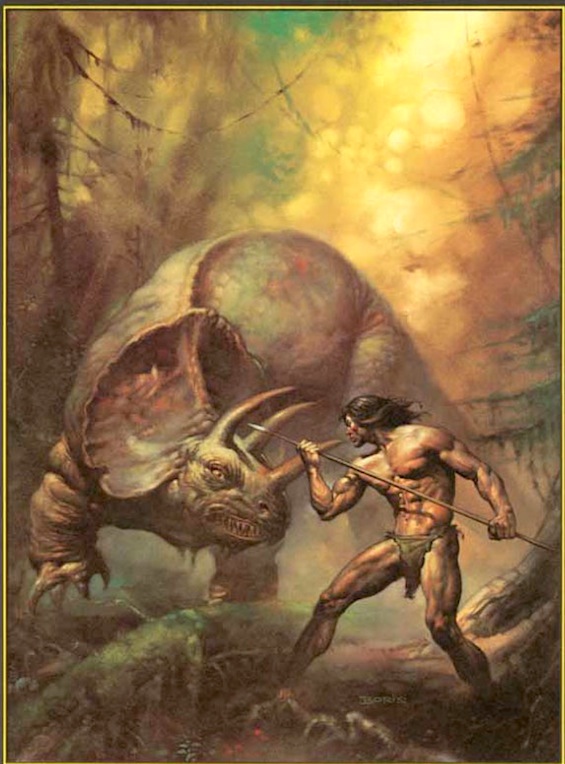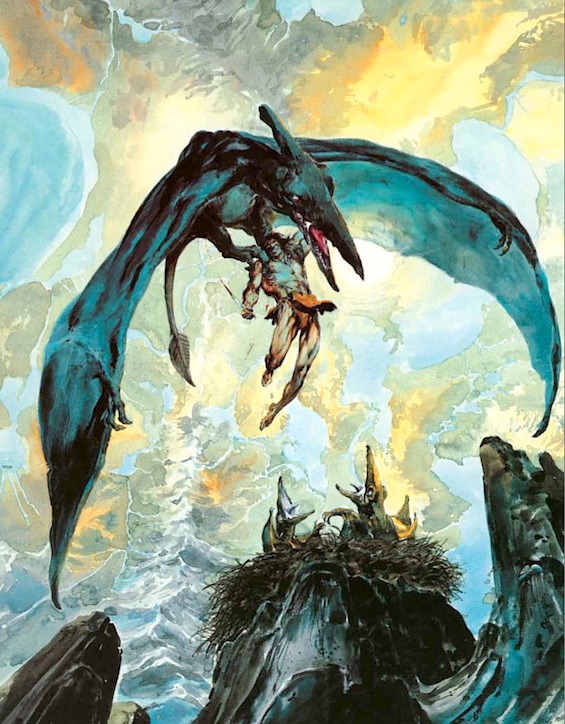 Particularly LOVE that Joe Jusko work from TARZAN AND THE JEWELS OF OPAR (Tarzan -vs- the lion), and the Boris Vallejo art featuring Tarzan and the Triceratops!
This book isn't just an illustrated history...it's a comprehensive journey through the history of an influential icon.
Regular AICN readers know that Titan usually knocks books of this ilk out of the park. Even taking into account Titan's lofty pedigree, TARZAN: THE CENTENNIAL CELEBRATION emerges as magnificently presented, stunningly laid out, and beautifully guided by author Griffin& Co. This may be the company's best work yet.
Titan sent along a little exclusive for AICN readers...straight from Scott Tracy Griffin himself. It's the author's list of 10 Screen Tarzans Who Suffered For Their Craft, presented here as a point of potential Talkback consideration, discussion, agreement and dismemberment. Feel free to have at it in the Talkbacks below.
============================
10 Screen Tarzans Who Suffered for Their Craft
Career-ending typecasting is one peril suffered by the men cast as Tarzan. Others put their health on the line as they sought to bring authentic thrills to the screen for the enjoyment of audiences world-wide. Twenty men have portrayed Tarzan onscreen since the first film, Tarzan of the Apes (1918), starring Elmo Lincoln.
Gene Pollar, The Revenge of Tarzan (1920) – A New York City firefighter and champion athlete, Pollar's role as Tarzan brought him a lucrative contract offer from Universal Studios. However, the Weiss Brothers, the producers behind The Revenge of Tarzan, held him to their ironclad contract, and after one film he gave up the Hollywood dream to return to firefighting.
P. Dempsey Tabler, The Son of Tarzan (1920) – One of the more unconventional castings, Tabler, a 40-year-old opera singer, broke several ribs and had to wear bindings for much of the rest of the movie, taking them off for photography.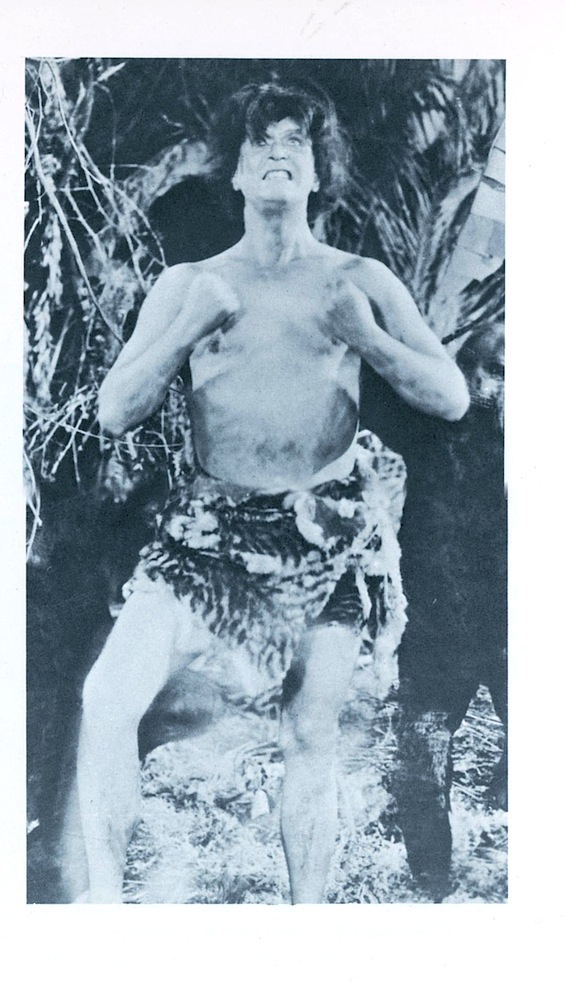 The marks from the bandages are clearly visible in some of the film stills. Tabler performed real-life heroics on the set when he spotted an escaped lion stalking a small boy, and charged it, scaring it away with a fierce yell.
Kamuela Searle, The Son of Tarzan (1920) – Legend has it that the mesomorphic Hawaiian Searle died from injuries received on set, but he survived being dropped by an elephant, while tied to a heavy post. A combat veteran of World War I, Searle survived a mustard gas attack during the conflict, only to succumb to cancer at the untimely age of 34.
Jim Pierce, Tarzan and the Golden Lion (1927) – A former All-American for the Indiana University gridiron squad, Pierce took off running on his first day on set—only to cut his bare feet to ribbons. He later put flesh-colored shoes to good use as he raced ahead of a hungry lion chasing a trail of blood that had been laid along the ground. As a reward for his tenacity, Pierce married Tarzan author Edgar Rice Burroughs' daughter Joan, with whom he would co-star on the 1932 Tarzan of the Apes radio program.
Johnny Weissmuller, Tarzan the Ape Man (1932) – Though beloved as the most iconic cinema ape-man, the genial Weissmuller found his good nature exploited repeatedly, and lost most of the money earned during a long career playing Tarzan and Jungle Jim to swindlers and bad investments.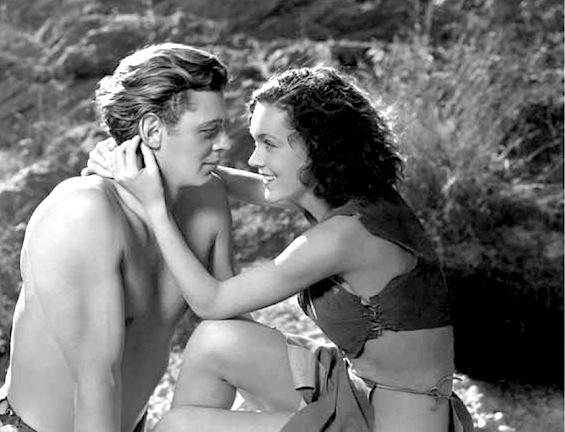 Never one to let adversity get him down, the elderly Weissmuller continued to bellow his mighty ape cry from his hospital bed, startling the other residents of the Motion Picture & Television Retirement Home.
Herman Brix, The New Adventures of Tarzan (1935) – Hand-picked by author Edgar Rice Burroughs, Brix worked on location in the jungles of Guatemala in 1935.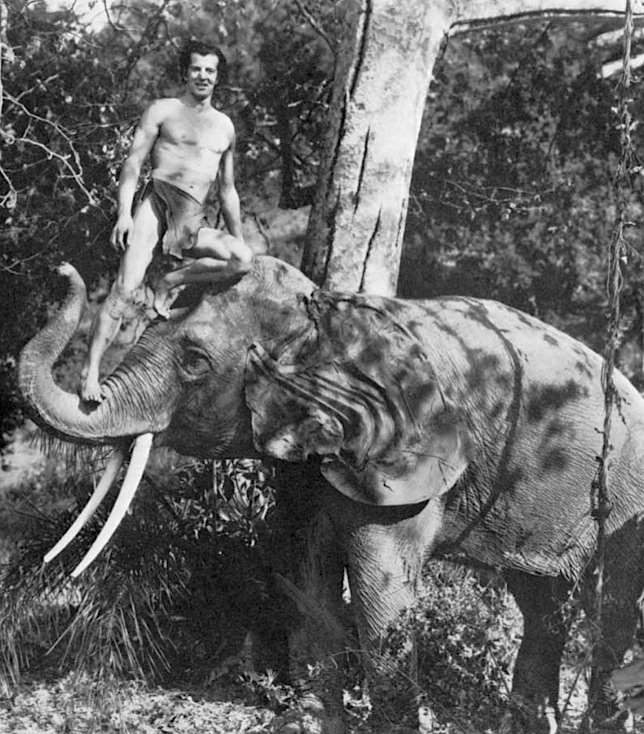 Despite bathing his body in germicide every evening, a cut on Brix's knee became infected, swelling the joint to the size of a cantaloupe. Fortunately, he was evacuated downriver, where a doctor lanced and treated the infection. A few days later, Brix was back at work, but he carried the scar for life. Brix died in 2007, aged 100, the longest-lived film Tarzan (to date).
Lex Barker, Tarzan's Magic Fountain (1949) – Though he escaped injury on the sound stages and back lots where his five films shot, the Hollywood lifestyle took a toll on Barker's personal relationships, resulting in five marriages, notably to actresses Arlene Dahl and Lana Turner. Perhaps he was channeling his onscreen persona: Barker's Tarzan had a different Jane in all five of his film outings.
Jock Mahoney, Tarzan's Three Challenges (1963) – A former stuntman and standout athlete at University of Iowa, Mahoney performed his own stunts. A high dive into a polluted Thai river, resulted in case of dysentery and dengue fever. Co-star Woody Strode attributed the delirious Mahoney's survival of the skyrocketing fever to an ice bath and ingesting antibiotics like candy. Mahoney lost 40 pounds during the shoot, and finished filming in a gaunt, haggard condition.
Mike Henry, Tarzan and the Great River (1967) – A former University of Southern California star and linebacker for the Los Angeles Rams, Henry filmed three movies back-to-back-to-back in Brazil. A fierce bite from his co-star, the chimp Dinky, sidelined Henry for several days with monkey fever. When his third film wrapped, the weary Henry declined the offer to star in the Tarzan television series.
Ron Ely, Tarzan (1966-68) – Unwilling to break reality by using a stunt double, Ely kept paramedics in Brazil and Mexico busy. The tall Texan suffered multiple animal bites, torn muscles, and other injuries, most notably a separated shoulder and broken ribs after a high fall from an uncooperative vine. Ely retired from the jungle to write mystery novels.
============================
TARZAN: THE CENTENNIAL CELEBRATION is now available HERE. All images in this article appear in the book.
___________
Glen Oliver