Greetings! ScoreKeeper here feeling rather bookish this morning so I thought I'd turn academic and present my latest book report. Unlike the reports I penned while still in school, I promise I'll do more than wax poetic about the cover…

Randall D. Larson is a titan among film music historians. He has scribed liner notes for more than one hundred soundtrack albums, writes a frequent column for BSX Records (www.buysoundtrax.com) and penned a horde of film music related articles spanning the last several decades. Perhaps, his greatest gift to movie music fandom was his 1985 book "Musique Fantastique" which was the first full-length analytical survey of music from fantasy, science-fiction, and horror films that had ever been written. It was a staple in any die-hard film music fan's library and has long been out-of-print.

Earlier this year, Mr. Larson massively expanded, updated, and republished this book as a second edition. It's entitled "Musique Fantastique - Book One: Beginnings and the First Golden Age (1900-1959)." While I never owned a copy of the first edition and can not make an adequate comparison, I'm absolutely blown away by the content of this current edition. Genre films are my bread-and-butter and when it comes to music, so many of my all-time favorites seem to be culled from these types of movies. This book chronicles in explicit detail the humble beginning of music in film all the way through 1959.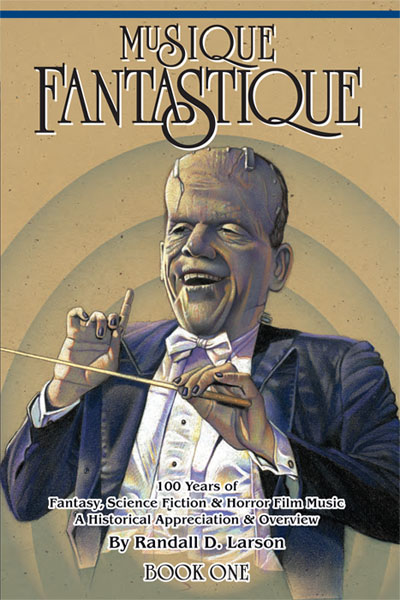 The book is laid out into ten chapters covering various topics including Universal monster movies, fantasy film music of the '30s and 40's, big bugs and outer space, giant invasions, and the Twilight Zone. Each chapter is divided into pithy nuggets of information regarding various films, their respective composers, and the beguiling stories which cemented them all in history. There are profiles chronicling (what seems like) every single composer who ever wrote a note of music for a genre film during the first sixty years of cinema. I like to boast that I know all the names and all the scores but Larson took me to school. There are tons of accounts of composers whom I had never heard of. Ever heard of Carmen Dragon? How about Ferde Grofé? No? How about John Williams? Yes, of course you have! But that's the beauty of this book. It covers everybody!

With the advent of the internet and the commonality of retrieving information at breakneck speed, the value of receiving loads of information in a single tome may not be as apparent as it should be. We're a society of information gatherers; however, we also crave entertainment. It's relatively easy to look up information online but what you miss out on is the level of personality and entertainment a deft writer like Larson can bestow upon readers. What Larson does so effectively is deliver an encyclopedic wealth of knowledge about this particular subject in ways that are delightful for readers to indulge. He's a fan writing to fans. For some, the material can appear to be pretty dry but Larson makes sure the information stays nice and wet.

As comprehensive as book one may appear, Larson is currently scribing three more books which pick up where the first book left off and carries us the remaining years to present day. Upon completion, the four tome set will certainly become the gold standard for analytical and historical accounts for genre film music. What's amazing is an effort like this could only be achieved a single handful of people on the planet. I don't know, maybe Larson is the ONLY person who could have done this. His devotion to the work supported by his personal knowledge and passion are unrivaled. The herculean task of compiling all this information has been done for us. We're left with just one thing we have to do.

…read it.

If you'd like to peruse the entire expanded table of contents for all four books you can find them here…

Book One: Beginnings and the First Golden Age (1900-1959)


Book Two: Post Classical Cinema and Music Beyond Hollywood (The 1960s)


Book Three: The Symphonic Resurgence and the Rise of the Machines (1970-1989)


Book Four: The Turning of a New Millennium & the Explosion of Fantastic Cinema (1990-2010)


For more information about the books or author Randall D. Larson, check out the "Musique Fantastique" web page.

If you're on Twitter look me up...