Click here to go to Part 1 of 2012's Holiday Gift Guide featuring DVDs, Blu-Rays, Art and Food Stuffs!
Click here to go to Part 2 of 2012's Holiday Gift Guide featuring Books, Gaming and Geek Housewares!
Welcome to Part 3 of 2012's Holiday Gift Guide. We close out this year's Guide with a bang. Below you'll find Collectibles, Toys, Gadgets, Music, Apparel and some choice Rich Stuff for the mega-wealthy out there!
COLLECTIBLES
One of my favorite window shopping section of the guide! Lots and lots of geek furniture here to peruse! Take a gander!
MODERATE ($25.00-$70.99)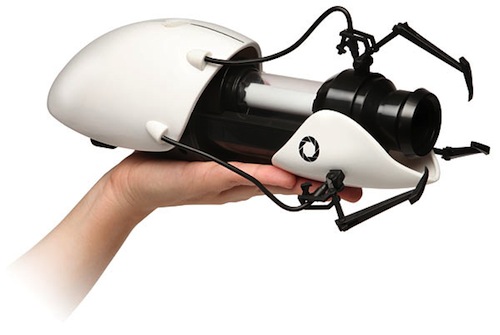 This mini-Portal gun lights up Orange and Blue, makes the correct sounds and even comes with a nice stand so you can display it at work, home or laboratory. Or you can give it to your toddler and it'll look lik they're the right size and you're just super massive! This 12" long mini-replica is $59.99. If you're hardcore and want the full 1:1 size light up replica, it'll run you about $193.00, so $59.99 for the half-size version is a pretty good deal.
Greg Nicotero and his amazing team have really made a mark with their zombie work on The Walking Dead. The bicycle girl from the pilot episode was incredible for a lot of reasons. The first thing people noticed was that she was a half body, which was a great effect, but the makeup work on is outstanding. Kind of a perfect teethy adaptation of Charlie Adlard's work in the comics. This bust really shows off that detail work. Sculpted by the folks at KNB, this mini-bust will run you $46.44.
This one's for hardcore movie fans. If you know the name Bob Burns you'll want this model kit of his loveable ape character of Kogar, who appeared in many films and TV shows in the late '60s/early '70s. Bob Burns is one of the original geeks and the fact that this model kit not only has his ape suit character, but also a head that's just Bob… well, that's pretty damn awesome. This is a model kit, so you have to assemble and paint, FYI. $28.99.
This lovely War of the Worlds (original, naturally) alien is also a model kit, but comes pre-painted and assembled, which essentially just makes it a cool little collectible toy. I love the design of this guy… so unbelievably alien. I'm pretty taken with this little guy… $37.99.
Here's another preassembled model kit celebrating George Pal's War of the Worlds. It's the War Machine in all its glory, hovering above that puny, insignificant Earth planet. $34.99.
And to round out our War of the Worlds section, here's Spielberg's version of the alien from the 2005 remake. Preassembled model kit of this nifty guy. I'm a fan of the design of this one, too. War of the Worlds is an odd film for me because I think it has a few minor flaws, but on the whole it's an incredibly intense, grounded sci-fi film and it seems like the community just ignores it. We'll see where we stand after a few more years pass. $39.99.
Now you too can be James Bond villain with this Live and Let Die replica tarot card deck! Nothing says "Merry Christmas" more than movie replica tarot cards! $28.99.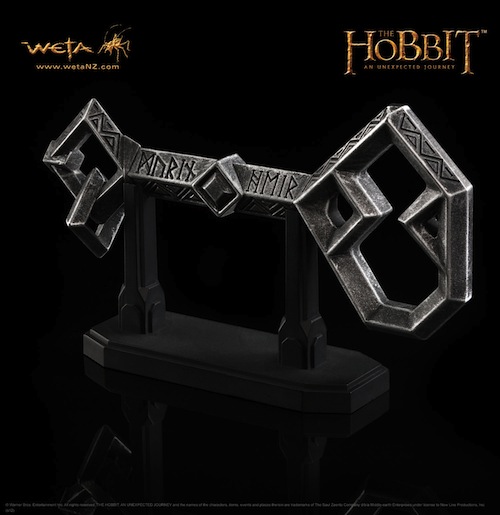 That, my friends, is the Key to Erebor, the dwarves' lost kingdom which has a rather large, red evil dragon squatter. Thorin and his company have the key, now they just have to get to their destination… This replica is made by the same people who made the original prop, so you know they're paying close attention to the detail of the original, like the proud papas they are. It's made of metal, too. What a bargain at $29.99.
*****************
Contest alert! Contest Alert! I have secured the Oakenshield Key and now the riches will be all mine! Bwahahaha… wait, what do you mean I have to finish the guide? Alright, damn… Well, I guess that means one of you guys should get the key, but I get 1/14th of the loot should you find the mountain, smite the dragon and survive battles with 5 armies and stuff! The contest is open worldwide and the only thing you need to do is email me at this address with the subject line "One Does Not Simply Win The Key of Erebor!", your full name, mailing address and phone number (only for shipping purposes, promise) and I'll pick a lucky winner at random between right now and the end of the day Wednesday November 28th. I'll email the winner and update this post when he or she or he/she is picked! Good luck!
*****************
EXPENSIVE ($71.00-$249.99)
Great moment from a great TV series… And it's a super classy bust, as it resisted temptation to go for more boobage. Sorry, fellas. But you at least get a dragon! Currently on sale for $75.00, regularly $124.99.
This doesn't ship until March '13, but I WANT IT RIGHT NOW! A bust of The Dink with full on "come at me, motherfuckers" battle ax stance! The Imp rules us all. Long live Tyrion Lannister! $159.99.
I screwed up. This should probably have gone in the Housewares section. When I split it off from toys/collectibles there were bound to be some casualties and now you had to wait a whole couple of days to see this stone Direwolf bookend set. Could you possibly forgive me? $79.99.
This was my big purchase at Comic-Con this year. Little did I know that this SDCC exclusive would still be available or I wouldn't have sweated it so much, but I can say that this is an incredible statue made by the good folks at Gentle Giant. Stands some 18" tall and will catch the eye of any guest. Warning, it will eat your children if left alone in a room with it. $224.99.
Those two are actual 1:1 size Gremlins replicas made from the original stunt puppet props from Gremlins 2. There are two options if you want these 30" tall little evil bastard, the Brown one and the Green one. They are both awesome, but I like the green one the best, personally. Don't think me racist. I totally have a lot of brown Gremlin puppet replica friends. The Brown Gremlin is $229.44 and the Green Gremlin is $229.99.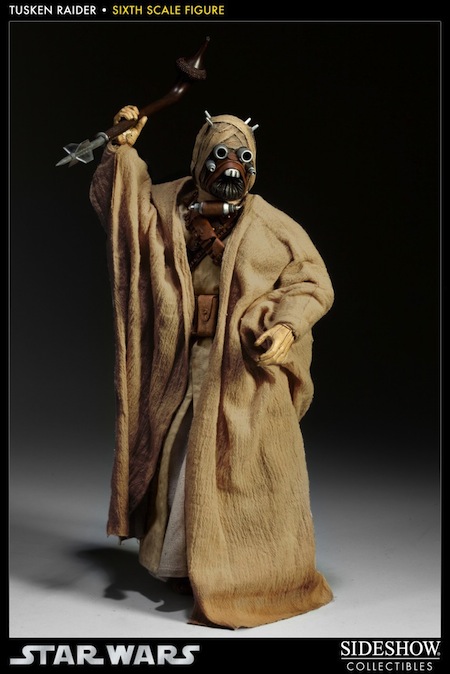 This Tusken Raider 1:16th figure is fully articulated, has all the right weapons and clothing. They are easily frightened by dragon calling at them, so don't set yours up near the TV when you're playing Skyrim. $134.99.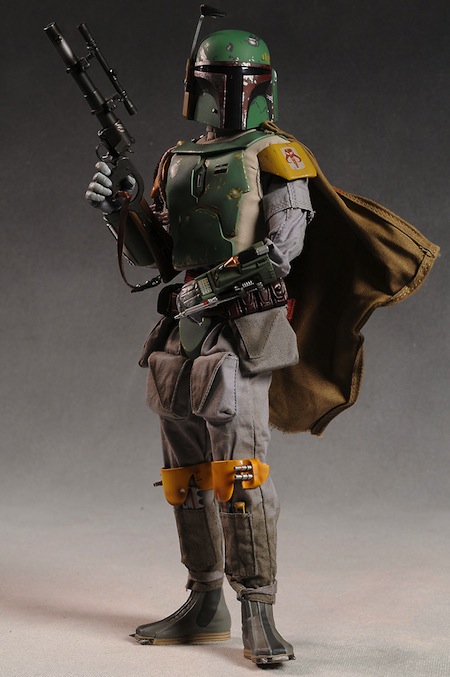 Sideshow also has a Sixth Scale Boba Fett that is built around something called an "Active Prometheus Body" which I'm sure is a skeletal structure that allows it to have a lot of articulation, but in my mind's eye I just see a giant bald white body-builder in a loincloth. Thanks, Ridley. Boba stands 12" tall and is incredibly detailed. $174.99.
Whovian rejoice! Now you can have Matt Smith's 11th Doctor at 1:6th the real deal's scale to pose in whatever awkward position you want him to be in! Lots of articulation, hand-tailored costume and interchangeable parts. You didn't think all those hands were just a decorative base, did you? $199.99.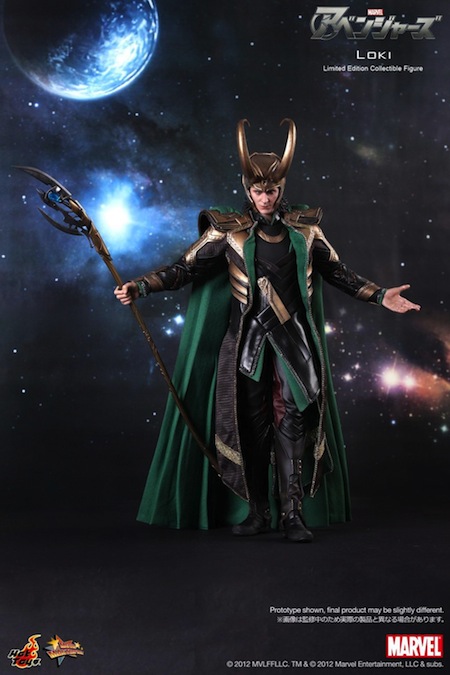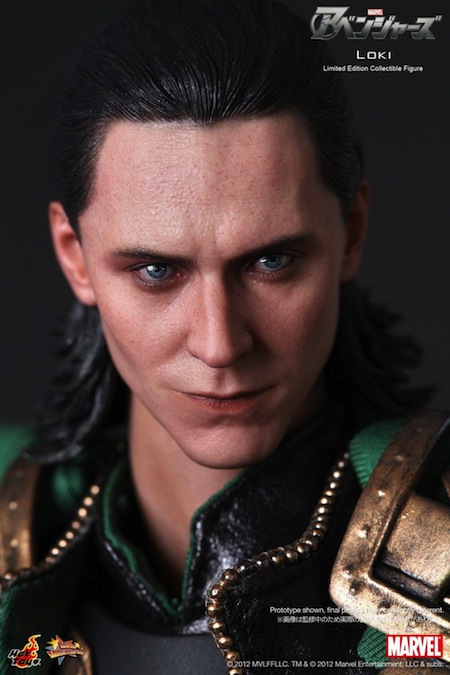 I'm kind of obsessed with Hot Toys. I don't own any, sadly. Partly because I'm poor and partly because I grew up with the Puppet Master movies and these things look so damn real that I'm positive they come alive when I'm not looking. I mean, who wants a 12" tall Tom Hiddleston running around? Well, I guess a lot of people do, but you see my point. Where was I? Oh, yeah. Hot Toys sculpts are incredible and their Avengers Loki is ridiculous. There are a few Hot Toys in this section, so keep your eyes peeled. Loki will run you $219.99.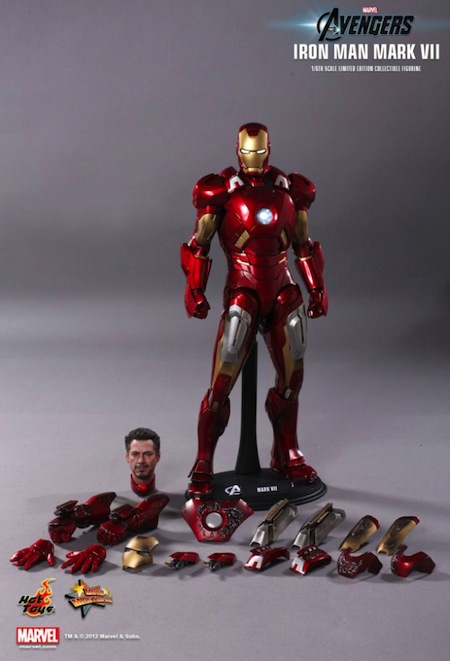 And here's Hot Toys' Mark VII Iron Man from The Avengers (which comes with a special Hologram bonus thingy). This one's not available yet, but who doesn't want a little Robert Downey Jr. in their house? Pre-order, shipping March '13. $249.99.
If you liked the above Hot Toys Mark VII Avengers Iron Man armor, but don't care about seeing Robert Downey's face and saving a few bucks, then this Kotobukiya ArtFX statue is for you. The chest lights up LED style! You can set it to turn on via Motion Sensor! There's LED lights in the eyes! GAH I WANT! $129.95.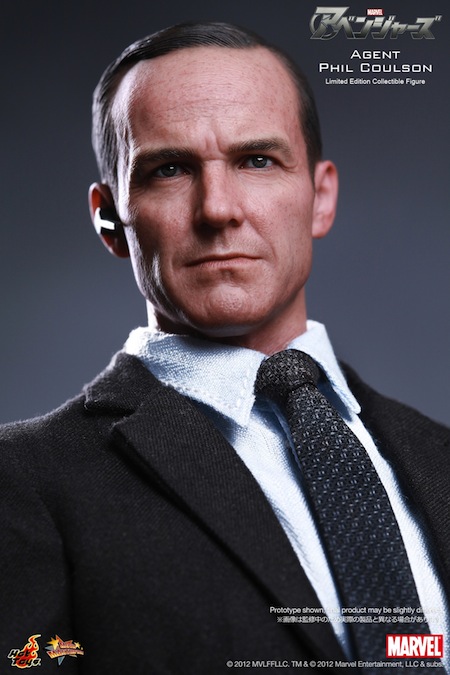 If I bought anything collectible in this price range it'd be Hot Toys' Agent Coulson figure. I hear Clark Gregg actually split up his soul horcrux style and put little chunks into each one of these figures and that's how the guys at Hot Toys got it too look so realistic. This guy doesn't ship until June 2013, but it was too cool not to include. Oh, and it comes with that big ass gun he finds in The Avengers! $174.99.
This is another San Diego Comic-Con Exclusive item that survived the Con and can be purchased online. Fuck lines! There's an Avengers Cap that's on backorder, but you can pick up this way cooler Steve Rogers built around his rescue scene in Captain America. This is my favorite on-screen Cap look so far, so if I were to take the plunge, it'd be this sucker I'd pick up. $219.99.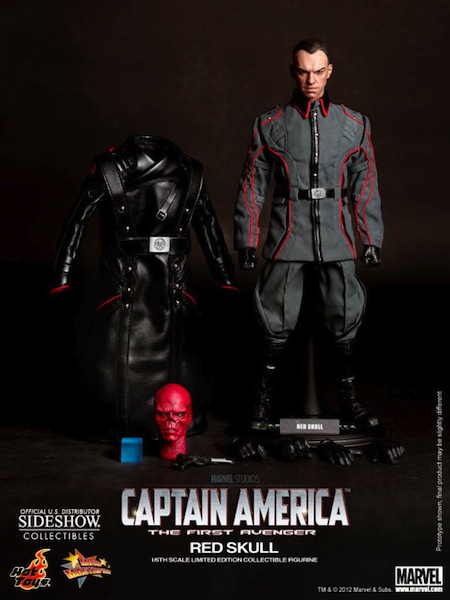 Little Hugo Weaving! Yes! Really dig the Red Skull makeup. The only way this would be cooler is if Weaving's Werner Herzog-inspired voice would shout at you when you walked by. $199.99.
Vintage sci-fi awesomeness! This Invasion of the Saucer-Men bust stands over 16" tall and kicks a ton of butt! I want one! $249.99.
A little less iconic than the Saucer-Men alien, but this She-Creature is no less cooler as a design. I like how early sci-fi just went for it. It's not like today where most aliens are "like a bat, but not quite" or "like an insect… but not quite!" They didn't give a damn back then and just made their creatures look as nuts as they could. $249.99.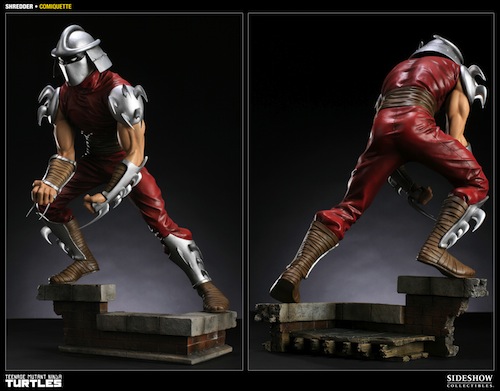 Sideshow's Shredder is on sale! There's a few different heads. The above blacked-out eye area one (my favorite, a regular eye area and then a maskless face. 16" tall, limited to 500 pieces and on sale for $149.99, regularly $224.99!
I know there's a bit of an upheaval over DC doing a Before Watchmen comic series. I haven't read it, so I don't have an opinion on it, but I will say that their tie-in DC Collectibles statuettes look cool. What I like about them is that they could just as easily be for Watchmen, so even if Before Watchmen sucks donkeys for quarters you can just set up Rorschach here and tell everybody it's from the good one. Rorschach is $105.03. Also available are Dr. Manhattan $159.99 and The Comedian $149.99.
Weta's not just doing Hobbit collectibles right now, they're also still pulling out all the stops for some cool Lord of the Rings stuff. The above is the first in a set of 3 statues that will ultimately all fit together to display the entire Fellowship. First up is Gandalf, Frodo and Legolas and that's shipping this month. The others release next year, but this is the coolest one anyway, right? $199.99.
Weta also has a Strider statue on the market this holiday season. You can set him up in the corner and feel him watching you while your noisy friends drink pints and you show off your invisibility powers. Strider ships next month and will run you $74.99.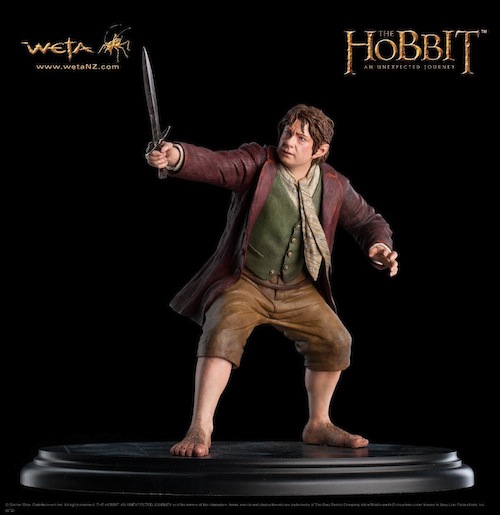 Bilbo Baggins! Martin Freeman's going to rock this and you'll want to say you were on board way before you even saw the movie, so why not just buy this awesome Weta Collectible sixth scale statue? $199.00.
I saw all the Weta Hobbit figures at Comic-Con and they're great. Just big enough to show off the detail of the artistry that went into them, but not so big that you have nowhere to put them. If I was rolling the dough they would all be mine! Here's Thorin wielding Orcrist! $249.00.
I wouldn't dare exclude Gandalf the Gray from this list. Goodness gracious no! Here he is in all his imposing wonder! $249.00.
If you just like Gandalf for his sweet staff (keep your mind out of the gutter, folks), then you can forgo the statue and just get this replica of Gandalf's staff instead. It's 73 inches long and will rock your world (that's what she said). Ships this month and costs $149.99.
You might be a Sting hipster like me and was totally into having your own Sting replica way before Bilbo finds it in The Hobbit. I got mine as a gift around the Fellowship era and I love it. Such a great, unique short sword that looks awesome on the wall. I imagine this one's even better with a decade's advancement in Middle Earth sword replication technology. This one ships in January and can be pre-ordered for $109.99.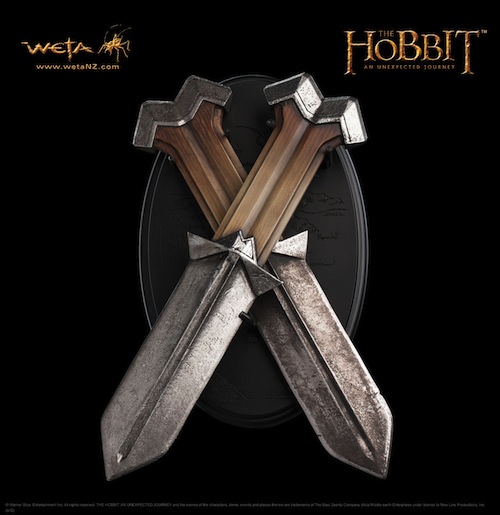 If you want more Hobbit-specific cutting instruments, how about Nori's Knives? Nori's the crazy star-headed dwarf played by longtime Peter Jackson collaborator Jed Brophy (he was the biker dude in Dead Alive!) and he obviously like knives. Limited to 500 pairs, this limited edition replica is not only taken from the original prop's molds, it's made from literally the same material that was used for the on-screen props. Super quality, but we've come to expect that from the good folks at Weta. $125.00.
This might have been better served in Apparel, but damn it The Hobbit One Ring replica felt more right here, so there! 18k Gold plated Tungsten Carbide made to the exact specifications as the one in the film, arrives in a wooden box… it's super romantic, geek boyfriends… just sayin'. Be careful, though. You might inadvertently propose if you wrap this the wrong way. $99.00.
*****************
Contest alert! Contest Alert! I have a precious One Ring to give away, thanks to the good folks at Weta! The contest is open worldwide and the only thing you need to do is email me at this address with the subject line "I Wantses The Precious!", your full name, mailing address and phone number (only for shipping purposes, promise) and I'll pick a lucky winner at random between the moment this guide publishes and 11:59pm CST Wednesday November 28nd. I'll email the winner and update this post when he or she or he/she is picked! Good luck!
*****************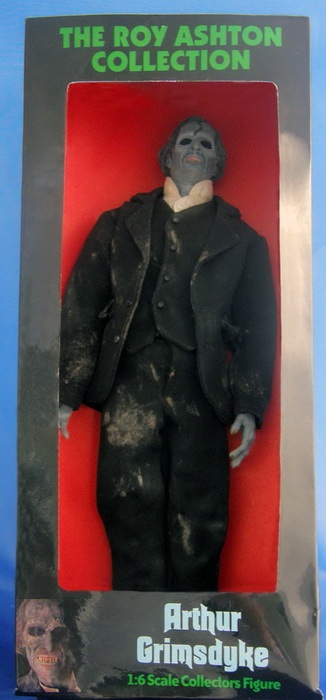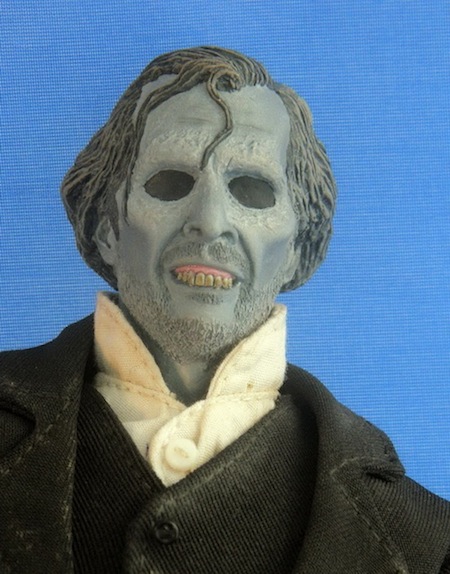 Roy Ashton was a makeup man who worked on a ton of Hammer and Amicus movies. In a rare turn of events, he ended up owning the likeness rights to many of his creations. Made with loving care, these handmade officially licensed 12" tall figures look absolutely fantastic. Up above is, of course, Peter Cushing's undead Arthur Grimsdyke from the 1972's Tales From The Crypt. Never thought you'd see an Arthur Grimsdyke doll, did you? $104.99.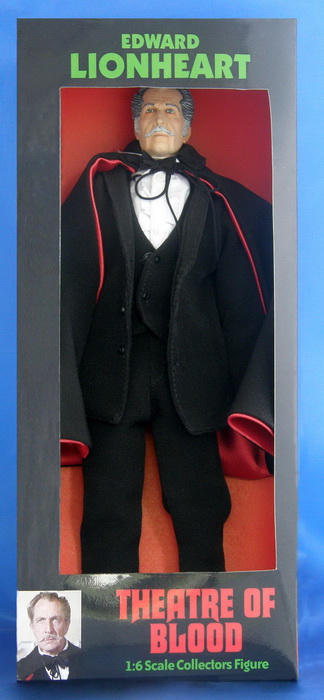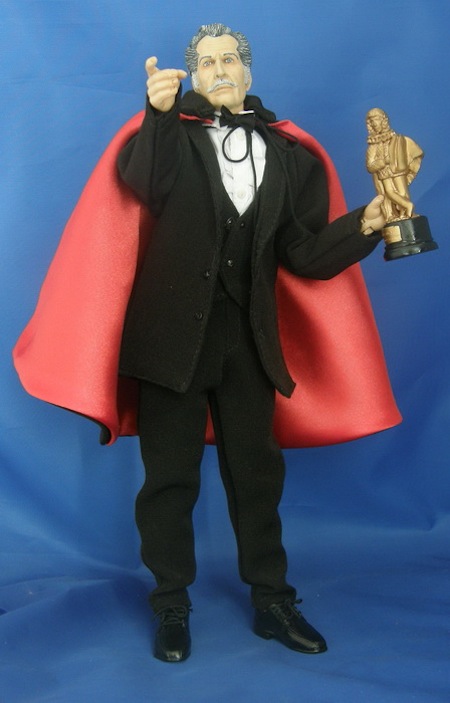 From the same people who made the above Tales From the Crypt figure comes Vincent Price's Edward Lionheart from Theater of Blood (you remember that one, right? The one where an actor gets his revenge on critics?). Again, I love that they went ahead and made these very unconventional figures. Super cool. Eddie Lionheart here stands 12" tall, is custom made and comes in a custom box as well. $104.99.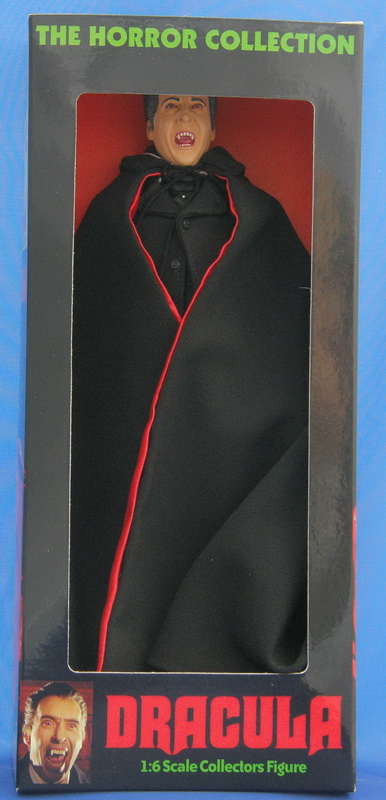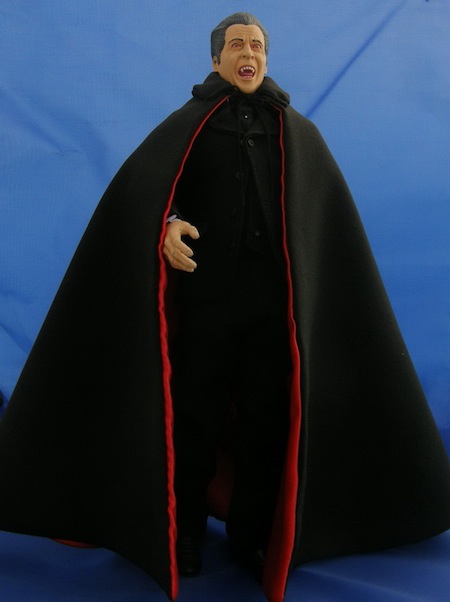 This sweet custom made Christopher Lee Dracula makes my heart smile. Standing taller than the others (as should be expected because Lee is like 700 feet tall in real life) has two interchangeable heads (wide eyed stare and creepy fangy Vampire snarl face) and all the other stuff the others have… custom box, handmade clothing, etc. A must for any old school horror fan. $125.00.
Come at me, bro! I totally respect you, bro! If you want to rise up and add this 1:6 scale Bane to your desk, this is your shot! $106.03.
Standing 13" tall, this DC Direct Dark Knight Rises Batman looks pretty sweet, actually. Love the cape action. Now you can grumble at Christian Bale whenever you want. "Whyyoutryintokillme?!?" "Wheresrachel!?!" "Oh, good for youuuuuuu! You and me are done, professionally!" and all the best Bale lines.$161.99.
How would you like Anne Hathaway's butt? Erm, I mean this Catwoman statue? I mean, I wasn't looking at her butt. Does she even have a butt? I don't know because I wasn't looking… $100.93.
Ah, Batman vs. Joker, but done in the style of Frank Miller's The Dark Knight Returns. This 1:6 scale statue done by Kotobukiya is frickin' gorgeous, dontcha agree? $99.92.
Click on the Ecto-1 up there. You really need to see the amount of detail that went into this Hot Wheels 1/18th scale car. It's incredible. High level of nerditude is in this one… $123.95.
Alright, Whedonites. Here's a screen-accurate replica of Mal's sidearm from Firefly. Measuring 14" from end to end, this sucker was built to make all the many legions of fangirls and boy swoon. And not a bad price, either. $72.58.
I'm done with Firefly yet. Here's the 1:400 scale Serenity for your desk. 1:400 scale sounds tiny, but this guy is still 8" long, which I hear is bigger than average. $87.99.
FOR THE SUPER RICH ONLY ($250.00 and up)
Yay! Cemetery Zombie Bust! Limited to only 100 pieces, this 23 inch tall 1:1 scale bust is so kickass I can't even express just how in love with it I am. Now someone help me steal it from one of the 100 homes of the rich people who buy it.$384.99.
Oh. My. God. That. Is. Possibly. The. Coolest. Thing. I've. Ever. Seen. 1:1 Boris Karloff Frankenstein's Monster bust that comes with an electric switch to pull. The eyes even light up subtly when the switch is pulled. This sucker is 20 pounds and stands 21" tall. Limited to only 400 worldwide, this is a must for any true blue geek with the means to afford it. I wish I was one of them… $449.86.
Absolutely amazing likeness, isn't it? This Heath Ledger Joker is in a line called HD Masterpiece and Masterpiece it sure is. Imported from Hong Kong, the Joker has 30 points of articulation stands 18" tall in 1:4 scale. Amazon has one available for $365.00, Entertainment Earth will have them in stock next month for $369.99.
The HD Masterpiece collection also put out a Rambo III Sly Stallone that's killer as well. Oh, man, these look good, don't they? $369.99.
At first glance I thought that was the Michael Keaton Batman, but nope… That's indeed Mr. Bale in his The Dark Knight batsuit. Huge 1:4 scale, like the other HD Collection guys. Simply amazing. Amazon has one in stock at $365.00, Entertainment Earth has some that ship next month at $369.99.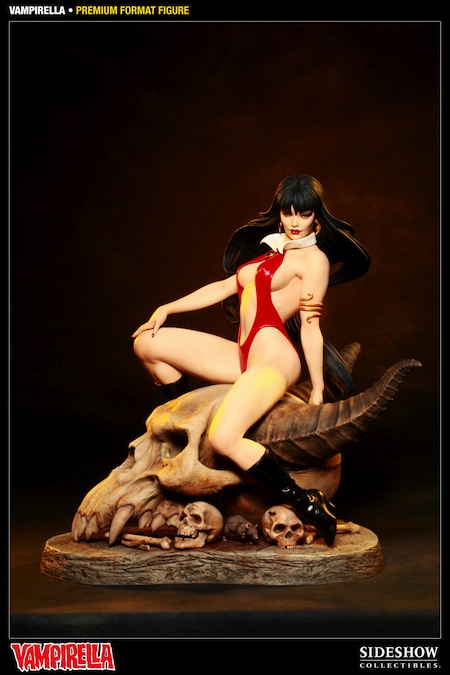 Make sure it's okay with you girlfriend before you order this half naked Vampirella Premium Format statue from Sideshow. I can see that causing some friction in the relationship, fellas, just sayin'. $349.99.
*****************
Contest alert! Contest Alert! Sideshow has generously offered up one Vampirella for me to give away! The contest is open in the US only, I'm afraid. The only thing you need to do is email me at this address with the subject line "I Vant To Suck Your Blood, Tiger!", your full name, mailing address and phone number (only for shipping purposes, promise) and I'll pick a lucky winner at random between the time the contest goes live and 11:59pm CST Wednesday November 28th. I'll email the winner and update this post when he or she or he/she is picked! Good luck!
*****************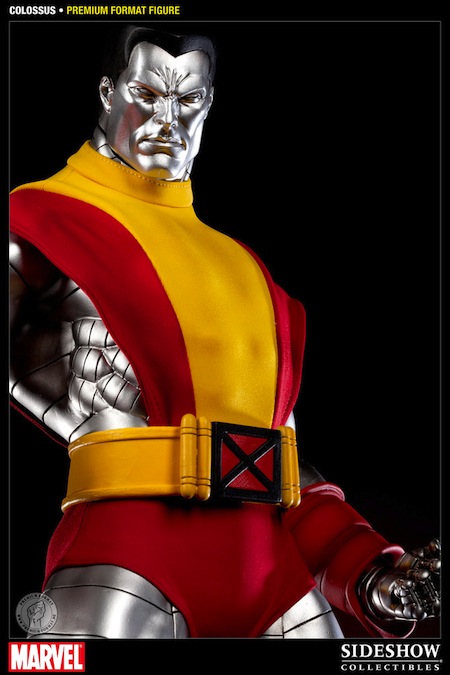 Standing an imposing 24" tall, Sideshow's Premium Format Colossus statue is ridiculously eye-catching. Great sculpt, great usage of the comic costume and oh so shiny! $399.99.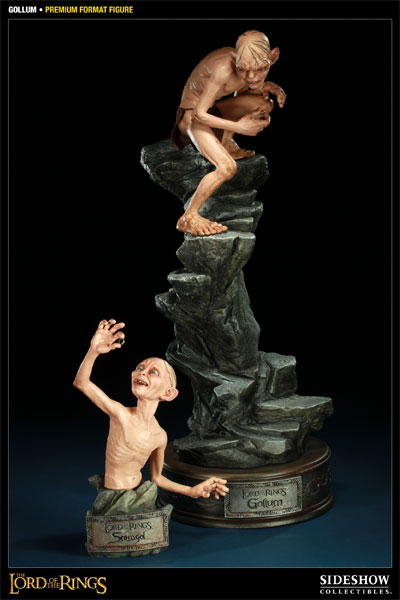 Sideshow knocked this Premium Format Gollum out of the park. You can switch between the snarling Gollum and the happy Smeagol (reunited with his precious) as the statue comes with a second sculpt that plugs into the torso. Fantastic design, great likeness and just an overall beautiful piece. $299.99.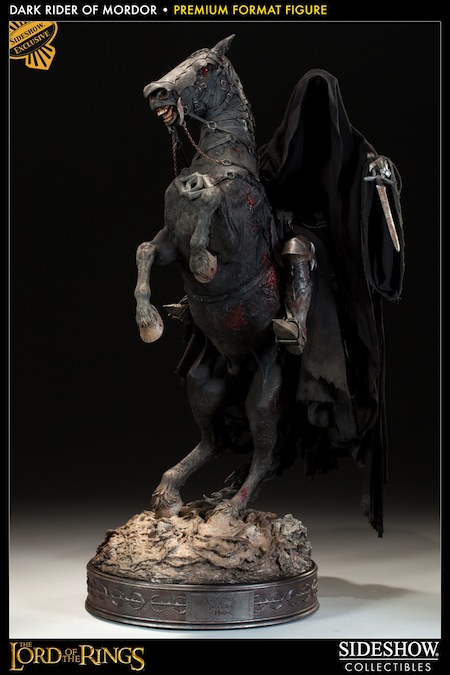 This incredible Premium Format Figure, called Dark Rider of Mordor, is limited to 500 pieces, stands 31" tall, weights 23 pounds and WANTS THE HALFLING! Give it the Halfling! Oh God, sorry Frodo! I'm outta here! On pre-order, shipping Feb. '13. $799.99.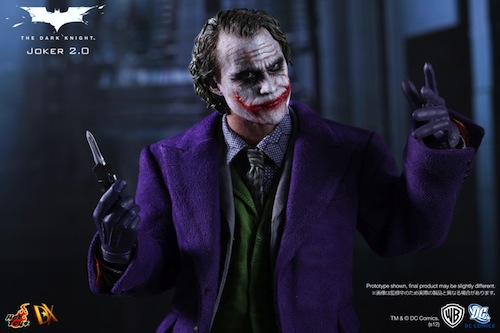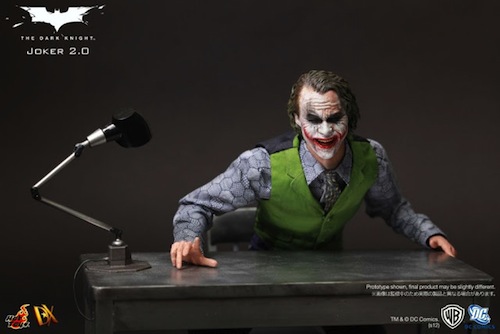 Yes, it's another Joker figure. Sue me! It's awesome! Hot Toys brings it again, having another go at a Heath Ledger Joker Sixth Scale Figure and dare I say it, the likeness is even better than the first one! The two new face sculpts are the smirking look that really shows off the scars and a laughing Joker face (both pictured above). Fantastic. Shipping January 2013, you can get him for $274.99.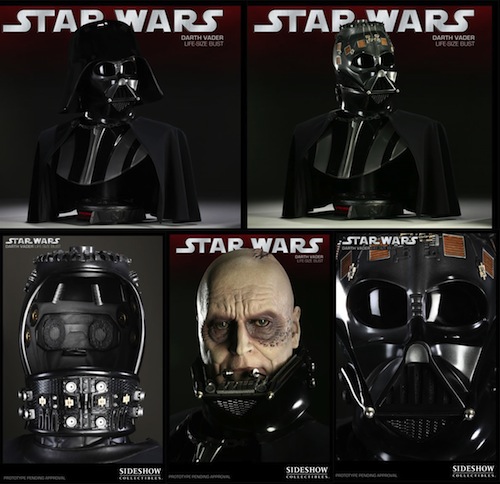 This life size Darth Vader Bust looks incredible. Not only do you get the full helmet and shoulders, but it also has the ability to see crusty ol' Sebastian Shaw's face underneath. Hurry up and buy it before Lucas executes the clause in his contract that forces Disney to CGI in a digitally aged Hayden Christensen! A paltry $1199.99.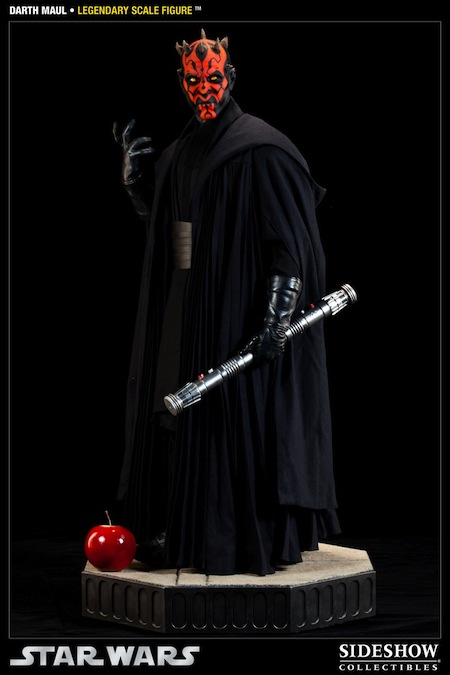 You guys know I'm a prequel hater and even I think this is cool. Darth Maul in a Legendary Format from Sideshow. He stands 40" tall and looks super badass. I'm afraid this is a window shopping item, though. He costs a steep $1,999.99.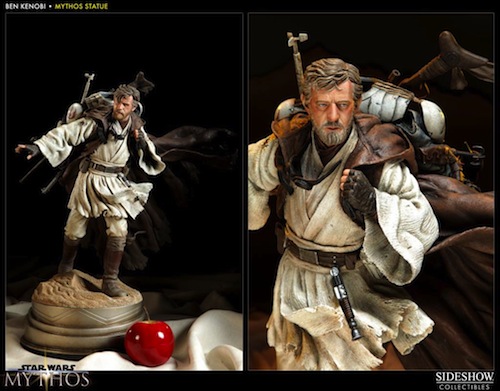 This kind of stuff is right up my alley. So, Sideshow has a statue they're calling the Ben Kenobi Mythos statue, which posits an image of Ben Kenobi between Revenge of the Sith and A New Hope. What's really rad about this particular statue is that the two swappable heads are two different actors. There's an older Ewan McGregor head and a younger Alec Guinness head. I love Ewan, think he's one of our most likable actors, but who in their right mind would buy this and not use Alec Guinness' head? On pre-order, shipping January 2013. $349.99.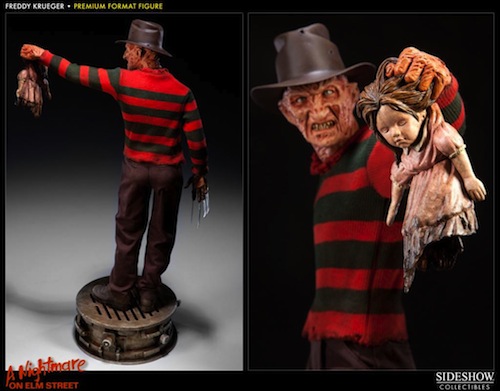 Shipping in December, Sideshow has a new Freddy Krueger Premium Format statue… you know, because nothing says Happy Holidays like a burnt child-killer holding up a fucking creepy doll. Still, I think it's cool. Limited Edition of 1250, standing 23" tall, this one is perfect for your boiler room. $349.99.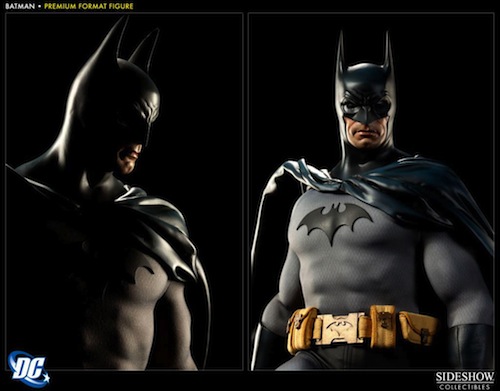 Sideshow's Premium Format Batman is refreshingly not based on any film or TV version of the character. It's an artist's interpretation of the character and it looks really cool. Batman stands atop a stone gargoyle and sneers down at the scum of Gotham… or your living room, which could very well have muggers and rapists and killer clowns in it. He doesn't ship until March 2013, but you can pre-order him for $399.99.
Bane must break the Bat! In 1:6 scale you can have that moment immortalized on your shelf if you want to. Amazon has one left at $279.99, Entertainment Earth is getting them in next month, $269.99.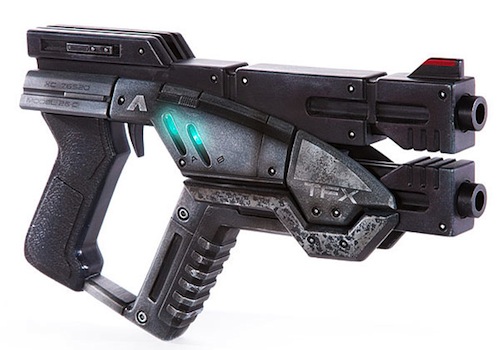 So that's a full scale replica of the M3 Predator Pistol from Mass Effect 3. It's hand-crafted and limited to only 600 pieces worldwide. And it lights up, just like in the game! $349.99.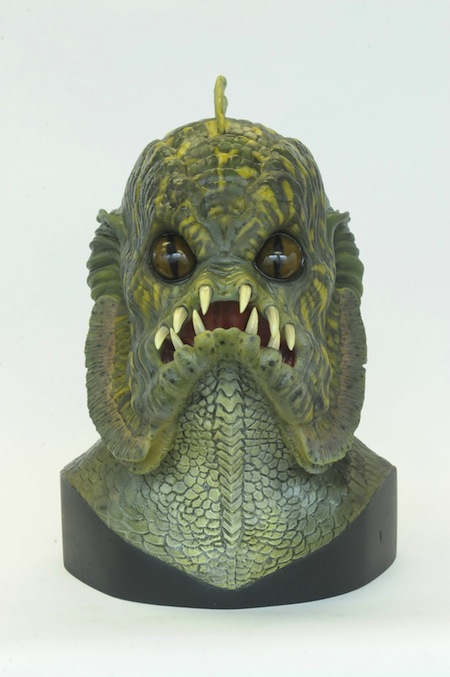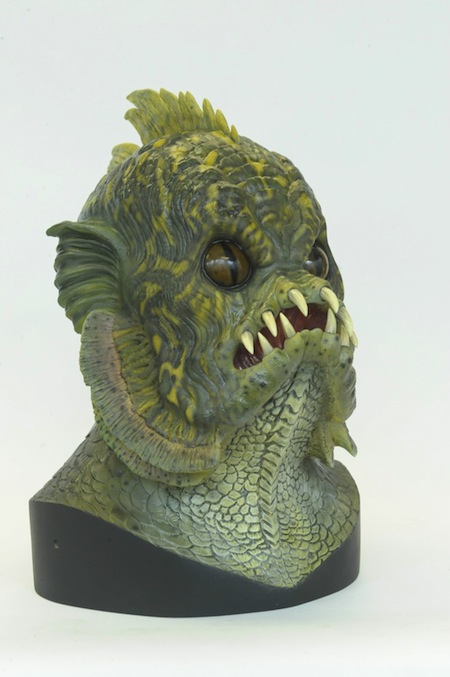 Creature Features are auctioning off a 1:1 scale resin bust of the Gill-Man from The Monster Squad. Sculptor Jeremy Bohr sculpted it and as a Monster Squad superfreak, I give my hearty approval. If you end up with enough scratch to pick this beauty up, make sure you keep a shotgun and a fat kid close at hand. (My name is Horace! Ka-chack!) $695.00.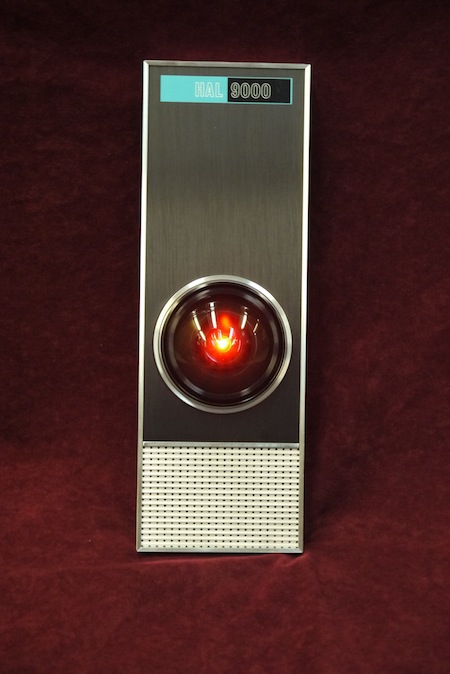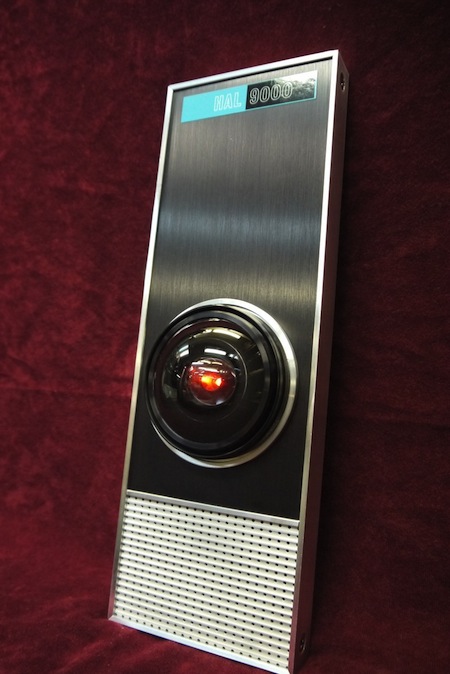 There's a company called Artifactory that was started by the guy who created Master Replicas and they did that amazing HAL 9000 you can see pictured above. Let me run it down for you. The red eye lights up, the lens is actual ground glass modeled after the camera lens used for the original and Hal is voice activated, responding to you with 15 different phrases from the movie. The logo was pulled from the original studio files and the whole thing, built from aluminum and anodized black components, is based on the original prop's blueprints. And it hangs on your wall! Now, I've been lucky enough to have held the original prop in my hands and this one looks pretty damn authentic. Let me just state for the record how jealous I am of any of you fuckers who end up picking this up. The item is in production, but will be made in extremely limited quantities. You can pre-order for $479.00.
MUSIC
Let's take a little side trip into some auditory delights, shall we? You won't find much non-film related music below and that's mostly my fault. I'm very lame when it comes to modern music. I don't follow the newest indie bands or even jam to Top 40 stuff, so I'm not even going to dip my toes in that water. But I do listen to a ton of soundtracks and there's a great selection this year. Below you'll find a rather potent mixture of new scores and old scores with a couple little different music things thrown in for a little kick.
Before we start, I wanted to give my fellow soundtrack nerds a heads up about a sale going on over at La-La Land Records. It's their 10th anniversary, so they have a selection of good releases on sale for $10 each. Clue, It's A Mad Mad Mad Mad World, Trading Places, Tora! Tora! Tora! And The Golden Child can all be had for $10.00 at LLR's site!
Now on to the rest of the music stuffs!
CHEAP ($24.99 AND UNDER)
This is the soundtrack of the year as far as I'm concerned. I was nervous about it, I must admit, because I hold Howard Shore's Lord of the Rings music up with John Williams' Star Wars work as some of the best, most iconic movie music of my life. There's always a danger when returning to a beloved franchise that a little of the magic has worn off, but when when I listened to the streaming preview of the soundtrack that hit the net a couple weeks ago I instantly fell in love. Shore somehow did it again. The Misty Mountains theme comes swelling onto the soundtrack at a few key moments that I can only imagine are full of epic epicness. I will be listening to this soundtrack a whole lot and while we still don't know how the movie has turned out, I know we at least have another masterpiece from Howard Shore. I wish I could be listening to the soundtrack right now I love it so much. Unfortunately it doesn't release until December 11th, but you can pre-order it. $20.01 on CD and $17.98 for the digital download.
I'm quite fond of Ramin Djawadi's work on HBO's fantastic Game of Thrones and now you can have Season 2's soundtrack to carry around with you at all times. You can walk around naked with a dragon on your shoulder, get uncomfortably close to a fiery wildwoman or birth a smoke-monster assassin or give the man a name and have the right kind of music as you do. Don't lose your head over this one, there are plenty copies to go around. $14.99 on CD, $7.99 for the digital download.
Okay, there's one bit of bullshit about this release: they don't include Adele's awesome Skyfall song. But what you do get is 2-CDs of James Bond greatness. CD 1 is mostly the title songs and CD 2 has a bunch of cues from almost all the movies. It's a great Bond nerd present. $20.97 on CD and $6.99 for the digital download. (I'm not sure if the Digital Download comes with the 2nd Disc score stuff. The only thing I saw on the page were the Disc 1 title songs, so look closely before you buy).
The John Williams and Steven Spielberg collaboration is still paying off after all this time. I'm a big fan of Lincoln on the whole (could have done without the last 3 minutes, but I'm not complaining) and Williams' score is super strong. $9.99 on CD and $10.99 for the digital download.
Speaking of Williams, the dude turned 80 this year and I hope he keeps on chugging for another 80. This CD release celebrates the man's birthday and his legacy as The Boston Pops and other Williams friends, including Itzhak Perlman and Yo-Yo Ma, play some of his most well known work. So you get a different-sounding take on the maestro's music, from Jaws and ET and 1941 (one of my all-time favorite title themes he's ever done) to Harry Potter and Star Wars. It's a nice, different release. $9.99 and $9.99 for the digital download.
Danny Elfman hasn't been turning in the best stuff of his career recently. I'm not knocking the dude, he's given us more amazing music so far than 99% of his peers give us in their entire careers, but I haven't been floored by a score of his in a while. This year he has a couple of really good scores. His score for Hitchcock isn't a knock-you-down score, but it's got a life to it that I really like. It also captures some of Hitch's humor, too. This was a project he fought to get and that passion and love for the great director being portrayed in this film shows through in the music. $9.99.
I somehow missed this last year and by God I'm making up for that mistake now! This collection of classic music from Hitchcock's films is a must for any Hitch fan. There are tracks from Vertigo, North By Northwest, I Confess, The Man Who Knew Too Much, Rope, Dial M For Murder, The Trouble with Harry, Spellbound, Rear Window, Strangers On A Train, Psycho, To Catch A Thief and yes, it does include Funeral March of the Marionette (the Alfred Hitchcock Presents theme). $14.21.
I've really come to appreciate Alan Silvestri's score for The Avengers over the last half year. It didn't jump out at me while watching the movie, but I soon realized that the main theme was running on a loop in my head. It would have been great to have a little more punchiness throughout, but Silvestri does some fine work here. I'm just hard to please when it comes to scores. I unabashedly love a big score on a movie and I just haven't heard that in most of the recent superhero films. The Avengers comes the closest. $19.99.
There's a pretty good deal on Hans Zimmer's The Dark Knight Rises score right now. Under seven bucks and you can get his soundtrack. The movie wasn't my favorite of the Nolan bat-films, but Zimmer's work has grown on me. I'll take Elfman's bombastic '80s theme any day, but I gotta give credit where credit is due and Zimmer really created a distinct sound for the Nolanverse. $6.99, $7.99 for the digital download and $24.98 for a limited edition vinyl pressing.
Dredd was a fan favorite flick this year and for good reason. Super fun, super hardcore and true to the comic… what really impressed me was that it felt like a full on '80s action movie. We don't need Expendables making jokes about being too old for this shit, we need more unapologetically violent, darkly humorous action flicks like Dredd. Paul Leonard-Morgan's score can be acquired. Do it, or be judged. $9.99 for Digital Download.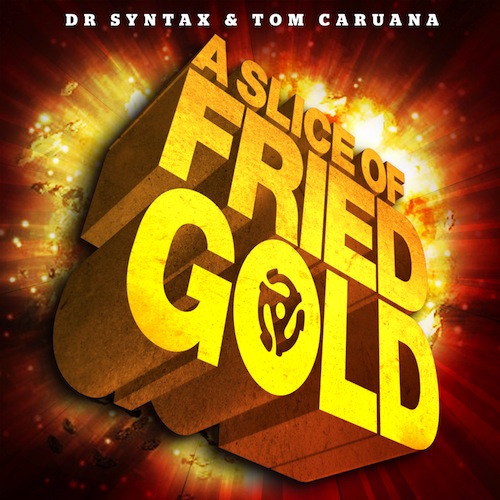 This is as close to hip and cool I'll get in the music section of the Gift Guide. Dr. Syntax and Tom Caruana have taken their love of Edgar Wright movies made 14 tracks of unadulterated geekiness. Shaun, Fuzz, Spaced and Scott Pilgrim are all represented. This collaboration has been personally thumbs-upped by Mr. Wright himself. £5.00 (about $8).
I don't know if there's any other soundtrack this year as crucial to the film as Cloud Atlas' is. The main theme is actually a major plot point in the story. Not only is the music by Tom Tykwer, Johnny Klimek, Reinhold Heil, Gene Pritsker and Gabriel Mounsey great, it's also immaculately layered. Listen closely for the variations as we jump from story to story and we hear echoes of what came before and hints as to what's coming next. Dis soundtrack be dah true-true. $7.99 for a digital download.
As a tone-setter I can't think of a more perfect matching of score and film than Jonny Greenwood's work for Paul Thomas Anderson's The Master. Just thinking about Greenwood's music here makes me anxious. $14.23 on CD, $11.99 for the digital download and $26.98 on vinyl.
Alexandre Desplat's score mingles with classical music and tons of Hank Williams to form the musical backdrop to Wes Anderson's Moonrise Kingdom, a very sweet coming of age flick with all the odd quirkiness you could expect from Anderson. I really like how they incorporated the "introducing kids to how an orchestra works" record onto the actual soundtrack and how the actual kids from the movie use that same technique in one track to deconstruct Desplat's theme. $9.99 on CD and $9.99 for the digital download.
This is the other Danny Elfman score I really took a shine to this year (Hitchcock, too). It's not a given anymore that I'll flip for every Burton/Elfman collaboration, but they did good here. Elfman calls back to the style of the great Universal monster movies in a super fun way here. Really like this soundtrack. $10.00 for the CD and $9.49 for the digital download.
Laika's Paranorman was robbed of about a few million asses-in-seats that the filmmakers deserved, but time will be very kind to this film, I think. Jon Brion's score ruled, too. $12.99.
Yeah, Rihanna's song is kind of shitty, but don't let that dissuade you from picking up the Wreck-It Ralph soundtrack. With the heavy video game influence, Henry Jackman's music more than makes up for the pop song. Jackman's score is actually pretty great here. He goes from 8-bit electronica to full on orchestral score. Plus Skrillex's crazy Sugar Rush song is worth buying this soundtrack for just by itself. $9.99, $7.99 for the digital download.
The actual soundtrack to Borderlands 2 is kind of freakin' awesome, guys. Click on the image above and listen to some track samples and tell me that's not hugely John Carpenter-inspired (especially "Hyperion). Great game, great soundtrack. $8.99.
This is a pretty cool collection here. Last year the London Philharmonic Orchestra did a tribute to music of the video games (it's awesome and only $9.00) and that was such a success they did another performance of game music only this time they played specific tracks voted to be the best by game fans. Volume 2 brings back the London Philharmonic to class up video game music. Assassin's Creed, Zelda, Skyrim, Mass Effect 3, Halo, Luigi's Mansion, Batman Arkham City, Fez, Little Big Planet and Portal are all represented. $9.99, $5.99 for the digital download.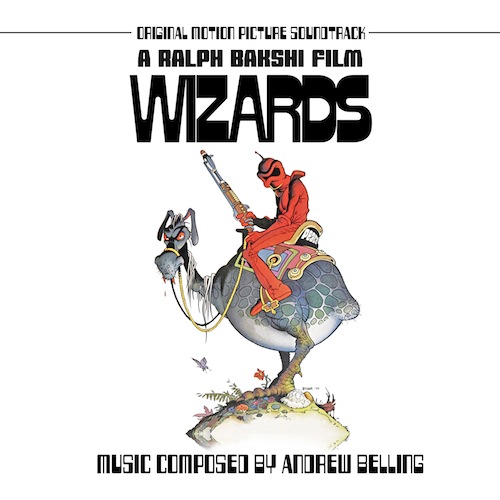 La-La Land Records will feature heavily on the Guide again this year. They have some great releases, but I'm gonna start off with Wizards because why not? Ralph Bakshi's flick is great and La-La Land is putting out a limited edition of Andrew Belling's soundtrack. If you order now you can even have your copy signed by Belling at no extra charge! What a bargain! $19.98.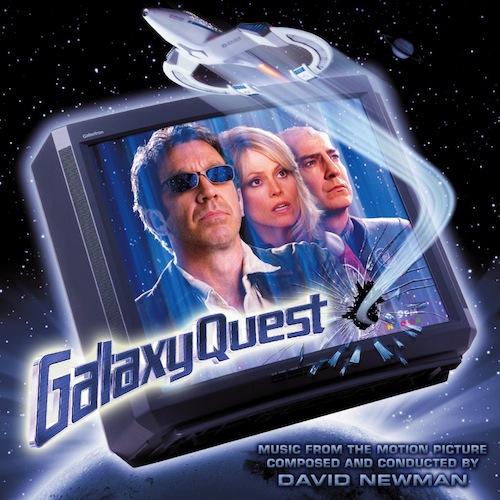 Limited to 3000 copies in print, La-La Land has debuted for the first time David Newman's Galaxy Quest score. Galaxy Quest is awesome, we all know this, and most of us know that Newman's contribution was about note-perfect as you can get. He had to walk the same tightrope the filmmakers did in striking an accurate representation of an old show and a sweeping modern sci-fi comic adventure and he did. It's an uplifting and fun score and now we can all be happier people that it's out on the market. By Grabthar's Hammer, it's only $19.98. What a savings!
It's widely accepted that Star Trek: First Contact is the best of the Next Generation films, as it damn well should be, and now Cresendo has a limited edition of the great Jerry Goldsmith's score for the film. Now all you need is James Cromwell to build a spaceship in your backyard and you're set. $19.98.
Intrada put out Elmer Bernstein's score for the fascinating Disney Animation entry The Black Cauldron. I was the exact target audience for this film when it came out and it did what it was supposed to: freaked me the funk out. Yeah it did. Disney animation was in flux and they decided to go dark and I ate it up. I haven't revisited this film in my adult years, but I hold very fond memories of it and can still remember how much Bernstein's score added to the overall tone. This has long been out of print (it's not quite Song of the South-level on the Disney ignore scale, but it's up there). Now you can get Bernstein's entire score on CD for $19.99.
John Barry's score for The Black Hole is freakin' awesome. This was another inexplicably dark kid's film from the late '70s/early '80s, but I didn't catch it until my adult life (I reviewed it in my big A Movie A Day series and got some serious "WTF, dude?" lip for getting to it too late). It's crazy, has a great cast and Barry's score is just sweet. The whole reason this movie was made was to jump onto the Star Wars cash train, so imagine John Barry doing a dark Star Wars score and you're on the right track to what this sounds like. Again, this was a long out of print soundtrack now put out in a special edition by Intrada. $19.99.
I haven't listened to this new compilation of the great Dimitri Tiomkin's music, but the idea of collecting some of his iconic music together sounds like a treat to me. Collected here are music from Giant, High Noon, Rawhide, Dial M For Murder, Strangers on a Train, The Sundowners and The Alamo. It's a re-recording done by the London Symphony Orchestra. $15.83.
David Lean's direction, Peter O'Toole's mesmerizing performance, Omar Sharif's commanding presence, the brilliance of the photography… all this added up to an undisputed classic. But without Maurice Jarre's iconic score, would the movie have clicked in the way it did? Matching the sweeping score to the incredible scope landscapes is the very definition of epic. Listening to Jarre's score separate from the movie makes me feel like I'm flying. I know that sounds weird and it totally is, but that's the sensation I feel when the main theme kicks in. The City of Prague's Philharmonic Orchestra did a painstaking re-recording based on Jarre's original pages. It's the most complete representation of Jarre's Lawrence score that has ever been available to the public. $, $8.99 for the digital download.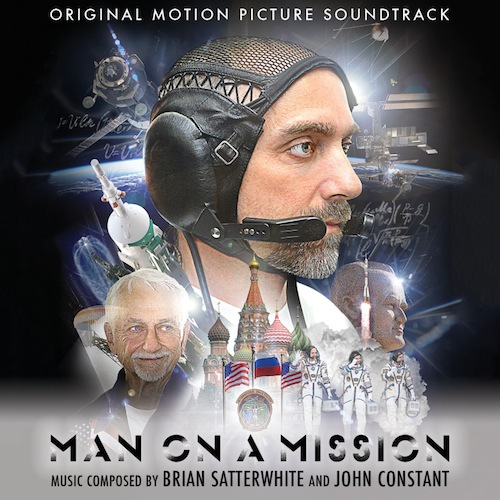 My buddy Brian Satterwhite co-created the score for a doc called Man on a Mission, which follows Richard Garriott's journey to reach the international space station. Brian did a bang up job here, along with John Constant. We're very proud of our boy over here. Put out by La-La Land, you can pick this up for $15.98.
Here's another interesting compilation of fun stuffs, this time a gathering of crime and noir cues. Laura, Shamus, Still of the Night, Dirty Harry, Blow Out, Blade Runner, Chinatown, Body Heat, Jagged Edge and more are all represented. $8.99 on digital download.
The upside to this 30th anniversary Blade Runner Soundtrack is that it's the first time the complete score has been assembled. The downside is that it's not Vangelis' original recording. That said, Edgar Rothermich was OCD about bringing the original Vangelis score out in an authentic way. They never wrote down their notes, apparently, and he had to transcribe a lot of it by ear, but I think it sounds pretty damn good. $17.72 for the CD, $8.99 for the digital download.
Looper's super awesome and so is Nathan Johnson's score. I love that Rian and Nathan are creating a consistent universe by sticking together from film to film. It makes Brick, Brothers Bloom and now Looper feel connected even though they are about as radically different tonally and storywise as you can get. $7.99 for the digital download.
Harry Manfredini's Friday the 13th score is oft-imitated and spoofed, but thanks to La-La Land you can get the original. It's a bit repetitive to listen to straight track to track, but it's still a striking and iconic score. I especially love the Boat On The Water track that's all sweet and happy until Jason comes popping out of the water and it hits the Herrmann-ish horror strings. It still makes me jump and it's just the score! LLR also put out a limited edition set that compiled the score from the first 6 Friday films and that's pretty awesome, but it's now only available on the secondary market ($150.00 is the cheapest I've found). If it was more readily available you better believe it'd make the list! The disco/electronica opening credits music from Friday the 13th 3-D is worth it just by itself! But you can still get the one that started it all on CD for the very reasonable price of $15.60.
My personal favorite horror anthology is Mario Bava's Black Sabbath and for the first time Les Baxter's US score for the film will see the light of day, thanks to Intrada. This Special Collection release has almost an hour of the score that was on the US prints of Bava's classic. My favorite chunk is the Drop of Water stuff. Creepy-awesome stuff! $19.99.
Speaking of great horror scores, John Carpenter's ridiculously atmospheric moody freak-out score for The Fog gets a special 2-disc expanded edition this year. Silva Screen put out an expanded edition a while ago and that forms Disc 1 of this release. Disc 2 however features the entire score taken from the original tapes and re-mastered by frequent Carpenter collaborator Alan Howarth. You can't miss with this release. $16.51 on CD, $17.98 for the digital download.
Alan Silvestri's Predator score is one of my favorite scores of the '80s. Fun, big action awesomeness. This score hit close to Basil Poledouris' RoboCop music and I always closely associate those two scores. They're both more superhero music than all of our modern day superhero scores! Intrada has reissued the Silvestri Predator score with a few little bells and whistles. The only thing that is missing from this release is a bonus track featuring If It Bleeds We Can Kill It. $19.99.
This is an odd one that won't appeal to everybody, but I think it's really interesting. Ennio Morricone teamed up with Romina Arena to create operatic songs based on some of Morricone's movie music cues. Don't expect opera spaghetti western music (maybe in the next one?), but what we get is a sweeping, lovely collection of tracks. $18.09, $8.99 for the digital download.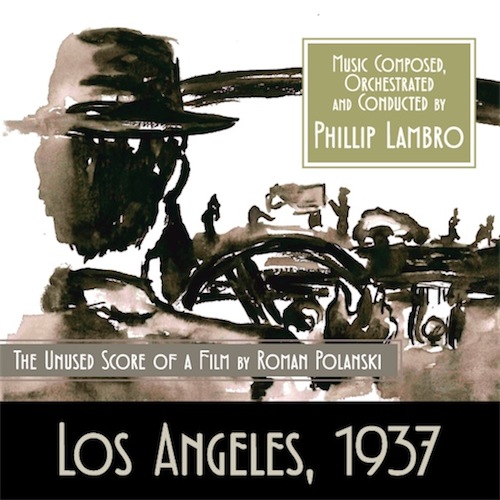 This release is one of the most interesting on this list. Jerry Goldsmith's Chinatown score is amazing and well-loved for good reason, but he wasn't the first person hired to score the film. Composer Phillip Lambro was and he created a score that ultimately rejected by Paramount and now, for the first time, we have that score. Available from small label Perseverance Records, this limited edition CD was taken from the original tapes. The first 100 copies they sell are autographed by Lambro. I haven't heard this yet myself, but it's crazy intriguing, isn't it? $13.95.
Here's another unused score, this time Craig Safan's score for Wolfen. A young James Horner ended up replacing Safan for the final release. I'm so intrigued by these Hollywood near-misses I can't even tell you. Safan's not a big name, but he did a lot of great exploitation work in the '70s and went on to score The Last Starfighter. He's got some chops and I bet this score if fascinating. Now if only we can hear Howard Shore's King Kong work… $19.99.
There was a big release of Shirley Walker's great score for the Batman Animated Series back in 2008, but that went out of print quickly much to the chagrin of the huge fanbase for that show. Now La-La Land has reissued the music in a second volume that is identical to the first, but minus a couple of tracks to make that first release extra super special. Nothing major, though. You still get 2 CDs of music totaling over 2 hours for $24.98.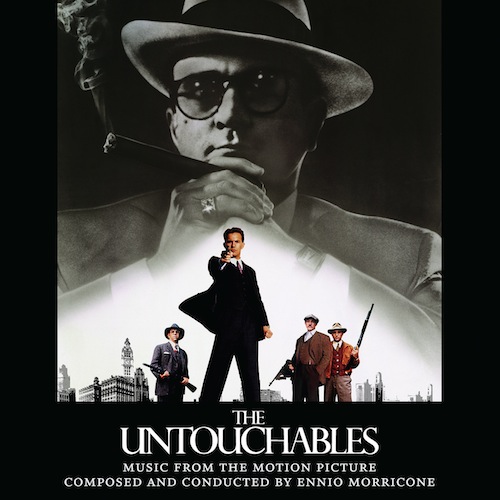 La-Land has announced a release of Ennio Morricone's fantastic score for Brian DePalma's The Untouchables for December 4th. It's one of Morricone's greatest non-spaghetti western scores. There's no direct link to buy yet, but they launch on December 4th, so bookmark LLR so you can be the first to buy it! $24.98.
MODERATE ($25.00-$70.99)
Jerry Goldsmith was the man and his score to Star Trek: The Motion Picture is one of the loveliest soundtracks he ever put out. La-La Land pulled out all the stops for this 3-disc release, which includes cues never before released and work versions of some of the themes. $34.98.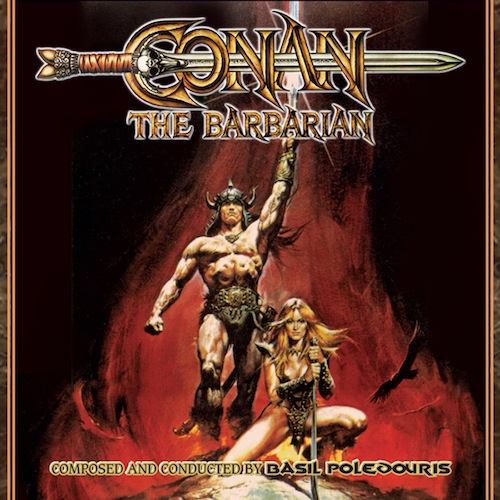 What is best in life? Probably this Intrada 3-CD release of Basil Poledouris' Conan The Barbarian soundtrack. They recently uncovered the mint stereo session master tapes and have been hard at work making the definitive collection of Poledouris' cues from John Milius' flick. CDs 1 and 2 are the complete final scores, with CD 2 also holding about half an hour of early versions of some of his cues. CD 3 holds the original 1982 soundtrack album with a bonus of including the great prologue score with the Narration overlayed. Massively cool. $29.99.
Bangarang! Yeah, Hook's a little bit of a mess, but John Williams brought it with the score. The only Williams/Spielberg collaboration I think was a flat out bellyflop was Kingdom of the Crystal Skull. So, I dig the Hook soundtrack a lot and the good folks at LLR have put out the definitive version of the soundtrack, overseen by John Williams himself. 2 CDs containing 140 mins of music that includes the original score and alternative and unused cues. $29.98.
EXPENSIVE ($71.00-$249.99)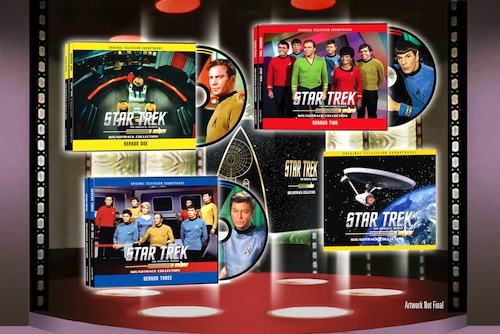 Releasing December 4th, the Star Trek: The Original Series soundtrack box set from La-La Land Records is about the coolest thing on this guide for any true greenblooded Trekkie. Bookmark the site. When these things go live on the 4th they're going to go fast! $224.98.
FOR THE SUPER RICH ONLY ($250.00 and up)
Now this is an incredible set. 14 Beatles albums on 180-gram vinyl. I know I'm a bit biased because I'm such a Beatles obsessive, but this set makes me want to invest in a multi-thousand dollar vinyl set up. Every record from Please Please Me through to Abbey Road, plus "Past Masters" double LP, a large hardcover 252 page book, replica sleeves and interior artwork. A must for any true hardcore Beatle fan (with a large wallet). $319.00.
*****************
Contest alert! Contest Alert! If you don't have a large wallet, that's okay! You have a shot at getting yourself this incredible vinyl set for FREE. That's right, dude. I got one of these to give away and I want you to take a second to thank me for not just keeping this because believe you me I was sorely tempted!

The contest is open to the US only (sorry), and I'm going to ask you a few Beatles trivia questions and the first person to answer them all correctly will win this awesome set. How about it?
Here are the questions:

1) According to the White Album song Glass Onion, who was the Walrus?

2) Where did Rocky Racoon live (be specific)?

3) What are the names of the three grandchildren mentioned in When I'm Sixty-Four?

4) Ob-La-Di, Ob-La-Da is a song about a husband and wife. What are their names?

5) Where does Eleanor Rigby keep her face?

That's it. Email me at this address with the subject line "Love (and Vinyl) Is All You Need", your answers, your full name, mailing address and phone number (only for shipping purposes, promise) and I'll take the first person to answer all the trivia questions to my satisfaction. I'll email the winner and update this post when he or she or he/she is picked! Good luck!
The winner was Jay Pieczynski of Ann Arbor, MI, whose email containing correct criteria as well as the correct answers to the trivia questions was the first to land in the inbox. Congrats!
*****************
GADGETS/TOYS
Electronics, standard toys and other bits and bobbles are thrown together to form this section of the guide.
CHEAP ($24.99 AND UNDER)
This is kind of a book thing, but throw that bullshit away, what we really want here is that mini Bat-Signal. It's tiny, only about 2" tall, but it throws a bat-signal for reals, which makes it a must for any desk/kitchen table/rooftop. $9.95.
This nifty Death Star Planetarium lights up your room… um, I mean… your kid's room… with a star map that compares the Star Wars galaxy to our very own. Thumbs up! $17.99.
That is indeed a Pac Man ghost that lights up via USB power. It is so awesome and popular that there is literally only 1 left in the Amazon Marketplace at the time of this posting. Hurry and snipe those other geek fools before they can click over and buy it! $7.99.
According to Amazon, THIS IS NOT A TOY AND NOT INTENDED FOR USE BY CHILDREN! So, for the love of Christ don't put this TARDIS night light in your children's room because apparently they'll try to play with it and end up dead. That does look kinda sweet, though. So maybe it's worth risking some kid death to have this in the house. What do you think? $15.99.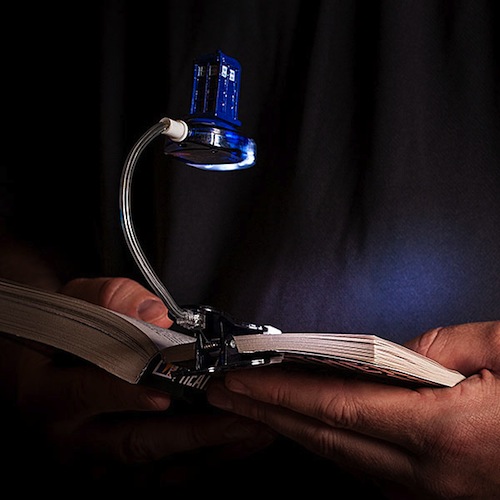 Not only does this TARDIS book light clip and let you read in dark places it comes with a UV Pen so you can write secret messages that the book light reveals. That's secret geek agent spy shit right there!!! $18.91.
The Bicycle Girl from the first episode of The Walking Dead is one of the best zombie designs I've seen in my generation. She's disgusting, scary and more than a little sad. Way to go, KNB! McFarlane has done a line of Walking Dead figures, which are all very cool… but this is the one to get. $19.55.
Not a new toy, but a cool one. Michael C. Hall is gonna cut you up and dump you in the Atlantic, sucka! $22.95.
Half Life 2 Grodon Freeman, complete with head crab and gravity gun. I want more video game related toys! We get a ton of Halo and that's cool and all, but where the hell is my line of Fallout 3 toys?!? And bobble heads?!? Dr. Freeman is a step in the right direction, so for that we'll be thankful. $24.38.
You didn't think I'd get away with ignoring Adventure Time in the Toys section, did ya'? Silly Billy, no way, no how! This 10" Finn is advertised as not only being super posable, but his face also changes as you pose him in different ways. Mathematical! There's 1 left at Amazon for $15.00, but a ton in stock over at Entertainment Earth for $19.99.
Aie-Aie-Aie! Aie-arng-aie! Sorry, needed to find my Martian translator… there it is… he's saying "Buy Me, I swear I won't disintegrate the dog." This 6" Mars Attacks Martian toy makes me happy in my brain area. $15.99.
This is another older toy, but I saw it when doing research for the guide and I can't explain it… I just put him on the toy list and I can't take him off. The Chamberlain is such a cool looking design and a great character from Dark Crystal that he demanded to return to this list. By God, who am I to argue with the spirit of Jim Henson? $14.99.
This one gets points for creativity. That's a Monty Python and the Holy Grail Horse Action Figure, which is very silly since they didn't have any horses in that movie. Two coconut halves is a pretty perfect likeness of the horses in the film. $14.99.
Mahna Mahna. Doo-doo, do-do-do. Mahna Mahna. Doo-doo-doo-do. Mahna Mahna. Doo-do-doo-do-doo-do-doo-do-doo-do-do. Bet you're humming it now, aren't you? Got you, sucker! Just go and buy Mahna Mahna. I know you want it, you know you want it, we're both adults here… Take the leap! $9.79.
What's Mahna Mahna without Snowth's Doo-doo-do-do, I ask you! Nothing, sir! $9.85.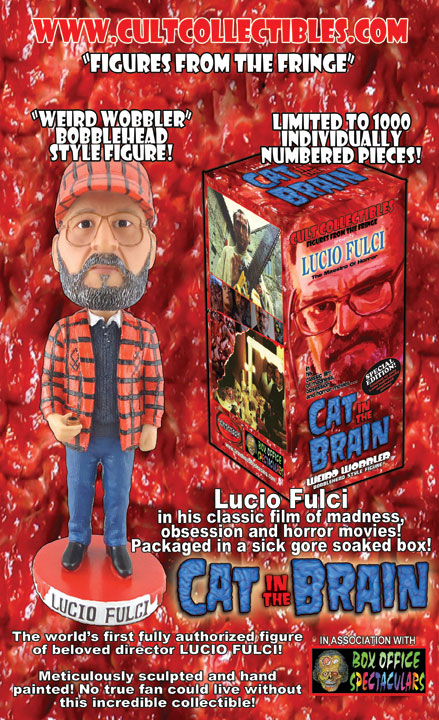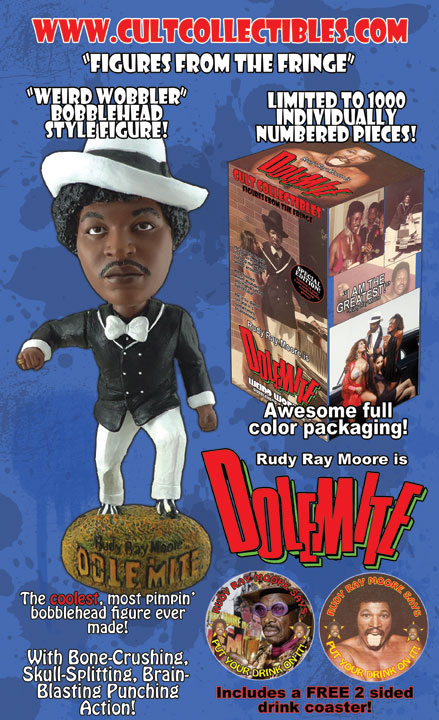 Is there any other Holiday Gift Guide on the net that includes Lucio Fulci and Rudy Ray Moore bobbleheads? Probably not, so know that you picked the right one. Cult Collectibles have made Bobbleheads out of Dolemite (right on) and Cat In The Brain, which is not a very good movie, but it's unique in that Lucio Fulci both directs and stars in it. So if you ever wanted a Lucio Fulci looking at you when you're driving, head nodding up and down with the motion of the car, then look no further! Perfect stocking stuffers, by the way, and cheap at $10.00 each.
A toy phaser replica modeled directly after the phasers used in Wrath of Khan! This little beauty comes with a voice chip that plays sound effects and quotes from the flick, too. $24.45.
Nothing is better than an all-powerful snarky bitch of an AI being put into a potato. Portal 2 fans will know what I'm talking about and they'll also know what the above blinking potato thing is. It speaks! All you need is your own potato… it's like the old science class project where you make a light bulb turn on, except it's going to you're your eyes fat when you get the electricity experiment going. Currently on sale for $9.99 at ThinkGeek.
A life sized inflatable sentry turret from Portal 2, standing 40" tall when inflated. No need for ADT now, is there? $20.80.
What's even better than having a cushy Enterprise? One that blinks and makes photon torpedo firing noises when you squeeze it! Total all around win! Currently on sale at ThinkGeek for $9.99.
Star Trek iPhone 4 cases for those of us still in the dark ages of the iPhone 4. Because why not?$14.99.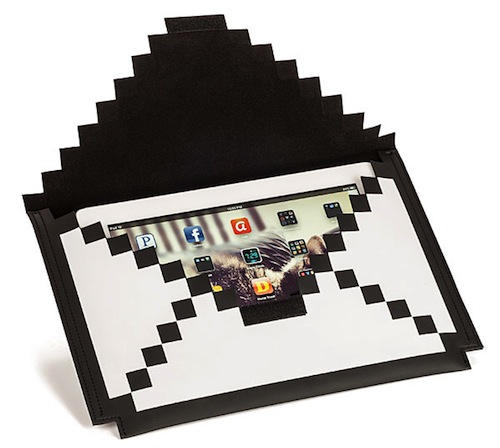 So you have a brand new multi-hundred dollar fancy HD screen, bazillion gigs iPad or other Tablet device. That's all find and dandy, but what do you keep it in when you carry it around? How about an 8-Bit sleeve? Nothing like keeping your brand new cutting edge technology in a retro nod to old technology! Made of super soft synthetic leather, the 8-Bit sleeve is sized for a regular iPad, but can fit smaller tablets as well. $19.99.
It's not as fancy as the Sting Sword replica, but it lights up blue and won't permanently damage your friends when you're hitting them about the face and shoulders with it, pretending they're goblins and spiders. Or maybe you're friends with goblins and spiders and you should be trying to hurt them with your little light up Sting play sword. $19.99.
So this is a USB powered lamp/fan. Yep, two-in-one! The lamp has 13 LED lights on top of a flexible goose-neck stand, so you can bend it wherever you need the light that is being powered by your computer. And if it's too hot, just flick a switch and BAM, you get some fan action. What'll they think up next? $7.53.
Be romantic in a new generation! Now you can make a mix tape with 900+ songs on it with this Cassette Tape style 1gb memory stick! I know, it's expensive for 1gb of memory, but it's funny because it's an old cassette package that you can… nevermind… moving on… $22.88.
MODERATE ($25.00-$70.99)
Oh my God, you guys. It's a Tetris Alarm Clock! Look! The Tetris shapes make the time! The Alarm is the Tetris theme song! It has a backlight display option. It is, in short, the coolest fucking clock to ever exist on this or any planet. $33.83.
Okay, Dalek Projection Clock, you come in at close second on the coolest clock ever. Calm down, have some dip. The Dalek Projection Clock throws the time on the wall or you can read the tiny numbers at the base. It wakes you up by shouting "Exterminate!" All that for $37.57.
Here's a genuine levitating TARDIS for your constant amusement. Who needs to do work when you can just stare at this miracle of modern science sitting right there on your desk? Especially when you can flick it to make it spin in place. Magic! $39.99.
TARDIS shaped table lamp with Matt Smith Doctor lampshade. I think this is cool, but am I alone in thinking it'd be cooler without the lampshade? $42.99.
This is a TARDIS bank that requires 2 keys to unlock and when it is unlocked the TARDIS lights flash and the TARDIS sound is heard. No way a burglar gets your valuables with all that protection! I think we should just turn our Fort Knox into a giant Tardis. It's the only way to make sure our gold is safe. $35.95.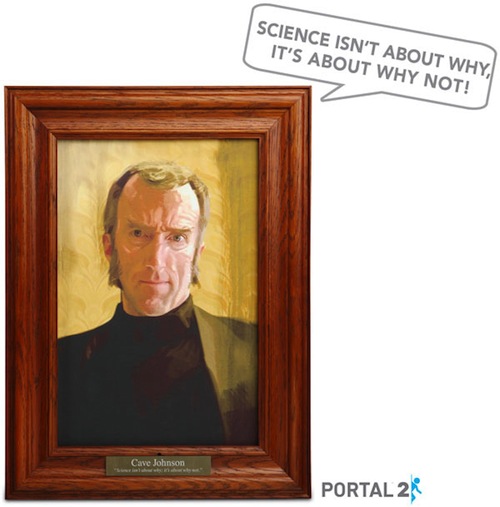 Another Portal 2 thing. J.K. Simmons voiced Cave Johnson, who narrates most of your journey in Portal 2 in a very snarky, darkly humorous way. The only time you see his face is in a portrat and that portrait can be yours! And it talks! The picture is printed on canvas in a pine frame, and it gives you 13 different phrases, including the great "life gives you lemons" rant (look it up if you haven't played the game). $39.99.
An Aperture Science iPad sleeve because when you're jumping from super high blue portals down into an orange portal in order to gather enough speed to shoot over an acid-filled chasm you don't want your iPad or iPad 2 getting damaged when you land. $29.99.
The Olloclip comes with 3 lenses for your iPhone's camera: Fisheye, Macro and Wide Angle lenses. All three come included in this package. Take crazy pictures for only $69.95.
This is the sweetest item on the Gadgets list in terms of bang for your geek buck. That is a replica of the old school Star Trek communicator panels that also happens to be motion sensitive, so if you place it on either side of a doorway and someone walks through the Star Trek opening door sound is activated. Or you can set it for the Red Alert sound if you want it be an alarm. All that for just $29.99.
This Community Christmas figurine set is worth it just for the Chang Snowman, but really… this is just about all you need to be completely ready for the holiday season, amirite? $49.99.
What you see here is a 12" Battle Damaged Arnold Schwarzenegger from the good folks at Neca. This Terminator needs a vacation! The eye lights up! He comes with his little sweet grenade launcher gun! The 12" T-1000 is so fucked! $38.99. Oh, and PS… did any of you guys collect the original release T2 toys? I sure did and look what I found while researching: A Battle Damaged T-800 in original packaging for only $9.39. Only one available, someone nab him!
MAD MONSTER PARTY TOYS! Stop Motion Fans, time to start dancing! $59.99.
We've seen cool Spy Vs. Spy toys before, but these are pretty great. Both the Black and White Spy stand 9" tall. DC Direct put out these vinyl figures to celebrate MAD's 60th anniversary! It's MAD's birthday, but we get the presents! $45.86.
There is no Dana, only Zuul! Here's another Comic-Con Exclusive that has managed to be offered at not-assfuck prices on the internet! Maybe it's a good trend? Mattel's Dana as Zuul Ghostbusters figure can be had by the right keymaster for $39.46.
Is Vigo! $30.85.
You can fit 16 characters into this 3 foot long SHIELD Helicarrier play set. Back in my day that was an AT-AT, but there's something comforting knowing that kids today are essentially having the same experience I did, but with a different kind of transport system. The Helicarrier comes with Captain America, but you're gonna have to recruit more Avengers to fill that sucker. $59.97.
What you see above is an R/C set. Now you can play Pac Man in real life! The ghosts can chase him or vice versa… because in real life the ghosts don't need to be blue in order to get mowed down by that speed demon champing orb! Oh, and did I mention it makes Pac Man game sounds? Instabuy! $44.99.
This motion-activated Clone Wars Yoda will keep angry Dark Side people away from you computer by lighting up his saber and telling them to fuck off in the way only Yoda can and all he needs from you in return is a little USB power. $25.99.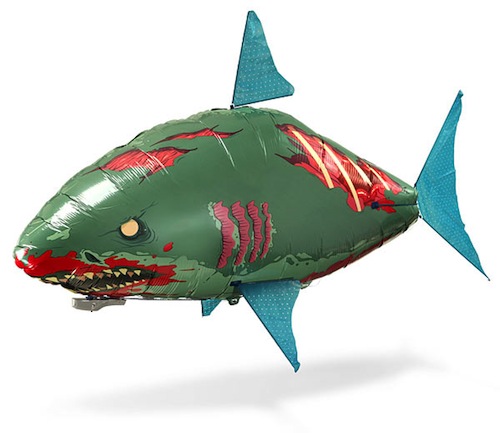 Those who saw my appearances on Harry's show will remember my co-star, Bruce. He was constantly drunk and I'm kicking myself now because I paid him the $20 I owed him and he went and chewed on an air tank and blew up. Now he's part of the floating dead. The Zombiefied version of the Air Shark is currently on sale at ThinkGeek for $34.99.
I know you used to stomp around your toys, pretending you were Godzilla or a giant robot (maybe still do, I don't judge). Well, now you can play act even more realistically with this device that attaches to your belt and registers when you make a stomping motion and makes the appropriate sounds. Not just Giant Monster, but Giant Robot, zombie shuffle/grunts and even the ting-a-ling of a gunslinger's spurs. Check out the video below for a demonstration. $39.99.
EXPENSIVE ($71.00-$249.99)
If I'm reading this thing right, that Doctor Who Sonic Screwdriver is a Universal Remote control that can be programmed to perform functions (like change channel, raise or lower volume, etc) with a flick of the wrist. That's some science fiction year 2000 shit right there! It even comes with a display stand. So why just settle for a prop replica when you can get one that also operates your Blu-Ray player? $99.95.
Wave 1 of The Hobbit 3 ¾ inch toys have hit! You can run all over town trying to complete your collection, but no need! You can get all four double character packs in one go here. Dwalin and Balin, Bilbo and Gollum, Kili and Fili and Legolas and Tauriel can be found in this wave. $89.99.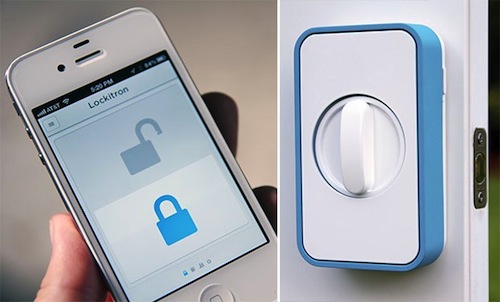 This nifty gadget is called a Lockitron, which essentially allows you to lock and unlock your door from you smartphone. It tells you if the door has been unlocked while you were away, too. One piece goes over the interior deadbolt mechanism and communicates wirelessly with your phone. I'm sure they were smart enough to figure out how to prevent hacking thieves from digitally lockpicking your door, but read more about it if you're interested. They're on pre-order, the next batch shipping out in May of next year. $179.00.
That, my friends, is called a Road Rocker and it's essentially a boom box for the iGeneration. It's a Bluetooth communicating portable speaker that can also recharge your iDevice and Android phones with its built in rechargeable battery. Not compatible with iPhone 5, iPad 3 or iPad mini, but the rest of us should be okay. $96.62.
Lots of Tetris on the list, this year. This is an interactive lamp. Basically those pieces you see can be stacked in any combination you want around the light source. Since they're different colors, that'll change the light as well as the shape of the lamp. I told you I find some cool stuff for this guide! $79.99.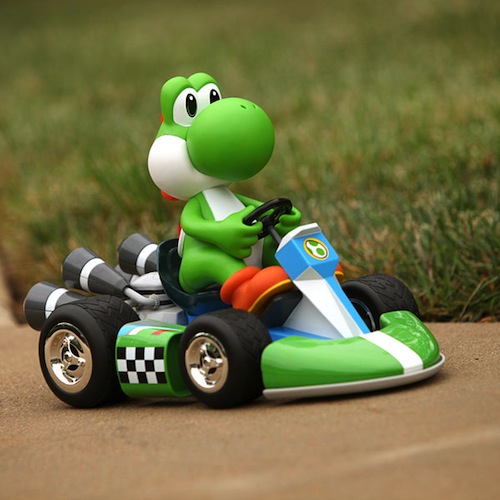 Yep, that's Yoshi in his Super Mario Kart kart. He's a real deal R/C car and you can race with Mario! No bullshit green shells or banana peels, though, so feel free to race your heart out! Yoshi is $69.99 and $119.99.
12" tall, full color neon Ghostbusters logo sign. What else is there to say except "fucking awesome" and "I want"? $107.99.
When the zombies come for us, will you be prepared? If you get these Tactical Bleeding Zombie Targets you will be. These things remind me of the silicone dummies the Mythbusters dudes use, except for the whole undead part. So, the idea is these are made up to look like zombies and you take them to the shooting range and fire at them, presumably trying to get headshots so you're ready when the apocalypse rolls around, and they actually bleed.$83.70 gets you the regular target dummy and you can also get a Nazi zombie variant for $82.71.
APPAREL
The thought process on this section is anything you can wear from you head down to your little feetsies. Geek apparel is a dime a dozen, it seems, but there's still some really sweet stuff out there, some mainstream, some not so mainstream.
CHEAP ($24.99 AND UNDER)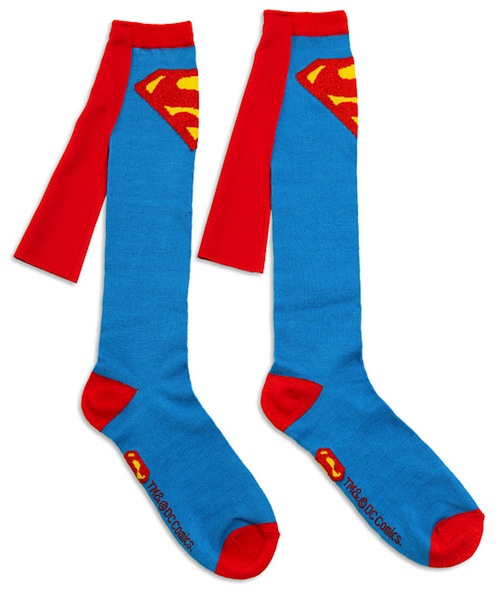 Just what every grown man or woman needs: superhero tube socks. Not only that, but superhero tube socks WITH CAPES. Girls, I'm just sayin'… if there's a geek boy you've got a crush on and you want to show him you're interested wear these, show off them games and he'll come running. You don't just have Superman, either. There's also Wonder Woman and Batman. Just click the Super Socks above and you can see them all. $9.75.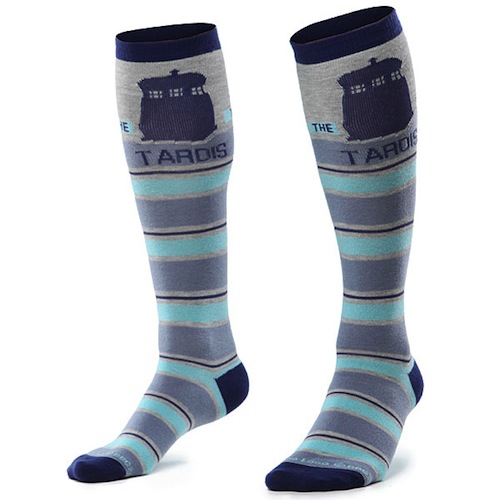 I don't want to leave out all the British readers. Let me put on my best UK translator for the rest of this. ::clears throat:: Oy, guvnahs! Viddy these TARDIS socks. Birds will be right chuffed, mate. Cheerio, pip-pip, b'lieve bruv. $11.99.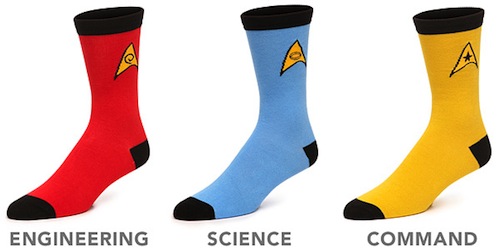 These nerdy Star Trek socks come in a set of 3 pairs. As you can see above that means you can choose which days you want to be Captain Kirk and go seduce some green women (just a reminder that on Earth a green woman isn't a good thing… it probably means you snuck into a morgue) or which days you want to be more thoughtful and emotionless like Spock. Whatever you do, don't ever travel with your friends if they stick you with the red socks! $24.99.
Spock Santa Hat, complete with pointy Vulcan ear attachments. Completely logical. $19.99.
A word of warning here. Apparently this Yoda hat only fits children. So grow the hell up already and get this for your kid. He or she will be more size-appropriate anyway. $9.74.
Look how happy that guy is to be wearing that Wampa hat! I thought they smelled bad… on the outside! It's geeky, it's fleece, it'll keep your wittle earies warm. There are an assortment of Star Wars caps. Wampa is $19.99, Yoda is $24.99, Princess Leia is $21.99, Chewbacca is $, is $17.99 and Wicket is $21.99.
If you're not a fan of the Holidays then this fleece-lined knit Grinch hat is for you. It's 100% less creepy than the Ebenezer Scrooge face hat (that doesn't exist, I don't think, but picture it in your minds eye and you see how right I am). $24.99.
Wear this and be feared throughout the land! You are the Hand of the King (Game of Thrones style, dig?) and that means you have immense power! Oh, and it also means everybody (and I mean everybody) is going to try to fucking kill you. A lot. $11.04.
No, I'm not telling you to buy a human being, although if you were to buy one you couldn't do much better than Ms. Supergirl above. No, this is about what she's wearing. Geek girlfriend material here! Long sleep tank tops with removable capes that come in Supergirl, Robin, Wonder Woman and Batgirl. Sizes include Juniors S-L. Any of the Superheroine long tees will run you $19.99-$22.95.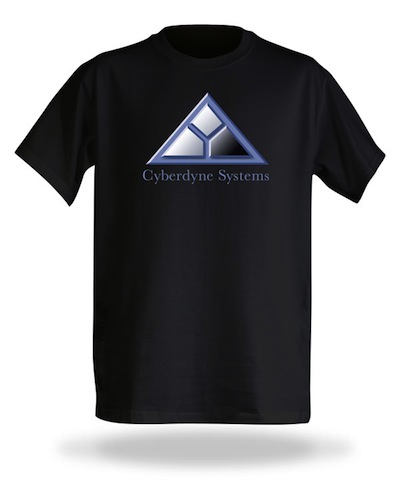 Judgment Day has passed, but Cyberdyne Systems is still out there! Here's proof! Why else would there be a logo shirt out on the market! Everybody's screwed! I gotta go start learning how to make pipe bombs… The shirt is available from sizes S-XXXL, ranging from $19.99-$21.99.
Now this is a nice one for Half-Life fans. It's obscure and indistinct enough to not trigger off immediate "everybody look at the nerd!" reactions from the people at the mall, but those who see it and know it will totally high five you and who doesn't like high fives? Hitler, that's who. Don't be like Hitler and get this shirt. Sizes range from S-XXXL and will run you $19.99-$21.99.
Gotta say I really like this shirt. Probably because I wore something very close to that way back in the olden days of the 1980s. Retro X-Wing shirt is bitchin'! Sizes available: S-XXL and are $19.99-$20.99.
Here's another shirt that reminds me of my distant youth! I wanted a shirt like that when I was a young teenager and I want it now in my golden years because Jurassic Park is awesome and stuff. $$19.99-$21.99.
I know there are a ton of adorable lady geeks that are harboring MASSIVE crushes on me at the moment. It's not easy being an overweight, bearded single man and having to constantly put up with all the women throwing themselves at me, so I'll make it easy on you ladies. If you wear this around me I will have an instant crush on you. This babydoll style tee ranges in size from S-XL and costs $13.99.
Red Shirt Cologne?!? Who would wear that? A cancer patient tired of hanging on? I think you're tempting fate if you apply this to your skin, but there are tons of reviews on Amazon from people who claim to have survived and that it smells good. I'll let you guys try it first. $23.95.
Sulu cologne is much safer, guys. Plus you can fence like a motherfucker when you apply it. $24.47.
MODERATE ($25.00-$70.99)
Men, wear this and have all the sex. Women are helpless against it. When they film those Axe commercials, they substitute that stinky awful Axe body spray shit with Shirtless Kirk cologne and it turns women into sex zombies. $29.99.
I'm not done making you smell super geeky. We've had Star Trek, but now you can smell like Cap's cowl, Thor's god-musk, the drippings left over in the suit after Tony Stark takes it off or the Hulk's taint. At least that's what I assume the colognes that come in this Avengers set smell like. Apparently the people that know what they're talking about say these colognes are surprisingly good for novelty items. $49.99 gets you the set of 4.
Ladies, I haven't forgotten about you. The fellas can run around smelling like Thor's armpit and you get to smell like Scarlett Johansson. Apparently these Jads International people know what they're doing, because this one is highly rated, too. $25.53.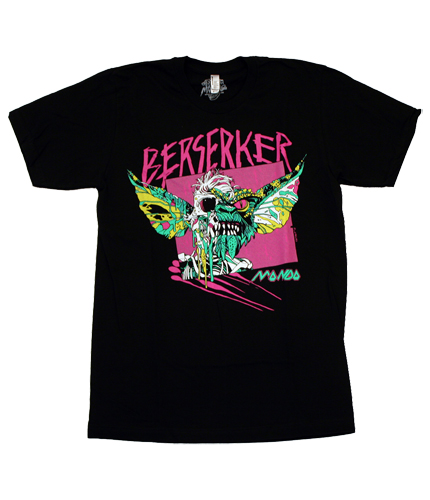 Mondo started out as a Tee-Shirt company, you know. Sure, the poster thing has been their main thrust (as well it should be), but this year they did kind of merge their two personalities with a tee-shirt line designed by Mr. Tyler Stout. There's a ton of them. Of course the two above are Gremlins and The Host inspired, but there some Alien/Star Wars and other weirdness going on. Click either of the above to visit Mondo's site and look around. The shirts are $25.00ea.
*****************
Contest alert! Contest Alert! Mondo is allowing me to give one lucky Gift Guide reader two of Tyler's sweet-ass tees. The winner can choose which two shirts he or she wants (based on availability, naturally). All you have to do to enter is email me at this address with the subject line "Make Mine Mondo", your full name, mailing address and phone number (only for shipping purposes, promise) and I'll pick a lucky winner at random by 11:59pm CST Tuesday, November 27th. The contest is open worldwide. I'll email the winner and update this post when he or she or he/she is picked! Good luck!
*****************
All those above shirts come from the great UK-based geek shirt site lastexittonowhere.com. Those are just the tip of the iceberg, too. There's also shirts inspired by Big Trouble In Little China, Short Circuit, Lebowski, Office Space, 2001, Ferris Bueller and a ton more. They have a huge selection and I know UK geeks that swear by 'em. $£18 (or about $29) each.
This shirt might have been better before the big 2012 election. That way you could make your geek affiliation known to those around you. Daleks' America. $27.99.
Winter time is coming up, so why not keep warm while showing your love of your friendly neighborhood Spider-Man? The hoodie has Spidey-eyes, by the way. It's okay if you wear it out in public. We've won, the geeks have inherited the earth. Sizes are Adult S-XXL. $59.95.
If Spider-Man's red and blue is a little too goodie two shoes for you, you can always start wearing your hair in front of your eyes and Jazz dance around in the Black Suit version of the hoodie. Goddamn, Spider-Man 3 sucked. But Venom's still cool, so we're all good. Sizes are Adult S-XXL. $59.95.
This hoodie makes me laugh and kinda creeps me out at the same time. Superman's always looking at you! If your face looks at all like that version of Superman you have to own this hoodie just to royally mess with everybody around you. S-XL. $44.73-$49.99.
And Joker hoodie! Show people your pencil trick! S-XXL. $45.62-$49.99.
This seems like a dangerous idea to me. I guess most people who would want to buy a Captain America hoodie will be stand up citizens, but I'm just saying if a rash of Captain America hoodied bank robberies happen remember I said here that the hoodie w/mask might not have been that well thought out. M-XXL. $59.99.
I like this one, just promise me you'll never wear the eye thing down because that unsettles me a little bit. If you get this you'll be just like Tony Stark. I mean, you won't have the women, the money, the genius, the cool AI butler or a lovable robot arm assistant, but other than that totally like Tony Stark. Available S-XXL. $35.48-$47.99.
Please, please, please, please… if you actually buy this Superman adult onesie footie PJ send me a picture. I can't believe any adult would do this, but if you do you'll be one of my favorite people ever. Sizes S-XXL. $35.00. Oh, and they have a Batman onesie as well, also $35.00.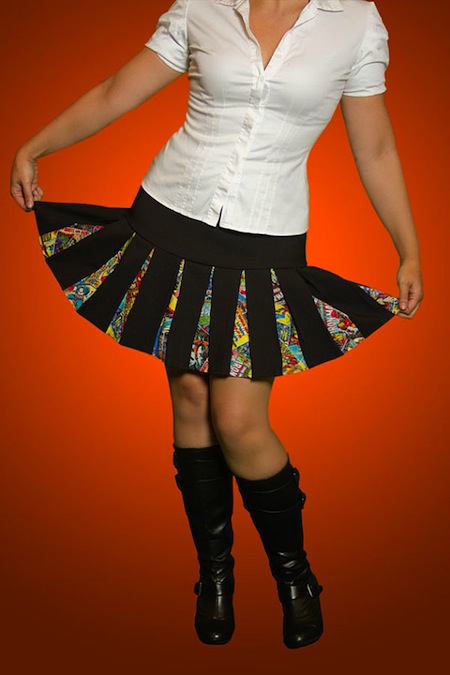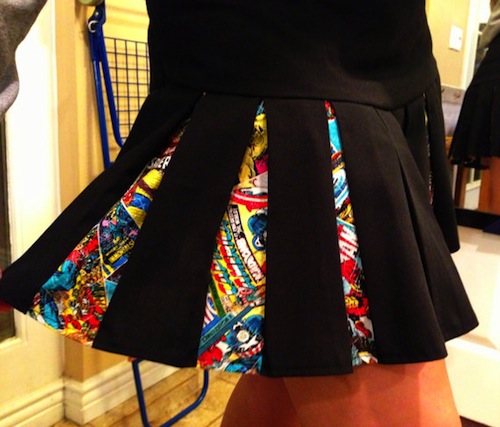 Golden Lasso Designs is a small, hands-on direct-from-the-designer type shop on Etsy that has made the above Marvel skirt. 19" long, this skirt will instantly attract any geek man within a 1.75 mile radius. Classy ladygeek apparel! Doesn't happen too often, does it ladies? XS-XXL available. $65.00.
There are a few really cool Christmas sweaters in the guide this year (well, cool by my definition, anyway), but this one is kind of special. Cthulhu and Christmas should go together because of, like, religion and words that start with C and tentacles and presents and stuff. I really like that this looks like the kind of thing your grandmother would make for you. And maybe your grandmother did make you something as cool as this once, I don't know your Gran-Gran. But most don't, so this is kinda rad. They call it a "one size fits no one well" sweater and claim it's sausage tight on a XXL person, so use that to judge if it'll fit you. $40.00.
Keeping the Old Gods theme, there are these nifty Cthulhu slippers for your disgusting awful feet. I'm sorry I said that about your feet, I'm sure they're nice. $29.99.
They call these things "Furry Adventure Slippers." Yeah, those are totally not dangerously close to infringing on a certain massive geek property, are they? I mean, how transparent and I want them. $29.99.
A Nintendo Controller backpack. I approve. $40.00.
As if we don't have enough Star Trek geekiness in this section already, now you can be a professional Trekkie. I want to see a lawyer go to court and argue with one of the Trek Ties (probably the Spock one). $49.99 for Kirk gold, $49.99 for Spock blue and $49.99 for Uhura/Scotty/Dead Guy red.
Everybody wants to be like Bruce Lee and while you can't ever be as cool as he was (sorry, it's just science), you can have a little bit of his magic every day when you get out of the shower or go check your mail and don't want to put on pants. $57.95.
Or you can go pure evil and do the hide-your-face-with-a-hood thing. I especially like this plan for going out and checking your mail. Try to force push the paperboy off his bike and look even cooler! $69.99.
Ahahahahahahahaahahahahahaha. $65.99.
WHAT?!? Sloth love Chunk! I don't know why this exists, or why I'm putting it on a Holiday Gift Guide, but I am and I'd do it again, too. Oh, my God! I can put this on the top of my tree! Creepy Christmas! $49.95.
EXPENSIVE ($71.00-$249.99)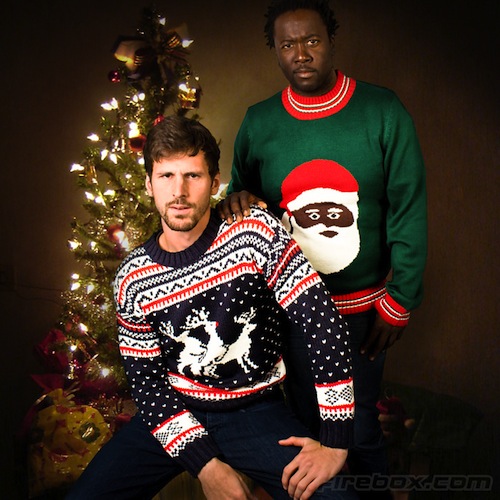 I told you I had a few really cool (in my book) Christmas sweaters on the guide this year. I'm partial to the Cthulhu one I posted a few entries above, but I adore the Black Santa one. Maybe it's because the dude wearing it is all "Yeah, you saw it right. Got a problem with it?" The other guy is wearing a humping reindeer shirt, which is the most subtle of them all. These are in the UK, but you can import 'em. Available sizes S-XL. $80.19 each.
Of all the hoodies in the guide, this one seems to be made of the highest quality materials. At least it looks the best put together. That is, of course, an N7 logo, which means this is a Mass Effect hoodie. I'm Commander Vespe and this is my favorite Gift Guide on the Citadel. Sizes S-XXXL. $79.99-$81.99.
Whether you're a cosplayer, want to get ready for next Halloween or just need an appropriate outfit to survive the insane AI that has taken over your house and turned whole rooms into complicated puzzle, this Portal Jumpsuit is for you. Sizes S-XXL (reviews say that it's more men's size, so ladies might want to order a size smaller than normal). $94.61.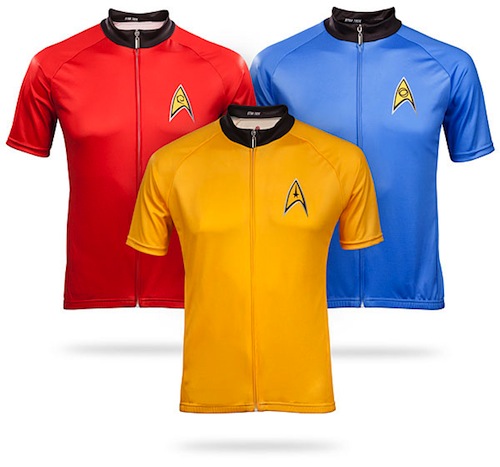 There's a ton of Trek in the guide this year. I don't know if I'm just stumbling across more Trek stuff by accident or there is just more merchandising than usual. Look what you wrought, JJ! What you see above are cyclist jerseys (male), that kind of keep you dry/no friction material that professional bike riders wear. I don't know about you, but if I saw a group of these guys speeding up in my rearview mirror I'd crap my pants a little. Red, Blue and Gold all come in Sizes S-XXXL. $79.99-$81.99. Ladies, there's female cycle jerseys as well in Sizes S-XXL for $79.99.
Hey, you know that wrist/bracelet thing Tony Stark wears in the Avengers? It's this, a Titanium/Carbon Fire bracelet that has magnets in them for some reason that probably has to do with making your aura a different color or something. Rad, right? If you have the companion piece, the Mark VII armor, you can jump off a building and it'll wrap itself around you… I'm being advised by legal council that joke isn't funny and I need to be clear that I don't want you to jump off a building because in real life an Iron Man suit won't be there to save you. $189.97-$199.97.
This might be something that would fit more into "collectibles" since it is a prop replica, but fuck it. It may be Dracula's ring, but it is a ring and you're meant to wear it, so it's apparel! I do what I want! So this really is pretty damn cool. I'm not much of a ring-wearer, but this is tempting. Molded from the original prop worn by Bela Lugosi, this replica has been made of sterling silver and inset with a Carnelian stone. Look into my eyes… you vant to buy this ring… $199.99.
FOR THE SUPER RICH ONLY
Now for the final piece, the cherry on top of the Holiday Gift Guide every year, the rich stuff! There are no category breakdowns here. The only stuff below falls well under the "For the Super Rich" banner. It's an interesting selection this year. Enjoy window shopping!
That strange looking device is a 3D printer. This one, an Afinia, is an entry class system (they get bigger and more specific, like the 3D Touch for $3,999.00), but this one is a starter printer that will turn your drawings, designs, brainfarts, whathaveyou into a 3D version. The guys at Laika and the big effects houses like Weta have the big daddy versions of these to print out their maquettes and, in Laika's case, the stop motion animated puppet faces. $1498.95.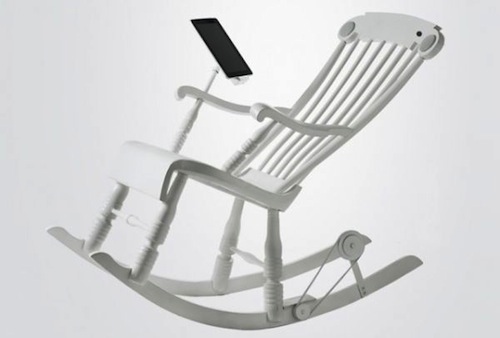 I know that looks like a simple rocking chair with a built in iPad doc, that's not just a glimpse into the future for our generation. That's an iRock. It has the dock for your iDevice, it has speakers near the head of the chair that will pump the sound of your iPad/iPod to your head… and, most importantly, the rocking motion of the chair charges your device. You need to have one of these when the apocalypse hits because the gas for your generator won't last forever and when you go out into the wastes to find fuel that's when things always go wrong. So, you can keep your movies, music, books and Angry Birds going without that pesky electricity. It's still being developed, but they're estimating it'll go for $1300.00.
This life sized replica of the Iron Throne, weighing in at 350lbs, is a must for someone that wants to invite a ton of drama, blood, death, betrayal and nudity (well, that one isn't so bad…) into their lives. I can't say that looks like the most comfortable seat in the world, but I bet damn near anybody could look cool sitting in it. It is constructed out of fiberglass, so that might help the poor butt that has to sit in it. Standing 7' tall and measuring over 5 ½ feet wide, this sucker will cost you $29,999.99. This item does NOT qualify for free shipping, by the way.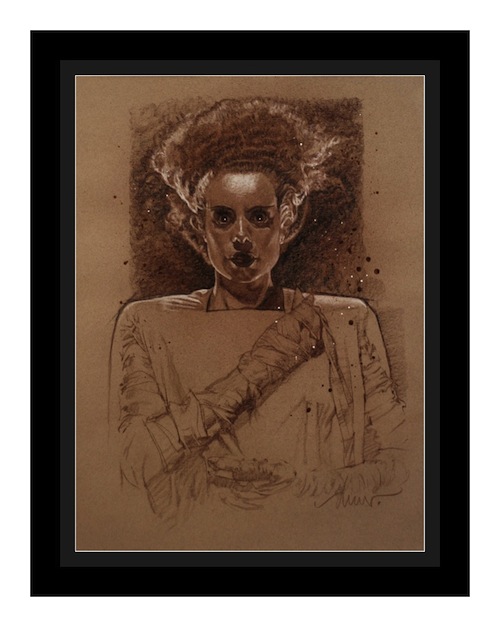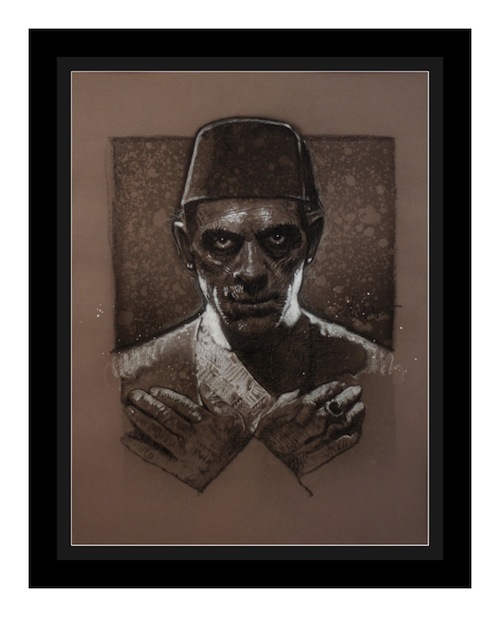 Those two lovely pieces of art are Original Drew Struzan works. They are the pieces that are left after they debuted at the Mondo Universal Monsters themed Gallery. Dracula, Creature, Frankenstein all sold at the event, but if you want to get an original Struzan (18x24, framed) at an entry level price, you can snag either Bride or The Mummy for $5,000.00ea.
If you're a more advanced, successful, oil tycoon/lottery winner, you can forgo the little Drew Struzan mini-masterpieces and go for one of his full-on painted one-sheets, like the above Better Off Dead poster art. Measuring 30X40, this incredible piece will set you back a tiny, insignificant $105,000.00.
That is the original prop/wardrobe from the oddly good flick Bubble Boy. My understanding is that Jake Gyllenhaal does NOT come with the suit, but I haven't confirmed that, so just go ahead and assume that you're buying a movie star when you're buying his dirty bubble and wardrobe. $9,995.00.
Quick! Here's your chance to own an original Mogwai! That's Lenny from Gremlins 2 and he's what's known as an Open Top Puppet, which means the puppet has an open head and wider neck for a puppeteer to insert his or her hands to make the puppet move (as opposed to a rod puppet, for example). This is the real deal, so if you buy Lenny don't you dare break the rules or you'll doom us all! $9,995.00.
Your eyes are not deceiving you. That is indeed Spaceball One, the evil transforming ship that chases Lone Star and Princesses Vespa around the galaxy. Before you get too excited, it's not the 17' long model version, but the smaller 40" long model. Still used in the movie, so it's really Spaceballs One. If you want it, I'll have Snotty beam it to it. All you have to do is show me $9,495.00.
Just in time for Pacific Rim, you can get your very own diesel-engine powered Mech Suit. His name is Kuratis and while I'm thinking it may not be for real I'm going to go ahead and assume that I can buy my own super District 9-style suit should I hit the PowerBall next week. $1,353,500.00, but that's without the bells and whistles. Gatling Gun, shoulder-mounted water bottle missile launcher and hands that can fold down into guns are all extra.
Thanks for reading along this year! Hope you found some gifts for the family and maybe a little something-something for you as well. Now it is time for me to slip into my yearly post-Guide coma where I let my fingers cool down, my wallet lick its wounds and weary mind to rest.
Happy Holidays, everybody!
-Eric Vespe
"Quint"
quint@aintitcool.com
Follow Me On Twitter