Ahoy, squirts! Quint here with the first installment of my Gift Guide for the 2012 Holiday season! As usual, the support from you guys has been incredible. So many of you have responded to my call to arms that I've been alerted to some really cool geek things available this holiday season that I might have let slip past me. So thank you guys.
If you've followed along in previous years, you know what to expect. If you're new to the guide, then welcome and I hope you like sleep-deprived jokes, lots of scrolling and the geekiest shit you can find on the web.
With this here Guide to all things geeky, I publish it in installments. This is Part 1, which focuses on Blu-Rays, DVDs, Food and Art. The other installments are coming and will include Video Games, Books, Toys, Collectibles, Gadgets, Geek Housewares, Apparel and one of my favorite categories "For the Super Rich Only," which showcases some really silly shit that I would probably buy should I ever hit the mega millions.
Within these categories I've separated the items by price. Here's the scale: Cheap ($24.99 and under), Moderate ($25.00-$70.99), Expensive ($71.00-$249.99) and For The Super Rich Only ($250.00 and up).
Also, be on the lookout for a few contests sprinkled throughout the Guide. You never know when I'll sneak in the chance at getting some free goodies (Pssst, there are two contests hidden on this very page!)
Weeks and weeks of been put into this guide and I think it turned out pretty well. Many of these links do carry an affiliate tag and I'll get a little cut if you click through and buy something, so thanks in advance if you do just that. It really helps every year and I appreciate it.
Anyway, start scrolling, squirts! Happy Holidays!
DVD AND BLU-RAY
Below I have compiled all of the Blu-Ray and DVD releases that tickled my geek fancy. Please forgive any variations in price. This time of year things seem to fluctuate by the minute. I'll do my best to keep this section current if there are any huge price differentials.
Also, keep an eye on Amazon's Black Friday Page as they're breaking Blu-Ray Deals every few minutes it seems, like the Alien Anthology Blu-Ray Set for $19.99, Star Wars Blu-Ray Set for $69.99 and Breaking Bad Season 1, Season 2, Season 3 and Season 4 Blus for only $11.99 each. Crazy good deals out there right now, so keep checking around.
Let's get this party started!
CHEAP $24.99 and Under
I know, I know… it's no surprise I'm kicking off the guide with the Jaws Blu-Ray, is it? But seriously, even if Jaws wasn't my favorite movie and my obsession with it wasn't as severe as it is, this release would be at the top of my list of best high def transfers of the year. I've seen this movie a few hundred times (at least) in damn near every way possible and this is by far the best it has ever looked. With this release you get a dynamite transfer, a boatload of extra features and the great feature length documentary The Shark Is Still Working. There are no excuses not to have this one on the shelf. And it's a current Black Friday Week deal to boot! Only $13.99.
It's a hell of a year to be both a Spielberg fan and a high def junkie. I can't imagine any geek or semi-geekish family being without this film in their collection and if you're going to have it on the shelf, might as well be this release, which looks great and has some really amazing extra features, including the fantastic ET Journals, which gives an unprecedented look behind the scenes footage. Huge geek release which is an Amazon Black Friday Deal at $12.99.
While Empire of the Sun isn't the most celebrated Spielberg Blu-Ray release, it's a very welcome upgrade for me and, I assume, many movie geeks out there. Written by the great Tom Stoppard and starring a very young Christian Bale, this flick takes a much different look at WWII from the point of view of a little boy confined in a makeshift prison camp with a bunch of US POWs. Great turn by Bale and one of my favorite John Malkovich performances. Oh, and a great John Williams score, let's not forget that. Great, underappreciated flick. $24.32.
Seize the day! Keeping with the Christian Bale theme, I had to include Disney's Newsies. Singing, dancing Christian Bale, Robert Duvall as Joseph Pulitzer and a super catchy soundtrack, Newsies was a hit with my middle school friends and I, then kind of disappeared from most movie discussion for a decade or so and now it's slowly creeping back in. I like this one a lot. The Blu hit this year and can be had for $14.99.
Speaking of underrated films my childhood, 1990's Dick Tracy hits Blu-Ray before Christmas. Releasing December 11th, I haven't had a chance to check out this disc, but I was at the big Hero Complex screening in LA where Warren Beatty showed this HD transfer and it looked like a million bucks. I'm sad that there seems to be a shortage of special features, but I'm just glad this movie is getting a nice transfer and will finally be able to sit on my blu-ray shelf. $18.99.
Speaking of Dick Tracy, this interesting rarity appeared on DVD recently. Celebrating its 75th Anniversary, this DVD set compiles all the 1937 Ralph Byrd Republic Serials, which were the first time Chester Gould's famous square-jawed character was adapted from comic strip to celluloid. A must own for any Old Hollywood fan. $19.99.
I look forward to these classic Disney animated discs every year. Blu-Ray was almost invented just so Disney could display the vivid color of their library titles and Cinderella's release is no different. $24.96 for the regular Blu-Ray and $58.95 for the collector's "Jewelry Box" edition.
Okay, Pete's Dragon was the first film I ever saw theatrically and was one of the most watched films of my childhood. I wanted a goofy dragon! I was fascinated with New England because of Jaws and Pete's Dragon (which is silly, I know, but it's true). I just unabashedly love this film, I love the music, I love the combination of live action and animation and just how crazy all the characters are. Redneck child-abusers, greedy snake oil salesmen and a drunk lighthouse owner played by Mickey Rooney… Family fun, right? The blu looks pretty great and it's $19.96.
I like this movie. I know many Muppet purists don't care for it, but I'm not one of those poor bastards. Call me an easy lay if you want, but Michael Caine as Ebenezer Scrooge is enough for me. If you're like me and enjoy this flick or just good Christmasy things, it's just $17.99 on Blu and there's a mysterious Amazon Exclusive Collector's Edition that for sure has a digital copy and possibly more bonus features that will set you back $27.99.
Rankin/Bass' Mad Monster Party is a great, great, great holiday family movie. Well, that holiday is Halloween and not Christmas, but still it makes a great gift. Boris Karloff voices Baron von Frankenstein in this great stop-motion flick from the guys that made Rudolph. Great for the kiddies and those that just like awesome things. $12.99 for DVD/Blu combo.
If you're still in a family friendly monster movie mood, then check out the (first?) brilliant horror comedy Abbott and Costello Meet Frankenstein, which Universal put out on Blu-Ray this year as part of their centennial. This is one of the great gateway movies for kids not only to get into black and white movies, but to Universal Monsters as well. $23.86 on Blu.
This one is a partial recommendation. I'm not a huge fan of colorizations, but from what I've read and what I've heard, this collection of Three Stooges shorts looks awesome if you have a 3DTV set up. It's not pricey and if you're short on show-off material for your spiffy 3DTV this is worth the risk. $14.99.
Same as the above, but with 100% more Alfalfa and Buckwheat. I'm not awesome enough to have a 3D setup of my own, but the reviews are really positive on the conversion. $14.99.
My first memory is of coffins rising up out of the ground in Poltergeist, but I anticipate watching this compilation of old school Sesame Street (covering the years 1979-1984) will spark something in the deep recesses of my lizard brain. I was a Sesame Street junkie as a kid. In particular I worshipped Oscar the Grouch. The newest Old School release, v.3, is $19.99 on DVD, v.1 (1969-1974) is $24.96 and v.3 (1974-1979) is $28.85.
I'm not done trolling through my childhood yet! Holy shit, Lancelot Link! Between Clyde in the Eastwood movies and Lancelot Link I was destined to be enamored by my simian brethren. If you're not familiar with the genius of Lancelot Link, it's a '70s children's show starring nothing but chimpanzees dubbed with human voices. It's a spy comedy show and it's all kinds of awesome. It hasn't been available in a complete collection on DVD and it is now, so all is right in the world. $17.64 on DVD.
This release might have slipped past a lot of movie geeks as it's not one of the most high profile '70s masterpieces, but a '70s masterpiece it is. Longtime readers might remember I got Rian Johnson to contribute to my old A Movie A Day column with a review of this fantastic Elaine May/Walter Matthau film, A New Leaf (read it here!). This film, about a man who loses his wealth and decides to marry a goofy heiress in order to return to the high life, shares much in common with another film in this guide, Harold and Maude. It's such a good, darkly funny movie that it'd make a great gift for the movie lover in your life that has seen most everything. $24.03 on Blu.
Another great library title done up in high def. Is there anyone on this planet that doesn't flat-out love Frank Oz's Little Shop of Horrors? If so, I feel really bad for that poor, heartless, joyless sob! This is the ultimate release of the title, with options of watching either the theatrical or director's idea and getting to see the original ending in full color (unlike previous releases). It's also one of those nifty digi-book editions. This is one of my all-time happy-place movies and I'd wager I'm not alone in that estimation. $23.98.
WOLVERINES! John Milius' Red Dawn has hit Blu-Ray because the long-delayed remake finally sees release this Fall. The remake isn't much to write home about, but Milius' original is. Red Dawn is such a perfect product of its time, with a great young cast that includes Swayze, Charlie Sheen, Lea Thompson, Jennifer Grey, Powers Boothe and Harry Dean Stanton. Cold war paranoia, deer blood, kids fighting reds and a harsh, gritty filmmaking style make this one a standout. $9.99.
Hitchcock's Dial M For Murder is one of key titles missing from the big Hitchcock Blu-Ray set, but thankfully you can get the title by itself, in both high def and 3D. Grace Kelly in 3D at the touch of a button? Merry Christmas indeed! $24.98.
Strangers on a Train is one of my favorite Hitchcock films and, like the above Dial M For Murder is strangely absent from the big 15-film Hitchcock Masterpiece collection, but never fear for it did make the jump to high def this year as well, so you can build your own damn Hitchcock collection! $13.86.
The Beatles made this film in their prime and it plays as a sort of experimental home movie starring them and featuring some of their best music. It's long been a difficult movie to keep in print for some reason and this release is about as good as we're going to get. It even has a fun feature length commentary by Paul McCartney, who took the reigns on the directing side of the picture. A must have for any Beatles nerd. $24.88.
Sitting Target is a rarely seen '70s crime flick starring Oliver Reed at his most hardcore badassness. He's a man out for revenge in a flick that also stars Edward Woodward, Jill St. John and Ian McShane and it's one of the more crazy cool movies from that era that isn't talked about all that much. Warner Archive put it out and it's $19.79.
Here's another great flick put out by those wonderful people at Warner Archive. Paul Newman starring in John Huston's The Life and Times of Judge Roy Bean. This flick has a helluva cast. Joining Newman are Jacqueline Bisset, Ava Gardner, Ned Beatty, Tony Perkins and Roddy McDowell… oh, and it's written by John Milius. So, yeah. Instabuy, right?$19.98.
More Warner Archive goodness! 1970's Tick…Tick…Tick starring Jim Brown is essentially the serious Blazing Saddles, about a black sheriff in a southern town. George Kennedy, Brown and Fredric March are all fantastic in this really tense flick. $15.93.
Here's another '70s obscurity for you film buffs (or those in your immediate circle should you be a particularly good friend). The Split is a heist flick starring Jim Brown and another awesome supporting cast. Gene Hackman, Warren Oates, Jack Klugman, Donald Sutherland, Julie Harris and the late, great Ernest Borgnine… I told you it was a great cast. It's also based on a Richard Stark story, has a score by Quincy Jones and was the very first film to receive an R rating. $15.93.
Blake Edwards' S.O.B. is another title that took forever to come to DVD. Starring Edwards' real life wife, Julie Andrews, the film is a movie about making movies, particularly about the panic of a big time producer trying to keep his career from going down the tubes. The movie is famous for featuring Andrews' boobs, but beyond that it's actually a damn funny flick. You can see a lot of Edwards' Pink Panther-style playfulness here. $17.98.
So, Joysticks is an early '80s sex comedy set in the arcade world. I shouldn't need to say any more, that's worth the $14.99 price right there. Okay, I'll say one more thing. Joe Don Baker and Jon Gries are in it. And it's a legitimately fun flick. Now click over and buy. $14.99.
Shout Factory have a few fantastic releases this year. John Carpenter's They Live is one of those releases that come with a great transfer, awesome cover art and the great Carpenter/Rowdy Roddy Piper commentary track. The cover's so purty, the movie's so cool, high def awesomeness for your Blu-Ray shelf! $19.86.
Shout also put out the wrongly maligned and pretty fantastic Halloween III on Blu-Ray this year. This was when Carpenter and company tried to separate Halloween from Michael Myers and it was a huge flop. But I don't care about that, because this movie has Tom Atkins and an evil Halloween mask corporation that's trying to murder children, so that means it is fucking awesome. This release has a ton of extra features and you'll be approximately 37.8% cooler for having this in your home. Silver Shamrock!$23.49.
Sunset Boulevard is almost as brilliant as Halloween III. Almost. If only Gloria Swanson turned a child's head into bugs this movie would be taught in film school. Wait, it is taught in film school. Anyway, Billy Wilder's Sunset Boulevard was one of my gateway films into noir and it's still probably the one I revisit the most often. $18.99 on Blu.
Lawrence of Arabia is the reason high definition was invented. This is by far one of the most important movie geek Blu-Ray releases this season. New extra features, new super awesome high def transfer and happy film geeks the world over. The regular blu is $18.99.
This movie makes me happy and sad. Happy because it's hilarious and one of the best odd couple movies of all time, but sad because John Candy is so wonderful and loveable here that he breaks my heart. Not just the character work, which is phenomenal, but it's a reminder that he's gone and that always bums me out. But let's talk about happy things! This movie is hilarious! And in high def! Hooray, non-sadness! $14.96.
I'm not huge into anime, but Ninja Scroll transcends even my anime snobbishness. There's a plague, crazy mutant monsters fighting ninjas and ridiculous violence. So, fun for the entire family! The Blu is available for pre-order and releases December 4th for $22.48.
At the time of writing this, I haven't checked out this disc, but it's Bill and Ted's Excellent Adventure, so it's an almost automatic upgrade title. Be excellent to each other! $13.86.
Mario Bava's Baron Blood is one of his more fun outings and Kino is working their magic on a spiffy Blu-Ray release which hits streets 12/11. Kino always treats their titles with great respect, so I'm really psyched for this one. $21.99.
It's been a great year for Matthew McConaughey and my favorite 2012 performance of his is in William Friedkin's southern friend noir Killer Joe. Man, is this a twisted, dirty little movie. So, naturally they're releasing this sex-charged, totally wrong flick just before Christmas. So, the perfect stocking stuffer for your pervy Uncle Bill. Releases 12/21 and available for pre-order: $16.99 on Blu and $12.99 on DVD.
Mike Birbiglia's Sleepwalk With Me is that rare film festival movie that successfully balances broad comedy with indie seriousness. It's one of those "it'll make you laugh, it'll make you cry" kind of films. It's about someone who really wants to be a stand up comic and also happens to be going through some serious shit with his frankly pretty awesome girlfriend. This is good stuff! $21.99 on Blu and, oddly, $22.48 on DVD.
Nothing says "Merry Christmas" like fingers in butts, on-screen fellatio and little kids in wildly inappropriate situations. Such is the beauty of this absolutely wrong Danish comedy put out by Drafthouse Films. I doubt this one will go on to be nominated for Best Foreign Film like last year's Drafthouse release, Bullhead, but if it did I'd (try to) do a backflip. Vulgar, possibly illegal and full of heart, Klown rocks. $22.69 on Blu, $17.48 on DVD.
Yep, this Guide wouldn't be complete without Drew Goddard's Cabin in the Woods. One, it's a must own for any genre fan, two it's awesome and three there are some good special features on it, including a fun commentary by Goddard and his co-conspirator Joss Whedon. Ladies, if you get this for your man, I guarantee a full on husband bulge will be in your future. $19.96 on Blu, $14.96 on DVD.
Document of the Dead is a fantastic, intimate look at George A. Romero during the time of making the horror classic Dawn of the Dead. It's been a big go-to title for geeks interested in the filmmaking process for a while, but there's a new version that made its way to DVD featuring more interviews with Romero, his family and friends. I haven't seen the new material, but I did track down a copy of the original on VHS back in the day (from a local mom and pop type video store) and can vouch for the quality of the original material. Tom Savini showing off zombie effects stuff! I mean, come on! $17.96.
I'm very curious about this 2-part doc on Amicus, which was kind of like Hammer's lesser known, but still cool, little brother. I'm reading that this doc is a little on the cheap side, but they do get a ton of interviews with Amicus directors, writers and stars and that's really the important part anyway. $14.98.
Another movie-lover doc has finally hit DVD this year and this one is particularly fantastic. Who better to walk you through American film than Martin Scorsese? This 200+ minute doc acts as both a fascinating insight into what formed one of our best living directors as well as a master class in film history. Who needs film school when you can have Martin Scorsese lecture cinema in your own home? $19.98.
Speaking of brilliant American film, Universal worked their magic on Harvey for their big 100 years celebration. I've been saying this a lot this year because there have been insane amounts of awesome library titles in this guide, but seriously… If you don't have Harvey on your Blu-Ray shelf you don't really love movies. Sorry, but them's the rules as I, a Movie Constitutional Lawyer, interpret them. James Stewart, big invisible bunny and a permanent smile on your face. A bargain at $15.49.
Speaking of the Movie Constitution, the 15th Amendment states that all racism would be cured if Atticus Finch was everybody's dad. If you truly loved your movie country then owning To Kill A Mockingbird, another of Universal's impressive high def restorations, would prove your patriotism. It's the movie geek equivalent of having a flagpole in your front yard. If you don't want this then go live with Kurosawa, you commie! $17.99.
Is there a human being on this earth that is as cool as Tim Curry? Well, there might be, but it's a fuckin' close race. I've recently rewatched Clue and it's just as fun as I remember. Dark humor, lots of death and a hell of an ensemble cast including the late, great Madeline Kahn. $19.99 on Blu. Also, if you love Clue, make sure to check out the lesser known, but just as hilarious murder mystery spoof Murder By Death ($11.93) starring Peters Falk and Sellers.
Jaws geeks have The Sting to thank for Robert Shaw's brilliant turn as Quint. His steel-eyed Doyle Lonigan, Paul Newman and Robert Redford's mob boss mark, really impressed producers David Brown and Richard Zanuck and movie history was made twice. Lonigan is a fantastic villain and we all know Quint is the bee's knees. Great con man movie, beautifully shot and with some of the most charismatic actors to ever appear on the silver screen. A cheap $9.99 for the regular blu or, if you want to spring for the super neat digibook edition you can have it for $26.93.
I've only seen one of the two films on this double feature blu. The Grand Duel (aka The Big Showdown) with Lee Van Cleef is fucking awesome. Tarantino used its title them to great effect in Kill Bill. It's a heavy-on-the-action spaghetti western with Cleef actually playing a good guy! The second film on the double bill is called Keoma, which I haven't seen, but the great Franco Nero (the original Django!) stars alongside the great Woody Strode, so there's no chance it's a complete stinker. This disc is staggeringly cheap. Only $5.99 on Blu.
The Walking Tall films were southern fried drive-in smashes. Joe Don Baker kicked things off as real life small town Sheriff Buford Pusser in the first film, but was replaced by Bo Svenson for the rest of the series. Pusser was a good ol' boy with a conscience and a 2x4 who went up against a ruthless criminal organization and some truly crazy shit went down as those two forces collided. These films play like exploitation, but have a real heart to them as well… especially as the story progresses and you're reminded that Pusser was a real man and this shit did happen to him. If you hear the words "Walking Tall" and can only think of Dwayne Johnson, then do yourself a favor and scoop this set up. You'll thank me for it. $20.95 on Blu, $15.95 on DVD.
Gremlins 2 is a very underrated sequel in my book and much more of a Looney Tunes movie than Dante's own Looney Tunes movie ended up being. But I'm a fan of franchises shifting gears with their sequels, which is one of the reasons I love Temple of Doom so much. In a way, Gremlins 2 is kind of the anti-Temple of Doom. Spielberg and Lucas skewed dark and Dante skewed goofy. Christopher Lee plays a mad scientist! And, let's face it, more Dick Miller never hurt anything. I'm quite smitten with this flick and very happy it finally hit Blu-Ray this year. $14.99.
I'm a big time fan of trailers. My love of them goes back to my earliest memories of going to the theater. Of course in my teenage years the art of the trailer took on a whole different dimension when the Alamo Drafthouse opened and they pulled out some of the craziest exploitation, horror, sexploitation and blaxploitation shit. 42nd Street Forever has long carried that torch on home video and now they've brought over 3 hours of crazy trailers into the high definition world! This is a must for the truly geeky cinephile. $17.98.
Gathered here are over 5 hours of Buster Keaton's Educational Pictures shorts from 1934-1937. Keaton's one of my favorite people to ever grace the silver screen and his shorts are flat out incredible. I'm more familiar with his silent shorts, so this set is particularly high on my own personal Christmas wish list. If they have even half the heart, innovation, laughs and ambition of his silent shorts than these will each be two-reel treasures. Put out by the good folks at Kino, we know the transfers will be handled with care. $24.93 on Blu, $24.23 on DVD.
A year or two ago I had a DVD box set of fantastic '70s Italian Crime flicks directed by Fernando Di Leo and now I happily present the high def upgrade to that set. The Boss, Calibre 9, The Italian Connection and Rulers of the City are all top notch entertainment and worthy of being discussed more often in film geek circles. Fernando Di Leo consistently brought the goods and with a cheerleader like Quentin Tarantino his name is slowly creeping into the average cinephile conversation. He's not as big as I want him to be, but the dude's getting there! This box set is a good start and will get ya' hooked! At $6 a film, it's also a great deal. $24.93 on Blu.
It kind of blows my mind that Ralph Bakshi's controversial Coonskin has been remastered, but seeing is believing, no? Coonskin captures a particular time in this country about as honestly as a movie can and in that way it is without a doubt a work of art. Coonskin is a very challenging film and as such it's a very misunderstood film. It's also fun to watch, so don't think it's all homework. There's still lots of animated craziness and Scatman Crothers is awesome as usual. $8.98.
I have a few region-free import Blu-Rays in the guide this year and I'm kicking them off with Dario Argento's Phenomena (aka Creepers). Young Jennifer Connelly (pre-Labyrinth) can control bugs, Donald Pleasance has a monkey that can wield a straight razor and there's a crazy dwarf running around killing co-eds. This. Movie. Is. Awesome. Arrow released a region free disc in the UK and you can get it via Amazon.uk for £13.00 (roughly $20.00).
One of Argento's rarer titles, Four Flies On Gray Velvet is a great giallo and caps off Dario's Animal Trilogy (Bird with the Crystal Plumage and The Black Cat being the other two). It's been a few years since I've seen it, but it really stuck with me. An everyday guy commits a murder and someone saw it, but what does that witness want? I miss this Dario Argento and every time I see a new film from him I hope and pray to the movie gods he has another movie of this quality in him and every time I walk away shaking my head. I feel like his parents. I'm not angry, just disappointed. Nobody gives us the kinds of films Dario Argento did in his prime, even though a lot of people have tried. This is one of his super strong ones and this 40th Anniversary Blu-Ray has a restored transfer taken from the original negative and is supposed to be breathtaking. It's an all region disc, too, so double win! £14.99 (roughly $23.00).
Lucio Fulci might not be as "classy" as Argento, but he was often more fun. Especially with City of the Living Dead, which is my personal favorite film of his. I can respect tone of The Beyond, but give me gut-puking girls and a drill to the temple any day of the week. Also, how great are these Arrow covers? So awesome! £13.00 (roughly $20.00).
From our friends up north comes this Canadian (Region A, just like us) release of Rec and Rec 2. Now, found footage is not my favorite gimmick in the world, but Rec and Rec 2 are my favorite films that have used it. I love the world of the first movie and I love the way they overlap the first film while building onto the mythology in the second. Strangely enough neither film is available on Blu-Ray in the States, but Canada doesn't play that shit. High def shaky cam movies are a way of life up there, or so I hear. c$21.98 (pretty much the same in real money).
Okay, so judging by how awkwardly and damn near secretly Goon was released I'm guessing most of you haven't seen it and that's a real-deal shame. Seann William Scott plays a super nice guy that also happens to be dumb as a stump and so hard-headed he becomes the most brilliant hockey fighter ever. This one is so good, I'd proudly put it on the shelf next to both Slapshot and Strange Brew (the Canadian angle, eh?). Scott is legitimately good here, Live Schreiber is awesome, Jay Baruchel couldn't be more Canadian if he was made of bacon and maple syrup and Alison Pill is ridiculously adorable. No shit, this movie will likely end up in my Top 10 of the year, it's that enjoyable. $19.97 on Blu, $15.99 on DVD.
The Raid is another 2012 favorite. Gareth Evans' Indonesian action flick is the best video game movie ever made even though it has nothing to do with any actual existing video games. Iko Uwais makes a Tony Jaa-like "You will pay attention to me because I'm the baddest motherfucker on this planet" bow in this movie about a SWAT guy going floor to floor attacking criminal scum with guns, knives, knees, fists and angry determination. And yes, this movie came out way before Dredd, which is also badass. $17.99 for the Blu, $12.99 for the DVD.
Some people like Wes Anderson movies, some hate them. Moonrise Kingdom ain't a bridge film between those two groups. It's as if Anderson was able to punch a hole into his head, spilled all his imagination, thoughts and dreams into a bowl, stirred it up, popped it into the oven and out came a perfectly formed, delicious-smelling bread loaf of quirkiness and he called it Moonrise Kingdom. Okay, yes… I did get my first Kitchenaid this year, so maybe that's the reason behind the drawn out and confusing analogy, but you catch my drift, right? I love this movie and you can have it for $19.99 on Blu, $14.99 on DVD.
Speaking of polarizing films, I bring you Joseph Kahn's Detention starring a pre-Hunger Games famous Josh Hutcherson in a film that unabashedly worships the '90s, is more ADHD than Richard Simmons at a coke party and, I shit you not, features prominently a time traveling polar bear. Be warned, some people hhhhhhaaaaattttteeee this movie. Hate it. I am not one of those people. $22.83 on Blu and a drastically cheaper $9.79 on DVD.
Cuba's answer to the UK's answer to the US's legendary George Romero is Juan of the Dead. Director Alejandro Brugues did a great job making a horror comedy with a cast of weirdos that I actually care for as they try to survive the zombie apocalypse as it occurs under Castro's reign. $9.99 on DVD.
Prometheus is flawed, but man is it gorgeous. There's some amazing design work, a great Michael Fassbender performance and some solid Ridley Scott direction. I know people hate the ending, but I'd actually really love to see a sequel. Anyway, this 4-disc edition (above) is jam packed with documentaries, deleted scenes, commentaries and just about everything else you could want. $24.96 for the future-proof Blu-Ray/Blu-Ray 3D/DVD/Digital Copy/We Swear You Can Play This On Anything Ever Made By The Hands Of Man Edition, $23.69 for the Blu-Ray/DVD/Digtial Copy/Fuck You 3D Edition and $19.99 for the DVD only/Gift This To Your Grandparents Edition.
Christopher Nolan's last Batman movie hits Blu-Ray December 4th and you know you're going to own it, if only to have Anne Hathaway in her Catwoman suit available in 1080p whenever you want it. Wait, girls read this too… Um, if only to have Christian Bale's dreamy Bruce Wayne physique and Joseph Gordon-Levitt's dreamy eyes in 1080p. And extra features and stuff… $24.96 for the regular Blu edition. Check below for the cool limited collector's edition.
I didn't get a chance to comment on this movie when it was released, but I really dig it and am perplexed by the rose-colored memories of Sam Raimi's fun, but incredibly flawed films. Marc Webb's effort isn't without flaws, but I feel he cast his Spiderworld much better, Spider-Man is actually Spider-Man now (joking while crime-fighting) and the love story is much more palpable. I have a feeling Webb's next Spider-Man movie is going to be much improved, just as Raimi's second Spidey movie was. As it is, I really like what he did with The Amazing Spider-Man. $18.96 on Blu, $27.99 for the Blu 4-disc combo super set and $14.96 on DVD.
Paranorman might not have set the box office on fire, but it's a damn good movie and that's what counts. The team at Laika is fantastic and gave us a very heartwarming tale about pissed off witches, zombies and weird outcast horror kids. Next to Wreck-It Ralph, this is my favorite animated film of the year. It's available for pre-order now, hitting streets next Tuesday. $23.99 on regular Blu, $32.99 for 3D Blu and $19.96 for DVD.
Brave's biggest sin is that it feels like a traditional Disney film and not a Pixar film. It's not a bad film by any means and held up to most of Disney's recent princess tales it's a damn masterpiece, but a lot of Pixar purists turned their nose up at it. It's an odd year for Disney/Pixar because their two big animated films feel like they swapped placed. Wreck-It Ralph feels so much more like a Pixar movie than a Disney film. But the animation, the world building and the classic Disney sense of fun with Brave makes it hard for me to dismiss it. I know kids especially seemed to go crazy for it, even if their big-kid parents didn't as much. $19.99 for the 3-disc Blu,, $27.99 for the 5-disc Ultimated Collector's Edition Blu and $15.99 for the DVD.
Community! We're still waiting on Season 4 to actually premiere (if the network doesn't delay it AGAIN), but in the meantime you can either refresh your memory, become one of the cult of Community (join us!) or just stock up the Season Sets and travel door to door preaching the gospel. Season 3 is new to home video and I felt it was a particularly strong season, but I'm at that point where I just love all the character and relish hanging out with them every week… if NBC wouldn't keep pushing it back and fucking with it… grumble-grumble… Season 3 can be had for $19.96 and if you need to catch up Season 1 is $19.21 and Season 2 is $25.56.
I have a theory that Pendleton Ward is slowly taking over the world through his bizarre for-kids-but-kinda-not-for-kids show, Adventure Time. Every year it exists it permeates pop culture more and more. Halloween is slowly turning into Adventure Timeween for both kids and adults alike. And no matter how superior you feel you are to the show, if you watch more than 1 ½ episodes you become part of the cult. I should know… ::dramaticgophermemehere:: $19.96 on DVD.
If you haven't yet seen the BBC Sherlock series, believe the hype. This is some good shit, people! Benedict Cumberbatch and Martin Freeman make my personal favorite modern Holmes and Watson duo, and I say that as someone with much love for the Downey/Law team up on the big screen. Showrunner Steven Moffat has gathered a great team and spearheaded two smart, funny, touching and thrilling seasons. A must see for anybody likes good things. Season 2 is $19.99 on Blu and $22.49 on DVD. The first (equally great) season can also be had for $19.99 on Blu and $22.96 on DVD. Elementary, my dear reader.
Now for the Criterion section of the guide! We begin with one of my favorite films they've put out this year. Harold and Maude is one for the ages, a dark comedy that is often imitated, but never replicated. A depressed, morbid young man has an incredibly romantic relationship with a crazy, carefree older woman… and I say romantic, but that's not the touching thing about their relationship. They are possibly the only two people on the planet that could understand one another. Slightly macabre, completely charming and endlessly interesting… This is one of the great ones. $24.74 on Blu, $21.93 on DVD.
MODERATE $25.00-$70.99
On December 4th, Criterion finally upgrades Terry Gilliam's masterpiece, Brazil, to Blu-Ray. Who's not excited for that? $34.99.
Criterion has a great eye for crazy cover art, but I'm really glad they just stuck with the iconic poster for Roman Polanski's Rosemary's Baby. Obviously the death of Sharon Tate changed the man, which changed his work, so this film is particularly interesting if you track his early career. Everything seems to have built to Rosemary's Baby, especially Repulsion, and while he still turned out amazing work after Tate's murder there is a noticeable difference. That's all interesting to the hardcore geeks and that's well and good, but as a standalone movie Rosemary's Baby easily takes a spot in the top 1% of horror films. Criterion's release of the title includes a new transfer and new interviews with Polanski, Mia Farrow and Robert Evans. $29.99 on Blu, $24.99 on DVD.
Paul Bartel was a zany motherfucker and that's why we love him. This is one of the most un-cannibal movie-like cannibal movie. It's probably due to Mary Woronov and Bartel playing such interestingly regular people who stumble upon a way to make some money and quickly get overwhelmed. It's a great cult title from the early '80s and Criterion did it up right! $29.69 on Blu, $19.57 on DVD.
Spike Jonze's unique vision was familiar to music video fans, but he really exploded on the scene with a film that studio suits would describe as "high concept." Being John Malkovich is about as weird as you can imagine, but it's so damn goooooood. I don't need to describe the flick to you, you've all seen it. The Criterion treatment is again top notch. Brand new transfer, deleted scenes and documentary. $29.83 on Blu, $19.37 on DVD.
When David Fincher's The Game came out I thought there might be something wrong with me because it was not well liked by most people around me, including critics. I liked it, I liked it a helluva lot. Sure, it's hard to follow up something as flat out fantastic as Seven, but The Game's elaborate paranoid atmosphere really worked for me. Michael Douglas is great and the whole structure of the film is like watching an elaborate collage of falling dominos. Big fan of this one. $29.99 on Blu, $18.31 on DVD.
This Christmas Criterion is bringing Christopher Nolan's first feature, Following, to Blu-Ray. Usual Criterion goodies come with it… uncompressed soundtrack, new high def transfer and a few other bells and whistles. I've actually not seen the movie, although the regular DVD has been sitting on my "to watch" shelf for a few years. Was always waiting for the right mood/time and it looks like my waiting will have paid off with a super special Criterion viewing come December 11th. $34.99 on Blu, $24.99 on DVD.
This is a particularly interesting release from Criterion. Michael Cimino's Heaven's Gate is one of Hollywood's biggest flops, but unlike some of the other high profile bombs this one actually has something to offer (sorry, Pluto Nash). Recut on release, Criterion is finally putting Cimino's original vision out in high def. Even the film's detractors acknowledge it's a gorgeous movie, so that's something to look forward to. $34.86 on Blu, $34.99 on DVD.
Robert Downey Jr's daddy made some bugshit crazy flicks back in the day and Criterion's auteur label, Eclipse, has compiled five of his films into one collection. Included are the darkly satirical Putney Swope, Babo 73, Chafed Elbows, No More Excuses and Two Tones of Turguoise to Taos Tonight. Of those, I've only seen the first, but I know the others by reputation and fans of off-kilter, smart, experimental films should really give these a shot. $26.73.
One of the biggest geek releases of the year, I can't find much to complain about with this set. I don't think the transfers are as nice as Universal's painstaking attention-to-detail restoration of Jaws, but it's the best any of original three films have looked at home. The new documentary on Raiders is worth buying the set for just by itself. There's amazing fly-on-the-wall footage from the making of Raiders and tons of deleted/half-completed scene footage including the infamous epic sword vs. whip fight that turned into the best moment of the film because Harrison Ford got sick and couldn't do the complex choreography. Also, yay Temple of Doom! So good, so misunderstood! You can get the whole shebang for $49.96.
Okay, I admit it. The Star Wars animated series The Clone Wars has repaired a lot of the damage done by the filmed prequels. My Grinchiness about anything prequel related is cracking bit by bit. Dave Filoni and his team have managed to take things that just flat out don't work in Lucas' films and give them life, breathing a richness of character into the clone troopers, the jedi and everyone else (except for Jar Jar. Even when he's used in the series he's still a mental patient and you can feel the animators and writers making fun of him). I'm not caught up yet, but I have blown through the first three seasons this year and will hit season 4 now that it's out on Blu-Ray. Something tells me Darth Maul is in it… $39.96 on Blu, $29.96 on DVD. Previous seasons are also available: Season 1 is $29.96 on Blu, $26.49 on DVD, Season 2 is $31.99 on Blu, $36.93 on DVD and Season 3 is $30.99 on Blu, $31.70 on DVD.
While I'm sure Max Fleischer's Superman cartoons were made with traditional paint, I think that studio had some pixie dust in there or something because just thinking back on those early Superman cartoons fills me with love and warmth. Holy shit, guys! World peace is achievable! We need to get the Fleischer Superman toons to the Middle East! Problem solved. Why have we not done this?!? $29.99.
Warners smartly didn't break up Harry Potter and The Deathly Hallows for their Ultimate release. It's just Year 7, with both movies included. I know there was concern that they were going to split them up for these big collector's releases, but they didn't, so it won't look all funky on your shelf. Any Harry Potter nerd already knows how complete and exhaustive these Ultimate Editions are. Tons of features, lots of insight into the epic production of this landmark series… very cool stuff. $44.99.
Finding Nemo got the 3D treatment this year and Disney/Pixar is releasing a big mega copy that has all the 3D, regular D, digital mumbojumbo copies of Finding Nemo that you could want! Parents, this is prime-o distraction material. Kids love this flick and it's top tier Pixar to boot so you know that you won't get tired of it until at least the 8472th viewing. $33.86 for the 5-Disc 3D Blu, $27.36 for the 3-Disc regular Blu.
Ah, another volume of awesome Pixar shorts. This one collects some of my favorite Pixar shorts, including the Academy Award nominated Presto and the fantastic Partly Cloudy. La Luna and Day and Night are also in this set, as a bunch of Up, Ratatouille and Cars spin-offs. Another opiate for tykes! $27.96 for the Blu and $19.99 for the DVD. Also, if you don't already have volume 1, that can be had for $21.49 for Volume 1 on Blu and $19.94 for Volume 1 on DVD.
One of my favorite Blu-Ray releases last year was the first Looney Tunes Platinum Collection (currently only $24.99 for the Blu, by the way). There's something about having these old traditional cel animation masterpieces in high def that make me smile big time. I love seeing the artist's touch with such clarity. The second volume is out for the holidays and you get over 7 hours of vintage Looney Tunes cartoons and over 7 hours of bonus material, including a shit ton of Tex Avery stuff. The Gang's all here and looking better than ever. $31.32 for the Blu, $21.93 for the DVD.
I know you love this movie, you know you love this movie and we're all cool with that. I think The Avengers is easily the most fun franchise tentpole film since JJ's Star Trek. As big as the action gets, I have to say my favorite moment in the film is the interrogation scene between Black Widow and Loki. That scene gives us so much information about both of those characters all while we're looking somewhere else. It's a great misdirect and the single scene I think about the most. Big fun this one, deserving of all the moneys. $34.95 for the four-disc super ultra 3D Blu-Ray, $24.95 for the regular two-disc Blu and $19.96 for the DVD.
Alright, I have to admit that's a pretty damn cool collector's edition for The Dark Knight Rises. You get the big three-disc blu-ray release in a much cooler package. It doesn't arrive until December 4th, but if you pre-order right now you can lock in this sweet set for $35.99, just $11 more than the regular boring old edition.
Also releasing on December 4th is a collectable Nolan Batman Trilogy Blu-Ray set that features Batman Begins, The Dark Knight and The Dark Knight Rises as well as a special 64 page version of the Art and the Making of the Dark Knight Trilogy. It's a good way to get all the films at once (and at a discount) if you haven't picked them as they were released. $29.96.
This spiffy release of Watchmen includes all the Blu-goodness of the Ultimate Cut and, to make it even more of a bargain, also includes the full original graphic novel. I quite like this film and while I would have preferred this big package edition come with all the released cuts of Watchmen, it's still a good deal to get both the graphic novel and the Blus. I could see this making a good gift to a non-Watchman initiate that you know will dig the comic and the movie. $49.99 gets you the whole enchilada.
Miami Connection is a bit of '80s craziness unearthed by the good folks at the Alamo Drafthouse and rescued from obscurity when they decided to put the full weight of Drafthouse Films behind it. Created by people who didn't have clue one as to how to make a movie (or act in one, for that matter), this Rock Ninjas Vs. Drug Dealers hunk of cheese is saved from being a simple stupid, forgotten movie by the huge heart behind it all. A lot of people will see this as one of those "So Bad It's Good" type of movies, but there's more there if you're willing to look deeper. I mean, it was still directed by a cult leader (no joke) and is incompetent on so many levels, but damn if they weren't all just going for broke and gave us a charming movie as a result. You have a couple different options available to you on this titles. $26.97 for the Blu only or you can spring for the extra fancy "Oh My God!" Edition, which comes with a 27X40 one-sheet, a limited edition (to 800) 7" vinyl with two of Dragon Sound's songs and a download link for the entire soundtrack on MP3 for only $34.99 by clicking here.
Here we have the big Collector's Edition of the big Lawrence of Arabia restoration Blu. On top of the complete 3-disc Blu-Ray, you also get a Soundtrack CD, a 70mm frame from the movie and big coffee table book filled with behind the scenes pics (and you know I love me my BTS pics). Plus it just looks more epic, doesn't it? If there was ever a movie to splurge on, it's this one. $64.96.
Steve Martin rocks… Kids today who grew up knowing him only as the annoying Pink Panther guy really are missing out… But most of us old farts know what's up. This three-disc DVD set offers up over 6 hours of early Steve Martin stand-up specials and TV guest appearances from 1966-2005. $29.99 on DVD.
Season 4 of Breaking Bad is probably my favorite single season of any TV show I've ever seen. It's an incredibly tense cat and mouse game of a season between two extremely formidable opponents, one an ex-chemistry teacher turned drug dealer and the other a seemingly respectable small businessman/drug kingpin. Everything builds to an explosive finale that literally left me with my jaw hanging open. We're halfway through the final season at the moment and if they can somehow stick the landing, this will go down as the best TV show to ever be aired for human eyeballs on the boob tube. $11.99 on Blu, $19.96 on DVD. Let's not stop there, though. Season 1 is currently $11.99 on Blu, Season 2 is currently $11.99 on Blu and Season 3 is currently $11.99.
Walking Dead Season 2 has the above special edition case that is just super rad. That poor zombie bastard's chin lifts up revealing the Blu-Rays like they were a piece of Pez. A lot of people give Walking Dead Season 2 shit and while I'd be the last person to say there aren't any problems with the series as it stumbled to find its footing after Darabont got the boot I will defend it a bit. People complaining about all the "talking…" well, that's something called character development. One of the reasons you're loving the much bloodier and violent Season 3 is because of that time you spent with our group in Season 2. Their deaths have an impact, you're so much more invested in them when they're put in danger. So, I'll defend Season 2, especially as a fan of the comics where whole issues will pass without one zombie popping its rotting head up. $64.98 for ol' Screwdriver Head, $32.49 for the regular Blus and $24.29 for the DVDs. Also you can go back to the first season for $17.99 on Blu and $14.99 on DVD.
Louie C.K. has been a favorite stand-up of mine for a while and he's just been killing it with his TV show. Funny, authentic, inappropriate and no holds barred, the show is about as accurate to his stand up work as it can be without just being a stand up special. The biggest compliment I can give the show is there are times when I feel like I'm watching a documentary. Season One was great, but Season Two is a step up. The episode where Louie goes to Afghanistan to entertain the troops is just flat-out brilliant television. $29.35 on Blu and $13.93 on DVD. The Blu/DVD combo-pack for Season 1 can also be had for $21.93
People love this show. So many of my friends are obsessed with it. I have yet to take the plunge (that stupid time thing people are always talking about having too much or too little of) myself, but I think it's about Maggie Smith hosting murder-fuck parties at her giant castle. Actually, I just made that up, but if that turns out to be even close to being true I'm going to give up sleep and watch them right fucking now! $45.32 on Blu and $30.00 on DVD.
Kenny Powers triumphantly returns to the majors and has to work out some family shit as he does. We know from Season 2 that Don Johnson is Kenny's pappy. That's perfect, but the person they cast as Mama Powers is even better. I won't spoil it if you don't know, but it's great to see her kicking ass and taking names in the comedy world again. Season 3 hits home video December 4th and it's currently available for pre-order. $29.99 on Blu and $22.99 on DVD. Season 1 is $31.93 on Blu and $16.49 on DVD. Season 2 is $31.93 on Blu and $16.49 on DVD.
This Ultimate Collection gathers all 190 shorts done for Columbia by the Three Stooges into one big set. This is a must own for any Stooges fan. This set also comes with three discs of bonus material that includes solo shorts by the boys. Excellent comedy material here that could easily take your mind off of the troubles of the world for a solid month if you plan it out right. $39.99.
I know it's not a common opinion and I'm going against the grain by saying this, but guys… I think Casablanca is a good movie. I know, I know. It's a risqué opinion to have and I'm ready to take my lumps for being so original and unique, but damn it I like this movie! And now I can celebrate it's 70th anniversary with this great Blu-Ray gift set that includes a bunch of sweet knickknacks, a ton of rollover special features and the super nice HD Blu transfer all in a limited, numbered collection. Here's lookin' at you, kid. $44.49.
This Is Cinerama was the proof of concept film that toured around the country (they called 'em Roadshows back in the day) with the fascinating 3-projector set up that when set up just right created the widest widescreen ever known. Technically it was a challenge and only a few films were ever shot (and released) in this format, but it's a charming footnote in cinema history. This is Cinerama is one of the most interesting cinephile Blu-Ray releases this fall. $39.35 for the Blu/DVD combo pack.
We have Spielberg's Lincoln out (and it's really good!), but Daniel Day Lewis wasn't the only Lincoln. One of the most interesting actors to portray the 16th President of the United States is Mr. Walter Huston in D.W. Griffith's Abraham Lincoln. This 1930 film was Griffith's first talkie and chronicles Mr. Lincoln's life from birth to death. The great folks at Kino have remastered the title in HD and put out a brand new Blu-Ray. $29.99 on Blu.
Kino have also put out this rarity, Stanley Kubrick's first feature, a poetic war flick about a squad who have crashlanded behind enemy lines. Now, this film doesn't quite stack up to Kubrick's later films, but it a fascinating document in that it shows us the birth of one of cinema's greatest directors. He stumbles a little bit, like a child taking its first steps, but you can already see glimpses of his genius. It's also interesting to note that one of the main characters is played by Paul Mazursky who would later go on to find counter culture fame as a director with Bob & Carol & Ted & Alice. $28.43 on Blu and $24.99 on DVD.
Die Nibelungen is an obscure silent film from famed director Fritz Lang, written by Thea von Harbou (his wife, who also wrote Metropolis and M). It also happens to be an epic that's even grander in scope and vision than Metropolis, just not as famous. Kino excels at these kinds of releases and word on the street is this transfer is stunning. $34.99.
I'm not done with the Fritz Lang or Kino yet! Not only do you have the above Die Nibelungen on Blu, but Kino also released 3 rare Fritz Lang films in one DVD collection. In this set you get 1919's Harakiri, 1920's The Wandering Shadow and 1921's Four Around A Woman. These are all new titles to me, but looking them up, I'm the most intrigued by The Wandering Shadow, which sounds Hitchcockian. It's about a dude that is set to inherit his brother's fortune and finds out his brother's wife has been willed all the money, so naturally he has to kill her. Kino knows how to treat these rare cinema curiosities, that's for sure. $35.93.
Here's another interesting release for cinephiles. George Melies' iconic A Trip to the Moon has been meticulously restored for this release. One copy the thought-to-be-extinct hand-painted A Trip to the Moon was found and became the basis for this incredible restoration. You get the colored version and the restored black and white transfer and a bunch of other features. Perfect for the movie snob in your circle or if you want to blow the mind of your young children/nieces/nephews and double feature this with Scorsese's Hugo. $33.21.
During my run on A Movie A Day I fell head over heels in love with film noir. It's one of the rare genres where almost every single film is worth watching. They're all varying degrees of awesome. There's a new Blu-Ray set on the market which is really exciting for me. Old Hollywood looks great in high def, be it black and white or Technicolor. This set includes four films: Union Station, Appointment with Danger, Dark City and Rope of Sand. Rope of Sand reunites Casablanca actors Paul Henreid, Peter Lorre and Claude Rains, but also throws a young Burt Lancaster into the mix as a man returns to Africa to reclaim his stolen diamonds. Haven't seen the other three, which is reason enough for me to buy this set. The other films star Charlton Heston, Dean Jagger, Alan Ladd, Jack Webb, Ed Begley and William Holden. $66.99 for the Blu set.
Three of Otto Preminger's later films have been bundled together in this set: Hurry Sundown, Skidoo and Such Good Friends. There's a dark comedy bent to this set as both Skidoo and Such Good Friends are a little on the goofy side (the former being a gangster tale starring Jackie Gleason, Frankie Avalon, Carol Channing, Burgess Meredith, Cesar Romero and Frank Gorshin, with a ton of other comedy cameos, and the latter based on a screenplay by the great Elaine May) with Hurry Sundown being the only full drama, starring a young Michael Caine no less.$51.99 for the set on Blu.
So you say you want something incredibly badass, huh? Well, you can't do any better than a Father/Toddler samurai combo team who hack and slash their way throughout Feudal Japan. You haven't lived until you've seen a baby cart shoot blades out of its wheels and take legs off below the knees like something out of Ben Hur. In my day these were really difficult to track down on VHS and now you can have the whole series in high def. What a world! $49.99 for the set on Blu.
Since you guys surely already have the Godfather Collection Blus (only $19.99) then you're close to having the essential Coppola works in HD. December 4th sees the release of a new collection of Coppola's films that will bring even closer to having all you need. This set includes Apocalypse Now, Apocalypse Now Redux, The Conversation and One From the Heart. One From the Heart is only available on Blu-Ray with this set and if you don't already have The Conversation then that's your value just with those two films. The Conversation is my favorite Coppola movie. It's one of those Top 10ers for me. Just brilliant filmmaking. Anyway, the set is available for pre-order and will ship with plenty of time to make it into the stocking of your favorite loved one. $28.83 on Blu.
EXPENSIVE $71.00-$249.99
This is one of the biggest movie geek Blu-Ray sets to hit in a year overflowing with huge movie geek Blu-Ray sets. Fifteen of Hitch's best films are included here. Psycho, The Birds, Rear Window, Vertigo, North By Northwest, Saboteur, Shadow of a Doubt, Rope, The Trouble With Harry (super underrated in my opinion), The Man Who Knew Too Much ('56), Marnie, Torn Curtain, Topaz, Frenzy and Family Plot. All of these films are varying degrees of amazing. There are only two on here that I haven't seen yet (Topaz and Family Plot), but I have this sucker sitting on the top of my to-watch pile. I'm going to revisit all the classics and finally patch some of my Hitchcock holes (that sounds filthy, I'm sorry for that mental image) this holiday season. Super Amazon Black Friday Week special price Alert: $149.99 on Blu.
Now the UK is offering a region free limited edition Hitchcock set with a really cool Birds-inspired case. The UK set doesn't include North by Northwest, so if you're a completist that might bug you. £122.50 (or around $195 US) for the Limited Edition (hurry, they're selling out) or you can order the regular UK set (minus NXNW) for £92.50 (or roughly $147.00).
These Blu-Rays are absolutely gorgeous. I've watched and rewatched The Wolf Man a few times over already. Halloween mood-setting, you know. Collected in this set are all Univeral's classic monsters. Frankenstein, Bride of Frankenstein, The Invisible Man, Dracula, Creature From the Black Lagoon, The Mummy, Phantom of the Opera and The Wolf Man all get HD upgrades that are truly breathtaking. Universal really took care with these guys. Now you have a couple of different options at your disposal here.$129.00 for the US Blu set or you can pay significantly less and import the region free UK Blus at £33.99 plus shipping (roughly $54.00 plus shipping). Whichever route you take, you're going to be really happy.
So you want all the big Universal remastered Blus and Blu upgrades that the studio put out this year, but collecting them individually is a pain and too expensive? Well, Universal put out this handy limited collection of 25 Blu-Rays in one nifty package. Included are All Quiet on the Western Front, American Graffiti, Apollo 13, Back to the Future, The Birds, The Bourne Identity, The Breakfast Club, Buck Privates, Despicable Me, Do the Right Thing, Dracula, Dracula (Spanish version), E.T., The Fast and the Furious, Field of Dreams, Jaws, Jurassic Park, Mamma Mia, Animal House, Out of Africa, Pillow Talk, Scarface, Spartacus, The Sting and To Kill A Mockingbird. Universal took a bit of scattershot approach to this set, but it's a good sampling if you aren't as ADHD as I am about having complete sets of films (Back to the Future, Universal Monsters, etc). But I have to say if you have the bread and a young family member who loves movies, but needs some education this is a great gift for them. It's a way to figure out what their tastes are and to expose them to some of the great films from one of the greatest studios in Hollywood's history. $246.83, which is less than $10 a movie!
Now you can have all the James Bond flicks in one place (Never Say Never Again notwithstanding, but you get Thunderball, which is essentially the same movie but better anyway). Celebrating 007's 50th anniversary the Blu-Ray gods have delivered this set of 22 Bond films, including 8 that have never been released on Blu-Ray before (mostly Moore and Dalton Bonds, but we finally do get On Her Majesty's Secret Service in high def). I do not yet have this set and believe you me it's high on my priority list. In fact, I have a plan to steal Harry's when he's on his way to BNAT and I think I can still make it to the Alamo in time to take my seat. All I need is a jet pack, a couple of Bond girls and a Walther PPK and I'm golden! Amazon has this Blu set as a Black Friday Week Sale. $129.99 on Blu and inexplicably $245.99 on DVD.
Oh, man, the nostalgia! It was a family thing to watch the Star Trek: TOS reruns when I was a kid. When The Next Generation premiered it was a huge event in our house. While I was always more of a Star Wars kid, I loved The Next Generation. The show is finally getting the high def treatment. Season One is already out ($69.96 if you wanted to know) and December 4th sees the release of Season 2. Season 2 comes with 2 hours of new cast and crew interviews and high def upgrades to the audio and video. Make it so! $79.99 gets you Season 2 on Blu.
Red Vs. Blue is a huge phenomenon and for good reason. These guys have taken Halo and turned it into a ridiculously complex, hilarious and action-filled webseries that kind of shadowed South Park's route to success. The early seasons are crude and have a real handmade quality. These days they have CG artists in-house and have expanded the world in a crazy way. Elijah Wood is doing a voice on the show now! They celebrate their 10 year anniversary by releasing this complete 10 season set of their work on Blu-Ray… $161.96 on Blu and $123.20 on DVD.
*********************************
Or you can win a copy of this big Blu-Ray mega-RVB set, thanks to the first of many in-guide contests! Burnie Burns has graciously offered three RVBX Blu-Ray sets to AICN readers. Not only is he offering up these expensive box sets, he's going to get all the RvB guys to sign them before shipping them out to the lucky winners! The contest is open to the entire world (the blus aren't region locked) and all you need to do is email me at this email address with the subject line "Cockbite For Christmas!" Include your mailing address, full name and phone number (for shipping reasons) in the body of the email. The contest is open between now and Friday, November 23rd at 4pm CST. I'll pick the three winners at random, alert them by email and update this post! Good luck!
The Winners have been picked! Congrats to Michelle Cooper-Jermann, Gerardo Castillo and Emma-Lea Davis!
**********************************
Man, does this bring back some memories. My parents were baffled by my obsessive compulsive adoration of the Teenage Mutant Ninja Turtles and I get it. I was just baffled by my little brother's similar obsession with Pokemon, but damnit TMNT is mine and I love it. Krang, Shredder, Rocksteady and Bebop… I love these cartoons and I'm kind of the prime target demo for this crazy 23-disc set that covers all 10 seasons of the cartoon. That's over 4000 minutes of Ninja Turtles goodness… god help me. $88.86 gets you the complete series in the Turtle Van.
This special Mystery Machine set compiles all three seasons of Scooby-Doo, Where Are You? which ends up being over 900 minutes of Scooby action plus a ton of extra features, many of them exclusive to this particular set. Yoinks! $79.46.
The only thing that can out-nostalgia the Ninja Turtles for me is He-Man. Oh, buddy, did I love Masters of the Universe when I was a kid. Skeletor was such a cool villain because he had a skull for a head and was a complete dick to everybody, especially his henchmen/women! I haven't tried to revisit, but it looks like the home video gods want me to because they're putting out this limited edition collection that gathers all 130 episodes from the '80s cartoon, 20 episodes of the short-lived New Adventures of He-Man from the early '90s and all 39 episodes of the early aughts reboot of He-Man. Add on to that a bunch of docs, tons of commentary tracks and an exclusive Masters of the Universe collectible He-Man sword, an 11-track CD of He-Man music and a booklet and you got something that'll cause all He-Man geeks to exclaim "By the power of Grayskull!" this holiday season. Currently available for pre-order, releasing the week before Christmas, 12/18. $89.98.
While I was playing with my Ninja Turtles and He-Man toys, the adults in my life (parents and grandparents) were watching Columbo, so I saw my fill of Peter Falk sarcastically sleuthing around. I love Falk and Columbo is still awesome. So, when the guys putting this out call this the Complete Columbo, they're not exaggerating. Compiled here are all 7 series and all 24 TV movies featuring the squinty-eyed detective. That's over 34 discs of Columbo. This is primo stock-up-for-the-zombie-apocalypse material right here. $132.48 for the set.
Now that House is over, they've bundled all the individual seasons into one box set. This might not be perfect for a House fanatic, but it's great for those of us, like me, who wanted to dive in once the show was wrapped up and haven't collected each season as they hit DVD. $152.48.
Here's a better limited edition DVD set, this one gathering up all the new seasons of Doctor Who (Seasons 1-6) in one place, adding in some art cards, a comic book, new special features and, most importantly, your own Sonic Screwdriver. I hear the geeks crying out with glee already! $174.86.
Mel Brooks is one of the few people to win an EGOT (Emmy, Grammy, Oscar and Tony), so naturally that means he gets to be called Incredible and given his own DVD boxset that doesn't include any of his movies, just 65 years worth of his comedy, short films, TV appearances, guest starring roles in popular shows and other rarities. Mel Brooks is a real-deal legend and this collection looks like a ton of fun. $89.86.
David O. Selznick is one of cinema's greatest producers. Gone With The Wind was made under his watch, for instance. Kino wanted to honor the man by lovingly restoring five of his pictures for this release. Included are A Farewell to Arms (starring Gary Cooper), A Star Is Born ('37), Nothing Sacred, Bird of Paradise (think of it as the proto-Joe Vs. The Volcano) and Little Lord Fauntleroy. All these older films have been mastered in HD for this release. It's a good year for Old Hollywood being done right, thanks to distributors like Criterion and Kino. $91.91 on Blu and $79.95 on DVD.
Kino has gathered up all their impressive remasters of Buster Keaton films and put them all in one big Blu box. With this Ultimate Edition you get the short films collection (1920-1923), The Saphead, Our Hospitality, Sherlock Jr., Three Ages, Seven Chances, Go West, Battling Butler, The General, College (which is exclusive to this box set at the moment, by the way), Steamboat Bill Jr and Lost Keaton (1934-1937). Buster Keaton's genius is evident in every one of these titles and shorts. They will still crack you the fuck up. His comedy has survived many generations and will survive many more. I have much respect for Chaplin, but I'm a Buster Keaton guy through and through. Available for pre-order, this 15 disc Blu-Ray set releases on December 11th and will run you $247.48.
Featuring a ton of great artwork by the good folks at Mondo, the big Tarantino XX collection is one of the top geek home video releases of this holiday season. Not only do you get every movie that Tarantino has directed (Reservoir Dogs-Inglourious Basterds, you also get True Romance and over 5 hours of special features never seen before including interviews with his actors, crew, fans, critics and a tribute to his partner in crime, editor Sally Menke. This is a hell of a set, but it makes me wish we'd get some kind of extra disc that was just Tarantino lecturing about certain genres of film, maybe using his movies as a jumping off point. Maybe some day we'll get him constructing a film appreciation documentary like the one Scorsese did (look up, constant reader). But in the meantime, here's this set for all you bad motherfuckers out there. $69.99 on Blu.
FOR THE SUPER RICH ONLY $250.00 and Up
In terms of sheer decadence, the Dark Shadows Complete Original Series Deluxe (Coffin) Edition takes the cake. That's 131 discs (you read that right) and over 470 hours of supernatural soap opera. 1,225 episodes, over 100 interviews, behind the scenes treasures, bloopers and photos… This big bastard weighs 15 pounds. They were not messing around with this guy. $409.88.
With this brand new blu-ray set you'll get high def transfers of 158 episodes (nearly 4,000 minutes) of The Dick Van Dyke Show. I don't have much more to say about that other than 1080p Mary Tyler Moore is never a bad thing. $299.99 on Blu.
Alright, so here's the Complete Mission: Impossible TV series gathered in one explosive (yuk-yuk-yuk) 56-disc edition. That's all 7 seasons of the original show and the 2 seasons of the '80s revival. There's also a bonus disc with brand new special features. Your mission, should you choose to accept it, would be to buy this set and watch all 10,000+ minutes of Mission: Impossible. This Gift Guide will self destruct in 10 seconds. $267.83.
FOOD
I started the food section of the guide as an easy way to talk about my love Salt Lick BBQ and tell the world that you can actually order their brisket and have it shipped to your doorstep and ever since then I've had a few little food things that caught my eye. This year there's actually a good handful of weirdly awesome foodstuffs, all in the Cheap to Moderate price range. Let's see what yum-yums there are…
CHEAP ($24.99 AND UNDER)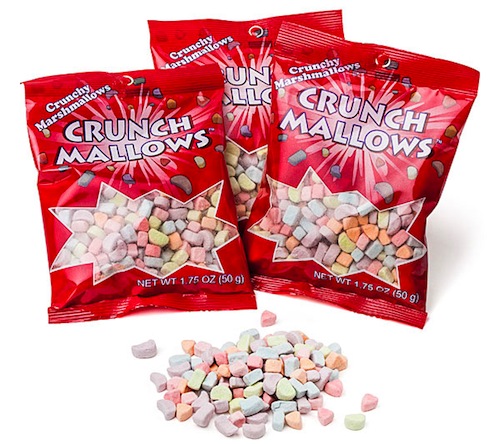 I was stunned to find out this existed, gobsmacked that no one had done this before. I was so excited about this that I felt sudden and immediate fat-guilt. But fuck it! It's a new age where we can get the little marshmallows that come in the best sugary cereal without all that cereal crap getting in the way. Cereal Marshmallows have a very distinct taste and texture, unlike anything else on this earth… and now you can get them in little packets! God bless America! $8.34 for a pack of six 1.75oz bags.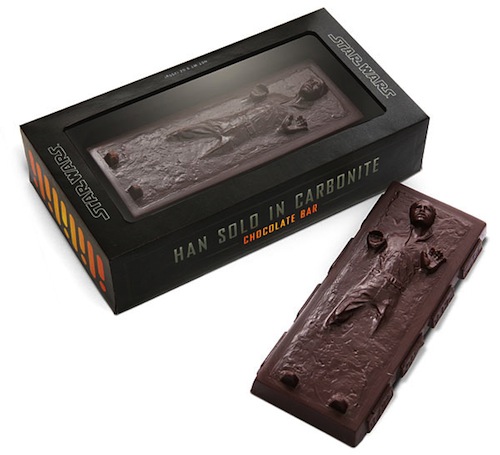 If I remember correctly Han In Chocolate Carbonite made the Guide last year, but the stocks were low. So, I just want to make sure everybody has a chance to eat Harrison Ford while he's in his chocolate prison by including it again this year. We don't want to leave anyone behind, do we? A Thinkgeek exclusive, this chocolate bar is strong with the dark (chocolate) side of the force and costs $11.99.
Now, I think the Jedi masters would frown on you giving head to your lightsaber… it's not good for the teeth, apparently. But I've seen the prequels… they're not paying attention anyway, so just get these light up lightsaber lollipops, turn down the lights to set the mood and go to town, big guy! You deserve some you time! $3.99ea.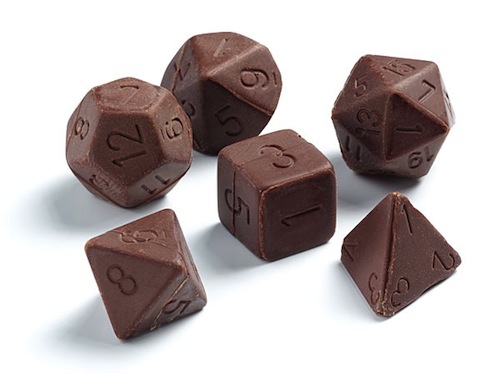 Chocolate Dice just doesn't seem practical, does it? So many downsides. Sweaty palms will make the numbers wear off, the kind of people playing with 20 sided die… well, let's just say those dice sets will be long gone before the mage can charm the wood elf's sword with +12 frost defense. Made with Ghirardeli chocolate, this doomed snack set will run you $7.99.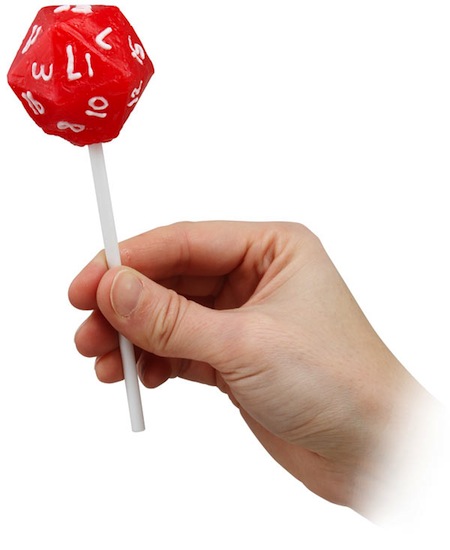 Single guys, I'm saying this as your friend… don't eat this in public. Or do. Let yourself hang loose and maybe, just maybe, you'll get a wink from a geek girl that likes your style and you'll fall in love, get married, have lots of babies and name one of them Quint. Yeah, never mind. Do what you want! $4.99.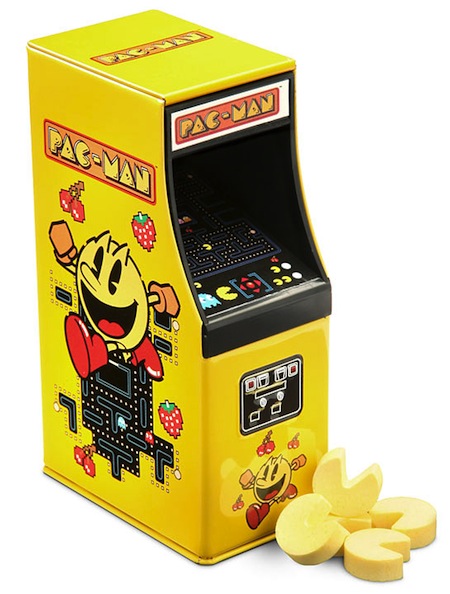 I know that looks like a giant Pac Man Arcade Game with a pile of miscarried Pac Babies lying at its feet, but what you really seeing is a close picture of a small candy dispenser that contains little Pac Man candies. Whew. Thank God, right? $3.99.
I bet you didn't know you needed to have smart-ass tea bags in your life before now, did ya'? Sorry to spring that on you and forever change your life, but you know how it is. Apparently, behind the jokey names this is legitimately good tea. I'm particularly intrigued by "Erase Your Past" tea. Actually, you probably should drink that one. I've seen Twilight Zone, you don't tempt fate like that no matter how funny it is… $9.59.
Well, that's it. I can just go ahead and close up shop. There's not gonna be anything better in the guide than Soylent Green Crackers. They claim to be made with "Plankton" but we've seen the movie, we know better. They'd make a great conversation starter, but if you eat one I'm gonna start calling you Dahmer, fair warning.$8.99.
MODERATE ($25.00-$70.99)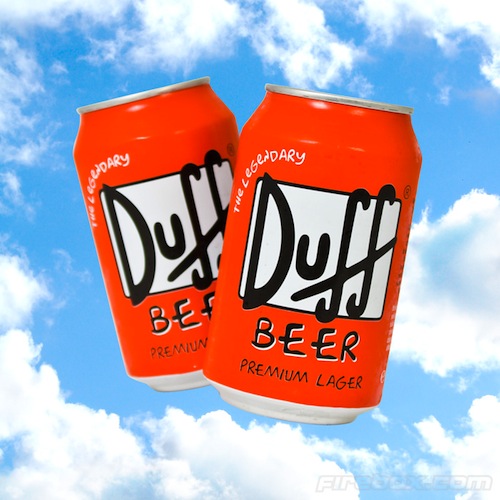 Hmmmm, beeeeeeeerrrr. And yes, that's real beer, a 4.7% lager, but still. Don't you underage people go ordering that and get me in trouble, okay? I know it's cartoon alcohol, but it's still booze and I'm not contributing to the delinquency of minors! Not again! I mean, what? Hey, Simpsons is funny and there's beer… $39.79 for a 24-can pack.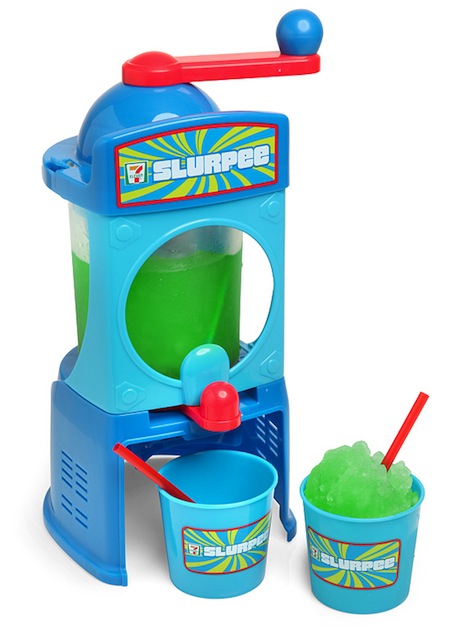 And now you know you can make little mini-Slurpees at home. A new corner has been turned for humankind. I'm really choking up over here… We did it, you guys! We finally made it! $49.99.
ART
Ah, a category near and dear to my heart. My love of art started with movie posters and spread to book covers, comics, animation and then out to the wide, grown up world. Kinda. I still love pop culture art the most, so you'll see a fair amount of that kind of stuff. Below you'll find nice reprints, silkscreens, giclees and even a few original pieces. Lots of fun expensive stuff to window shop, too. So let's get going…
CHEAP ($24.99 AND UNDER)
*******************************
Let's not pussyfoot around this, shall we? HOLY CRAP, MONDO GAVE ME TWO TYLER STOUTS TO GIVE AWAY!!!!!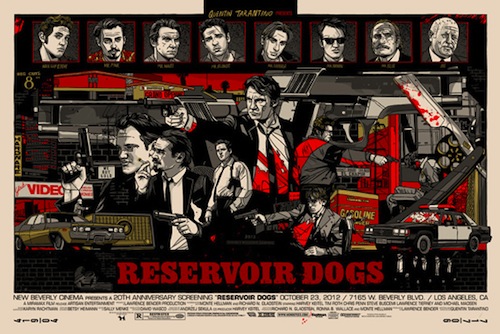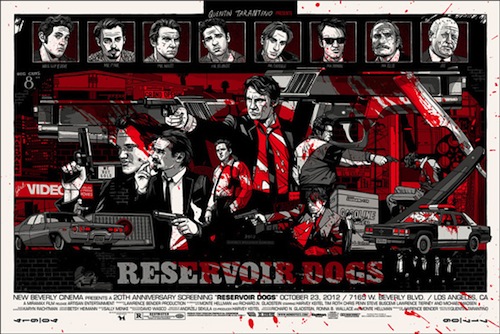 Mondo has graciously offered up one regular and one variant ("bloody") edition of their recent immediately sold out release of Tyler Stout's Reservoir Dogs. Gorgeous, insanely collectible and if you want it you have two options. Option 1, head over to eBay and pay 5 times the sale price or Option 2, try your luck this holiday season by entering this contest!
Here's the thing. I want to know the winners of this contest aren't just flippers. I want real fans a shot at getting these, so I want you to take a picture of the wall you're going to hang this beautiful 36x24 horizontal print on. I want to see what you're going to have to move around to make it fit, what geek shit is on your shelves near it, etc. In other words, make me believe you intentions are pure and you're going to treasure your poster.
Here's what you need to do: email me at this address with the subject line "Stuck In The Middle With Stout" and your complete name, mailing address and phone number (strictly for shipping purposes, I swear) and a not too ridiculously huge-size jpeg of that wall. You have between the second this posts until Friday, November 23rd at 4pm CST to email your entry. The contest is open worldwide, by the way, so foreigners feel free to enter! Please only enter once or risk being disqualified.
To be clear, there are two prizes here: the regular Stout and the variant Stout. I'll pick two emails at random and if they don't have the info I requested or photo I'll move on until I find the winner. Good luck!
Congratulations to the winners, Giancarlo Osaben of NY, NY and Kayla Waymark of the faraway land of Toronto!
********************************
Now on with the rest of the Holiday Gift Guide!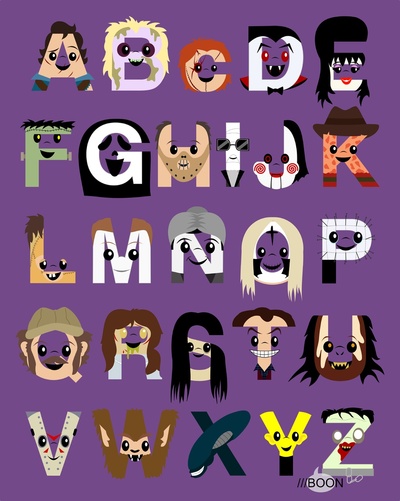 Mike Boon's Horror Icon Alphabet is a kid friendly introduction to some of the most vile, awful, murderous, evil monsters ever thought up by diseased human brains. And for some reason there's a little Quint in the Q (why not the Winged Serpent, Mike?), which automatically makes it even cooler. If I had a kid I'd put this up in his/her room... nobody call child protective services on me when I put this up in my future kid's baby room, okay?$18.00-$45.00, depending on the size of the print.
MODERATE ($25.00-$70.99)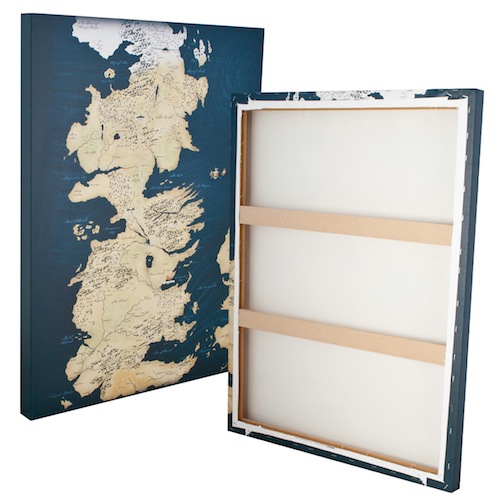 What you have before you is a detailed map of Westeros (Game of Thrones, you dig?) on a beautiful 24x36 stretched canvas and ready to hang over your fireplace as your legions of daughter-wives wait on you hand and foot somewhere beyond the wall. The price is right, Game of Thrones has serious geek cred right now with HBO's awesome show and now you'll never get lost should you ever find yourself whisked to that warring land you will have had ample time to memorize the geography. (Helpful hint: don't trust Littlefinger and befriend the Imp!) $39.99.
The good folks at Weta have a bunch of fun Hobbit stuff for sale on the eve of the first film's release. Take the above-pictured item, for example, which reproduces a general layout of Bilbo's home, Bag End. This sucker can be seen framed in Bag End itself, but why settle for that when you can pretend your messy little hovel is tidy Hobbit hole every time you walk by this print? Printed on parchment paper and measuring over 13x18, this sucker is ready to ship for the low price of $29.99.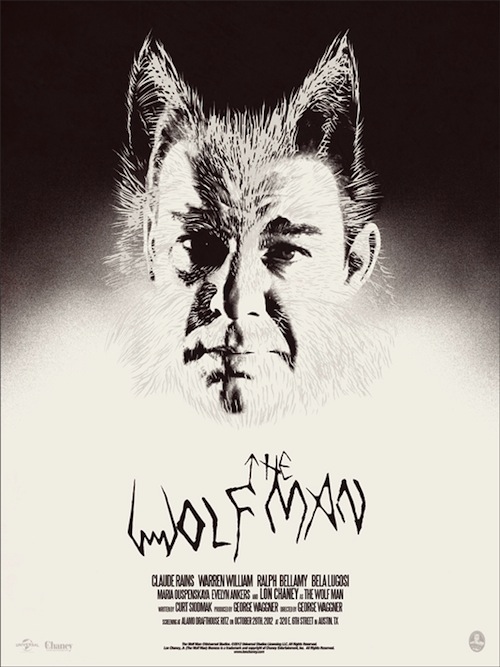 It's a rare day you can just casual saunter over to Mondo's site, pick a cool poster and buy it. Those guys are too popular! It's usually a madhouse! I don't know why Jay Shaw's The Wolf Man poster is still available, but don't ask dumb questions, just go buy it before it sells out! It's sweet and features a great likeness of Lon Chaney Jr. Limited to an edition of 175 and measuring a frame-friendly 18x24, the print will cost you $35.00.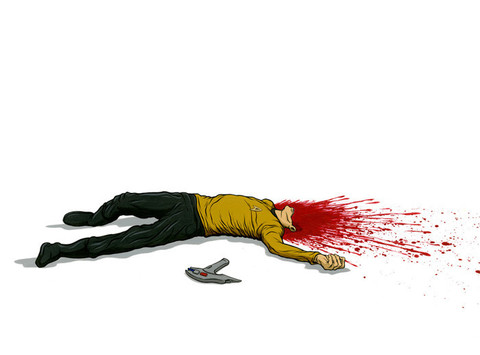 That above piece of art is disturbing, but wait until you hear what it's called. Created by the talented Alex Pardee, this charming 20x16 giclee, signed and numbered in an edition of 50, is called "Captain Kirk Cobain." Alex Pardee, ladies and gentlemen! $65.00.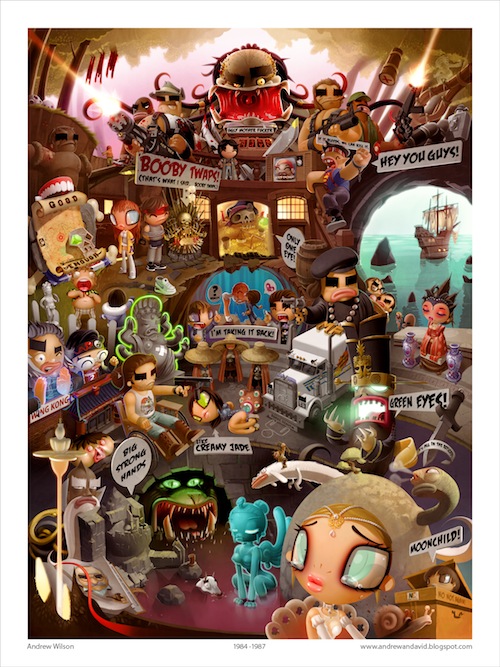 Andrew Wilson's Crazy4Cult poster is a love letter to the big geek movies that fall between 1984 and 1987. I don't need to list off all the references (but I will say I'm happy that Neverending Story made such a big showing!) in this crazy poster, those who dig this kind of shit will know what's on there. Very cool giclee print on cold press watercolor paper, signed and numbered in an edition of 88. $70.00.
This is an older print still available at the Gallery 1988 site, but it's still cool! I just wanted an excuse to put Frank Booth in the guide somewhere. Limited to 100 prints, this 4-color screen print measures 24x18 and will run you $45.00.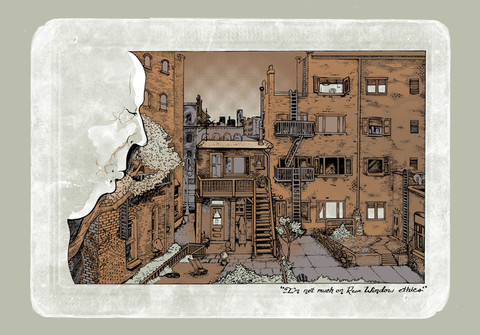 I think this Rear Window/Hitch print is neat. Created by Charles Moran, this 5 color screenprint is limited to only 40 prints, all signed and numbered, and they measure 25x17.5. Price: $30.00.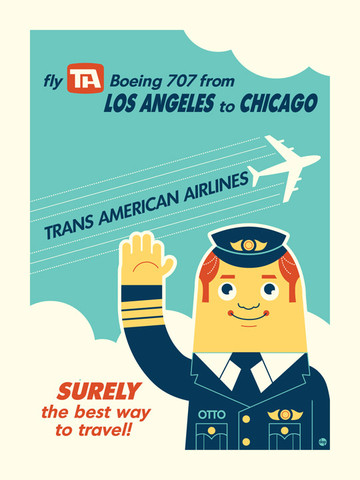 Dave Perillo's "Trans American Airlines" poster is awesome in that if you don't get the reference you're completely lost as to what it is. We fans of Airplane don't have enough merchandising to make me happy, so this makes me happy. I'm serious! And stop calling me Shirley! 18x24, signed and numbered edition of 55 - $50.00.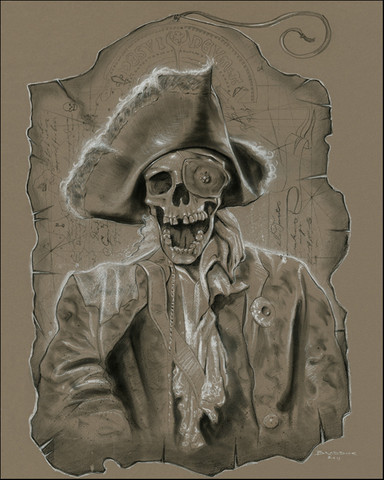 Eric Braddock's "The First Goonie" print is absolutely Struzanian in detail. I'm serious, it looks a lot like Drew Struzan's pencil work. I've loved One-Eyed Willy since I was a kid. I wish I could play with him all day, even in front of my mom! He's so nice to me, always crying when I get excited… okay, I've gone too far… I'm so sorry. I swear, I just intended to do one light innuendo and then everything went wrong! The print! Yes, it's a 16x20 giclee on archival paper, signed and numbered in an edition of 50. $65.00.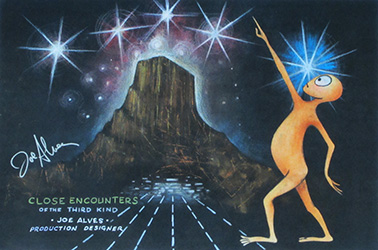 Joe Alves was the production designer on Close Encounters and did a lot of graphic work in his job, so naturally he has created a high quality print of a piece of art he did looking back at that film. I dig the cartoony style and the iconography he was able to work in there. Signed by Alves, this one runs you $50.00.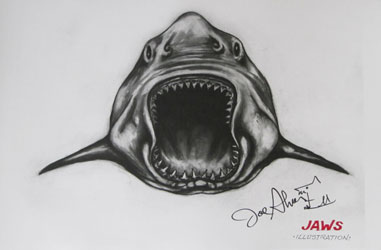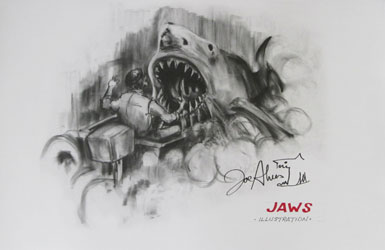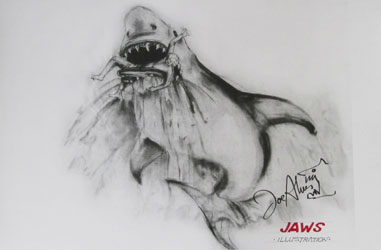 Oh, did I mention Joe Alves was also the production designer of Jaws? Mega nerd fans like me will recognize that top image. It was the company logo during production of Jaws and was the image on all their crew shirts. These pieces were done by Alves when he was hired by the producers to try to show the studio what kind of film could be made out of Peter Benchley's book. Notice the Kintner death was a little more outrageous than it ended up being. Alves is offering 8 of these illustrations reproduced on heavy 11x17 paper stock for $30.00ea (or $200 for the set of 8).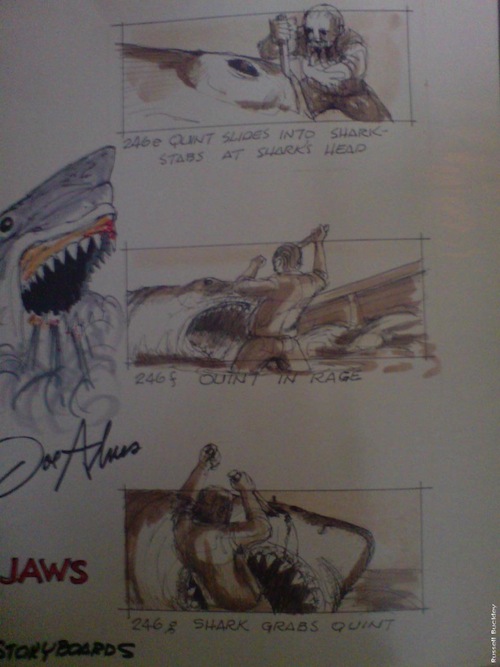 I'm not done with Joe yet! He's also offering a series of reproductions of his Jaws storyboards with a special handdrawn remarque on each. There are three waves of them. Wave 1 is here, Wave 2 is here and Wave 3 is here. Check 'em out! That's some serious gold for movie geeks. Who doesn't love Jaws and now for relatively little money you can offer up a unique piece of Jaws history! $50.00ea (or $130.00 for 3).
EXPENSIVE ($71.00-$249.99)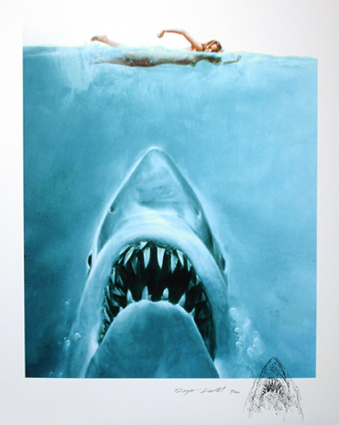 Roger Kastel's name isn't as well known as Drew Struzan or John Alvin's, but he painted some of the most iconic posters of the '70s and early '80s. He did the Gone With the Wind style Empire Strikes Back, he did the fantastic art for The Great Train Robbery and, most famously, he painted the Jaws poster. His work on Jaws hit pop culture in a way very few movie posters have and became a cornerstone of American pop culture art. Mr. Kastel is offering a high quality print of his original art in a limited signed and numbered edition of 200 pieces. Everything about the print, from the paper to the inks, is archival quality and, best of all, he even remarqued a little shark on each. This gorgeous print measures 24x20 and being sold by the artist for $200.00.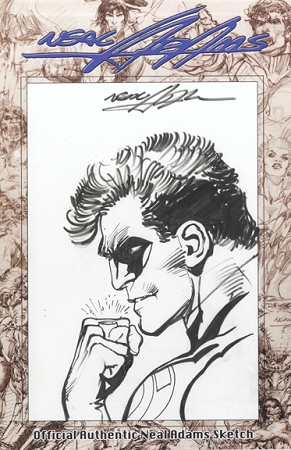 The legendary comic artist Neal Adams has some art up for sale, too. Instead of buying through a middle man, why not go directly to Adams himself? He has sketches of some of the most popular DC and Marvel characters for sale at his site (of course that's Green Lantern in the picture I linked, he also has Wonder Woman, Deadman, Batman, Green Arrow, Superman, Hulk, Joker and Conan availabot. Each sketch is guaranteed authentic and comes with a COA signed by Adams himself and run from around $200-$600. Make sure to click over and scan his site. He has a few sales going on (I saw a Wolverine sketch under $200) and don't be afraid to venture over to his multi-thousand dollar items in "pages and covers" to really take in his talent.
I don't think Andrew Stanton's John Carter was a flawless movie, but it was much better than its box office receipts would have you believe. Acme Archives are putting out some limited edition giclees of some of the concept art used in the making of the movie I'm featuring two of them here. This first one is all about the flying machine! Printed on canvas fabric and limited to only 50 pieces this giclee will run you $245.00.
This second concept art giclee is also limited to 50 pieces. I like this one the best, personally. White Apes! Plus it's just a greatly dynamic action beat. $245.00.
This is a great piece by artist Donato Giancola. I think Donato capture so much of Old Ben Kenobi here. Makes me want to throw in the first Star Wars! Great, now I'm all nostalgic again! This piece is also a canvas giclee, measures 30x20 and is limited to 95 pieces. $245.00.
Here's another beautiful Acme Archives giclee, featuring Uncle Walt with his most famous creation looking out at his legacy. It's a brilliant piece by David Tutwiler. I like this piece so much, actually, that I'm including it even though it's not available at Entertainment Earth at the moment. You can get on the waitlist if you want. If you're lucky, you can snag it for $185.00. (Or, if you love it and don't mind spending 4x that, you can get it here)
We know how amazing the teams at Weta Workshop and Weta Collectibles are already, but this item is a case in point of their craftsmanship and attention to detail. This is a legitimately screen-accurate prop replica of Thorin's map, which is crucial in The Hobbit films and you may remember glimpsing it in Bag End in Fellowship of the Ring. This gorgeous piece is hand-made by Daniel Reeve, who made the original prop, so you know he's not gonna muck it up! The map undergoes a complex aging process that makes it look like it has traveled all around Middle Earth hanging out of a dwarf's sweaty butt-pocket just like it's supposed to. Oh, and that secret message revealed only by the light of the moon? Yep, it's there too. Truly a wonderful piece, a must for any Tolkien fanatic and a very reasonable price, I'd say: $199.00. If you'd like the map art, but don't want to pay for such a painstaking prop replica, Weta also offers a parchment print version for $29.99
FOR THE SUPER RICH ONLY ($250.00 and up).
One more Acme giclee, this one a pretty fantastic piece by William Silvers showcasing Luke being the sweet-ass pilot he is, at the helm of an X-Wing. Limited to 95 pieces, measuring 30x15, this canvas giclee will run you $375.00.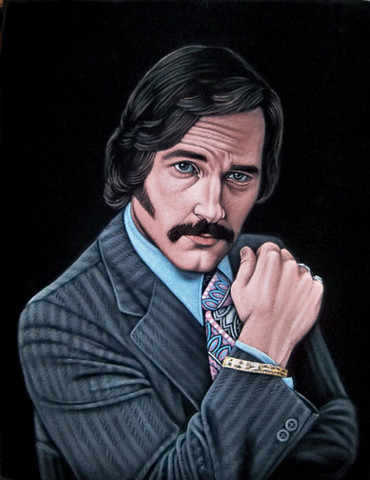 Luke Skywalker wishes he could be as badass as Brian Fantana, especially Brian Fantana painted against black velvet. Fuck yeah! Artist Bruce White made this original 14x18 art piece using acrylics on velvet. How pimpin' would your place be with this hanging on your wall (preferably at the head of your bed)? $600.00.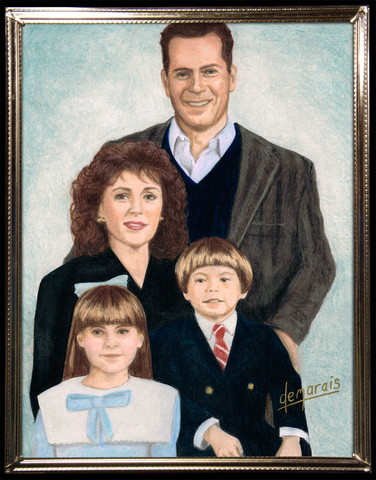 Kirk Demarais has made a name for himself doing these traditional family portrait paintings for movie characters. I came within an inch of buying the Poltergeist one he did a few years ago. You can get one of his originals, The McClanes, for $500. If you get stressed out about spending that kind of money, just make fists with your toes. It really works!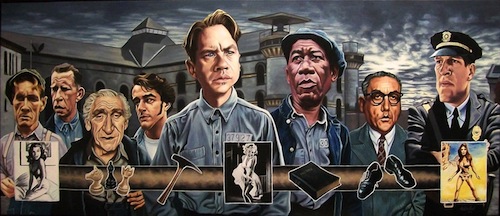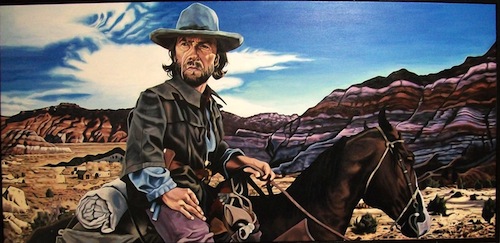 That, my friends, is the artwork of Mr. Justin Reed. I commissioned Mr. Reed to do a piece for Harry for Big Red's birthday a few years back (see it here) and you may remember I included him in the Holiday Guide around that time, offering himself up for commissions. His prices seem to have gone up since then, as they should. He's got a great eye and distinctive style. He also has some original movie-centric original pieces up for sale. The two paintings I linked above are both $950 (I envy whoever snags that Shawshank), but he has a few others ranging from One Flew Over the Cuckoo's Nest to Sin City. Seriously talented guy.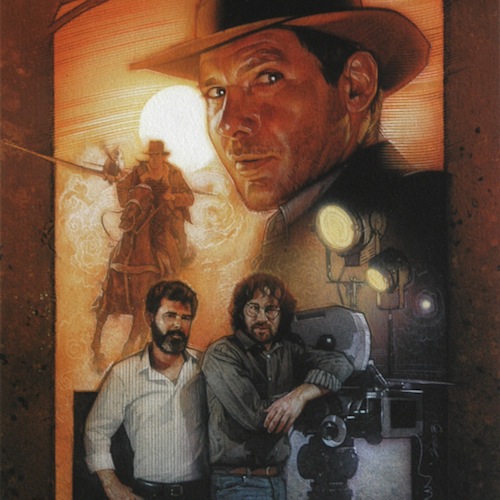 Made for the Indiana Jones DVD set, this Drew Struzan piece is kind of a keep hat trick. Lucas, Spielberg and Dr. Jones all immortalized by the master in one piece of art. This is a limited Artists Proof giclee measuring 12x17 and hand numbered and signed by Drew for the low, low price of $850.00.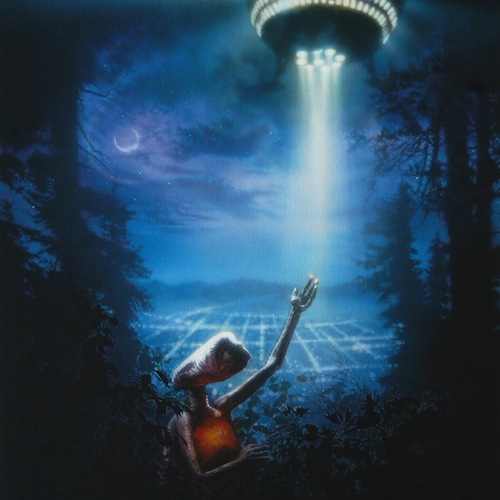 I adore this Drew Struzan piece. It's actually kind of breathtakingly beautiful, isn't it? Maybe I'm just high on ET nostalgia since checking out the Blu-Ray, but that image really gets to me. You did see the price category this is in, right? I really, really wish I was super rich or this Struzan AP giclee would be mine! The super limited edition of this pring has long been sold out, but Drew has dug into his files and is offering up his personal proof prints for sale. It's a nice big piece (22.5x32) for a nice big price: $1,275.00.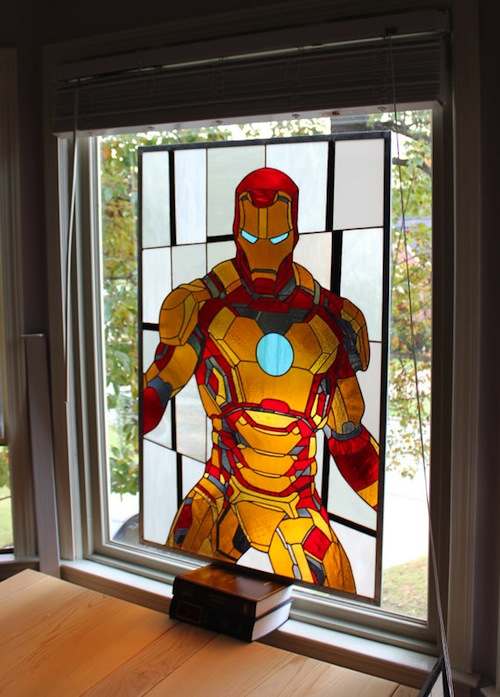 How incredible is that? I stumbled across that Etsy page and audibly sucked in a breath. Stained Glass Iron Man? This sucker measures 31x47, is made up of 334 pieces of glass, 275 feet of copper foil and 5 rolls of solder. It took the artist over 100 hours to create that amazing piece of art! The only single thing I have ever dedicated 100 hours of my life to is Fallout 3! I sincerely hope Jon Favreau, Kevin Feige or Robert Downey Jr. end up buying this piece. It deserves to be seen and worshipped! $3,500.
BUY QUINT THIS (A NEW SECTION)
While these should really belong in the regular Art Section I couldn't bear the thought of someone else buying them and loving them and displaying them to all their friends and loved ones, so I've decided the only way I can include them in this guide is with the caveat that the only way you're allowed to purchase any of the below three original pieces of art is if it's so you can gift them to me. Look at the section header! It doesn't say "Pwesents" but even so I think it's pretty clear that you have to buy me these things because I'm too poor to buy them myself and I want them. Sorry, it's just science.
Remember above when I linked to Roger Kastel's limited screenprinting of his original Jaws poster art? That's super cool, right? Well, he's also offering three Jaws-related sketches for sale. One is kind of an alternate movie poster (which I love) featuring the famous shark image and The Orca against a blood red sunset and the other two are character collages. They run $500 a piece, which is why I don't own them already. Star Wars fans should also click through to check out his original trilogy sketches, including a nice comparison of Han and Leia and Rhett and Scarlett side by side. You can buy all those you want for yourself. I just want the Jaws stuff and you can be on your way.
I'm partial to the Quint and Hooper one, but that doesn't really matter because you guys are getting all the Jaws stuff for me, right? Right? Hello?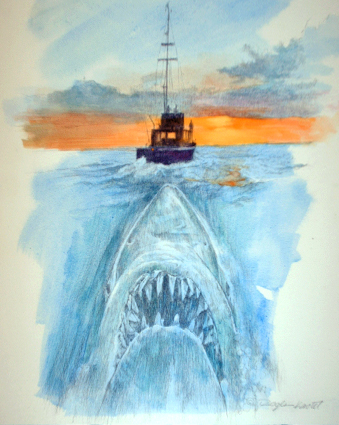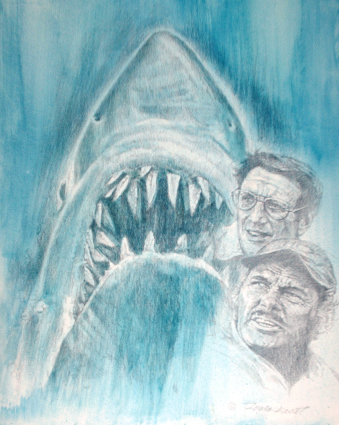 Click here for Part 2 of the Holiday Gift Guide! Books, Games, Geek Housewares and tons of contests!
Click here for 3 of the Holiday Gift Guide! Collectibles, Music, Apparel, Toys, Gadgets and Rich Stuff!
-Quint
quint@aintitcool.com
Follow Me On Twitter