Merrick again...
The Children in Need minisode prequel to this year's DOCTOR WHO Christmas Special - which we now know is entitled "The Snowmen" - is now online...
And a new trailer for "The Snowmen" can be found here!
======================
Merrick here...
Our plans to return to "classic" DOCTOR WHO coverage for this week's Docback were derailed by mail snafus and some across-the-board fallout from Superstorm Sandy. So...next week we'll get back to vintage Doctor adventures with a look at The Claws of Axos (Pertwee, 1971) - which is now available HERE in the US and HERE in the UK.
Until then...here's a round-up of some interesting/intriguing DOCTOR WHO newslets which came our way over the past week...
BBC RELEASES A PROMO IMAGE FROM THIS YEAR'S CHRISTMAS SPECIAL!!
Here's an EMBIGGENABLE look at Matt Smith's Doctor, as he'll appear in this year's Christmas Special (transmitting Christmas Day).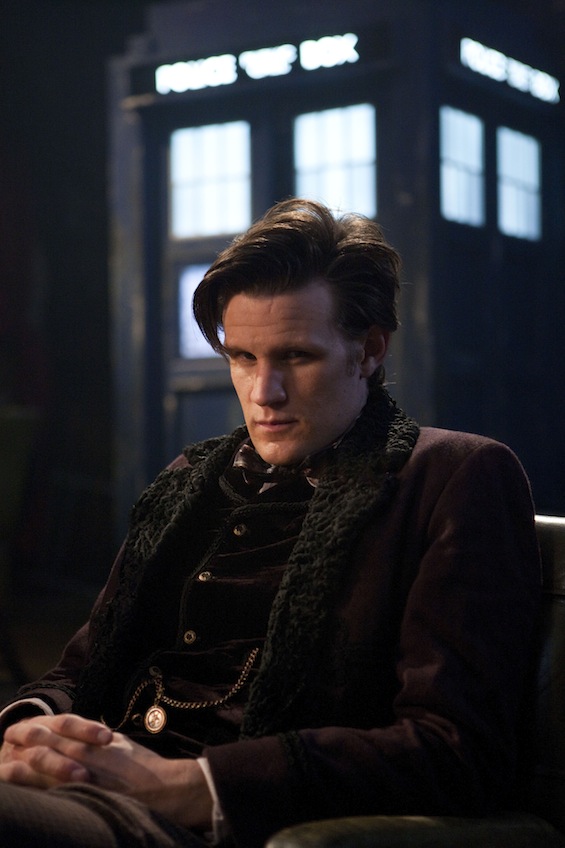 The look strongly evokes several previous incarnations of the character, and this image most definitely plays to the increasing simmer/hostility we've witnessed from the Doctor in Season/Series 7 thus far. Nicely reinforcing my indelible suspicion that...something is up with that Doctor. A fall from grace? Is he an imposter? Is he jumping the rails as he approaches regeneration? We'll see...
Speaking of the Christmas Special...
CHILDREN IN NEED TO TRANSMIT CHRISTMAS SPECIAL PREQUEL + AN EXTENDED PREVIEW FOR THE SPECIAL ITSELF!!
Continuing a tradition of DOCTOR WHO''s interaction with this amazing cause, this year's CIN begins Friday November 16...7:30 BBC One. As mentioned above, CIN will feature a 2012 Christmas Special prequelsode, an extended trailer for said Christmas Special, and reveal the title of that upcoming installment.
Per BBC's CIN site(HERE), CIN seeks to...
...provide grants to projects in the UK which focus on children and young people who are disadvantaged. We are local to people in all corners of the UK and support small and large organisations which empower children and extend their life choices.
Our grant programmes are open all year round for applications, with a focus on allocating the money to deserving projects 4 times a year. To find out more about our grant programmes, to apply for a grant or to hear how some children's lives have been changed for the better, visit 'Change Lives'...
You can find the Children in Need Donate Page HERE - NORTH AMERICAN FOLKS ***CAN*** DONATE. I just did it myself!
PLEASE NOTE: if you donate...
1) You can input your own £ amount (you don't have to go with their pre-sets amounts). For some reason, I almost missed this option...so heads up on that one. Also, there's a nice currency converter HERE to help you be clear on how much you're donating.
2) Some bank cards may trigger a "Verified by..." page asking you to input additional information. I've never understood this function (I see it often when ordering overseas Blu-rays), but the process turns funky if you click "Activate now..." Clicking "DO NOT ACTIVATE NOW" works much better, and STILL PROCESSES YOUR TRANSACTION. Save yourselves the grief on this one...trust me...click "DO NOT ACTIVATE NOW"!
Presumably the CIN Christmas Prequel / extended preview will appear online shortly after CHILDREN IN NEED transmits it...we'll post embeds here as soon as this happens.
DOCTOR WHO: THE ETERNITY CLOCK IS NOW ON PC!! (Previously available only on Sony Platforms)
For this week only, you can find it on Steam at a 10% discount. Steven Moffat forged the story for this one, which incorporates a number of beloved DOCTOR WHO characters and motifs.
Here's an EMBIGGENABLE look at a few screens...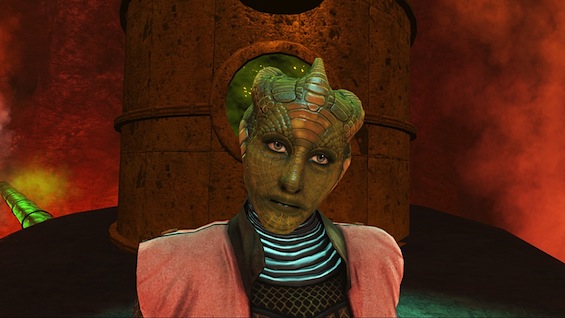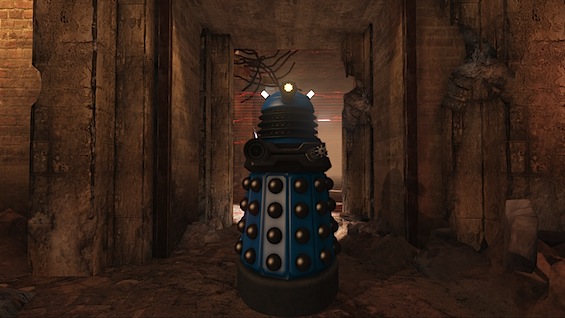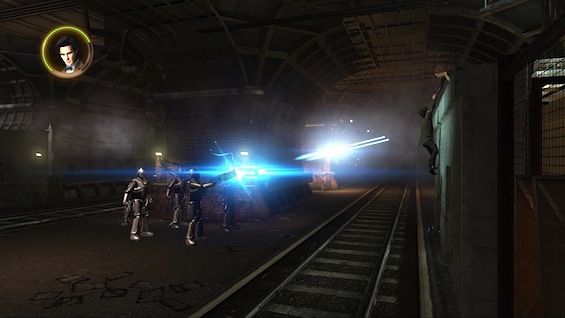 ALEX KINGSTON (RIVER SONG/MELODY POND) TO READ THE ANGEL'S KISS
Per The Official DOCTOR WHO Facebook Page, Kingston has already recorded an audio version of the e-book - which itself ties directly into Season/Series 7's The Angels Take Manhattan...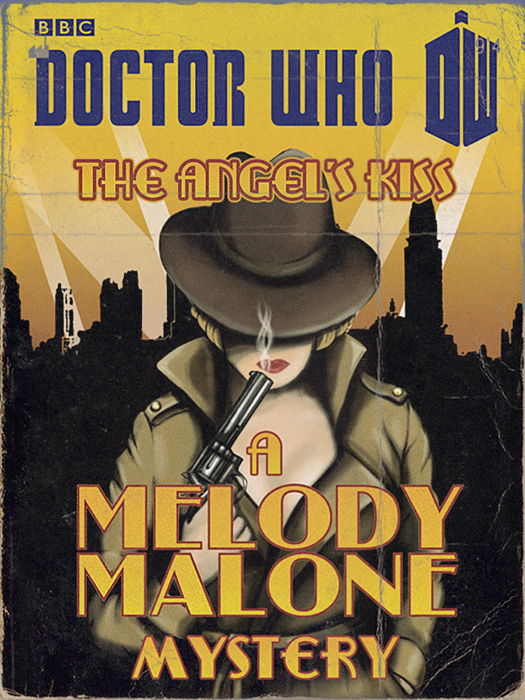 The recording will be available next month via AudioGo's website!
----> MINOR SPOILER FOR LATER IN SEASON/SERIES 7 IN 10... <----
...9...
...8...
...7...
...6...
...5...
...4...
...3...
...2...
...1...
IMAGES OF NEW CYBERMAN DESIGN HAVE LEAKED...AND BRING WITH THEM A FUNNY COMPARISON
Behold Cybermen from Neil Gaiman's upcoming episode...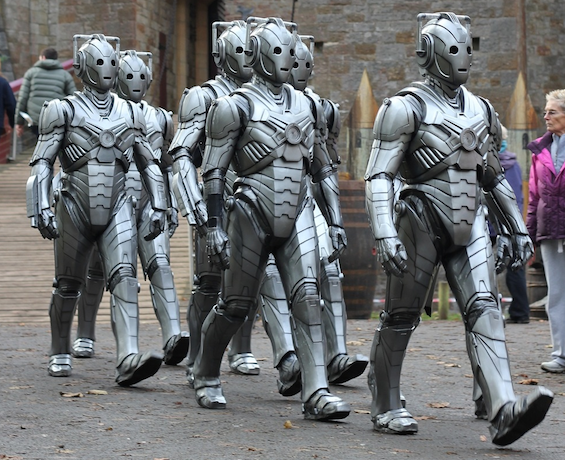 (from DoctorWhoTV)
And...well...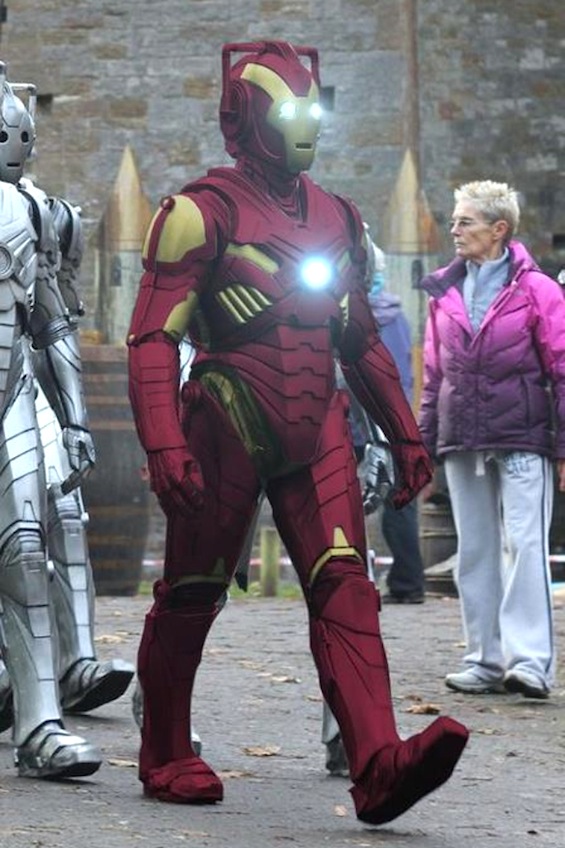 (via i09)
Ouch. But fair enough.
This said, I rather like this new design. My 5 year old LOVES it - this new look prompted him to engage me in a protracted discussion about the evolution of the Cybermen (he's never seen an entire DOCTOR WHO episode). So, if that's the ONLY purpose this design upgrade serves...kids thinking the Cybermen are cool, thus broadening awareness of the show...this change pretty much rocks as far as I'm concerned.
This said: I do wonder whether...perhaps...this design isn't shifted radically enough. In our modern world, tech is consistently becoming sexier and smaller...why wouldn't this same tendency apply to a civilization operating with vastly more advanced resources and capabilities? Will we ever see a sleeker...less armored...more streamlined/Apple-y Cyberman? Just a thought.
But...yeah...I'm on board with this design...and am dying to see what Gaiman does with these guys towards the end of Season/Series 7.
COLIN BAKER SAYS NO PREVIOUS DOCTOR ACTORS HAVE BEEN CONTACTED ABOUT THE 50th...
Dovetailing with Ken Plume's recent discussion with Sylvester McCoy, which touched on the same matter.
So, back to Baker. In THIS chat with DigitalSpy, when prodded about next year's upcoming 50th Anniversary, sixth Doctor Colin Baker indicates...
First of all, the big one – has Colin been asked to reprise his role as the sixth Doctor? His reply: "No. As far I know, neither of any of my erstwhile colleagues have been asked either."

How about the long-rumoured Doctor Who movie "I haven't been approached to do a Doctor Who movie. I think they would be scraping the bottom of the barrel if they asked me to do it. All you have to do is hold up a picture of what I look right now and what I look like then and you'd know why."
OK. Does all of this automatically suggest that NO multi-Doctor 50th anniversary story will happen? Not at all. What's important to remember in this matter is that it may not be known yet what kind of financing/budgeting BBC will have to work with for the 50th...thus it would be impossible to glean who to approach, or what to tell them even if overtures were to be made. Secondly, BBC doesn't necessarily make firm plans this far in advance.,..although it's a safe bet some mulling has already gone into how to approach DOCTOR WHO's 50th Anniversary...by all concerned...even though the (actual) Anniversary is still (technically) over a year away as of this writing. A great deal can happen between now and then.
Am I worried that BBC might drop the ball on this one? Absolutely...but I strongly believe that if ANYONE can do the right thing by the 50th, it's Steven Moffat...given the current success of DOCTOR WHO...the awards-caliber performance of both DW and SHERLOCK...and his overall tenacity in the trenches...it's hard to imagine he wouldn't be able to bring admirable pressure to bear if push came to shove. Moffat won't want to be remembered as "The Man Who Fucked Up The 50th!" - and I'm betting this concern would be a very ,very strong motivator for him.
But, yes, I'm a tad jittery - for even The Will of Moff™ might not be enough to overcome the immovable mountain that BBC can sometimes be - especially if tight finances are a significant factor. But I'm not giving up hope that we may, in some way, witness one more collision of past Doctors on our televisions....not yet, at least.
Come what may, revisit my piece
HERE
about an important and underappreciated element of current WHOness which I believe The 50th has a unique opportunity to address. And, even if there is no DOCTOR WHO Multi-Doctor Jamboree in 2013...I firmly believe that finding some way to merge old and new WHO in the minds of an often segregated viewership would be hugely meaningful in more ways than we can estimate.
Stay tuned...
PREVIOUS DOCBACKS
[Season / Series Seven Docbacks - MOST RECENT DOCBACK IS HIGHLIGHTED]
[SEASON / SERIES SIX DOCBACKS]

"The Impossible Astronaut"

"Day of the Moon"
"The Curse of the Black Spot"

"The Doctor's Wife"

"The Rebel Flesh"

"The Almost People"
"The Doctor, The Widow and the Wardrobe" (2011 Christmas Special)
[RETRO-WHO DOCBACKS ]
"An Unearthly Child" (Story #1)
"The Daleks" (Story #2)
"The Edge of Destruction" (Story #3)
"Marco Polo" (Story #4)
"The Keys of Marinus" (Story #5)
"The Aztecs" (Story #6)
"The Sensorites" (Story #7)
"The Sensorites" (Story #7 - full DVD release)
"The Reign of Terror" (Story #8)
"Planet of Giants" (Story #9)
"Planet of Giants" (Story #9, full DVD release)
"The Dalek Invasion of Earth" (Story #10)
"The Rescue" (Story #11)
"The Romans" (Story #12)
"The Web Planet" (Story #13) / SHERLOCK - "A Scandal in Belgravia" (Story #4)
"The Crusade" (Story #14)
"The Space Museum" (Story #15)
"The Chase" (Story #16)
"The Time Meddler" (Story #17)
"Galaxy 4" (Story #18)
"Mission to the Unkonwn" (Story #19)
"The Myth Makers" (Story #20)
"The Gunfighters" (Story #25)
"The Tomb of the Cybermen" (Story #37)
"The Mind Robber" (Story #45)
"The Krotons" (Story #47)
"The Seeds of Death" (Story #48)
"Spearhead from Space" (Story #51)
"The Abassadors of Death" (Story #53)
"The Colony in Space" (Story #58)
"The Daemons" (Story #59)
"Day of the Daleks" (Story #60) + Preview of the DotD Special Edition
"The Three Doctors" (Story #65)
"Carnival of Monsters" (Story #66)
"Death to the Daleks" (Story #72)
"Invasion of the Dinosaurs" (Story #71) and SHERLOCK: "The Reichenbach Fall" (Story #6)
"The Android Invasion" (Story #83) and SHERLOCK: "The Hounds of Baskerville" (Story #5)
"The Face of Evil" (Story #89)
"The Robots of Death" (Story #90)
"The Talons of Weng-Chiang" (Story #91)
"The Sun Makers" (Story #95)
"The City of Death" (Story #105)
"Nightmare of Eden" (Story #107)
"Kinda" (Story #118)
"Snakedance" (Story #125)
"The Five Doctors" (Story #129)
"The Awakening" (Story #131)
"Frontios" (Story #132)
"Resurrection of the Daleks" (Story #134)
"The Caves of Androzani" (Story #136)
"Vengeance on Varos" (Story #138)
"Time and the Rani" (Story #144)
"Paradise Towers" (Story #145) + New WHOvian Documentary / Newsbits
"Dragonfire" (Story #147)
"The Happiness Patrol" (Story #149)
"The Greatest Show in the Galaxy" (Story #151)
"Doctor Who: The Movie" (aka TVM) - McGann)
DOCTOR WHO: THE COMPLETE SIXTH SERIES
Merrick's Personal Journey With The Doctor (How Merrick Got Hooked On DOCTOR WHO)
DOCTOR WHO Title Sequences & DW At Comic-Con 2011
"The Crash of the Elysium" (Manchester version - interactive DOCTOR WHO adventure)
Why Eccleston Left, Here Comes Caroline Skinner, And Season/Series Six Part 1 on Blu-Ray And DVD

New Trailer For Season/Series Six Part 2
The Companions of DOCTOR WHO + New Trailer & Artwork For Season/Series 7
Impromptu Docback!! + Galaxy 4 'Airlock' Coming to DVD, Christmas Special 2012, And More!!
The Friday Docback Mulls The 50th...
DOCBACK CODE OF CONDUCT
1) a Docback should be about completely open and free discourse regarding all things WHO with, obviously, some variation on subject matter from time to time - the real world intervenes, discussions of other shows are inevitable, etc.)...

2) matters of SPOILAGE should be handled with thoughtful consideration and sensitivity.

Posts containing SPOILERS should clearly state that a SPOILER exists in its topic/headline and should never state the spoiler itself . "** SPOILER ** Regarding Rory" is OK, for example. "** SPOILER ** Battle of Zarathustra" is fine as well. " **SPOILER** Why did everyone die?" Is NOT good.
And, above all...

3) converse, agree, disagree, and question as much as you want - but the freedom to do so is NOT a license to be rude, crass, disrespectful, or uncivilized in any way. Not remaining courteous and civil, as well as TROLLING or undertaking sensational efforts to ignite controversy, will result in banning. Lack of courtesy may receive one (1) warning before a ban is instigated. Obvious Trolling or Spamming will result in summary banning with no warning. One word posts intended to bump-up any Docback's figures on AICN's "Top Talkbacks" sidebar will be considered actionable Spam - they not only complicate efforts to access Docback from mobile devices, but impede readers' abilities to follow or engage in flowing conversation.
In short, it's easy. Be excellent to each other. Now party on...