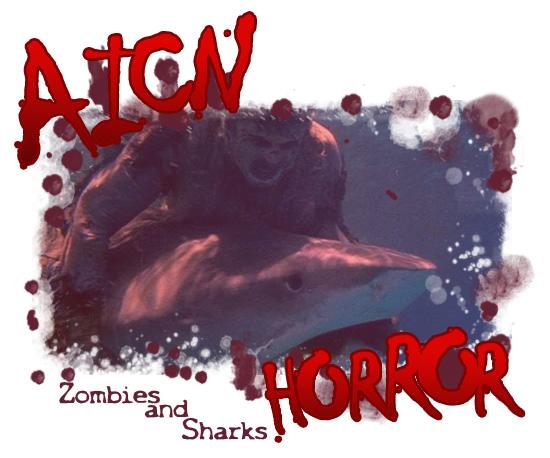 Logo by Kristian Horn
What the &#$% is ZOMBIES & SHARKS?
---
Greetings, all. Ambush Bug here. Happy Birthday to AICN HORROR which celebrates its second year in October! Always hoping to pass on new and exciting films for all of you ravenous readers in search of worthwhile horror, I decided to compile a list counting down to my favorite horror film released since last October and covered in this here AICN HORROR: ZOMBIES & SHARKS column. Some of these films might be new to you since there isn't a lot of horror in theaters these days that aren't toothless remakes or watered down sequels. Theaters aren't where the horror is at these days, I'm afraid. Some of these films have only seen the light of day on Video on Demand or simply go straight to DVD/BluRay. I've also compiled quite a few films I've seen advance screenings of at festivals and other outlets, and I'll try to update you when you can see these films.

As far as how I compiled this list? Well, I simply looked over my AICN HORROR columns over the last year after October 1st (which happens to be the birthday of this little column two years ago!) and worked and reworked a list until I had 31. No real method to my madness. We'll be counting down every day until Halloween toward my favorite horror film of the year. I'll also provide a second film suggestion for those who can't get enough horror that has something to do with the film I chose that day.

So let's get to it! Chime in after the article and let me know how you liked the film I chose, how right or wrong I am, and come up with your own list…let's go!
NUMBER 4!
There are only a few films in this countdown that haven't been released yet. To make it on the list, the film had to be pretty special, since I know it's frustrating not being able to see the film in order to verify whether or not it deserves to be ranked as such. But HAROLD'S GOING STIFF is one of those special films. Though it's not high on scares, it does deal with zombies in a wholly new, wholly heatfelt way. Much like last year's TROLLHUNTER, it makes something altogether goofy feel real, but unlike that film which uses the found footage motif, HAROLD'S GONE STIFF goes the mockumentary route, in doing so it feels all the more real as the heartbreaking evens unfold. This film touched me and I'm not afraid to show the court where on the doll where it did.
I reviewed this gem back in January.
Surprisingly, the film is still touring fests, but one of these days, someone will pick this comepltely unique film up for all to see. When that happens, I'll most definitely let you know.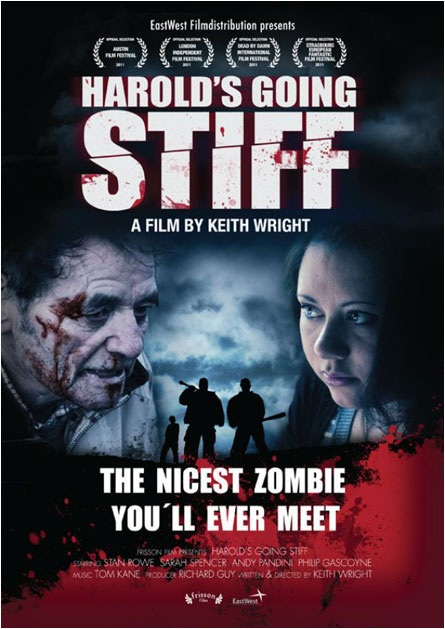 HAROLD'S GOING STIFF (2011)
Directed by Keith Wright
Written by Keith Wright
Starring Stan Rowe, Sarah Spencer, Andy Pandini, Lee Thompson, Richard Harrison, Phil Gascoyne, Molly Howe
Find out more about this film here and here!
Reviewed by Ambush Bug
I hear your complaints about zombie films, but with the subtitle of this column being "Zombies & Sharks", it's kind of hard not to give them coverage here on AICN HORROR. Like a lot of you, I'm getting sick of all of the zombie films out there with zero creativity and production value. That said, I don't want to call a moratorium on watching zombie films because I know that if I do, I'd miss films like HAROLD'S GOING STIFF. Though the title may make you think we're about to venture into porn territory, HAROLD'S GOING STIFF couldn't be further from it. I think it's safe to say that HAROLD'S GOING STIFF is going to be one of my favorite horror films of the year.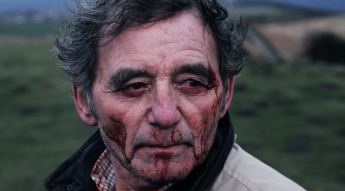 Harold is an elderly man suffering from a neurological epidemic called ORD (Onset Rigors Disease) spreading across Europe which begins with stiffness of the joints, then spreads to full on violent dementia. Because the culture has been so saturated with the films, these stiff-jointed madmen have been dubbed zombies. While scientists race to find a cure for the disease, vigilante groups have taken it upon themselves to take care of the zombies to prevent an apocalypse. HAROLD'S GOING STIFF depicts the life of Harold as he copes with his illness and forms a relationship with his nurse/physical therapist.
Filmed as a mockumentary, director/writer Keith Wright blends humor, drama, and horror to make one of the most unique and original zombie horror films I've ever seen. Wright doesn't focus on the gore or the violence; rather, he rests his camera on Harold (played by the genuinely wholesome Stan Rowe) and Penny his nurse (played by the plucky and resilient Sarah Spencer). You can't help but care for these two characters as we see them struggle with all the highs and lows of someone suffering from a debilitating ailment. These two characters are as endearing as can be, with Harold's soft spoken pleasantry perfectly complimenting Penny's vibrant optimism. As Penny's therapy begins to work with Harold, I found myself rooting for both of these characters to conquer this disease.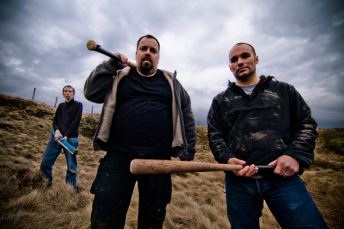 The film cuts from this heart-warming friendship to follow a doctor who is dedicated to finding a cure, two workers at a volunteer shelter who are caring for ORD sufferers in the latter stages of the disease, and a trio of bumbling yet homicidal vigilantes offering a clear and expansive picture of how this disease has been effecting the UK society. The trio (played by Andy Pandini, Lee Thompson, Richard Harrison) work somewhat well together. One's a brute, one's an idiot, and one's the leader who may be having some doubts about this mission. Again, unlike other zombie films, Wright takes his time to give these characters multiple layers, showing the good and bad parts, and allowing the audience to be sucked into their story.
I love every aspect of this film. Like all of the best zombie films, it actually has something to say. I took it as a metaphor for the treatment of the elderly in society—shunning them, outcasting them, shuffling them off to some facility to be forgotten and mistreated, and eventually deciding ourselves when to put them down. As Harold's illness worsens, he is taken advantage of and manipulated by the "villains" of this film. Being the person he is, Harold softly sits by and takes the abuse, with Penny being his only supporter and true friend.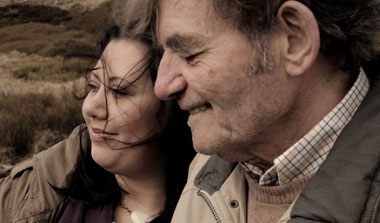 Though the themes may be heavy, I laughed out loud numerous times at HAROLD'S GOING STIFF. There are genuine moments of sheer and innocent joy between Harold and Penny. The bumbling vigilantes are often hilarious to follow as well; all of it captured in a documentarian style that adds to the hilarity. Like TROLLHUNTER, it follows this absurd subject matter convincing you that this is truth on film. Unlike TROLLHUNTER, this is a much more down to earth film, relying less on epic thrills and more on resonating heartwarming/heart wrenching moments.
I can't champion this film enough. HAROLD'S GOING STIFF is one of the reasons I put this column together. It's unique and fresh, offering a new take on a subgenre of horror that has very little life in it anymore. If you're going through zombie film fatigue, one look at HAROLD'S GOING STIFF will definitely shut the haters up and prove that when done well, great zombie films can still be made. HAROLD'S GOING STIFF will make you feel feelings you never thought you'd feel while watching a zombie film. I laughed and cried and laughed again. It's a truly endearing achievement of a film and should be sought out by all readers of this column.
At the moment, HAROLD'S GOING STIFF is touring the festival circuit. Stay tuned to AICN HORROR for more info. I will definitely let you know when this film is available for more people to enjoy. Trust me, and just put this film on your radar. It is sure to please.
---
Much like HAROLD'S GOING STIFF, INCIDENT AT LOCH NESS tries to make everything look real. I love this small scale battle between one artist's integrity and the influence of a major studio, as Zak Penn tries his damndest to make a big budget monster movie out of Werner Hertzog's exploration of the Loch Ness myth. Though I had problems with the second act, every moment Hertzog is on screen is gold. Like HAROLD'S GONE STIFF, it's not meant to be a spine tingling thriller, but a new and interesting way of exploring things that inspire scares.
The Countdown so far…
#5: THE BUTTERFLY ROOM
#6: THE SKIN I LIVE IN
#7: ENTRANCE
#8: RABIES
#9: MASKS
#10: CABIN IN THE WOODS
#11: BEYOND THE BLACK RAINBOW
#12: JUAN OF THE DEAD
#13: MIDNIGHT SON
#14: BLOOD JUNKIE
#15: V/H/S
#16: THE DIVIDE
#17: PARANORMAL ACTIVITY 3
#18: LITTLE DEATHS
#19: THE TALL MAN
#20: KILL LIST
#21: MOTHER'S DAY
#22: THE INNKEEPERS
#23: THE SNOWTOWN MURDERS
#24: THE PACT
#25: THE WRONG HOUSE
#26: SATURDAY MORNING MASSACRE
#27: SPIRIT STALKERS
#28: THE MOTH DIARIES
#29: THE SLEEPER
#30: THE AGGRESSION SCALE
#31: SICK BOY
---
See ya tomorrow, folks, with number 3 of the best of the best covered in AICN HORROR since last year!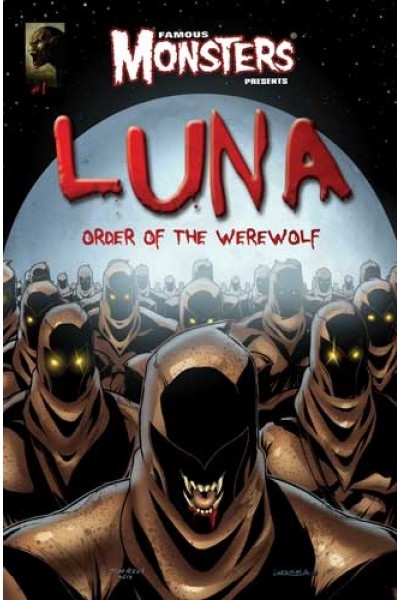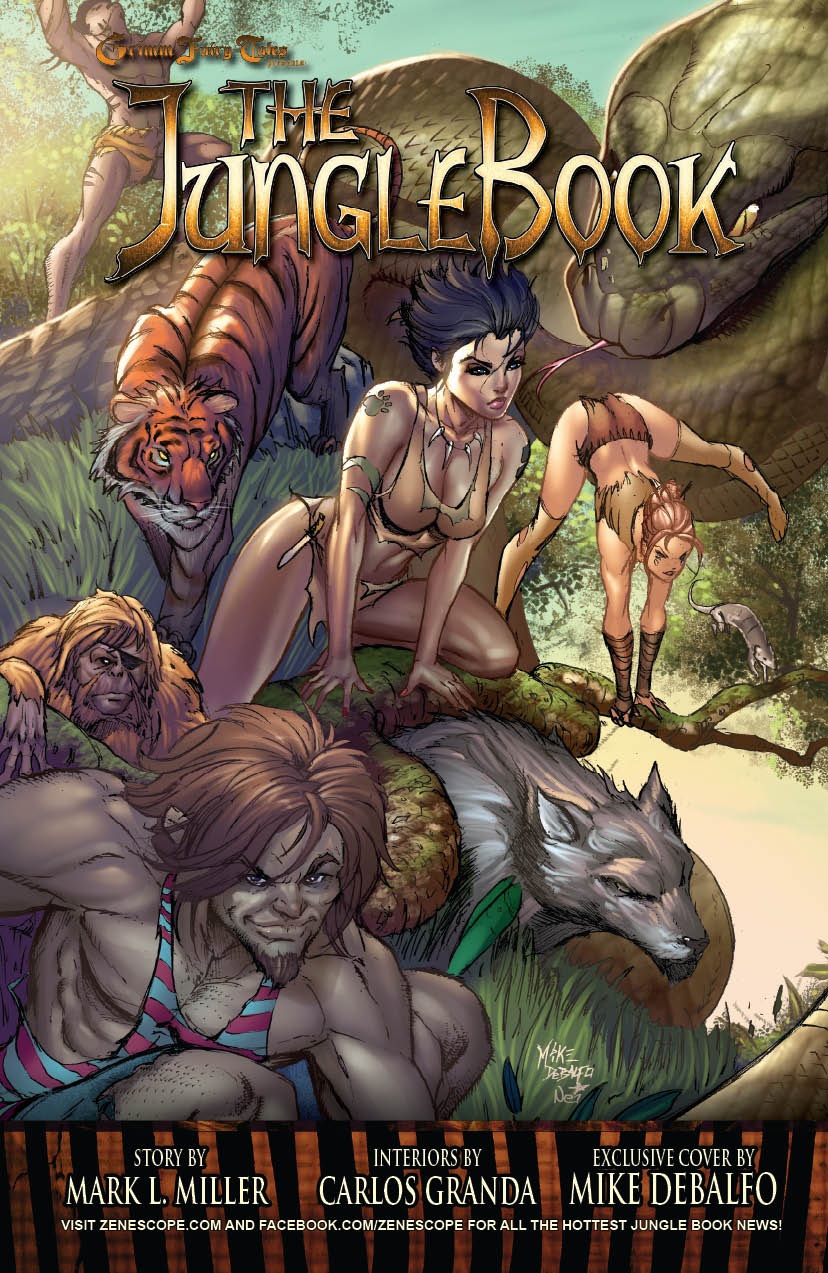 Ambush Bug is Mark L. Miller, original @$$Hole/wordslinger/reviewer/co-editor of AICN Comics for over ten years. He has written comics such as MUSCLES & FIGHTS, MUSCLES & FRIGHTS, VINCENT PRICE PRESENTS TINGLERS & WITCHFINDER GENERAL, THE DEATHSPORT GAMES, WONDERLAND ANNUAL 2010 & NANNY & HANK (soon to be made into a feature film from Uptown 6 Films). He is also a regular writer for FAMOUS MONSTERS OF FILMLAND & has co-written their first ever comic book LUNA: ORDER OF THE WEREWOLF (to be released in late 2012 as an 100-pg original graphic novel). Mark has just announced his new comic book miniseries GRIMM FAIRY TALES PRESENTS THE JUNGLE BOOK from Zenescope Entertainment to be released March-August 2012. Also look for Mark's exciting arc on GRIMM FAIRY TALES #76-80 which begins in August 2012.
---
Find more AICN HORROR including an archive of previous columns
on AICN HORROR's Facebook page!