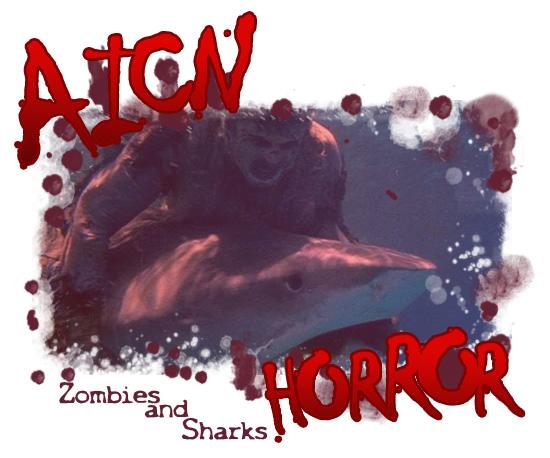 Logo by Kristian Horn
What the &#$% is ZOMBIES & SHARKS?
---
Greetings, all. Ambush Bug here. Happy Birthday to AICN HORROR which celebrates its second year in October! Always hoping to pass on new and exciting films for all of you ravenous readers in search of worthwhile horror, I decided to compile a list counting down to my favorite horror film released since last October and covered in this here AICN HORROR: ZOMBIES & SHARKS column. Some of these films might be new to you since there isn't a lot of horror in theaters these days that aren't toothless remakes or watered down sequels. Theaters aren't where the horror is at these days, I'm afraid. Some of these films have only seen the light of day on Video on Demand or simply go straight to DVD/BluRay. I've also compiled quite a few films I've seen advance screenings of at festivals and other outlets, and I'll try to update you when you can see these films.

As far as how I compiled this list? Well, I simply looked over my AICN HORROR columns over the last year after October 1st (which happens to be the birthday of this little column two years ago!) and worked and reworked a list until I had 31. No real method to my madness. We'll be counting down every day until Halloween toward my favorite horror film of the year. I'll also provide a second film suggestion for those who can't get enough horror that has something to do with the film I chose that day.

So let's get to it! Chime in after the article and let me know how you liked the film I chose, how right or wrong I am, and come up with your own list…let's go!
NUMBER 6!
I'd been hearing about THE SKIN I LIVE IN for months before actually seeing it, but once I did, I knew it had a place in my top ten horrors of the year. Though it had a limited theatrical run in October of last year, it wasn't relased to the masses until March of this year and it wasn't until I saw it on Cable that it blew me the hell away as a perverse and twisted take on the Frankenstein story.
LA PIEL QUE HABITO (2011)
aka THE SKIN I LIVE IN
Directed by Pedro Almodovar
Written by Pedro Almodovar & Agustín Almodóvar, from the novel TARANTULA by Thierry Jonquet
Starring Antonio Banderas, Elena Anaya, Jan Cornet, Marisa Paredes, Roberto Álamo, Blanca Suárez
Find out more about this film here!
Reviewed by Ambush Bug
Though it looks pristine and proper throughout the film, this modern day big budget Frankenstein tale is one you won't be able to shake. While Kenneth Branaugh and Robert DeNiro tried to modernize Mary Shelley's tale as a blockbuster twenty years ago and failed, award winning director Pedro Almodovar does so my shedding all of the correct names and story beats, but still manages to capture the essence of that classic tale of a man powered by hatred and obsessed with being a god and his love for his creation.
I can understand why this isn't a film many people saw. It's a tough pill to swallow, the plot of this one. After watching it, I felt somewhat dirty, somewhat emotionally twisted, and altogether sympathetic to every member of this cast. And with the despicable things much of the cast does in this film, that's a feat in itself to accomplish.
I am trying to be as vague as possible in describing specific plot points of THE SKIN I LIVE IN because I think going into it blind is going to dazzle and befuddle you all as much as it did me. The film starts out with Antonio Banderas as an accomplished doctor in the field of skin grafts and cellular manipulation. In a treatment room, he looks over a young woman who seems quite happy in her solitude in a sterile room. But as director Almodovar zooms in closer to examine these characters, they are far from normal.
In the end, Almodovar has created a tale of twisted science and a doctor playing god, though having all to human faults of his own. Antonio Banderas is brave in his role as the scientist who is driven in his studies and experiments to the point of madness, while Elena Anaya conveys both a physical strength in presence and a vulnerability that understands why Banderas' character begins to fall for her. Nothing should be taken for granted in this film. The story goes to perverse and dark, dark places and surprised me as every second passed.
THE SKIN I LIVE IN is not your typical horror movie, but I'll be damned if you don't feel a horrific wave of unease as you watch it. Blurring lines of morality and good taste, biting hard into any and all belief in what you're sure of is real in the universe Almodovar builds one sterile brick by brick, and expertly constructive in terms of narrative, THE SKIN I LIVE IN may not have ghosts, dark castles, and walking corpses, but it is very much a horror film that will sneak up for you and slice you deep before you even know it.
---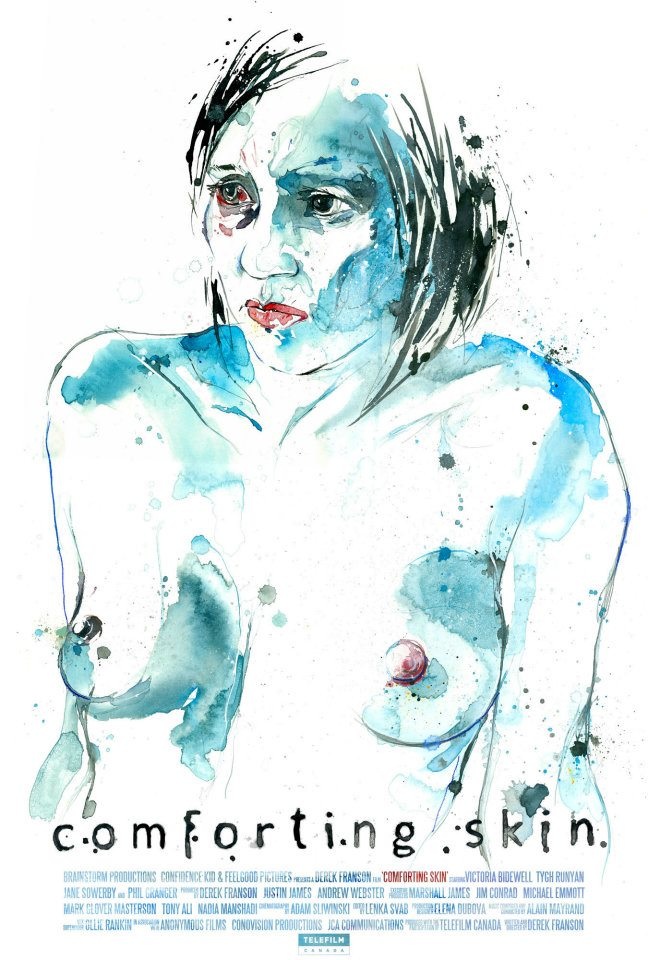 With the amount of body horror on this countdown, it's no secret that that kind of stuff creeps me the shit out. COMFORTING SKIN is often times beautiful, often times horrific as a lonely woman gets a unique tattoo and begins to talk with it. Soon the tattoo is moving freely about her body and suggesting and sometimes forcing her to do things she wouldn't normally do. Is the tattoo actually alive or is this woman batcrap? That's the question in this memorable indie
that I reviewed earlier in the year.
Just barely not making it on the countdown, COMFORTING SKIN is definitely a horror work looking for.
The Countdown so far…
#7: ENTRANCE
#8: RABIES
#9: MASKS
#10: CABIN IN THE WOODS
#11: BEYOND THE BLACK RAINBOW
#12: JUAN OF THE DEAD
#13: MIDNIGHT SON
#14: BLOOD JUNKIE
#15: V/H/S
#16: THE DIVIDE
#17: PARANORMAL ACTIVITY 3
#18: LITTLE DEATHS
#19: THE TALL MAN
#20: KILL LIST
#21: MOTHER'S DAY
#22: THE INNKEEPERS
#23: THE SNOWTOWN MURDERS
#24: THE PACT
#25: THE WRONG HOUSE
#26: SATURDAY MORNING MASSACRE
#27: SPIRIT STALKERS
#28: THE MOTH DIARIES
#29: THE SLEEPER
#30: THE AGGRESSION SCALE
#31: SICK BOY
---
See ya tomorrow, folks, with number 5 of the best of the best covered in AICN HORROR since last year!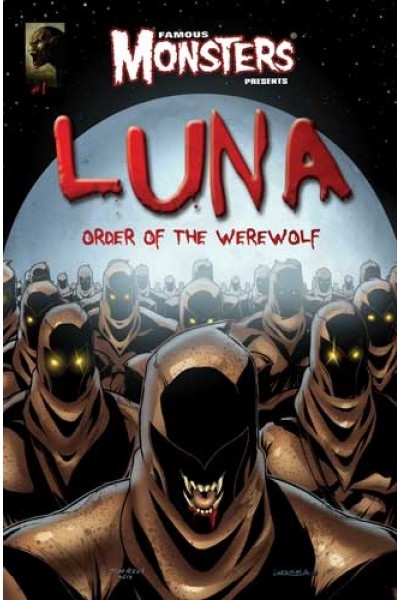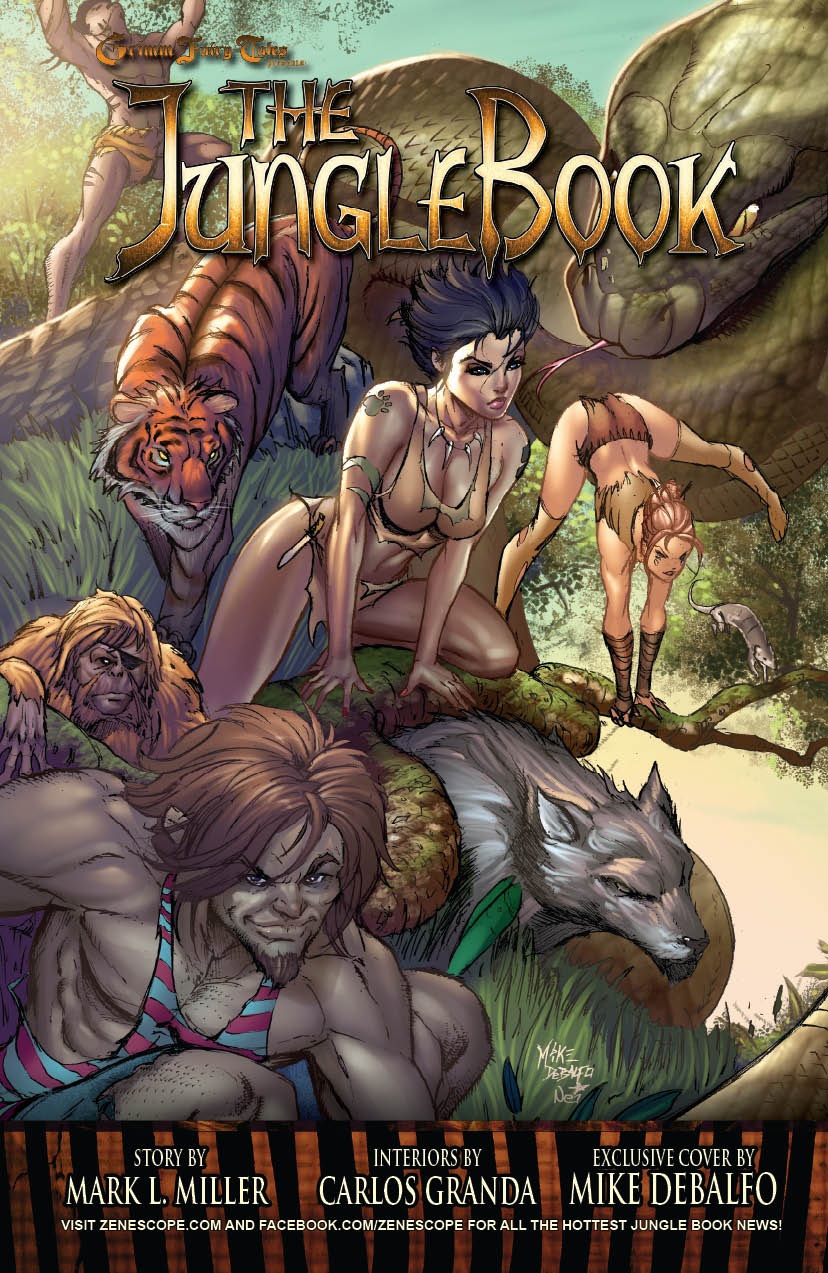 Ambush Bug is Mark L. Miller, original @$$Hole/wordslinger/reviewer/co-editor of AICN Comics for over ten years. He has written comics such as MUSCLES & FIGHTS, MUSCLES & FRIGHTS, VINCENT PRICE PRESENTS TINGLERS & WITCHFINDER GENERAL, THE DEATHSPORT GAMES, WONDERLAND ANNUAL 2010 & NANNY & HANK (soon to be made into a feature film from Uptown 6 Films). He is also a regular writer for FAMOUS MONSTERS OF FILMLAND & has co-written their first ever comic book LUNA: ORDER OF THE WEREWOLF (to be released in late 2012 as an 100-pg original graphic novel). Mark has just announced his new comic book miniseries GRIMM FAIRY TALES PRESENTS THE JUNGLE BOOK from Zenescope Entertainment to be released March-August 2012. Also look for Mark's exciting arc on GRIMM FAIRY TALES #76-80 which begins in August 2012.
---
Find more AICN HORROR including an archive of previous columns
on AICN HORROR's Facebook page!