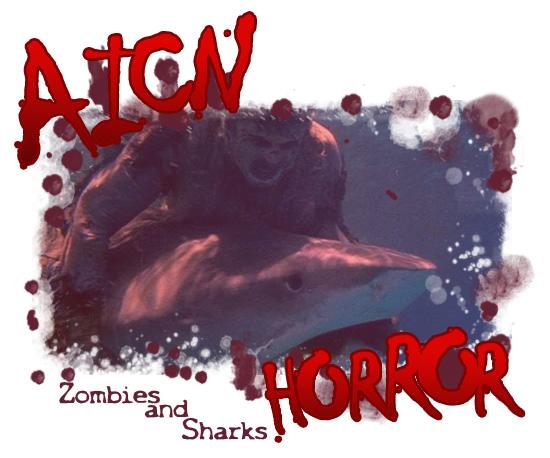 Logo by Kristian Horn
What the $% is ZOMBIES & SHARKS?
---
Greetings, all. Ambush Bug here. Happy Birthday to AICN HORROR which celebrates its second year in October! Always hoping to pass on new and exciting films for all of you ravenous readers in search of worthwhile horror, I decided to compile a list counting down to my favorite horror film released since last October and covered in this here AICN HORROR: ZOMBIES & SHARKS column. Some of these films might be new to you since there isn't a lot of horror in theaters these days that aren't toothless remakes or watered down sequels. Theaters aren't where the horror is at these days, I'm afraid. Some of these films have only seen the light of day on Video on Demand or simply go straight to DVD/BluRay. I've also compiled quite a few films I've seen advance screenings of at festivals and other outlets, and I'll try to update you when you can see these films.

As far as how I compiled this list? Well, I simply looked over my AICN HORROR columns over the last year after October 1st (which happens to be the birthday of this little column two years ago!) and worked and reworked a list until I had 31. No real method to my madness. We'll be counting down every day until Halloween toward my favorite horror film of the year. I'll also provide a second film suggestion for those who can't get enough horror that has something to do with the film I chose that day.

So let's get to it! Chime in after the article and let me know how you liked the film I chose, how right or wrong I am, and come up with your own list…let's go!
NUMBER 9!
Currently touring festivals, MASKS is a film that drips with Giallo goodness. I wish I could say I know when and where you can see the film but so far I haven't heard a word. All I do know is that MASKS is an amazing film that harkens back to some of Argento's best work.
I reviewed MASKS back in May.
It's been circulating the world on a festival tour, most recently playing at the Oslo Frightfest in Norway and in Cape Town in the South Africa Horrorfest. I promise to keep you posted as to when you can check out the fantastic little film.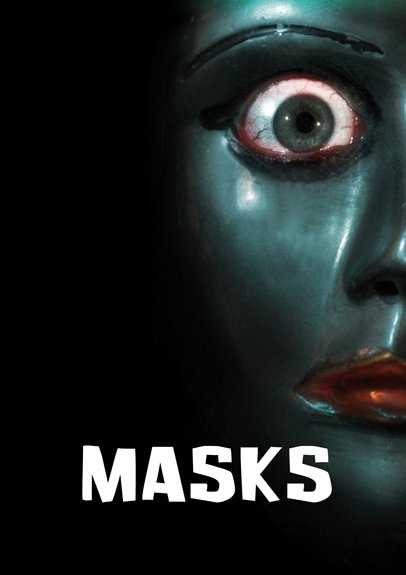 Currently touring festivals!
MASKS (2011)
Directed by Andreas Marschall
Written by Andreas Marschall
Starring Susen Ermich, Magdalena Ritter, Julita Witt, Michael Siller, Sonali Wiedenhöfer, Teresa Nawrot, Michael Balaun, Dieter-Rita Scholl, Dörte Manske, Stephanie Grabner, Franziska Breite, Simon Baptiste Mayer, Norbert Losch
Find out more about this film here and on Facebook here
Reviewed by Ambush Bug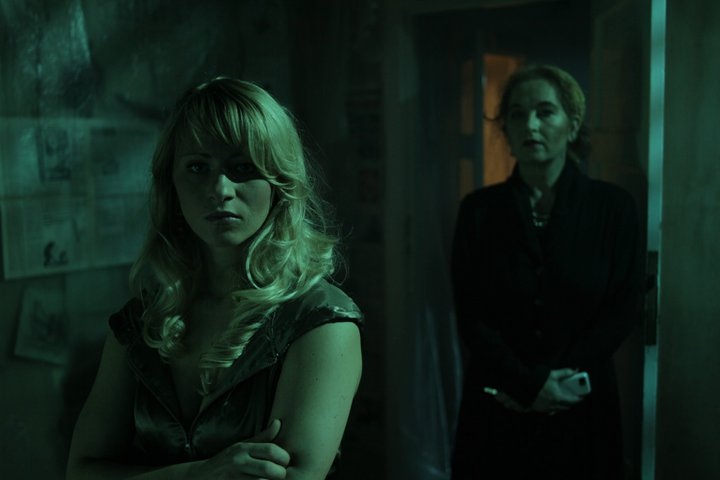 Fame oftentimes turns people ugly. Maybe that's why horror stories about fame are so effective. Harkening back to such films as last year's BLACK SWAN, Lucky McKee's THE WOODS, Argento's classic SUSPIRIA, and even the 80's schlocker CURTAINS and even PHANTOM OF THE OPERA, MASKS follows an actress who will do anything to become a star and the horrors that can come from those lofty aspirations.
MASKS begins with a gruesome scene. Focusing on what looks to be a cult ending in a memorable fingernail breaking scene, the scene shifts to a fantastic animated opening sequence filled with Argento-ian harpsichord music and twisted red imagery. Though this film is German, it owes a lot to Argento in both style and plot as it is revealed that the cult at the beginning are actually a group of method actors following the tutoring of an eccentric and controversial acting teacher.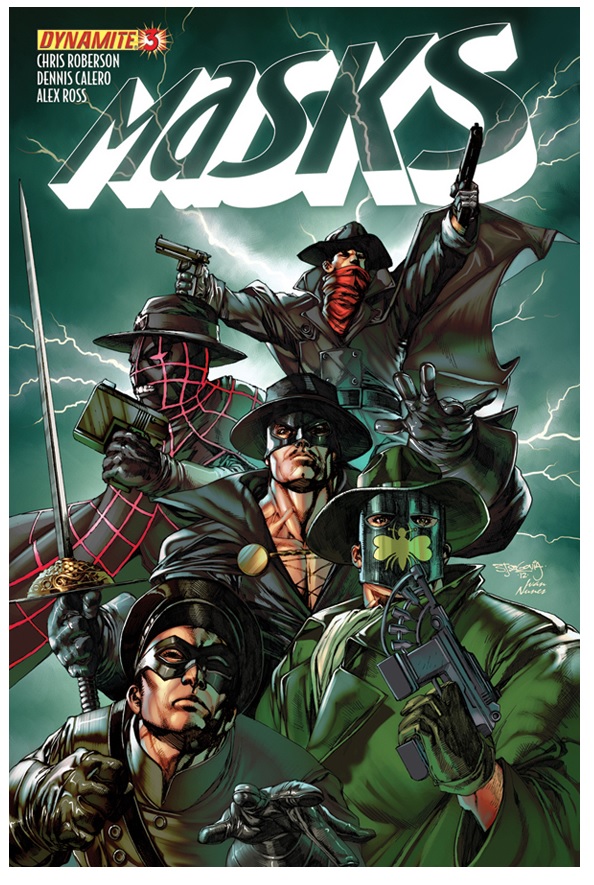 When the film begins to focus on its central character, Stella (Susen Ermich, who looks a lot like Elizabeth Banks), many will be reminded of one of Argento's most famous works, SUSPIRIA, in that in order to improve her acting skills Stella decides to enroll in an elite acting school. The shadowy hallways and corridors of the school serve as the perfect canvas to cast a mysterious and ominous mood and director/writer Andreas Marschall takes full advantage of creeping his camera in and around every nook and corner.
But even though SUSPIRIA is the most like MASKS in plot, the film is structured much more like Argento's earlier giallo work such as DEEP RED, OPERA, and FOUR FLIES ON GRAY VELVET in terms of elaborately executed kills and heavy attention to mystery and psychology. Argento isn't the only giallo master Marschall pays homage to. While the kills are elaborate, they also embody some of the best kills from Bava's BAY OF BLOOD, as the camera follows the weapon instead of the killer. There are some absolutely toe curling scenes in this film, as if it were resting on the handle of the saber that is the killer in this film's chosen weapon. Instead of switching kill tools like most slasher films, the killer in MASKS sticks with the saber every time, yet Marschall makes every kill inventive, fresh, and extremely scary. The thin line the saber cuts across the screen as it pierces through its victims made me jump more than once while watching this film. This has everything to do with Marschall's excellent pacing and tendency to attack when expected, but the dire damage the saber does during the kills is more thrilling than every Hollywood kill sequence released this year and last combined.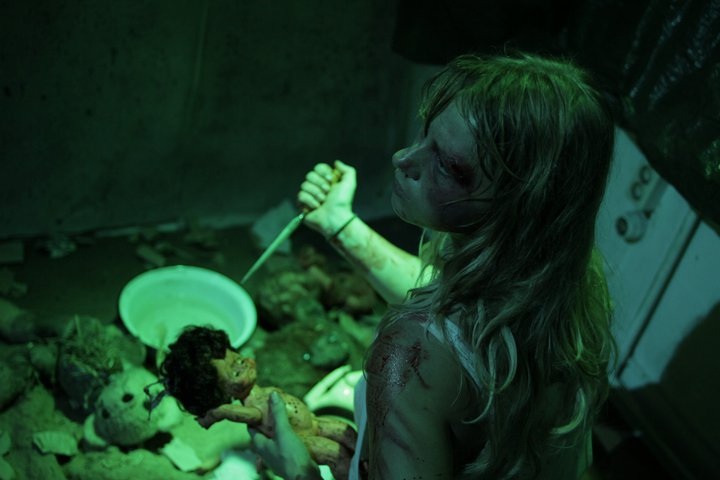 Whispers of a secret method of acting that is not to be talked about resonate in the halls of the school, and Stella wants to find out all about it, but these aspirations end up biting her in the end. Channeling the darkest of emotions, this method proves to be absolutely chilling upon being revealed. Susen Ermich is perfect for this role as she embodies the defeated actress persona, yet is able to exude spunk and attitude making her stand out in class and ultimately puts her in line to follow the secret method. Julia Witt also shines in her role as Cecile, an older actress who is currently studying the secret method and warns Stella about it to no avail. Both actresses go through hell in this film, being beaten, drugged, hung upside down, slices with razors, and psychologically tortured.
Though, I felt I could predict how this one ended, the sheer energy MASKS exuded in every scene while echoing some of the best elements from some of the best giallo masters makes MASKS another film that will surely show up in my list for best horrors of the year. Currently touring the festival circuit, if you love the works of the Italian masters of horror, you should make it your duty to seek out MASKS.
---
All of this talk about Argento has me itching to watch one of his best. It doesn't get much better than SUSPIRIA. You can see all sorts of influences in modern horror film and still, no one has made a film like it. From the music, to the colors, to the elaborate murder set pieces, SUSPIRIA is the best.
The Countdown so far…
#10: CABIN IN THE WOODS
#11: BEYOND THE BLACK RAINBOW
#12: JUAN OF THE DEAD
#13: MIDNIGHT SON
#14: BLOOD JUNKIE
#15: V/H/S
#16: THE DIVIDE
#17: PARANORMAL ACTIVITY 3
#18: LITTLE DEATHS
#19: THE TALL MAN
#20: KILL LIST
#21: MOTHER'S DAY
#22: THE INNKEEPERS
#23: THE SNOWTOWN MURDERS
#24: THE PACT
#25: THE WRONG HOUSE
#26: SATURDAY MORNING MASSACRE
#27: SPIRIT STALKERS
#28: THE MOTH DIARIES
#29: THE SLEEPER
#30: THE AGGRESSION SCALE
#31: SICK BOY
---
See ya tomorrow, folks, with number 8 of the best of the best covered in AICN HORROR since last year!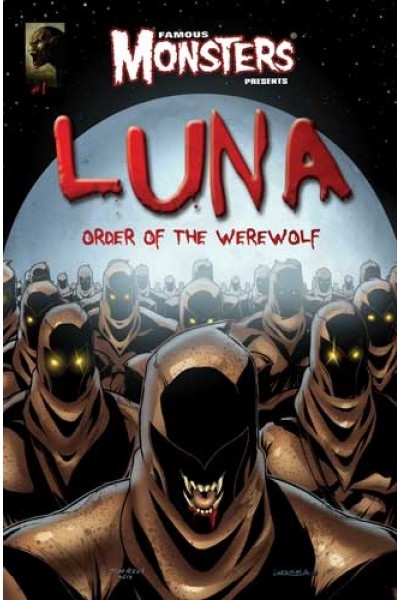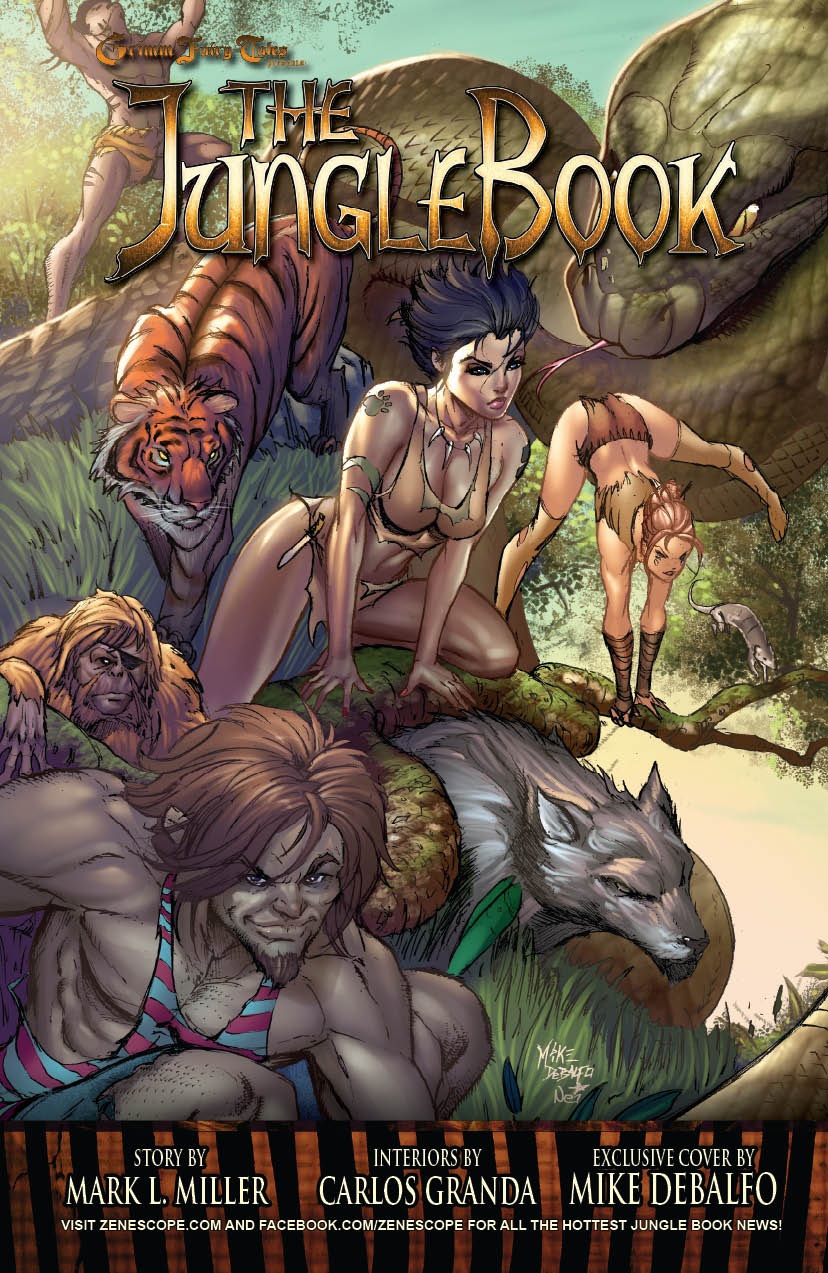 Ambush Bug is Mark L. Miller, original @$$Hole/wordslinger/reviewer/co-editor of AICN Comics for over ten years. He has written comics such as MUSCLES & FIGHTS, MUSCLES & FRIGHTS, VINCENT PRICE PRESENTS TINGLERS & WITCHFINDER GENERAL, THE DEATHSPORT GAMES, WONDERLAND ANNUAL 2010 & NANNY & HANK (soon to be made into a feature film from Uptown 6 Films). He is also a regular writer for FAMOUS MONSTERS OF FILMLAND & has co-written their first ever comic book LUNA: ORDER OF THE WEREWOLF (to be released in late 2012 as an 100-pg original graphic novel). Mark has just announced his new comic book miniseries GRIMM FAIRY TALES PRESENTS THE JUNGLE BOOK from Zenescope Entertainment to be released March-August 2012. Also look for Mark's exciting arc on GRIMM FAIRY TALES #76-80 which begins in August 2012.
---
Find more AICN HORROR including an archive of previous columns
on AICN HORROR's Facebook page!