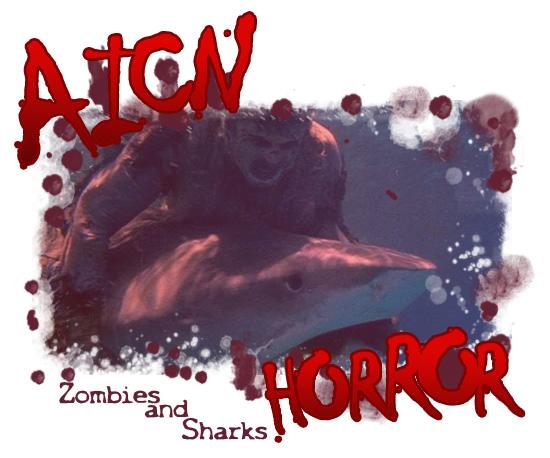 Logo by Kristian Horn
What the $% is ZOMBIES & SHARKS?
---
Greetings, all. Ambush Bug here. Happy Birthday to AICN HORROR which celebrates its second year in October! Always hoping to pass on new and exciting films for all of you ravenous readers in search of worthwhile horror, I decided to compile a list counting down to my favorite horror film released since last October and covered in this here AICN HORROR: ZOMBIES & SHARKS column. Some of these films might be new to you since there isn't a lot of horror in theaters these days that aren't toothless remakes or watered down sequels. Theaters aren't where the horror is at these days, I'm afraid. Some of these films have only seen the light of day on Video on Demand or simply go straight to DVD/BluRay. I've also compiled quite a few films I've seen advance screenings of at festivals and other outlets, and I'll try to update you when you can see these films.

As far as how I compiled this list? Well, I simply looked over my AICN HORROR columns over the last year after October 1st (which happens to be the birthday of this little column two years ago!) and worked and reworked a list until I had 31. No real method to my madness. We'll be counting down every day until Halloween toward my favorite horror film of the year. I'll also provide a second film suggestion for those who can't get enough horror that has something to do with the film I chose that day.

So let's get to it! Chime in after the article and let me know how you liked the film I chose, how right or wrong I am, and come up with your own list…let's go!
NUMBER 14!
While I'm fully aware that suggesting a low budget horror throwback at this point in the column is going to raise the ire of those who think KILL LIST, INNKEEPERS, and whatever else personal favorite one might have is the best of the year, but as I've explained in the above paragraphs, this is, in my opinion, my list of favorites covered this year. And though it is low budget, there is something so awesome about BLOOD JUNKIE, a faux-retro slasher film about a killer who hunts down some mulletted party dudes and some skanky hairspray gals that is more fun than most horror released in the mainstream.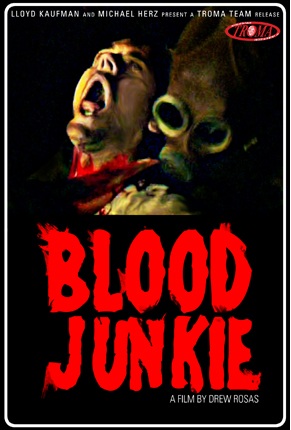 BLOOD JUNKIE (2010)
AKA ROCKY TRAILS
Directed by Drew Rosas
Written by Drew Rosas
Starring Nick Sommer, Michael Johnson, Sarah Luther, Emily Treolo, Andrew Swant
More info on this film on its Facebook page and the website.
Reviewed by Ambush Bug


It took quite a while before I realized that BLOOD JUNKIE was a modern film made to look like an 80's slasher film rather than one just filmed in the 80's. Right from the opening sequence I wondered if this was untalented folks making a bad film or if it was talented folks going out of their way to make a good film that looks like a bad film. Turns out it is the latter.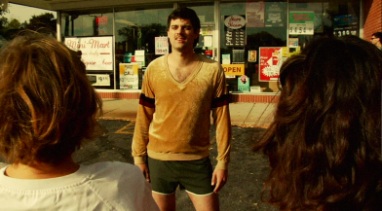 I had a blast with this film. From the over the top soon to be victims who high five, guzzle cheap beer, and shout "Chicks!" to every camera cliché and trick in the book used, this is a love letter to bad 80's horror for anyone who lived through and loved that era of horror films. The set up is paper thin. Two guys meet two girls in the parking lot of a liquor store. The girls have money for booze. The guys have the car. They get together and go camping. Of course, there's a blood sucking killer in the woods as well. This film looks like it was filmed for about 12 dollars, but the filmmakers use this to their advantage, amping up the cheese and wallowing like a pig in shit in every low fi trick in the book.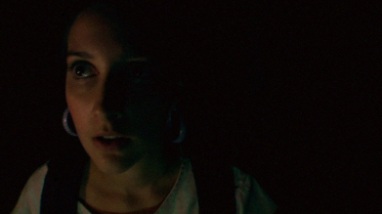 If you're a fan of A WET HOT AMERICAN SUMMER and lines like this
"This chick will melt like a stick of butter in the palm of my tongue."
make you laugh, then this is the film for you. The film is surprisingly effective in the chills department once the blood starts flowing and in between it will have you laughing your ass off at how ridiculous the culture of the 80's really was. Plus, unlike a lot of Troma films, the narrative doesn't fall apart in the end. From start to finish this is a low, passionate, sloppy hug around all things 80's horror. I'm addicted to BLOOD JUNKIE and will eagerly anticipate what director Drew Rosas has in store in future efforts.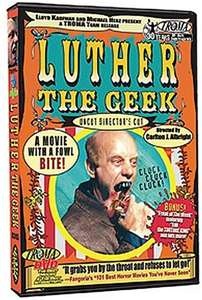 Another offbeat gem of a horror film that deserves to be seen by more people is LUTHER THE GEEK, about a metal toothed serial killer who clucks like a chicken. Its simply has to be seen to be believed and really delivers on both weirdness and scares, plus it's the first role the gorgeous Stacy Haduik ever played and boy, does she make an impact in this one!
Here's my review from last November.
The Countdown so far…
#15: V/H/S
#16: THE DIVIDE
#17: PARANORMAL ACTIVITY 3
#18: LITTLE DEATHS
#19: THE TALL MAN
#20: KILL LIST
#21: MOTHER'S DAY
#22: THE INNKEEPERS
#23: THE SNOWTOWN MURDERS
#24: THE PACT
#25: THE WRONG HOUSE
#26: SATURDAY MORNING MASSACRE
#27: SPIRIT STALKERS
#28: THE MOTH DIARIES
#29: THE SLEEPER
#30: THE AGGRESSION SCALE
#31: SICK BOY
---
See ya tomorrow, folks, with number 13 of the best of the best covered in AICN HORROR since last year!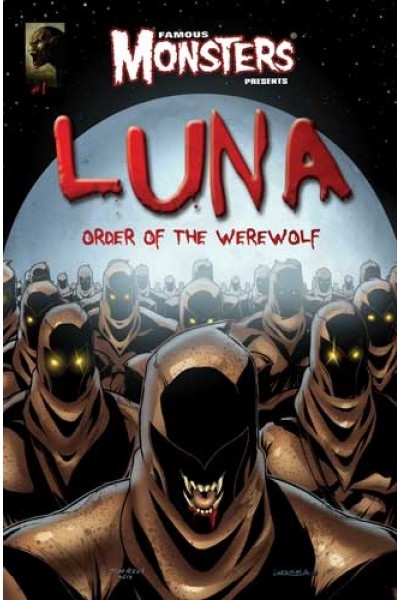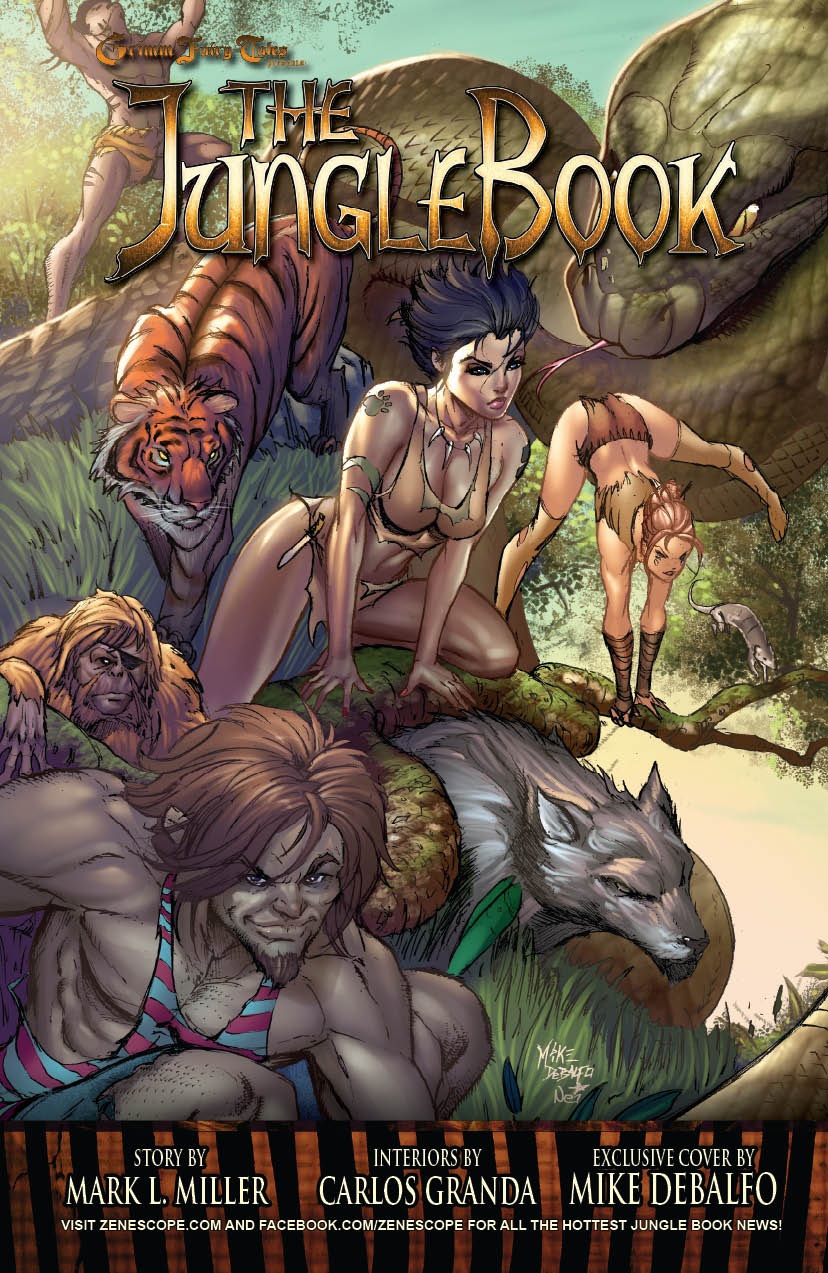 Ambush Bug is Mark L. Miller, original @$$Hole/wordslinger/reviewer/co-editor of AICN Comics for over ten years. He has written comics such as MUSCLES & FIGHTS, MUSCLES & FRIGHTS, VINCENT PRICE PRESENTS TINGLERS & WITCHFINDER GENERAL, THE DEATHSPORT GAMES, WONDERLAND ANNUAL 2010 & NANNY & HANK (soon to be made into a feature film from Uptown 6 Films). He is also a regular writer for FAMOUS MONSTERS OF FILMLAND & has co-written their first ever comic book LUNA: ORDER OF THE WEREWOLF (to be released in late 2012 as an 100-pg original graphic novel). Mark has just announced his new comic book miniseries GRIMM FAIRY TALES PRESENTS THE JUNGLE BOOK from Zenescope Entertainment to be released March-August 2012. Also look for Mark's exciting arc on GRIMM FAIRY TALES #76-80 which begins in August 2012.
---
Find more AICN HORROR including an archive of previous columns
on AICN HORROR's Facebook page!