Mascott again!
You know, three days at Comic Con is a long time. A long time to wait in lines, wait for autographs, and wait for panels. Thankfully, the EVIL DEAD panel began a short five minutes after finishing up with the CARRIE and none of that waiting applied.
At the panel was EVIL DEAD director Fede Alvarez, of YouTube PANIC ATTACK fame, Jane Levy (ABC's SUBURGATORY) who plays a character named Mia in this film, and Bruce Campbell, of those dreams you don't tell people about. And damn if that guy doesn't know how to play to an audience by now.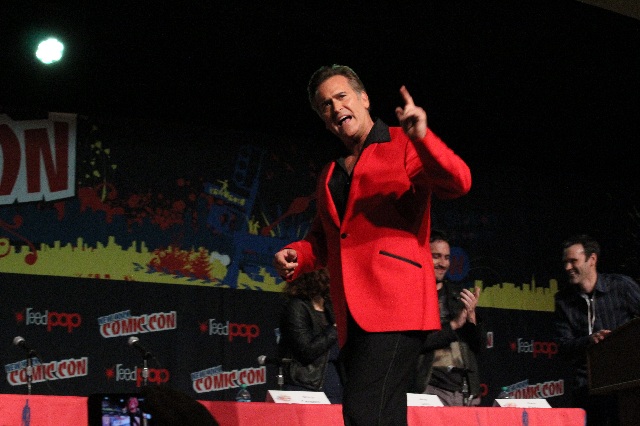 Our first look at an EVIL DEAD trailer was shown not long into the presentation, and boy was it a sensory overload.
It opened with a helicopter shot of a forest, then a cabin that looks terribly familiar. A carpet is pulled from the floor, and a trapdoor with blood trails leading to/away from it is revealed. Downstairs, a character finds the Necronomicon, becoming seemingly obsessed with translating its contents, rambling about letting something free that shouldn't have been. Soon after, the road leading away from the cabin is flooded. That was when shit got real. It all flashed by pretty quick, but things I caught were demonic possessions of some sort, a chainsaw being used on someone or something, trees reaching out to do the groping they're well known for, a possessed character splitting their own tongue in two and absolute buckets of blood.
The amount of blood in this trailer makes it seem as though the original will be only slightly moist with the red stuff in comparison, which is, of course, saying something.
It's worth noting that while the EVIL DEAD franchise later became known for its comedy elements, this is a retelling of the original movie. That original EVIL DEAD is a straight horror piece, and this looks to be along those lines, but in a much more modern, gory way. When asked if this new EVIL DEAD would be funny, Fede Alvarez responded along the lines of, "Did that look funny to you?" So we might be missing out on the dancing skeletons and Three Stooges sequences this time around. In fact, the idea that the movie was so greatly expected to be humorous seemed to be a somewhat of a sore subject.
It was said numerous times, as well, that the idea for a remake came not from Sony, but from Sam Raimi, Bruce Campbell, and Rob Tapert themselves. EVIL DEAD is Fede Alvarez' first feature film, but after his big break on YouTube, he had been developing a project with Sam. One day he received a Skype call in which Sam asked him, "Do you want to be the one to remake EVIL DEAD?" Of course, understandably, it's an impossible offer to turn down, especially being the fan of the series that he is.
During the panel, Bruce made numerous references to the idea of an EVIL DEAD 4 that we've been hearing about for a while. He said that Sam Raimi wants nothing more than for another film in the Ash series of EVIL DEAD to happen, and would continue to push for such a film on his deathbed, but that, for now, it was time to pass the torch onto a younger generation. Campbell also promised that he had worked to ensure that we would not be screwed over by this movie.
When the panelists were asked why an Ashley wasn't the protagonist, being that it's both a male and female name, Levy mentioned that there was a sort of play on words with the characters names, if they were put together in the right order. Let's see... According to IMDB, we've got Mia, Dave, Eric, Olivia, and Natalie... It's "demon." The names spell out demon. Well that was fun.
...If they end up making a sequel and end up adding an Ash, it could always be "daemon."
Campbell also defended the idea of a female lead in the new film. He said that it was more traditional to have a female lead in a horror film instead of a male one, as they had decided upon in EVIL DEAD. He referenced the movie that Sam Raimi had made to raise the money for EVIL DEAD in the first place, WITHIN THE WOODS. In the originals, Campbell reasoned, they had a man screaming like a woman, and now, in the remake, it's a woman screaming like a man.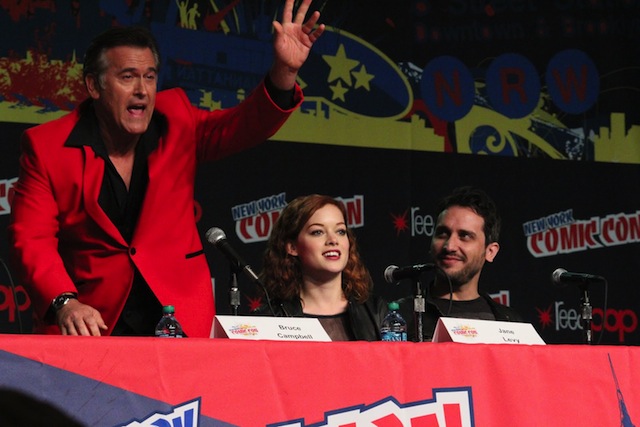 It's very obvious that this new adaptation of EVIL DEAD is not meant to play to the sensibilities of those who loved EVIL DEAD 2 or ARMY OF DARKNESS for their comedic elements, but instead to those fans of more modern gross-out horror, considering how much of that tongue splitting they showed in the trailer. (All of it.) It was mentioned during the panel, though, that there was a lot of attention to detail in the movie, so fans of the hardcore fans of the originals could have fun little references and nods to look for. (In the trailer, I noticed that the car looked quite a bit like the classic Oldsmobile, but I didn't see enough to confirm it with certainty.)
Anyone looking for another comedy romp through the woods like EVIL DEAD 2, or a campy horror film like the original, that isn't what you'll find here. It's a modern horror movie where the people making it had plenty of money to do what they wanted to do.
It's too early to tell how the film is going to turn out right now, but, at the moment, it's not something I'm looking forward to. Unfortunately, if it does go in the "no one sees it" direction, it'd just make it tougher for Sam Raimi and Bruce Campbell to make their EVIL DEAD 4.
* * * * * * * * * *
Over the weekend, Entertainment Weekly premiered the first official image from the film, which was pulled directly from the trailer shown, so you can get a bit of a feel for the new tone...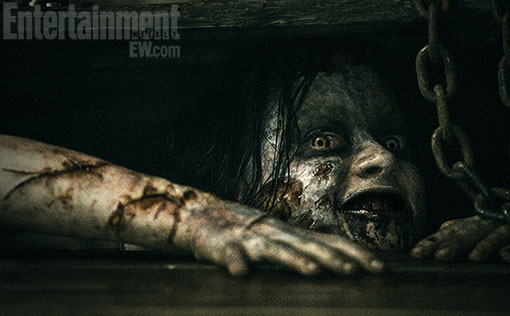 Stay tuned for my interview with director Fede Alvarez for more EVIL DEAD.