Merrick here...
...with a look at Ambassadors of Death, a seven part Pertwee-era DOCTOR WHO adventure originally transmitted March-May 1970. Per BBC Home Entertainment's new DVD, this David Whitaker script started life as a Patrick Troughton adventure and was re-worked by Terrance Dicks and Malcolm Hulke to accommodate incoming Doctor Jon Pertwee.
More on Ambassadors shortly. But first...
PUT DOCTOR WHO ON THE COVER OF TV GUIDE!!
A Facebook page allows fans to 'Like' TV Guide Magazine and vote for a show they'd like to see on one of the publication's covers. And...you KNOW you want to see DOCTOR WHO on its cover! If you don't, you should! And if you don't, why are you reading this?

DW recently graced the front of Entertainment Weekly for the first time...now it's time to make TV Guide happen! Spread the word! Tel your fathers, your mothers, your brothers, your sisters, that strange person down the street who you're really not sure about, your cats, dogs, and anything which can step on a keyboard!

Details HERE...
JOIN A CAMPAIGN TO GET A DOCTOR WHO EPISODE FILMED IN AUSTRALIA!!
This is a pretty great idea - as long as there's a protracted scene in which the Doctor uncomfortably ponders the oddness of a kangaroo. More on the Australian movement HERE.
If not Australia, I think they need to go ahead and film an episode in my fair Austin. In Southwest Austin, to be exact. I'll take 'em some tacos and Twinkies and maybe some Starbucks from down the street, too - provided the Drive Through line isn't too long. Something tells me Matt Smith would like Twinkies. He's probably powered by them, now that I think about it.
Thanks to MOV for the heads up regarding the two preceding posts!
BBC ONE RELEASES AN ADDENDUM TO THE ANGELS TAKE MANHATTAN...
...revealing more about the fate of Rory and Amy.
Thanks to Michael for pointing us towards this!
CHECK OUT THIS SUPER-MEGA-UBER-GIGANTO-CRAZYCOOL SET - COMING IN NOVEMBER!!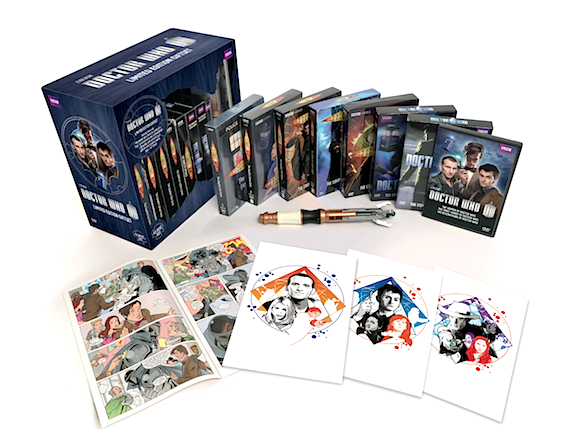 [embiggen]
Per BBC Home Entertainment...
DOCTOR WHO: LIMITED EDITION GIFT SET
Street Date: November 20, 2012
Suggested Retail Price: DVD $249.95 ($294.00 in Canada)
Length: Approx. 4242 mins + bonus material / 41-disc set
Whether you're shopping for the Doctor Who fan on your holiday list or looking to introduce the Doctor into someone's life for the very first time, this limited edition set is truly the gift that keeps on giving. Or buy it for yourself, because c'mon now- would you really want to give this away? Collecting the complete series 1-6 featuring Christopher Eccleston (the ninth Doctor), David Tennant (the tenth Doctor) and Matt Smith (the eleventh Doctor), the gift set includes over 70 hours of Doctor Who in all. It also includes hours and hours of bonus features including 3 new Doctor Who Specials coming to DVD for the first time ever, a collectible 11th Doctor Sonic Screwdriver, 3 original art cards and the comic book, "Doctor Who at Comic Con." It's hard to imagine how so much content can fit in such a tiny box- you don't think it's bigger on the inside, do you?
It's now up for pre-order HERE or HERE.
The Ambassadors of Death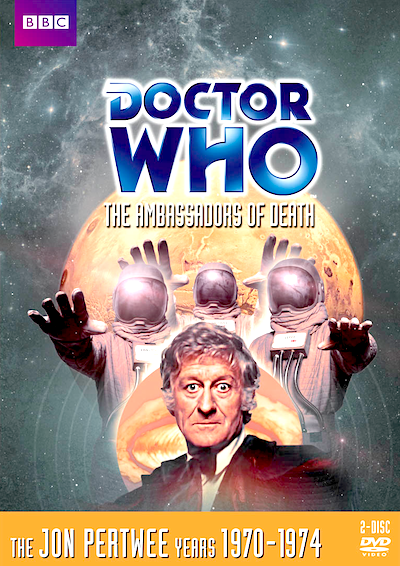 "Oh, well, I suppose he's got to do something to occupy his mind now that he's blown-up the Silurians..." the Doctor, Ambassadors of Death - Episode One
For much of its running time, The Ambassadors of Death represents one of the finer stories of the Pertwee era. Handheld camera work lends a grittiness to a number of well-conceived and nicely crafted action scenes (featuring at least three blazing gun battles...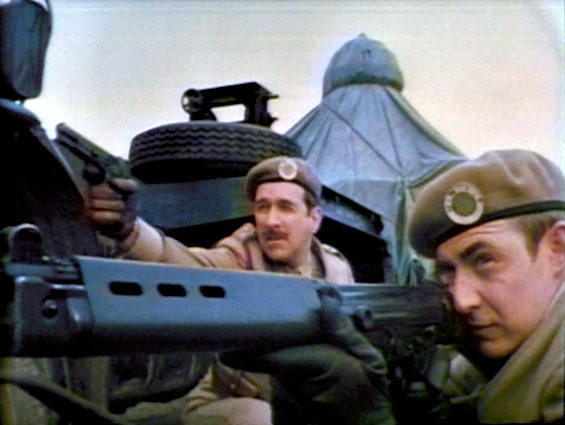 ....a painful looking tumble down a mountainside, a UNIT dude trying to board a flying helicopter whose call sign is 'G-AWFUL (God Awful?), a vehicle which redresses its surface on command, and other James Bondian affectations. Don Goddard and Chris Wimble's editing is tighter and sharper than much WHO of that era - bringing Ambassadors an often edgy or unnerving quality.
An abundance of thought and effort went into the realization of this episode...from its plus-sized locales...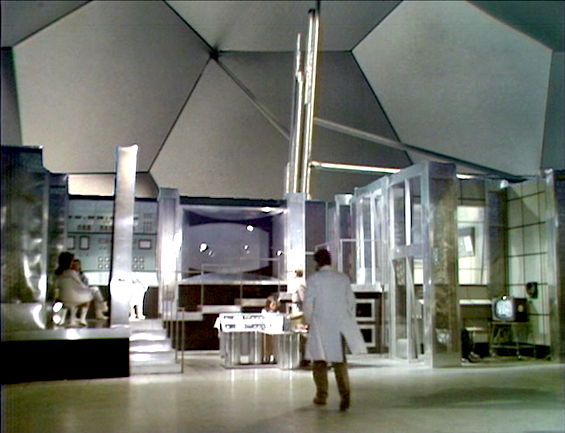 ...to critical minutiae, like the surreal quality of video transmissions between Earth and nearby human spacecraft...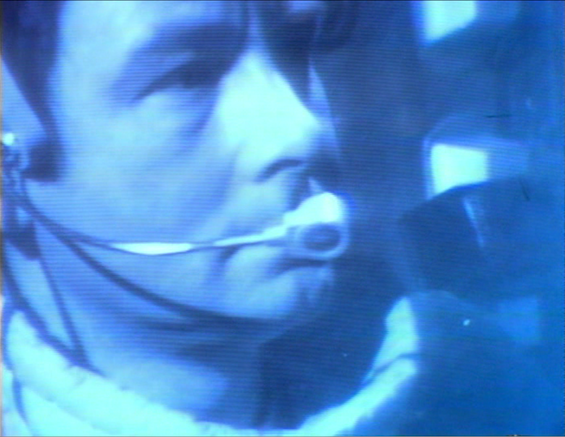 Performances are generally solid across the board, with an extra tip of the hat to Nicholas Courtney's Brigadier (who gets a great deal of screen time and action in this one...) and Ronald Allen's steely Mission Control boss, Cornish.
Dudley Simpsons's strangely lounge-like music doesn't feel entirely at place in a DOCTOR WHO story which features mysterious, space-suited something-or-the-others, missing astronauts, a big-ass space vessel not at all dissimilar to STAR TREK"s Doomsday Machine...
l - 1970's Ambassadors of Death ship, r - 1967's Doomsday Machine (remastered)
...and unit operatives going weapons hot on a number of occasions - but the composer does invest considerable effort into creating a score which boasts strong thematics and at least some sense of narrative awareness. This is opposed to the more generic sounding, plinky, sometimes inappropriate music which was often laid down over early WHO. For my money, DOCTOR WHO music was often a considerable distraction/defect until current composer Murray Gold came along.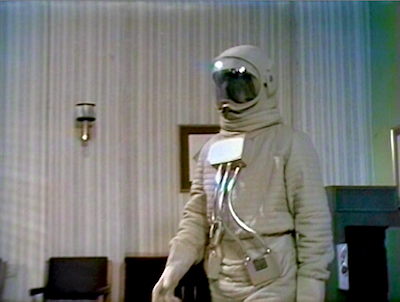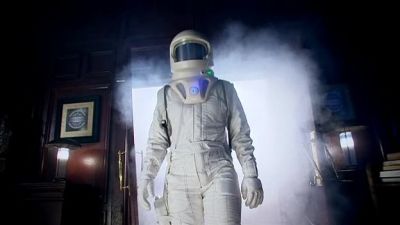 Did Ambassadors' spooky spacesuit guys (top) inspire Steven Moffat's eerie undead in Silence in the Library / Forest of the Dead (below)?
David Whitaker's script plays out its well-conceived mystery cleverly, effectively, and even unpredictably. Whitaker, who previously wrote The Edge of Destruction (Hartnell, Story # 3) and The Crusade (Hartnell, Story # 14), seems content to feed his audience ONLY essential information throughout most of the story. There' a lovely sense of expedition at play here, and a premium placed on keeping matters moving along. This propensity is is strongly reinforced by Director Michael Ferguson (The Seeds of Death - Troughton, Story #48), who once again brings his recognizable style and efficiency to these proceedings with cutting and camerawork which stamps Ambassadors with a frequently cinematic air. Ferguson's absorbing pre-occupation with the intricacies of devices and procedures - a tendency brought to the forefront in Seeds - returns here as well, sucking the audience in with a very 'real' feeling and busy world.
With so very, very much going for it...why did I begin this review with a qualified statement? The payoff. As exceptionally well executed as Ambassadors often is, the reveal of the mechanisms behind its plot and mystery (i.e. the impetus and details of a conspiracy) feel a bit too dunderheaded and simple.
-- MINOR, DELIBERATELY VAGUE SPOILERS AHEAD --
I do like the notion of one man's misguided apprehensions and beliefs setting into motion a chain of apocalyptic events. After all, human history is filled with such occurrences - thus the conceit does feel truthful and relevant.
Here, though, the actions and rationale of the individual in question feel unfocused and slap-dash...unsupported. Clumsy, perhaps? Some of the ideas at play in this regard are more or less in the ballpark, but haven't been shaped to their fullest extent or palatability. This amplifies some of the over-produced maneuverings into which Ambassadors' three remote-controlled astronauts are inserted - resulting in a Looney Tunes sensibility which starts to creep in to some of the bad guys' schemings later in the game. This story's ALMOST there...just not completely formed.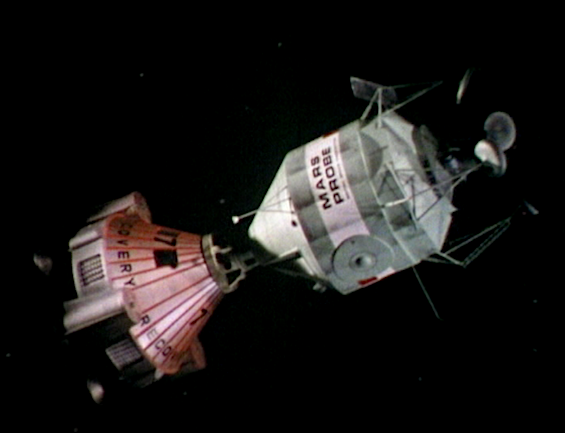 Extras on Ambassadors' newly released DVD mention difficulty during this story's script development. While the whole of the piece can be remembered as generally precise, large-scaled, fun entertainment, these behind-the-scenes complications (this story was intended as a Troughton vehicle, and there were complications when re-purposing it for Pertwee) likely resulted in the above-mentioned lack of development, or mis-development. Even with these frustrating misgivings aside, Ambassadors is hugely enjoyable and well paced entertainment - and ultimately manages to shine through some of its characters' wobblier motivations.
The newly restored Ambassadors of Death is now available HERE in the US and is HERE in the UK.
Extras include...
Mars Probe 7: Making The Ambassadors of Death (25:51)
-- Terrance Dicks (Script Editor)
-- Michael Ferguson (Director)
-- Derek Ware (Stunt Arranger)
-- Margot Hayhoe (Assistant Floor Manager)
-- Discusses the bumpy conversion of this story from its Troughton-era origin to its Pertwee-era production...
-- Director Ferguson says his work on Ambassadors included amping up the electronic "scream" which ends each episode - this more pronounced effect has remained with the show since then.
Trailer (1:28)
Tomorrow's Times: The Third Doctor (13:07)
Host Peter Purves (Hartnell- era companion Steven Taylor) looks at press reaction to Pertwee-era DOCTOR WHO, via material amassed by the British Library's Newspaper Archives in London (including a very brief but interesting quote from first Doctor William Hartnell).
Includes one critic's dressing down of Terrance Dicks for having a character scrape out a Dalek life form from its chassis - believing Daleks were pure robot and insisting that Dicks got it wrong.
Photo Gallery (4:26)
PDF
-- Radio Times Listings
Coming Soon (1:05)
PREVIOUS DOCBACKS
[Season / Series Seven Docbacks - MOST RECENT DOCBACK IS HIGHLIGHTED]
[SEASON / SERIES SIX DOCBACKS]

"The Impossible Astronaut"

"Day of the Moon"
"The Curse of the Black Spot"

"The Doctor's Wife"

"The Rebel Flesh"

"The Almost People"
"The Doctor, The Widow and the Wardrobe" (2011 Christmas Special)
[RETRO-WHO DOCBACKS ]
"An Unearthly Child" (Story #1)
"The Daleks" (Story #2)
"The Edge of Destruction" (Story #3)
"Marco Polo" (Story #4)
"The Keys of Marinus" (Story #5)
"The Aztecs" (Story #6)
"The Sensorites" (Story #7)
"The Sensorites" (Story #7 - full DVD release)
"The Reign of Terror" (Story #8)
"Planet of Giants" (Story #9)
"The Dalek Invasion of Earth" (Story #10)
"The Rescue" (Story #11)
"The Romans" (Story #12)
"The Web Planet" (Story #13) / SHERLOCK - "A Scandal in Belgravia" (Story #4)
"The Crusade" (Story #14)
"The Space Museum" (Story #15)
"The Chase" (Story #16)
"The Time Meddler" (Story #17)
"Galaxy 4" (Story #18)
"Mission to the Unkonwn" (Story #19)
"The Myth Makers" (Story #20)
"The Gunfighters" (Story #25)
"The Tomb of the Cybermen" (Story #37)
"The Mind Robber" (Story #45)
"The Krotons" (Story #47)
"The Seeds of Death" (Story #48)
"Spearhead from Space" (Story #51)
"The Colony in Space" (Story #58)
"The Daemons" (Story #59)
"Day of the Daleks" (Story #60) + Preview of the DotD Special Edition
"The Three Doctors" (Story #65)
"Carnival of Monsters" (Story #66)
"Death to the Daleks" (Story #72)
"Invasion of the Dinosaurs" (Story #71) and SHERLOCK: "The Reichenbach Fall" (Story #6)
"The Android Invasion" (Story #83) and SHERLOCK: "The Hounds of Baskerville" (Story #5)
"The Face of Evil" (Story #89)
"The Robots of Death" (Story #90)
"The Talons of Weng-Chiang" (Story #91)
"The Sun Makers" (Story #95)
"The City of Death" (Story #105)
"Nightmare of Eden" (Story #107)
"Kinda" (Story #118)
"Snakedance" (Story #125)
"The Five Doctors" (Story #129)
"The Awakening" (Story #131)
"Frontios" (Story #132)
"Resurrection of the Daleks" (Story #134)
"The Caves of Androzani" (Story #136)
"Vengeance on Varos" (Story #138)
"Time and the Rani" (Story #144)
"Paradise Towers" (Story #145) + New WHOvian Documentary / Newsbits
"Dragonfire" (Story #147)
"The Happiness Patrol" (Story #149)
"The Greatest Show in the Galaxy" (Story #151)
"Doctor Who: The Movie" (aka TVM) - McGann)
DOCTOR WHO: THE COMPLETE SIXTH SERIES
Merrick's Personal Journey With The Doctor (How Merrick Got Hooked On DOCTOR WHO)
DOCTOR WHO Title Sequences & DW At Comic-Con 2011
"The Crash of the Elysium" (Manchester version - interactive DOCTOR WHO adventure)
Why Eccleston Left, Here Comes Caroline Skinner, And Season/Series Six Part 1 on Blu-Ray And DVD

New Trailer For Season/Series Six Part 2
The Companions of DOCTOR WHO + New Trailer & Artwork For Season/Series 7
DOCBACK CODE OF CONDUCT
1) a Docback should be about completely open and free discourse regarding all things WHO with, obviously, some variation on subject matter from time to time - the real world intervenes, discussions of other shows are inevitable, etc.)...

2) matters of SPOILAGE should be handled with thoughtful consideration and sensitivity.

Posts containing SPOILERS should clearly state that a SPOILER exists in its topic/headline and should never state the spoiler itself . "** SPOILER ** Regarding Rory" is OK, for example. "** SPOILER ** Battle of Zarathustra" is fine as well. " **SPOILER** Why did everyone die?" Is NOT good.
And, above all...

3) converse, agree, disagree, and question as much as you want - but the freedom to do so is NOT a license to be rude, crass, disrespectful, or uncivilized in any way. Not remaining courteous and civil, as well as TROLLING or undertaking sensational efforts to ignite controversy, will result in banning. Lack of courtesy may receive one (1) warning before a ban is instigated. Obvious Trolling or Spamming will result in summary banning with no warning. One word posts intended to bump-up any Docback's figures on AICN's "Top Talkbacks" sidebar will be considered actionable Spam - they not only complicate efforts to access Docback from mobile devices, but impede readers' abilities to follow or engage in flowing conversation.
In short, it's easy. Be excellent to each other. Now party on...