This week brings us the very cool PROMETHEUS Blu-ray release, and some crazy/intriguing news about the film's sequel. Clearly, we ain't done with director Ridley Scott's PROMETHEUSverse yet.
Accordingly...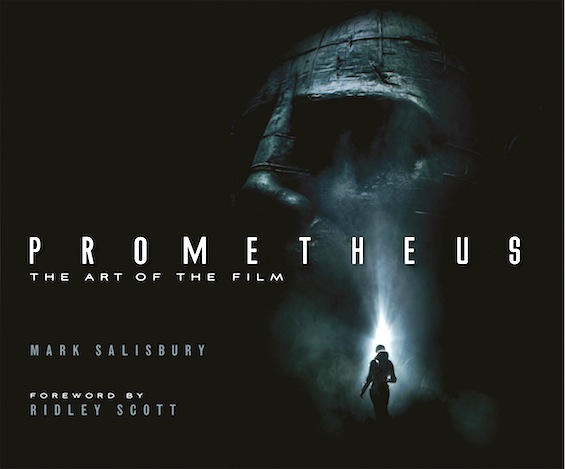 Our friends over at Titan Books are offering Aint It Cool readers a chance to snag one copy a their very lovely PROMETHEUS: THE ART OF THE FILM books, which I first wrote-up HERE.
Here's my previous description of the book:
PROMETHEUS: THE ART OF THE FILM is 191 pages of beautifully re-produced photographs, artwork, and designs chronicling the creation of Sir Ridley's much-anticipated, somewhat controversial, visually dazzling return to the horror/SF genre after an absence of three decades (if counting from BLADE RUNNER).
Scott provides a Foreword for this Mark Salisbury authored book, and contributes a generous amount of subsequent insight and context alongside Production Designer Arthur Max, Set Director Sonja Klaus, Guy Pearce (Peter Weyland), and Special Make Up Effects Supervisor Neal Scanlan.
So. This is your chance to win a copy. But what makes this copy extremely cool and very, very special...is that it's autographed by Sir Ridley Scott. And it'll go to one (1) lucky AICN reader.
What do you have to do to get a chance? It's simple...
** Sometime between the time you read this and 11:59 PM CST USA on Sunday October 14, send an e-mail to me via the link below. You can enter four times a day for each of the contest's 4 days (16 entries total, starting NOW).

** Include your name and mailing address in this e-mail. The address is to expedite prize shipment only and will be summarily discarded once book recipients are chosen. No spam, no mailing lists, etc.
** I've already pre-selected ONE time of day between today (Thursday) and Sunday. The person who e-mails me at (or closest to) this time will receive 1 (one) copy of the PROMETHEUS: THE ART OF THE FILM book, autographed by Ridley Scott. NOTE: I've been asked this before, so...for clarity...I'm using whatever time is stamped on the Yahoo mailing address established for this contest as the determiner. I'm in Central Time USA, so I guess that's a CST time stamp (?).


** CONTEST IS OPEN TO INTERNATIONAL READERS!!!
** In the subject line of your message, BE SURE TO INCLUDE THE HEADING: "Never, EVER Touch The Black Goo!" If this subject line is not included, I may not actually see your entry.

** Be sure to send from an ACTIVE (and frequently checked) E-MAIL ACCOUNT. If I try to reach you & my message bounces back? I'll trash your win and move on to the next closest winning contestant I can reach.
** Titan will have your addresses in by hand Monday morning

October 15

& they've been kind enough to handle fulfillment in this contest.
** As a general FYI, you should know that...due to the number and frequency of entries...recipients in past contests were sometimes selected by matters of seconds. Literally.
So that's it! Best of luck, and thanks so much for participating!
__________