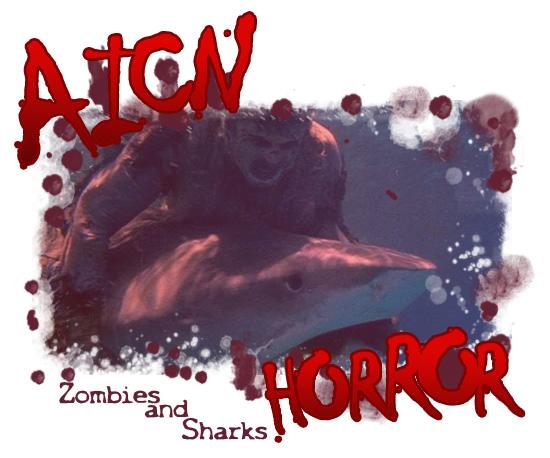 Logo by Kristian Horn
What the $% is ZOMBIES & SHARKS?
---
Greetings, all. Ambush Bug here. Always hoping to pass on new and exciting films for all of you ravenous readers in search of worthwhile horror, I decided to compile a list counting down to my favorite horror covered in AICN HORROR: ZOMBIES & SHARKS since October 1 of last year. Some of these films might be new to you since there isn't a lot of horror in theaters these days that aren't toothless remakes or watered down sequels. Theaters aren't where the horror is at these days, I'm afraid. Some of these films have only seen the light of day on Video on Demand or simply go straight to DVD/BluRay. I've also compiled a few films I've seen advance screenings of at festivals and I'll try to update you when you can see these films when I can.

As far as how I compiled this list? Well, I simply looked over my AICN HORROR columns over the last year and worked and reworked a list until I had 31. No real method to my madness. We'll be counting down every day until Halloween toward my favorite horror film of the year. I'll also provide a second film suggestion for those who can't get enough horror that has something to do with the film I chose that day.

So let's get to it! Chime in after the article and let me know how you liked the film I chose, how right or wrong I am, and come up with your own list…let's go!
NUMBER 24!
Continuing with the countdown is the indie thriller THE PACT, which packs a shit ton of scares in the first few minutes and doesn't let up until the end. Part ghost story, part real life tale of abuse,
THE PACT is one of those films that took me completely by surprise when I reviewed it back in July.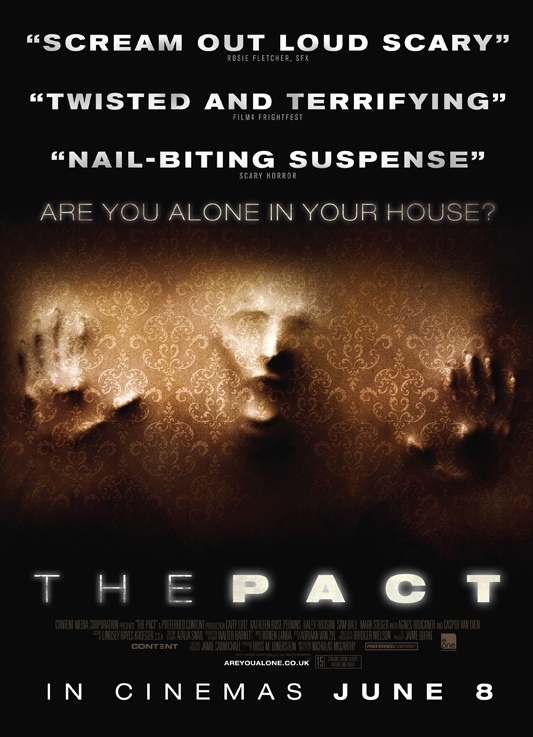 THE PACT (2012)
Directed by Nicholas McCarthy
Written by Nicholas McCarthy
Starring Caity Lotz, Casper Van Dien, Agnes Bruckner, Mark Steger, Haley Hudson, Kathleen Rose Perkins
Find out more about this film here!
Reviewed by Ambush Bug
Though I wasn't expecting much going into THE PACT, by the five minute mark I found myself leaping from my chair in fear at what was going on. There were a few leaps in logic in the making of this one, but filled with moments of pure creep and terror, THE PACT is a film I'm recommending for those who love all things scary. An old fashioned ghost story, more along the lines of THE OTHERS and INSIDIOUS than PARANORMAL ACTIVITY, THE PACT is a ghost story worth getting behind.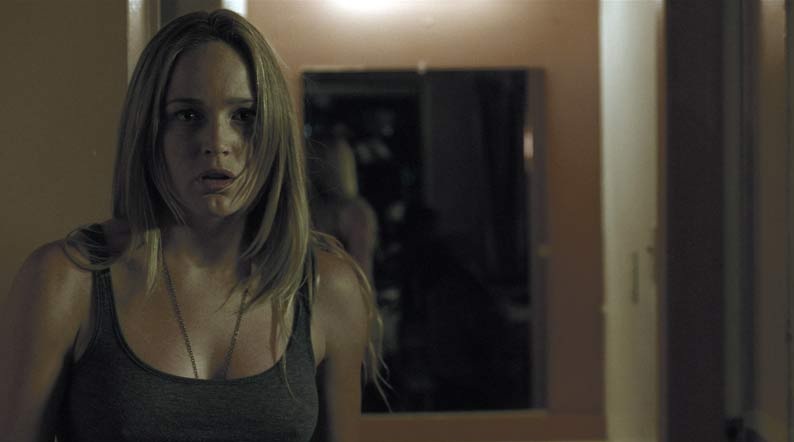 Originally a short film, director Nicholas McCarthy has expanded on the concept without making it seem stretched too thin. The story follows a pair of sisters whose mother has recently passed away. The mother leaves the sisters a house and a horrible secret. When the first sister (Kathleen Rose Perkins) comes to the home, she soon disappears after a freaky interaction with her child over Skype. Then Annie the other sister (a loner motorcyclist played by Caity Lotz) arrives, she finds an empty house full of mystery. After a night of sheer horror that will surely make you jump out of your skin in fear, she realizes that otherworldly things are going on. Things get even creepier when a secret room is found with holes drilled in the walls giving someone or something a secret viewing room for everything that transpired in the house.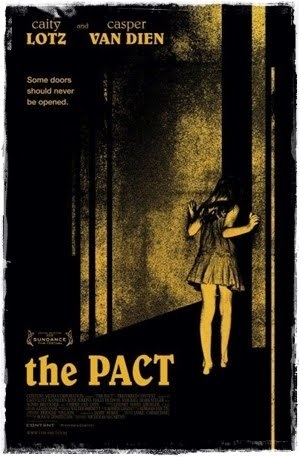 Great performances all around help make THE PACT easy to get caught up in. Caity Lotz is great and gruff as Annie the tough sister who is scared shitless, but perseveres against the forces of the unknown. Casper Van Dien even gives a good turn as the chiseled yet unshaven cop who somewhat believes the story of the distraught woman. And Haley Hudson has a nice smaller role as a creepy medium.
A creepy house, an otherworldly presence, a dark closet, and secret rooms all contribute to the thrills that pile atop one another in THE PACT. McCarthy takes his time unfolding this intricate plot of betrayal and secrets between mothers and daughters. McCarthy uses forced camera angles, trick photography and sincerely frightening imagery to scare the pants off of you in this little film. One of the aspects that is most rewarding is that the action rarely goes outside of this creepy abode, keeping this a tight thriller that never overshoots or shows the rough edges of a film made for this budget.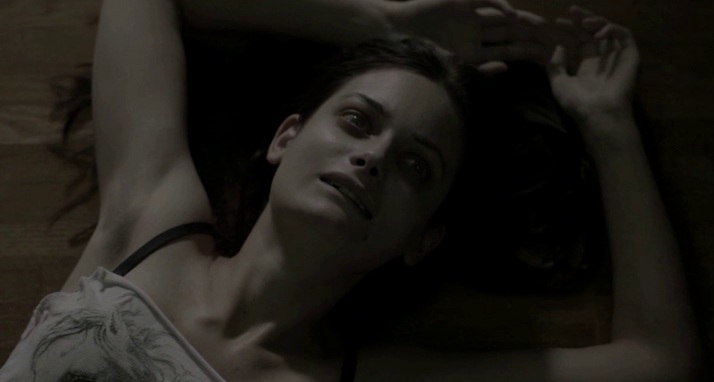 McCarthy got me more than once in this film, which hits hard in its action and isn't afraid to get in your face with the scares. I don't want to ruin too much of the terrors within THE PACT, but I will say you will be scared. The name of the film leaves a lot to be desired and I think many will overlook this one because of it. Another detriment is that people are wandering in and out of a crime scene investigated by the police with no worry. This plot hole is only a minor distraction from a truly great horror film.
THE PACT can be seen on VOD now at IFC Midnight and will have a limited theatrical run soon. No matter how you catch it, make sure you do. THE PACT is not to be missed.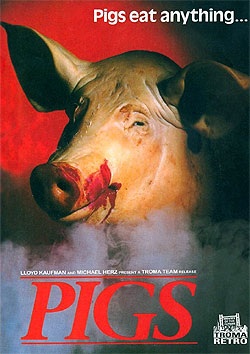 If you like icky stories of weird relationships between fathers and daughters, then you won't want to miss the classic film released by Troma last year
PIGS (which I reviewed here)
, in which Marc Lawrence directs and stars with his own daughter who plays a woman off her meds and on the run who ends up being tormented by a farmer (Lawrence), some townsfolk, and of course, some bloodthirsty pigs. It's 70's schlock at it's finest and though tonally it's not the same at THE PACT, there are weird daddy issues going on in both. PIGS is available on DVD from Troma (of course).
The Countdown so far…
#25: THE WRONG HOUSE
#26: SATURDAY MORNING MASSACRE
#27: SPIRIT STALKERS
#28: THE MOTH DIARIES
#29: THE SLEEPER
#30: THE AGGRESSION SCALE
#31: SICK BOY
---
See ya tomorrow, folks, with number 23 of the best of the best covered in AICN HORROR since last year!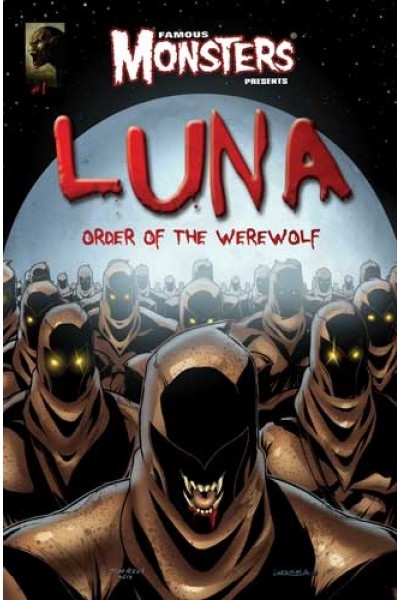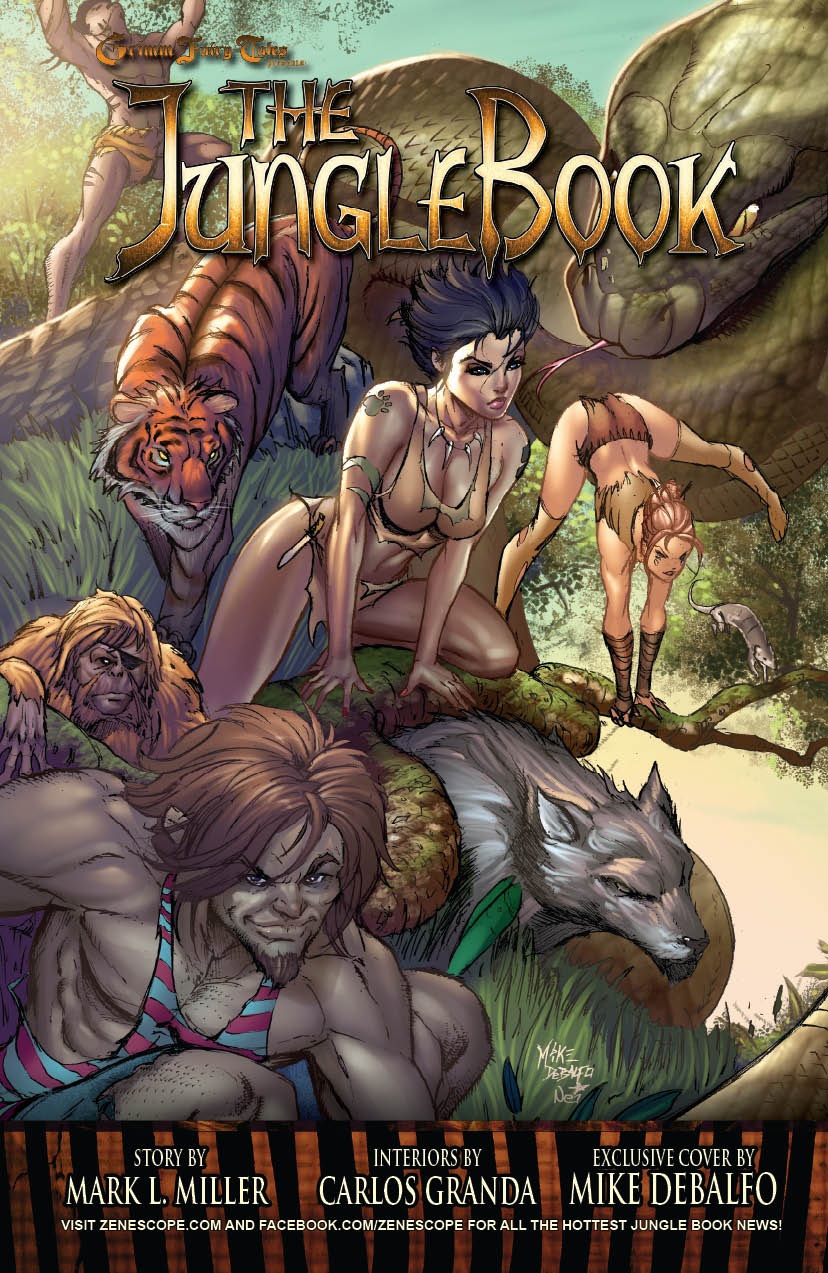 Ambush Bug is Mark L. Miller, original @$$Hole/wordslinger/reviewer/co-editor of AICN Comics for over ten years. He has written comics such as MUSCLES & FIGHTS, MUSCLES & FRIGHTS, VINCENT PRICE PRESENTS TINGLERS & WITCHFINDER GENERAL, THE DEATHSPORT GAMES, WONDERLAND ANNUAL 2010 & NANNY & HANK (soon to be made into a feature film from Uptown 6 Films). He is also a regular writer for FAMOUS MONSTERS OF FILMLAND & has co-written their first ever comic book LUNA: ORDER OF THE WEREWOLF (to be released in late 2012 as an 100-pg original graphic novel). Mark has just announced his new comic book miniseries GRIMM FAIRY TALES PRESENTS THE JUNGLE BOOK from Zenescope Entertainment to be released March-August 2012. Also look for Mark's exciting arc on GRIMM FAIRY TALES #76-80 which begins in August 2012.
---
Find more AICN HORROR including an archive of previous columns
on AICN HORROR's Facebook page!