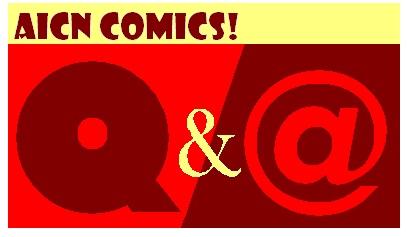 @@@ What the &#$% is AICN COMICS Q&@? @@@
---
Q's by The Dean!

@'s by DRONES' Chris Lewis!
Hey there, comic lovers and aspiring creators! The Dean, here, sharing a recent email chat I had with DRONES creator Chris Lewis. Chris's story is an inspiring one for those of you whose heads have been flooded with great ideas from years of reading comics, but just can't muster up the drive to actually put pen to paper and write one of your own. Afraid you'll pour your heart into your creation, and then won't be able to find anyone to publish it? Do it yourself, you clod! Chris is also the founder of Epigamics, through which he published DRONES, and whose website features a really cool preview of the series (below), as well as news and information about the man, his work, and other various extras or behind the scenes looks.

DRONES is the War on Terror Vegas style, and it's every bit as riveting, fun, and wildly unpredictable as something with that description should be. I had a really great time with this series, and found it to be one of the most polished indy titles I've ever read. This is a high-caliber debut, and I suspect we'll be seeing much more from Lewis and the creative team behind DRONES soon, but for now, check out the interview below, and then head on over to www.epigamics.com for more.

THE DEAN: Let's jump right into it – tell us about yourself! What's your story, and what drew you to the paneled pages?
CL: Well, I'm an Oregonian living in the wild land that is Deutschland. It's the age old story of boy meets blonde, blonde drags boy across the pond, boy doesn't speak the language, boy tries his hand at writing comic books. I started writing about six years ago and haven't looked back since. It's funny knowing that Portland is the place to be for comics right now, but I was only into reading them when I lived there. I didn't start writing until I got to Germany. I think it was the isolation, being away from home, friends and family that sparked the desire to create something instead of just sitting on my ass all day. Now it's my goal to return to Portland with a stack of books that I've written, which will help me cope with the silence that greets my arrival on the local scene (sob).
I got into comic books by going to 7-11 and seeing the monstrous Brood-Wolverine on the cover of UNCANNY X-MEN #234. I don't think this was the first comic book I ever read, but it's definitely the first one I bought with my sweets money. And it's the one I'll show people when they ask...because it's way cooler than C.O.P.S. #3 featuring the Pied Viber and his robotic rats. Yes, I did have to look that up on Wikipedia, because who remembers C.O.P.S.? Not me.
DEAN: Haha, I don't remember C.O.P.S. either, but I'm not surprised to learn that it was written by Doung Moench - if there's a series or storyline that I've never heard of before, or that I'm remembering from my childhood, it is almost always written by either Doug Moench, or Bill Mantlo.

Anything going on in German comics that our readers and myself should be aware of? Have you had the chance to explore that yet? There's so much to keep up with just within the U.S., and then Canadian stuff comes through pretty easily, but if it's overseas and not distributed through an American company, there's a good chance I'm missing it.
CL: German comics? There's a TON of great work being produced over here, but I don't have a clue where to start. The Frankfurt Book Fair is coming in October (along with one of my faves - Roger Langridge!) and one of the German comics up for a prize is Steam Noir by Mertikat and Schreuder. Looks really interesting. There's a nice convention in Munich every other summer and I'm going to hit that up next year to try to meet some local talents. I'll keep you posted!
DEAN: You're still pretty fresh off the con in Baltmore, so how did that go? Was it your first time promoting your work at a convention like that? Tell us about that experience, because I'm sure cons are much different when you're confined to a booth or table trying to promote something.
CL: Baltimore, home of Natty Boh beer and Old Bay seasoning! It was my first time in the city and my first US show, so there was a lot to take in. The convention itself was spectacular. I had only previously exhibited at the Kapow Con in London, but Baltimore seemed to be about five times the size of that show. I can highly recommend it for independent creators. People were really open to new ideas, and once I started mentioning the goat in my story I started selling like crazy! You have to find a unique angle for your book. I tried to focus on drone warfare as Las Vegas entertainment, but that wasn't enough. Once I added the goat to the mix it was suddenly interesting. And I'm ok with that!< br>
The only problem, as you mentioned, was the fact that I wasn't able to get out and share my book with a lot of people in the industry. I'm sure those people, however, were happy not to have another book shoved in their faces. And I'm sure that Scott Snyder didn't need another drunk guy mumbling praise as he exited the Hyatt bar on Saturday night. But I'm still learning. Anyway, all in all it was a big success. The biggest highlight had to be meeting my fellow Comics Experience workshop members. These people have been involved with DRONES from day one, critiquing my scripts and providing insights about every aspect of the industry. Until Baltimore they were just digital friends, but after the con on Saturday night we were able to share a few pints like one big thirsty family.
DEAN: Tell us a little more about about how DRONES came about - where did the idea come from and did you find it changing much as it found its way to the printed page?
CL: The story came from the headlines we regularly see on the news. As I did more research on drone warfare I stumbled across the amazing "Wired For War" by P.W. Singer. Go read this book. It's an informative and frightening look at the present trajectory of warfare and how it affects society. And once I found out that some of these Air Force pilots fly their missions from a base outside of Las Vegas, things just started to fall into place. I mean, how strange is it that people are performing this surreal job next to the weirdest place on the planet? Once Vegas is involved you basically have to include madcap mayhem, drunkenness, high-wire performers, and a tragically naive Celine Dion figure, all of which appear in DRONES.
The book actually started out as a dark high-school love story if you can believe it! I had this kid in suburban Vegas accidentally stumble upon a downed Predator drone and use it to get revenge on the girl who snubbed him. Crap, basically. The next version focused too much on a plot point that, while serious, didn't have anything to do with this story. Namely, the sad fact of civilian deaths in these "precise" strikes. Jim Zub, of SKULLKICKERS fame, was nice enough to flay the script for issue one before we got too far along with the art, and I was able to complete a panicked rewrite before the print deadline for the Kapow Con in London. He seriously saved my ass. Thanks, Jim!
DEAN: I was really impressed with the art here, too. You really got a great team helping you bring the series to life, so how did you find these guys, and then how did the creative process change once everyone got involved?
CL: Thanks! The guys are doing such an amazing job with the book. I just got final pencils from Bruno for issue three and it's the best work he's ever done. Just beautiful. And he's hooking me up with original art so he's basically the coolest collaborator in the history of mankind!
I found Bruno via a job posting on Digital Webbing. He was one of the hundreds of people who responded in the first few hours, and while I recognized something special about his work, I actually wrote back and told him he wasn't right for this project. Over the course of the next few days I kept coming back to his work on Deviant Art and realized that he could definitely capture the bizarre nature I was going for.
E.T. Dollman is a godsend who has worked with many of us on Comics Experience. The guy is a true professional when it comes to lettering, and he's done all the work getting the files ready for the various publisher submissions, digital distributors, printers...you name it. Just look at that logo! Bless you, Mr. Dollman.
Jon Hogan was recommended by a mutual acquaintance as somebody who was hungry to make his mark in the illustrious world of comic book editing. He pulled me away from some stupid places and really understood the kind of vibe I was going for. My goal has always been to NOT tank his future career, and I hope I succeeded!
Cabral, he of the single Brazilian name, came into this at the end of the process. Bruno had put a lot of work into coloring the first issue, but money and time were getting tight and I decided to scrap the flat colors he was using and instead go with a b/w version for the Kapow Con. It was a last minute decision, but I loved Bruno's line art and was happy to show it off at the convention. The decision was vindicated by the people at the show who just gushed over his pencils and ink washes. After the show, however, I realized that we needed some vivid colors to really make the book pop and convey the over-the-top nature of the setting and tone. Cabral was, and is, the perfect guy for this. After kicking ass on issue one, he sends me an email containing two, TWO amazing pinups for the book! The guy can draw as well? Dude is talented.
DEAN: What about the publishing aspect? Did you shop the story around much before deciding to self-publish and create Epigamics?
CL: I decided to self-publish DRONES right from the beginning, knowing that it would be difficult for a first-timer to land a deal with a publisher. My goal has been to do my own thing, get the work out there, and show editors that I have the desire and knowledge to see this project through to the end. I don't think I even sent out the first submission until issue one was printed. It's an ongoing process, though. I'm still working on a couple submission packages and hope to keep building interest all the way through to the release of the tpb. Once I have that in my hands DRONES will be a success, no matter if it's picked up or not (but I'm still anxiously awaiting your emails, publisher people!).
DEAN: You mentioned Roger Langridge being one of your favorites earlier - and I'm on board with you there, I'm still heartbroken that THOR: THE MIGHTY AVENGER was so short lived - but who else inspires you? Who is the one writer out there that you'd be most blown away by having your work compared to?
CL: Kool Keith. Really. His music is some of the best sci-fi I've ever heard. With comics, though, I'd probably say Joe Casey. He just does his own thing and isn't afraid to unzip his pants and lay it all on the table. I'm also a big fan of Fred Van Lente (MODOK's 11, anyone?), Jonathan Hickman, Jason Aaron, and Rick Remender.
DEAN: Now being in Germany, do you get to keep up with all the big two stuff as easily, or at all? What are you reading nowadays, and then what are your thoughts on the current comic scene - New 52, Marvel NOW, the indy scene, etc.?
CL: It's all available over here. My Big 2 purchases have dwindled in the last year, though, as I've completely lost interest in the never ending 3.99 summer blockbuster crossover. Marvel still produces some great work on the 2nd-tier titles, and I'm hoping that continues with the NOW rebranding. Image is where it's at in my opinion. MANHATTAN PROJECTS, PROPHET, CHEW, and SAGA all make me tingly inside.
DEAN: Finally, what's next for you? DRONES is a blast, and I'm sure it'll be a success for you, so what are you we going to be seeing your name pop up on next?
CL: Thanks so much for the kind words. Regarding what's next, that is something I ask myself every day. DRONES was a blast to write and I'm really busy at the moment seeing it through to completion, trying to get the word out, etc. Like every other writer I know I have a list of projects I'd like to do, and all of them are begging for my attention. Boring answer, but I'm struggling with the choice! Whatever I decide to do, it's definitely going to be shorter than DRONES. Probably a couple of one shots and then I'll be pitching pitching pitching in the background.
DEAN: Well I'm excited to see what's ahead for you, and wish you all the best in getting the trade out. Thanks for your time! You can follow Chris on twitter @relicswish, and like Epigamics on facebook at www.facebook.com/Epigamics. Go check out DRONES #1 now, available through iTunes, Graphicly, and at comics.drivethrustuff.com!
---
Editing, compiling, imaging, coding, logos & cat-wrangling by Ambush Bug
Proofs, co-edits & common sense provided by Sleazy G
Check out AICN COMICS on Facebook and Comixpedia.org!