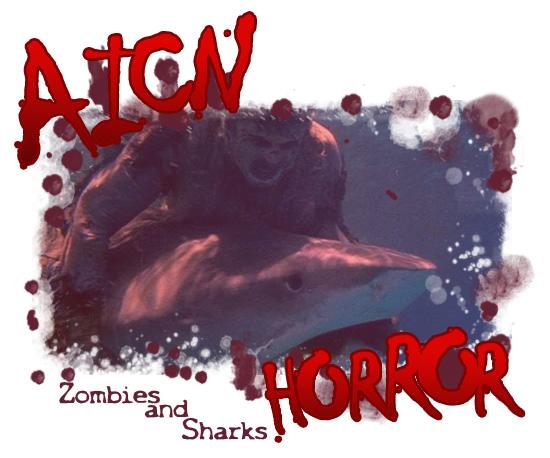 Logo by Kristian Horn
What the $% is ZOMBIES & SHARKS?
---
Greetings, all. Ambush Bug here. Always hoping to pass on new and exciting films for all of you ravenous readers in search of worthwhile horror, I decided to compile a list counting down to my favorite horror covered in AICN HORROR: ZOMBIES & SHARKS since October 1 of last year. Some of these films might be new to you since there isn't a lot of horror in theaters these days that aren't toothless remakes or watered down sequels. Theaters aren't where the horror is at these days, I'm afraid. Some of these films have only seen the light of day on Video on Demand or simply go straight to DVD/BluRay. I've also compiled a few films I've seen advance screenings of at festivals and I'll try to update you when you can see these films when I can.

As far as how I compiled this list? Well, I simply looked over my AICN HORROR columns over the last year and worked and reworked a list until I had 31. No real method to my madness. We'll be counting down every day until Halloween toward my favorite horror film of the year. I'll also provide a second film suggestion for those who can't get enough horror that has something to do with the film I chose that day.

So let's get to it! Chime in after the article and let me know how you liked the film I chose, how right or wrong I am, and come up with your own list…let's go!
NUMBER 26!
I had the privilege of seeing an early cut of SATURDAY MORNING MASSACRE, a new film currently touring festivals, and while I tried to stay away from picking films that haven't been released yet, I couldn't help but include this clever, hilarious, and gory romp of a film. Stay tuned to future AICN HORROR columns for the whens and wheres you can see the film, but trust me, it's one you're going to want to check out.
Below is my review of the film which I wrote back in June
.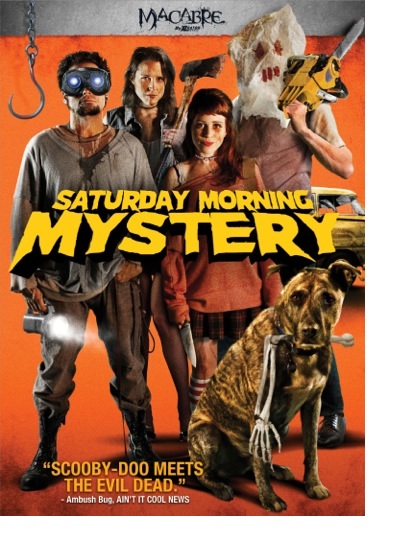 SATURDAY MORNING MASSACRE (2012)
Directed by Spencer Parsons
Written by Spencer Parsons, Jonny Mars, Jory Balsimo, Aaron Leggett, Jason Wehling
Starring Ashley Rae Spillers, Jonny Mars, Josephine Decker, Adam Tate, Paul Gordon, Sean Ryan, Heather Kafka, Hamlet as himself
Find out more about this film here!
Reviewed by Ambush Bug
Come this Halloween when I start to compile my list for the best horror films of the year, SATURDAY MORNING MASSACRE is sure to be among them. Stemming from all sorts of horror conventions and current trends, this film by Spencer Parsons is fresh, funny, and most importantly scary. Just as CABIN IN THE WOODS played with pastiches of the horror genre, SATURDAY MORNING MASSACRE takes all that we love about horror and turns it on its ear, proving that there is a reason these trends became what they are in horror and proof positive that given a fresh set of eyes and a talented set of folks, even the most tried and true stories can still be effective.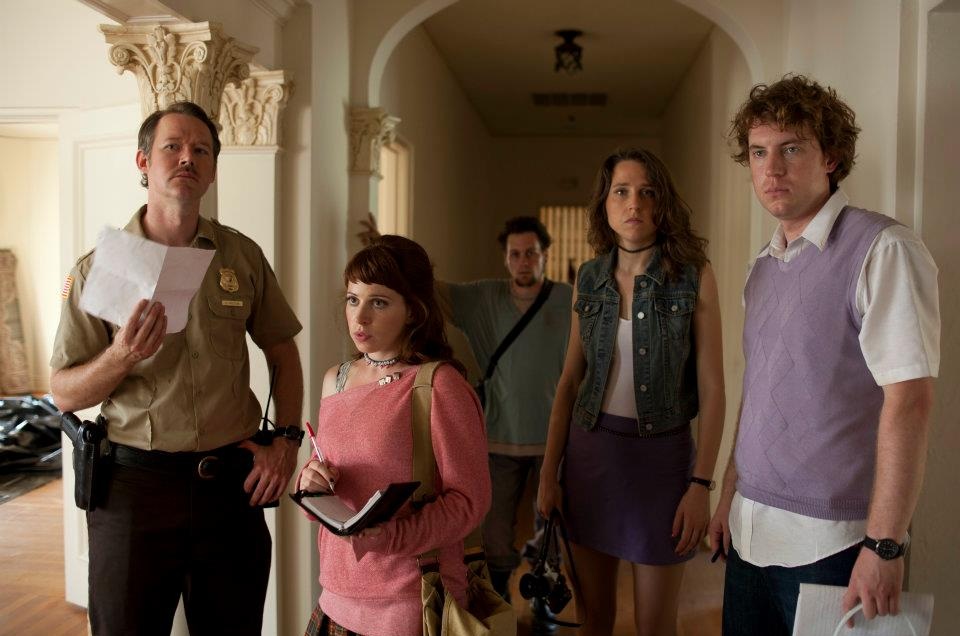 What I love most about this story is that it unapologetically is a SCOOBY DOO remake. No it's not Matthew Lillard and a CGI Scoob aping across the screen in sanitized and boring action. SATURDAY MORNING MASSACRE is a rated R version of the SCOOBY DOO movie I as an adult who love horror have longed to see. It takes the current trend of following a band of ghost hunters, but zigs and zags all over the place, making your expectations its bitch in the process.
The performances by the four cast members--Ashley Rae Spillers (Nancy who is this film's version of Velma), Jonny Mars (Floyd, our Shaggy), Josephine Decker (Gwen, who's a lot like Daphne),and Adam Tate (Chad, who is our Fred), are what makes this film a standout. Each of the team embodies the Scooby Doo cartoon, yet makes them more personable. The attraction between Chad and Gwen is there, but there's also some complications as we find out Gwen cheated on Chad once and Chad resents it. It's the fact that these characters really seem to have lived a life off screen and that we are just privy to a snippet of it here that makes them all the more believable.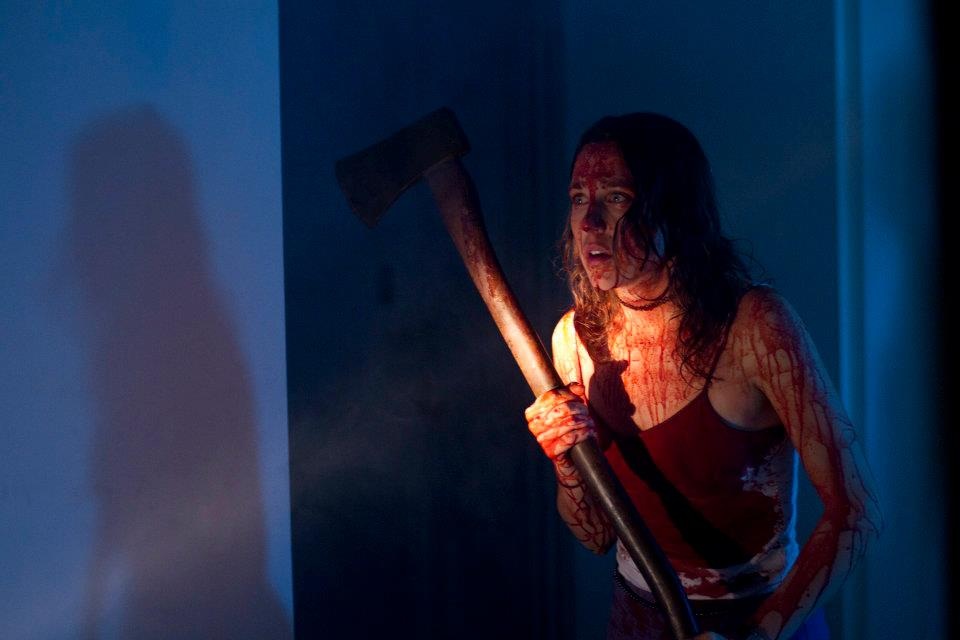 Like Scooby and the crew, Nancy, Gwen, Floyd, Chad, and their faithful dog Hamlet set out to find ghosts, but soon found that ghosts don't exist. Their detective work has uncovered a lot of Old Man Jenkinses who try to scare folks away in order to set up moonshine stills, child porn rings, and drug cartels. And they would have gotten away with it, too, if not for those meddling kids. When the team's funding goes dry, they take a job at an abandoned school house with a horrible history of violence and soon they begin to question that they might have actually found an actual haunted house. SATURDAY MORNING MASSACRE plays on everything we know and love about those old SCOOBY DOO cartoons and makes them real and horrific.
The humor in this film is so, so good. It's not gut busting humor nor is it grossout humor. It's not particularly goofy either, but more of a subtle sense of fun that one might find in THE OFFICE or A WET HOT AMERICAN SUMMER. No one in the film is trying to be funny. The humor comes from the situations that arise and the matter of fact way it's processed and approached by this talented cast. There are some fantastic moments of comic timing that I won't ruin in this review, but will definitely cause you to laugh out loud. There are also subtle performances that are sure to stand out, particularly by the monotone police officer (played by Paul Gordon) as he takes the team on a tour of the abandoned house, pointing out "We found a leg over here." as if he were reading instructions on how to program his television.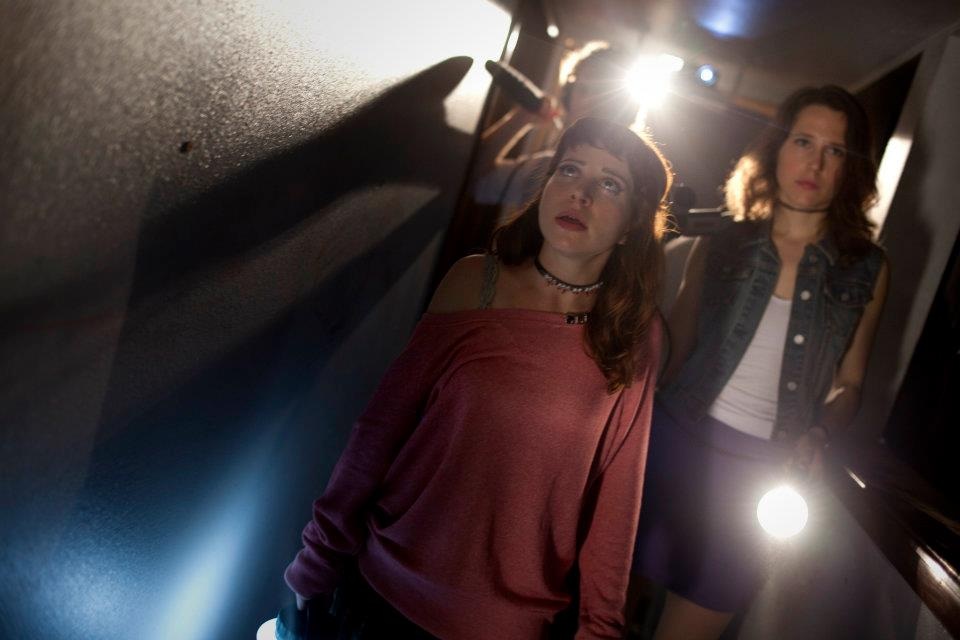 Most horror comedies are either heavy on horror and light on humor or vice versa. This one has heaping helpings of both as the tone of the film shifts and shifts again as soon as the real terror is revealed. Though some might find this shift in tone rattling, I loved how things get dire with a quickness and the level of intensity slowly builds from movement or shadows in the background and then comes smashing to the forefront by the end of the film. There is a level of energy to this film that I have seen in few other films this year, and though CABIN IN THE WOODS dealt with a lot of SCOOBY DOO themes, that film falls more under parody while SATURDAY MORNING MASSACRE is undeniably a full fledged horror film. There were moments that made me genuinely jump and other instances of gore that will cause stomachs to churn.
Do what you can to see SATURDAY MORNING MASSACRE. You'll laugh. You'll jump. You'll whisper "Cool" under your breath. It's playing at the LA Film Festival this weekend and if you're in the area and love horror, this is the one you don't want to miss. It is original in its comedic voice, talented performances by the cast, and sheer ballsiness to be an unabashed hard R episode of SCOOBY DOO, and like a cat plopping a mangled rat into your lap, is damn proud to gross you out and cause you a start. Don't miss this film. It's one of the best I've seen so far this year and when it's available, I'll definitely be letting you all know.
There's no need for all horror films to be all heavy handed. The darkly, humorous tone SATURDAY MORNING MASSACRE takes reminded me of another hilariously scary gem and one of my all time favorite horror films, MOTEL HELL (
reviewed here
). The film is available on DVD and there's even talk of a remake in the works, but the original always makes me laugh at how devious it is. No Halloween would be complete without a visit to old Farmer Vincent's farm for a few of his famous fritters.
The Countdown so far…
#27: SPIRIT STALKERS
#28: THE MOTH DIARIES
#29: THE SLEEPER
#30: THE AGGRESSION SCALE
#31: SICK BOY
---
See ya tomorrow, folks, with number 25 of the best of the best covered in AICN HORROR since last year!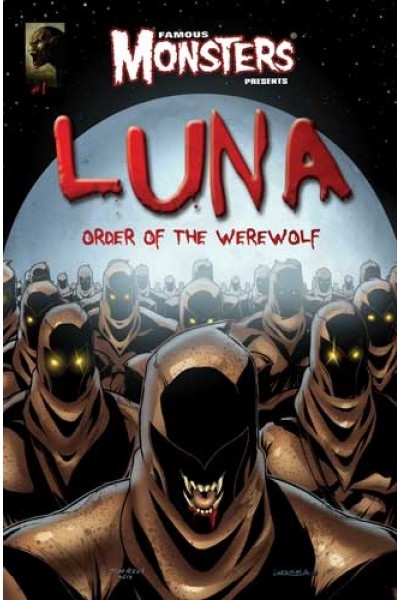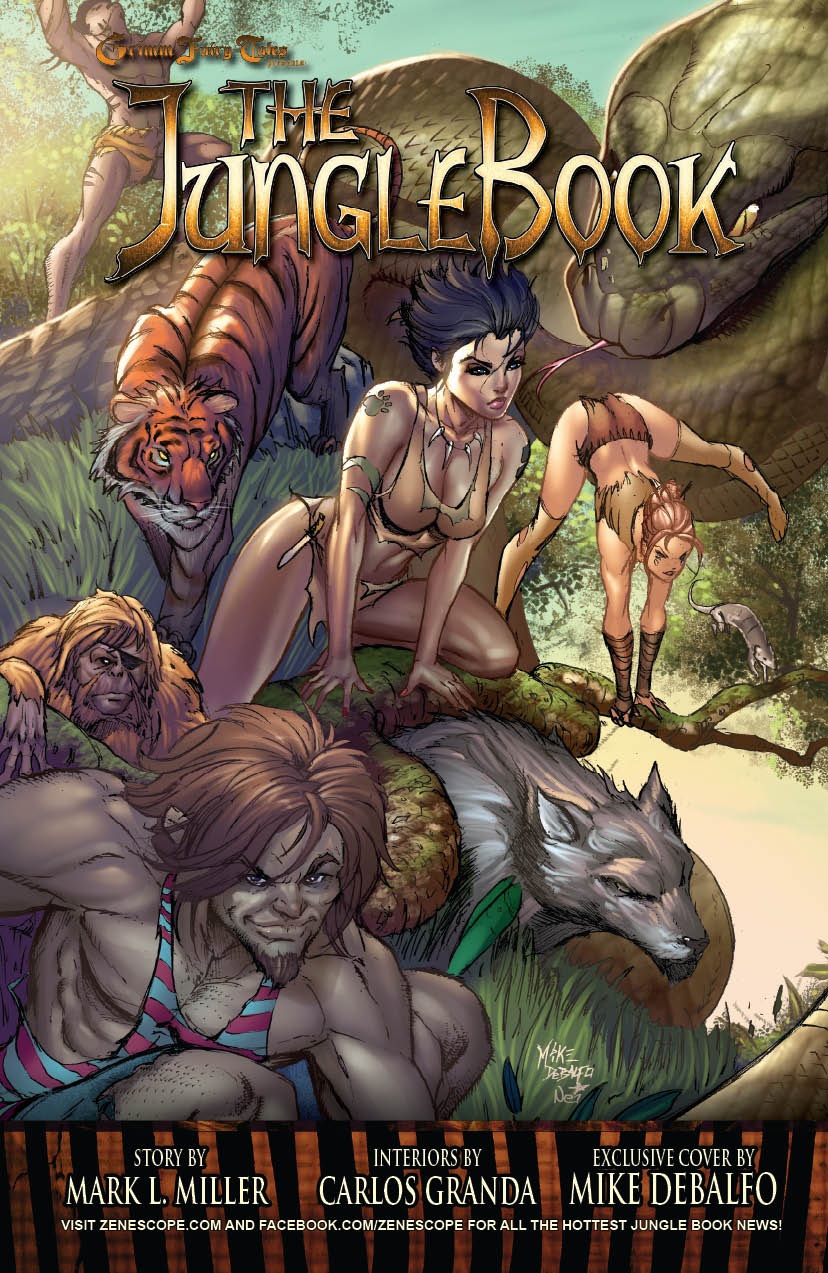 Ambush Bug is Mark L. Miller, original @$$Hole/wordslinger/reviewer/co-editor of AICN Comics for over ten years. He has written comics such as MUSCLES & FIGHTS, MUSCLES & FRIGHTS, VINCENT PRICE PRESENTS TINGLERS & WITCHFINDER GENERAL, THE DEATHSPORT GAMES, WONDERLAND ANNUAL 2010 & NANNY & HANK (soon to be made into a feature film from Uptown 6 Films). He is also a regular writer for FAMOUS MONSTERS OF FILMLAND & has co-written their first ever comic book LUNA: ORDER OF THE WEREWOLF (to be released in late 2012 as an 100-pg original graphic novel). Mark has just announced his new comic book miniseries GRIMM FAIRY TALES PRESENTS THE JUNGLE BOOK from Zenescope Entertainment to be released March-August 2012. Also look for Mark's exciting arc on GRIMM FAIRY TALES #76-80 which begins in August 2012.
---
Find more AICN HORROR including an archive of previous columns
on AICN HORROR's Facebook page!