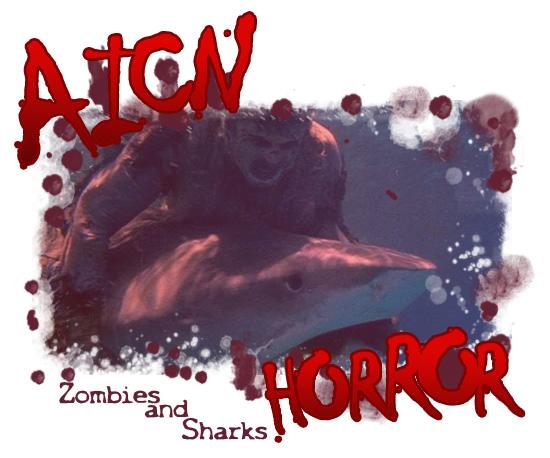 Logo by Kristian Horn
What the $% is ZOMBIES & SHARKS?
---
Greetings, all. Ambush Bug here with another AICN HORROR: ZOMBIES & SHARKS column. This week we've got another grab bag of gory goods for you all to check out. But before we do that…there's this!
---
I'll be checking out ALMOST HUMAN, a sci fi/horror old school hybrid film which reminds me a lot of FIRE IN THE SKY which I think is an underappreciated gem. If you are interested in what you see in the trailer, check out
the Facebook page
for more info!
---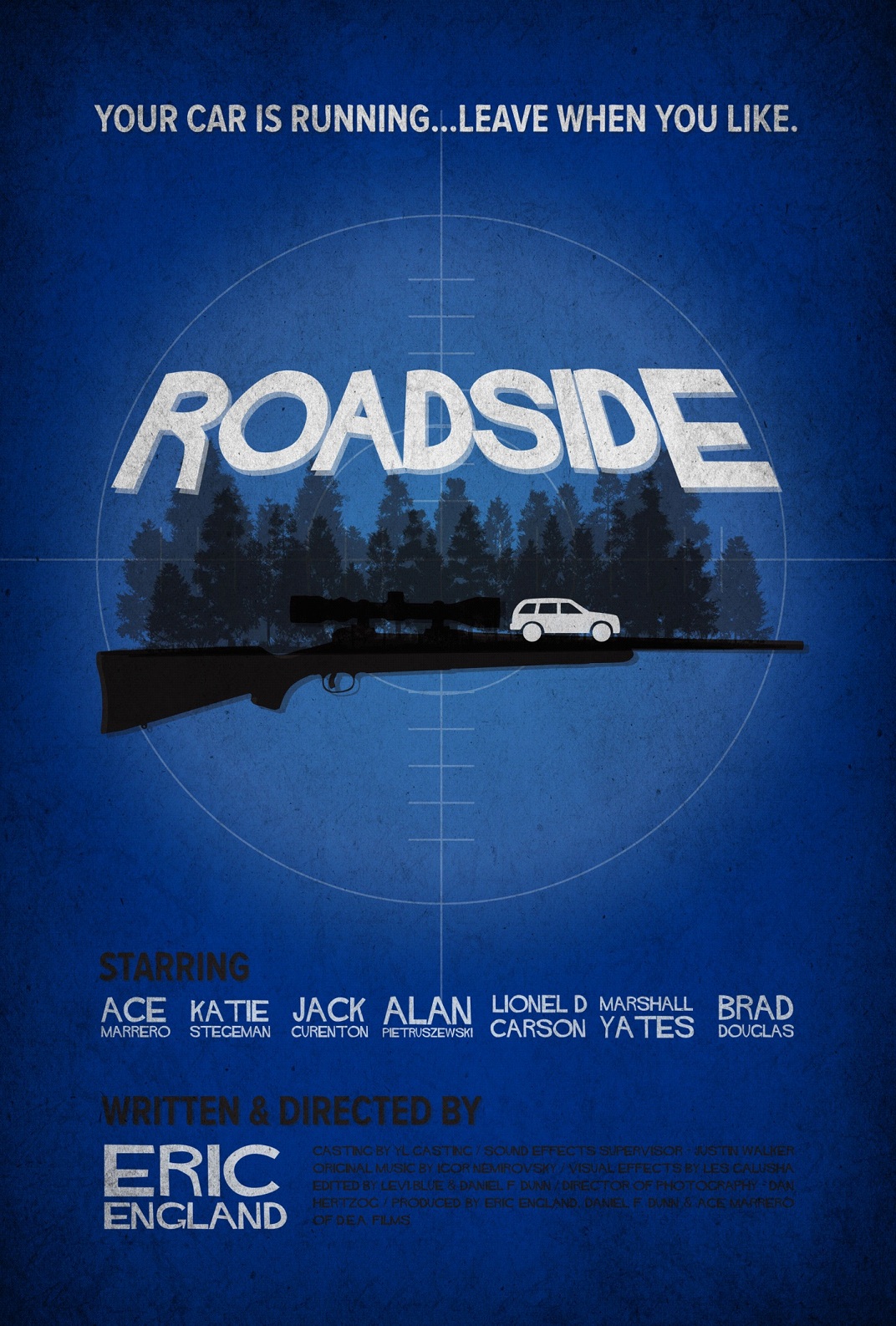 Here's the trailer for the new film, ROADSIDE, which looks to be about a couple stranded on the side of the road in the middle of nowhere by a madman with a gun. It's simple, but the trailer looks tense as hell. Check out the trailer below and let me know what you think…
---
Here's another new trailer for a Victorian Era horror film called A SWEET AND VICIOUS BEAUTY. I like the way this indie flick looks and hopefully will be checking it out for review very soon. Find out more about this film
on its website here
and
on Facebook here
!
---
I also got a release about the third in a series of films I've covered on AICN HORROR since it began. NINJAS VS MONSTERS is the follow-up to NINJAS VS ZOMBIES and NINJAS VS VAMPIRES. The Red Carpet WORLD PREMIERE of NINJAS VS MONSTERS the movie debuts October 14th at the Spooky Movie Festival in Silver Spring, Maryland at the AFI Silver Theater. The evening's events will begin at 5pm with a Filmmakers Summit hosted by horror director Eduardo Sanchez (BLAIR WITCH PROJECT, LOVELY MOLLY), followed by the premiere of A SWEET & VICIOUS BEAUTY, and finishing at 9:45pm with the world premiere of NINJAS VS MONSTERS directed by Justin Timpane.
Here's the synopsis of the film; Proudly produced entirely in the Washington DC Metro Area, NINJAS VS MONSTERS offers a fresh take on classic movie monsters with a Martial Arts twist. Tired of being thwarted by the heroic NINJAS, DRACULA hatches an evil scheme to erase them from existence. Aided by FRANKENSTEIN, the MUMMY, the WOLF, and a trio of deadly, sexy WITCHES, Dracula challenges the NINJAS to combat for the right to have ever existed. The NINJAS, in their darkest hour, form alliances with former enemies and a band of Monster-Hunting Mercenaries led by the mysterious MASERO and the beautiful STEP. As simple combat erupts into all out war, the NINJAS battle monsters in this smart, funny, bloody and exciting Action/Horror/Comedy from the creators of NINJAS VS ZOMBIES and NINJAS VS VAMPIRES.
Find out more about this film and how to get tickets to the event here!
And check out this hilariously awesome exclusive video clip from the band SolarIce whose single "Until We Drop Down Dead" is in the movie! SolarIce might be my new favorite band.
---
So many festivals in October, so little time. If you're in Burbank, CA and like indie horror, then you need to check out
ZedFest an annual celebration of indie horror features and shorts
. Slide over to the website to check out all of the cool films playing the fest including; COST OF THE LIVING: A ZOM ROM COM, DEATHUMENTARY, PRESIDENT WOLFMAN, & ZOMBIE eX's. Sounds like an awesome event and it happens Saturday October 27th!
---
Though it's not horror, filmmaker Andy Dodd (who did the horror short LULLABY which I played a while back at the end of my column) has an Indigogo campaign to complete his short film IT'S A LOVE THING, a romantic 80's style comedy about a young boy and girl brought together by their love of sci-fi. Sounds fun. Check out the preview below
and if you like what you see, go to the Indiegogo page and support the film
!
---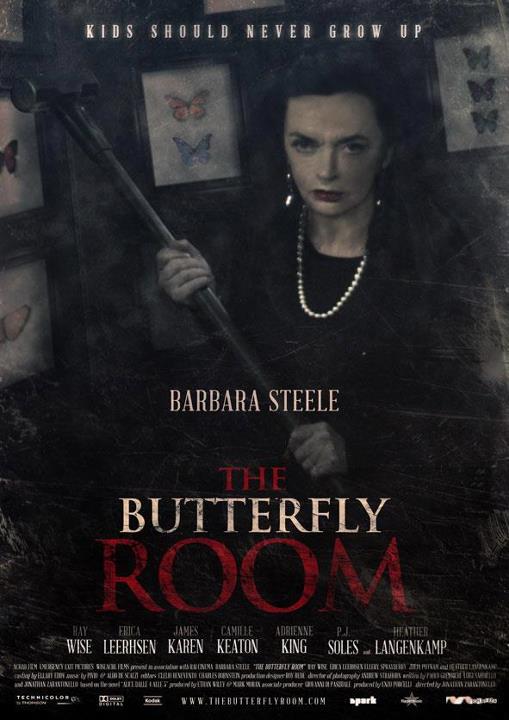 Finally, check out this trailer for THE BUTTERFLY ROOM, a film which impressed the hell out of me and will definitely be showing up on my list for top horror films of the year. This trailer gives me chills. I can't wait for folks to be able to see this one. The movie, that won Dresden's Cinestrange and the Youth Award at the Neuchatel International Fantastic Film Festival, is screening next week on the opening day of the 45th Sitges Fantastic Film Festival, where Barbara Steele will be granted the "Time Machine Award".The Butterfly Room will then continue its festival tour in Europe and America.
Find out more info on THE BUTTERFLY ROOM here
.
Today on AICN HORROR
(Click title to go directly to the feature)
Retro-Review: LISA & THE DEVIL/HOUSE OF EXORCISM (1974)
BARRIO TALES (2012)
EVIL INSIDE (2011)
THE BIG BAD (2011)
HYPOTHERMIA (2010)
CHAINED (2012)
And finally, an AICN SHORT PREMIERE of Lonnie Martin's COUGARS!
---
Retro-Review: Available this week on BluRay from Kino Lorber/Redemption!
LISA & THE DEVIL/HOUSE OF EXORCISM (1974)
Directed by Mario Bava & Alfredo Leone
Written by Mario Bava, Alfredo Leone, Alberto Cittini, Giorgio Maulini, Romano Migliorini, Roberto Natale, Francesca Rusishka
Starring Telly Savalas, Elke Sommer, Sylva Koscina, Robert Alda, Alessio Orano, Gabriele Tinti, Kathy Leone, Eduardo Fajardo, Franz von Treuberg, Espartaco Santoni, Alida Valli
Retro-reviewed by Ambush Bug
This trailer has Lisa, the Devil, and BOOBS! NSFW!
Though I've seen tons of Bava films, LISA & THE DEVIL and its American counterpart HOUSE OF EXORCISM has eluded me through the years. For a long time, I believed them to be two separate films, but having seen both films back to back, I've been set straight. I believe as I understand it, the studios felt Bava's original story of LISA & THE DEVIL to be too obtuse and surreal, so they decided to cash in on the theme of demonic possession which had become the new thing in Hollywood after THE EXORCIST by adding additional footage to Bava's piece and renaming it HOUSE OF EXORCISM. The result is basically two completely different films, despite the fact that both films have almost entirely the same footage. The only difference being that HOUSE OF EXORCISM has added footage of Elke Sommer contorting around on a bed, swearing to a priest, and spitting green slime all over the place.
The main story is very dream like as Elke Sommer's Lisa wanders off from a tour group and gets lost in the back alleyways of Rome. She happens into a shop and finds a bald man buying a mannequin. The bald man is the spitting image of a painting of a devil Lisa sees moments earlier. He also looks a lot like Kojak.
Telly Savalas does a fantastic job of chewing up the scenery in this one, even popping his Kojak trademark lollipop into his mouth a few times as a wink to his fans. He plays the devilish man servant to a reclusive old Countess (Alida Valli) and her weirdo sweaty son Max (Alessio Orano). Lisa, having lost her way in the labyrinthine streets, accidentally kills a man, then flees, only to be picked up by a couple (Eduardo Fajardo and Sylva Koscina) who are having marital problems of their own. When their car breaks down, they are forced to stay the night at the Countess' castle, but soon realize that they have walked into a nightmare.
LISA & THE DEVIL follows a pretty dense plot of interwoven relationships and sordid secret trysts, paving the way for deviant and homicidal behavior. The characters relate to one another in different ways throughout the story, some trusting strangers, others secret lovers, while others are bitter enemies. Though easy to follow, it is very dreamy, with characters acting in ways that feel as if they are in some kind of dreamy trance. The film is even filmed in soft light, highlighting an otherworldly glow on the actors and the atmosphere around them.
Add the additional footage and slapping on HOUSE OF EXORCISM on the cover only makes these complex relationships between the characters all the more hard to keep track of. Because scenes are cut midway through to check back into a hospital bed to watch Lisa contort and swear like a some amalgam of a drunken sailor and a spitting Cirque du Soleil acrobat is downright distracting. The fact that scenes are blatantly ripped off of THE EXORCIST makes me dislike the added scenes all the more.
LISA & THE DEVIL is a very surreal film, with dreamy sequences, warped reality (there's an especially cool and strange ongoing effect of the mannequins becoming humans, then turning back again), and perverse thrills scattered throughout and only loosely threaded together as if we are following Lisa down a trip through the rabbit hole. But still, it is simple and easy to follow. Adding the additional scenes to make it more like THE EXORCIST made HOUSE OF THE DEVIL all the more lesser of a film especially when viewed side by side with the Bava's original cut.
Still having a BluRay offering both looks is a cool way of seeing the studio process at work. It's a flawed but fascinating look at the decisions made behind the curtain and I wish more films offered these original vs. altered takes on films as this LISA & THE DEVIL/HOUSE OF EXORCISM does.
More Lisas, more devils, more bOObs! NSFW!
---
New on VOD from Phase 4 Films!
BARRIO TALES (2012)
Directed by Jarret Tarnol
Written by Brent Tarnol
Starring Alexander Aguila, Carson Aune, Adam Beesely, Hunter Cope, Ana Corbi, Isait De La Fuente, David Fernandez Jr., Maritza Graciela, Aaron Jaeger, Fabian Lopez, Oscar Lopez, EJ Marin, Christopher Meyer, Scott Pollard
Reviewed by Ambush Bug
Giving voice to a culture that is often underrepresented and over simplified in modern mainstream films; BARRIO TALES gives us horrors from a South of the border feel. While I applaud this type of film being made, it is, in the end, a mixed bag when it comes to quality, as are most anthologies. The bookend story focuses on a pair of privileged, white, rich kids who go to Mexico in search of cheap drugs. While waiting for the dealer, a creepy guy sits and tells them stories to pass the time. Not the most original way to bookend these short stories, but it gets the job done.
The rest of the films, as with the bookends, have one common theme; white America is bad. Not that I don't agree that in many ways, Mexican people have been persecuted through the years, but responding in kind is not really the most beneficial way to go to move us forward as human beings. There really isn't a white person that isn't downright despicable in this film and yes, they do represent the stereotypical bigoted, privileged, hateful ways with which some racist white people have been known to act. But if there would have been one decent white person represented in this film, my gringo ass would have felt a bit more comfortable watching BARRIO TALES. Though the argument that Mexicans have had to sit through ages of stereotypical portrayals in scores of films, again, I feel it a step backward in representing the other side of the coin in such a negative light.
But that's just me singing campfire songs and wishing for world peace. Enough with all of that. How do these short films stack up?
The first short, "Maria" is filled with stereotypes as some more rich white kids party in a mansion and end up treating their Mexican maid in a racist and demeaning manner, ending in her death. There's not a lot of story here other than the maid's death and the revenge put upon them by her bruja (witch) aunt. Though the acting is above average, the story is pretty shallow.
My favorite is "Uncle Tio's Tacos", because it takes a simple and well worn concept of the cannibal butcher right under our noses, serving human meat to unsuspecting and drooling customers. Though the acting is not as good as in the first segment, the horror is much more fun with a nice nod to SOLIENT GREEN as one nosy kid repeats "The tacos are people!" over and over upon him uncovering the truth. Again, though, this was not the most dense of stories, but it did have a taco vender serving gringos their own asses to eat, which has devilish coolness to it.
"El Monstruo" is by far the most wicked of the three short stories and portrays whitey the most despicably as a group of racist good old boys offer jobs to a group of Mexicans illegally crossing the border only to lure them into slavery and torture at the hands of the legendary El Monstruo who is a precautionary tale told to young children. This segment is the most deftly handled in terms of story complexity and delivery. Sure, it's a typical tormented turning the tide against the tormenters, but still it works the best of the three tales.
BARRIO TALES is not a terrible anthology, but the especially bitter slant against whitey left a bit of a bad taste in my mouth. Had as much attention been given toward the horror, the story, and the acting, as it was on contempt for a specific race of people, I believe it would have been a much more enjoyable film.
---
New this week on DVD!
THE EVIL INSIDE (2011)
aka DEAD INSIDE
Directed by Pearry Teo
Written by Jennifer Zhang
Starring Hannah Ward, Matthew Mercer, Rayne Bidder, James Lim, Jennifer Zhang, Tara Strand, Sage Howard
Find out more about this film here!
Reviewed by Ambush Bug
I didn't know what to expect coming into EVIL INSIDE formerly known as DEAD INSIDE. The trailer made me think it was going to be a SIXTH SENSE sort of deal, but after seeing the film, I have found that if I go in knowing next to nothing about the film, I usually enjoy it a whole lot more. That said, I will go into a little detail about the film, or rather, the aspects of it that I enjoyed the most.
The story follows Sarah, mentally disturbed young girl who is left alone over the weekend to be babysat by a childhood friend who hasn't seen her in years. What could go wrong? In horror, mix mental illness with a babysitter and things always come out hunky-dorey, right?
Wrong. When they decide to have a little party which Sarah at first is ok with, but as soon as she starts seeing visions of her new friends impending deaths, the party comes to a crashing halt. Then the kids find out they are locked in the house with crazy Sarah and that's when shit gets interesting. The best thing about this film is the fact that Sarah simply predicts these events, yet she is labeled a witch as if it were Medieval times and pretty much prosecuted as such by her peers. In many ways, director Pearry Teo from Jennifer Zhang's script depict teenage hierarchy pretty accurately and the actors playing the teens, though most of them don't look so much like teens, they do act as such, talking about sex, drugs, and treating life or death situations in a manner that seems scary and foreign to them.
Add some fantastic atmosphere in a house that seems to have a minimum amount of light bulbs and an overabundance of dark corners, and you've got a nice moody little fright flick. What works in the film is all of the parts with Sarah played by Hanah Ward, who does creep well and knows how to shake and whimper like the best of them. The rest of the cast are pretty good as well, playing most of the stereotypical teens, but doing so in a devious and despicable manner.
The main problem with this film, once it was over, is just that it kind of plays with your mind TOO much in that there's not really anyone to root for. Sarah is a victim of her prophetic visions, but is also somewhat of a lunatic as well. Surely the teens aren't the people to feel for as they are apathetic, shallow, and downright mean to one another throughout the film. If anything, you'll root for them to get what's coming to them when it comes to them. In the end, I felt some decisions were made that seemed a bit out of the blue. It's a somewhat striking revelation, but still, wasn't really necessary and somewhat lessens the impact of the events that lead up to it.
Still whether it's called EVIL INSIDE or DEAD INSIDE, there are enough dark moments and tense atmosphere to make this one of the better loopy girl in a spooky house movies I've seen.
---
New on VOD from Phase 4 Films!
THE BIG BAD (2011)
Directed by Bryan Enk
Written by Jessi Gotta
Starring Jessi Gotta, Jessica Savage, Timothy McCown Reynolds, Patrick Shearer, Alan Rowe Kelly, Rebecca Comtois, Brian Morvant,
Find out more about this film here!
Reviewed by Ambush Bug
As far as revenge films go, the formula is pretty well tread. Someone is living la vida loca and then someone comes along, out of the blue, and everything goes pear-shaped. After a bit of time of self doubt, self loathing, and a bit of hatred to the world and everything in it, the prey decides to take action against her predator and who usually ends up dying in an especially despicable manner.
THE BIG BAD follows this blueprint, but does so out of order, which makes it somewhat of a more interesting little revenge tale. In the story, Frankie (the plucky and energetic Jesse Gotta) is living out of her car and obviously in search of something. But the film takes quite a while before really cluing us in to what exactly that is. Instead, we get to see Frankie punish herself with alcohol and hang out in seedy bars. But sparks of her personality does shine though, making Frankie extremely likable and worthy of us as the audience to root for. She's sassy and not afraid to talk shit to anyone in her face, plus she can hold her liquor. Pretty soon, I was forgetting that this was a horror film and just having fun watching Frankie have fun in the bar. But this being a movie, the plot does eventually begin to unfold as we find out that Frankie is in search of a man of mystery she has long ties with and she runs into another woman (played by Jessica Savage channeling Joan Jett here) who has been done wrong by the man as well.
Just when you think this is going to be a bad girl flick, things get hairy and it's revealed that the man both of them are in search of is a werewolf. Now, this might seem to come out of the blue in this review, but in the film, it happens much more organically. Soon Frankie finds herself in the middle of the den of a whole slew of wolf people and fighting tooth and nail to get out in one or two pieces. The gore is nice but simple here, with some great eye gouging sequences. The werewolf makeup actually looks pretty decent too, though obviously the budget was low. Some clever and creative camera work does wonders to amp up the mystery of the characters and cover up all the spit and polish used to put this film together.
Not your typical revenge film in structure and with the added bonus of a bunch of werewolves howling around and clawing up the place, THE BIG BAD is not a bad little horror film. With some great performances by pretty much the entire cast and some talented camerawork under the direction of Brian Enk from a script by the lead actress, this is a smaller budgeted film that knows how to pack in scares and action.
---
New this week on DVD from Dark Sky Films!
HYPOTHERMIA (2010)
Directed by James Felix McKenney
Written by James Felix McKenney
Starring Michael Rooker, Blanche Baker, Greg Finley, Amy Chang, Asa Liebmann, Benjamin Forster, Don Wood,
Reviewed by Ambush Bug
A more appropo title would have been CREATURE OF THE FROZEN LAGOON as a sea monster terrorizes a group of ice fishermen when their loud music and machinery disturb its icy slumber. This old school, monster in scuba suit creature feature is a throwback, but it's a pretty fun one, at that.
Michael Rooker plays gruff like no other and here he does so with a side of nobility as the patriarch of a family set to have a nice vacation of sitting on ice and dangling a string on a stick into a hole for something I have come to discover can be bought at a local supermarket. Rooker and his family apparently didn't get this bulletin as they seem to take this ice fishing thing durn seriously, especially when it means they get to spend time with their grown son and his future wife. This family moment is interrupted by a father and son ice fisherman team who lead a much louder lifestyle. But it isn't just Rooker's quiet family outing the bawdy father and son rile up, a creature with black skin and rows and rows of teeth doesn't like all the noise too and is raring the do something about it.
Though not much is explained as to the why and what this black skinned, many toothed monstrosity is exactly, the movie is made up of some fun CREATURE OF THE BLACK LAGOON-esque moments as the man-monster leaps from the ice hole and attacks those above, pulling them to the briny depths below. There are well paced action shots a plenty in HYPOTHERMIA as the fishermen become hunters and eventually hopeful survivors of the fishy onslaught. These scenes make up for the ambiguity of the monster itself.
Little by way of explanation goes into why, after Rooker's character has fished at this specific lake for thirty years, does the monster show up at this particular moment? And why is it only attacking the male members of the fishing group, leaving the female squad alone? There are questions I would have liked answers to, but unfortunately, despite some decently stages action, the script becomes repetitive as one person is attacked and killed while another is left wounded, feeling effects from the monster's venom. This happens about three times in the film until there aren't many characters left.
For a while there, I thought HYPOTHERMIA was going to get clever. Rooker's character falls through the ice in the beginning moments and though he is able to pull himself out, he lays unconscious on the shore freezing. With a name like HYPOTHERMIA, I thought, maybe the ambiguity of the monster was indication that this was going to be more of a metaphoric tale and I would kind have dug this demonic black monster actually being the dying dreams of a freezing man. Unfortunately, this film is much too straight forward for all of that. Turns out it's just an action horror film with some nice action, decent acting, and a helluva cool looking monster.
---
New this week on DVD/BluRay from Anchor Bay Entertainment!
CHAINED (2012)
Directed by Jennifer Lynch
Written by Damian O'Donnell & Jennifer Lynch
Starring Vincent D'Onofrio, Eamon Farren, Evan Bird, Julia Ormond, Conor Leslie, Jake Weber, Gina Philips
Reviewed by Ambush Bug
After watching three of Jennifer Lynch's films, there's definitely a theme arising. Unlike most, I found BOXING HELENA to be a twisted little gem and Lynch's last film SURVEILLANCE proved to be an amazing exercise in mystery and suspense. But in both of those films, the main character is trapped in a prison and unable to leave the situation they find themselves in. In BOXING HELENA, Helena (Sherilyn Fenn) has her arms and legs amputated in order for her to stay in one place as an object for Julian Sand's demented character to possess. In SURVEILLANCE, the prison is much less literal, as a little girl is held in a police station and grilled by FBI agents about witnessing a murder. Continuing the trapped trend, Lynch brings us CHAINED this week.
CHAINED is another twisted little joint from Lynch, showing that unlike her father who is an expert in making the real surreal, Jennifer simply shows the ugly side of reality and does it extremely well. Vincent D'Onofrio plays Bob, a somewhat delayed man who drives a cab which he uses to pick up women and take them back to his place to rape and murder them. By some unlucky circumstance, Bob picks up a mother (Julia Ormond) and son (Evan Bird). After Bob does what he does best, he's left with the little boy who he decides to keep as a slave, chained to a bed in the kitchen. The film follows the son, who Bob dubs Rabbit as he grows up in servitude of the deranged man. Rabbit serves Bob beer, unlocks the door when he brings a new woman home to kill, and cleans up after the mess he makes with them. It's a twisted job, but through time, a somewhat disgustingly sweet relationship forms between Bob and Rabbit. Aside from all of the killings, beatings and rapings, Bob shows a sort of caring fatherly side towards Rabbit, and that's when things really get twisted.
To Lynch's credit, she actually makes this sick and twisted man somewhat sympathetic through flashbacks and tender moments he shares with Rabbit. This is also due to D'Onofrio's performance which reminds us that he is an absolutely fantastic actor in just about everything he's ever done. Bob becomes a pretty complex character by the end of the film and his actions, though misguided and warped toward Rabbit are actually some of the best fathering the boy ever received (as indicated in the opening moments as Rabbit's real father, played schmuckily by Jake Weber, shows no compassion toward him at all).
I wish I could say that this film was great from start to finish, but developments in the final act make things more complicated than they should have been. The revelation Rabbit comes to is out of left field, for the most part, definitely takes away from the rest of the film. That said, D'Onofrio's performance and Lynch's unflinching method of pointing her camera at extremely ugly things and forcing us to find beauty in it are reason enough to seek out CHAINED.
---
And finally…I caught COUGARS at a film festival a while back and thought it was a very cool throwback to AMERICAN WEREWOLF IN LONDON with a modern twist, some fun performances, and some awesome practical makeup effects. Now, director Lonnie Martin contacted me about premiering the short to everyone here on AICN HORROR. I gladly agreed. So here it is…Lonnie Martin's COUGARS!
See ya next week, folks!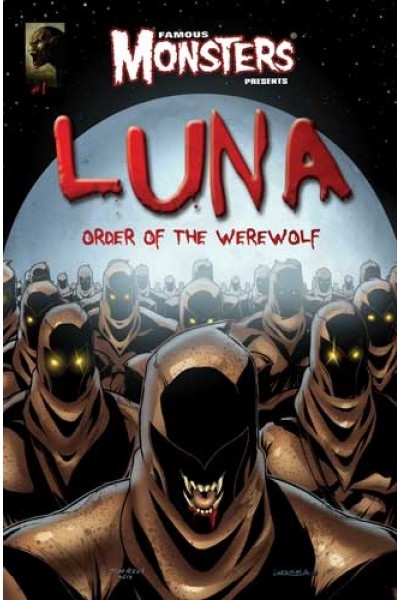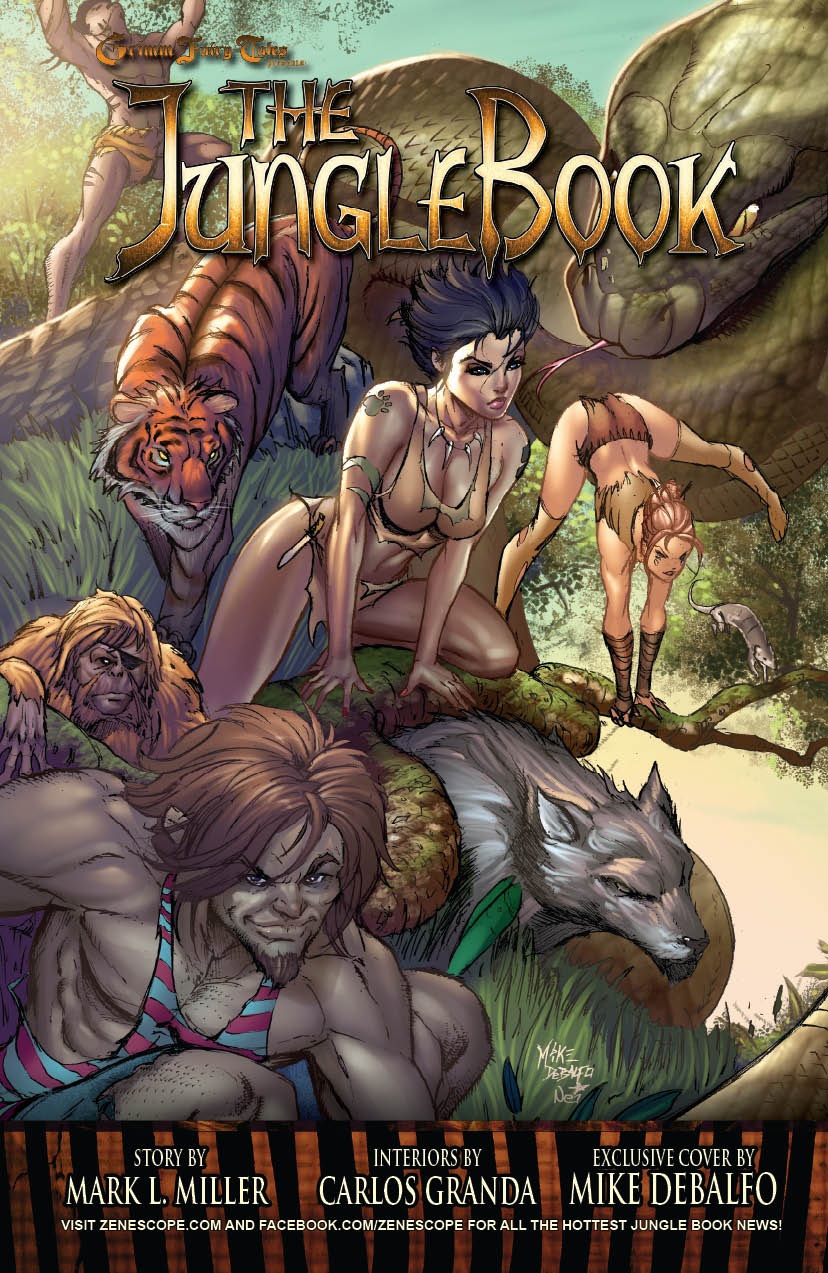 Ambush Bug is Mark L. Miller, original @$$Hole/wordslinger/reviewer/co-editor of AICN Comics for over ten years. He has written comics such as MUSCLES & FIGHTS, MUSCLES & FRIGHTS, VINCENT PRICE PRESENTS TINGLERS & WITCHFINDER GENERAL, THE DEATHSPORT GAMES, WONDERLAND ANNUAL 2010 & NANNY & HANK (soon to be made into a feature film from Uptown 6 Films). He is also a regular writer for FAMOUS MONSTERS OF FILMLAND & has co-written their first ever comic book LUNA: ORDER OF THE WEREWOLF (to be released in late 2012 as an 100-pg original graphic novel). Mark has just announced his new comic book miniseries GRIMM FAIRY TALES PRESENTS THE JUNGLE BOOK from Zenescope Entertainment to be released March-August 2012. Also look for Mark's exciting arc on GRIMM FAIRY TALES #76-80 which begins in August 2012.
---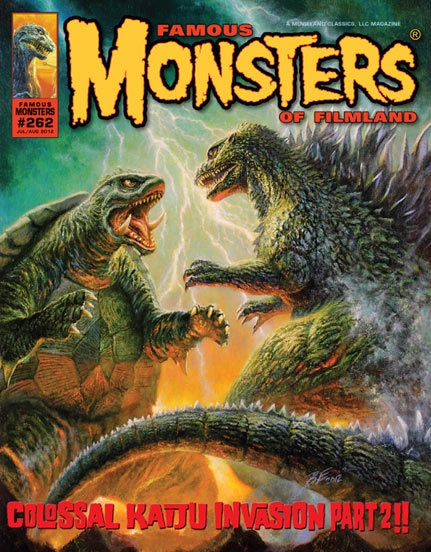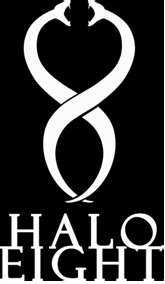 Check out the FAMOUS MONSTERS OF FILMLAND Website for all things horror!


Interested in illustrated films, fringe cinema, and other oddities?
Check out Halo-8 and challenge everything!



---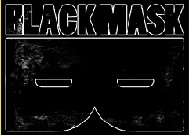 Find out what are BLACK MASK STUDIOS and OCCUPY COMICS here and on Facebook here!





---
Find more AICN HORROR including an archive of previous columns
on AICN HORROR's Facebook page!