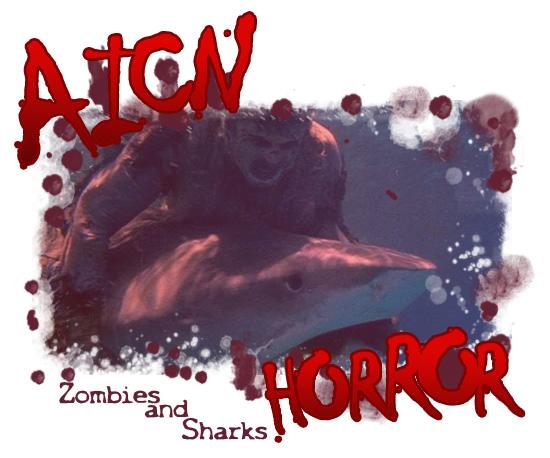 Logo by Kristian Horn
What the $% is ZOMBIES & SHARKS?
---
Greetings, all. Ambush Bug here. Happy Birthday to AICN HORROR which celebrates its second year in October! Always hoping to pass on new and exciting films for all of you ravenous readers in search of worthwhile horror, I decided to compile a list counting down to my favorite horror covered in AICN HORROR: ZOMBIES & SHARKS since October 1 of last year. Some of these films might be new to you since there isn't a lot of horror in theaters these days that aren't toothless remakes or watered down sequels. Theaters aren't where the horror is at these days, I'm afraid. Some of these films have only seen the light of day on Video on Demand or simply go straight to DVD/BluRay. I've also compiled a few films I've seen advance screenings of at festivals and I'll try to update you when you can see these films when I can.

As far as how I compiled this list? Well, I simply looked over my AICN HORROR columns over the last year and worked and reworked a list until I had 31. No real method to my madness. We'll be counting down every day until Halloween toward my favorite horror film of the year. I'll also provide a second film suggestion for those who can't get enough horror that has something to do with the film I chose that day.

So let's get to it! Chime in after the article and let me know how you liked the film I chose, how right or wrong I am, and come up with your own list…let's go!
NUMBER 30!
THE AGGRESSION SCALE has balls to spare and doesn't give a shit whose face they dangle it in front of. This awesome kid-Rambo home invasion film is from the director behind the upcoming SILENT NIGHT DEADLY NIGHT remake (now renamed SILENT NIGHT and I'm hearing damn good things about it). Miller is also still on deck to do the MOTEL HELL remake, which I'm itching to see. I chose this film because of the grit it has under its nails and the fearlessness in the way it puts children in peril.
Below is my review from June
.
THE AGGRESSION SCALE (2012)
Directed by Steven C. Miller
Written by Ben Powell
Starring Ray Wise, Dana Ashbrook, Fabianne Therese, Derek Mears, Ryan Hartwig, Jacob Reynolds, Lisa Rotondi, Boyd Kestner, Joseph McKelheer
Find out more about this film here!
Reviewed by Ambush Bug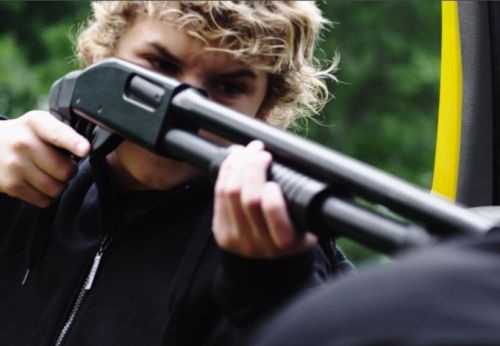 Steven C. Miller has been on my AICN HORROR panels quite a few times at SDCC over the past few years. He's a relatively new voice in horror who is about to make big waves as soon as his SILENT NIGHT (the remake of SILENT NIGHT DEADLY NIGHT) is released this December. But those looking to find out what kind of horrors the director is capable of should look no further than THE AGGRESSION SCALE, a ballsy home invasion film that pulls no punches with no fucks given.
The plot is somewhat simple. A mobster name Bellavance (Ray Wise) goes to prison and Bill a lower level employee (Boyd Kestner) takes his money and runs with it. Buying a new home, Bill, with a new wife Maggie (Lisa Rotondi) and her snotty daughter Lauren (Fabianne Therese), plans to start a new life, creating a nuclear family with his own troubled son Owen (Ryan Hartwig). Everything is hunky dory until a quartet of thugs show up to collect the cash Bellavance. What the thugs didn't realize was that the troubled teen is much more troubled than anyone had imagined.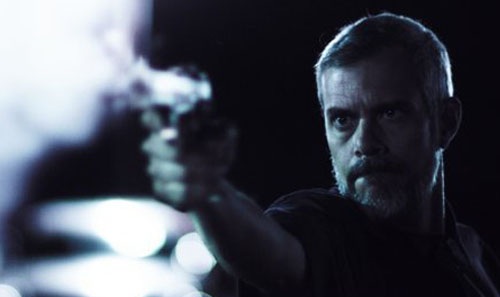 Sure, the plot serves as a twisted mirror image of HOME ALONE as a kid makes booby traps to thwart the bad guys, but never has a Rube Goldbergian mechanism been so devious or destructive as it is in this film. Hartwig gives a great performance as the silent but violent kid who is more like John Rambo than Macaulay Culkin as he whittles together booby traps that sear flesh, gouge hands, and shatter kneecaps of his pursuers. Turns out the kid is also pretty handy with a shotgun.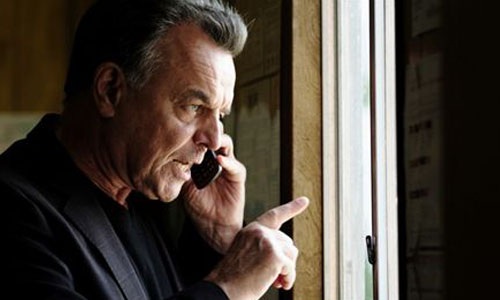 The cast of THE AGGRESSION SCALE is fantastic. Not only do we have Dana (TWIN PEAKS) Ashbrook, who is all snarls as the head baddie and sheds his boyish looks for a silver crewcut and beard, but we have a hockey maskless Derek (FRIDAY THE 13TH Remake) Mears offering a great performance as the muscle of the group. Rounding out the bad guys is the freaky kid from GUMMO, Jacob Reynolds, all grown up but still boyish in demeanor, which adds even more creepiness to his performance as thug three. Fabianne Therese is gorgeous but hard to like as the annoying sister, but given the despicable performances by the bad guys, you end up rooting for her by association to her badass stepbrother. And though his part is small, Ray Wise, as always, shines despicably as the mob boss.
THE AGGRESSION SCALE is a throwback film that lauds the gritty violence of the action films of the 70's and early 80's. Miller has shown that not only does he have a masterful handling of style and scare, but he can also do action with a confident hand. Lovers of hardcore action will want to put THE AGGRESSION SCALE on their must see list.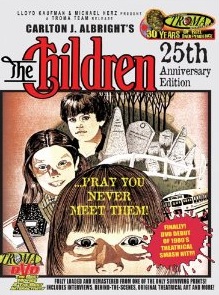 If you like kids gone wild and crazy, I suggest you go to the way back machine and check out THE CHILDREN (
which I reviewed here
). It's a batshit crazy film from the 80's about a bunch of kids whose school bus drives through a cloud of toxic smoke turning them into soul sucking monsters that cremate you through hugs! This film was recently rereleased by Troma and is one of those so bad it's awesome films you must see.
The Countdown so far…
#31: SICK BOY
---
See ya tomorrow, folks, with number 29 of the best of the best covered in AICN HORROR since last year!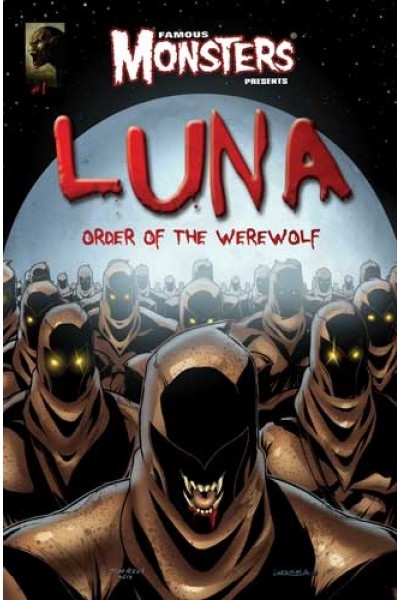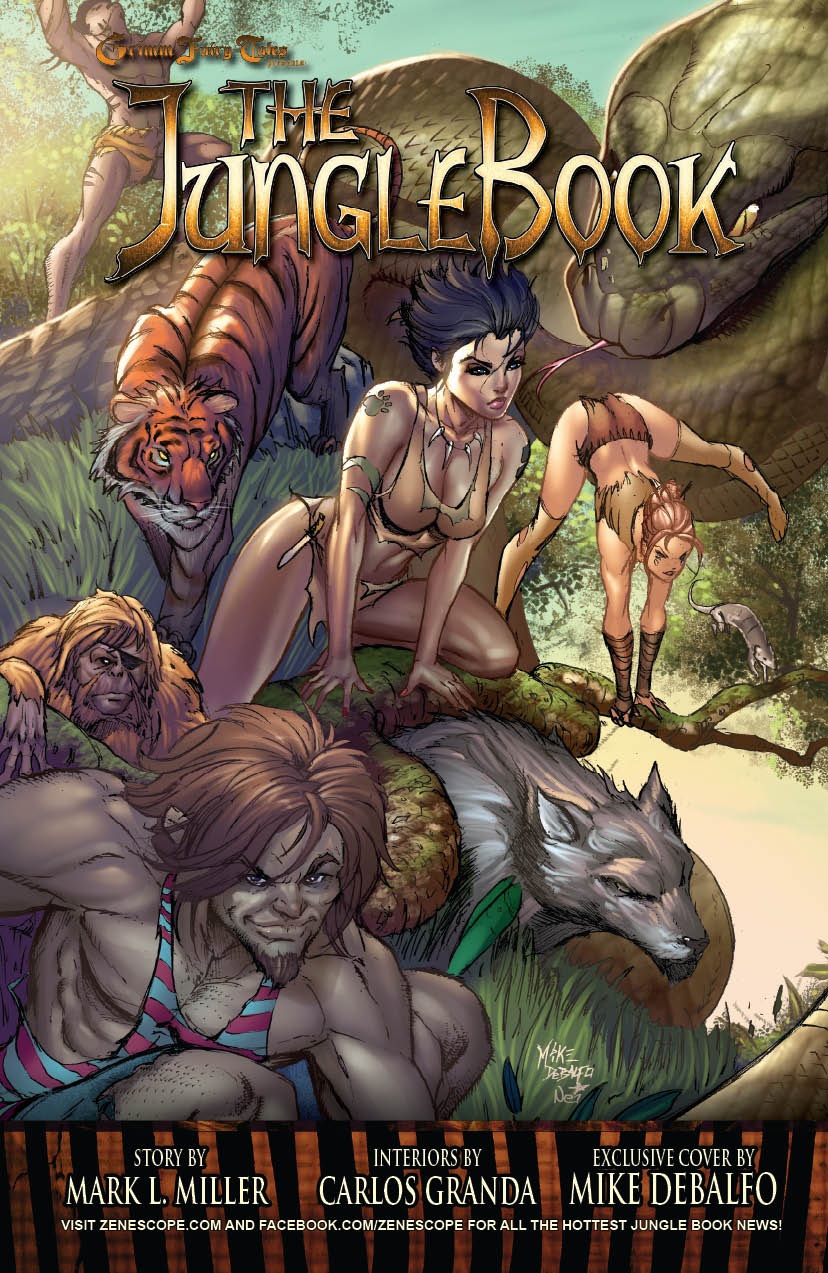 Ambush Bug is Mark L. Miller, original @$$Hole/wordslinger/reviewer/co-editor of AICN Comics for over ten years. He has written comics such as MUSCLES & FIGHTS, MUSCLES & FRIGHTS, VINCENT PRICE PRESENTS TINGLERS & WITCHFINDER GENERAL, THE DEATHSPORT GAMES, WONDERLAND ANNUAL 2010 & NANNY & HANK (soon to be made into a feature film from Uptown 6 Films). He is also a regular writer for FAMOUS MONSTERS OF FILMLAND & has co-written their first ever comic book LUNA: ORDER OF THE WEREWOLF (to be released in late 2012 as an 100-pg original graphic novel). Mark has just announced his new comic book miniseries GRIMM FAIRY TALES PRESENTS THE JUNGLE BOOK from Zenescope Entertainment to be released March-August 2012. Also look for Mark's exciting arc on GRIMM FAIRY TALES #76-80 which begins in August 2012.
---
Find more AICN HORROR including an archive of previous columns
on AICN HORROR's Facebook page!