Merrick here...
...with a SPOILER FREE review of The Angels Take Manhattan, the fifth of five new DOCTOR WHO installments airing this Autumn/Fall.
The next fresh episode - a DOCTOR WHO Christmas Special - will presumably transmit, well, this December. Almost certainly on Christmas Day (following a pattern established by previous DW 'Christmas Specials'). Said Christmas Special is said to re-introduce the lovely and intriguing Jenna-Louise Coleman to the series - as the Doctor's new companion. Coleman was first seen this Season/Series via a substantive surprise appearance in S7's opener, Asylum of the Daleks.
There will be a Docback for the Christmas Special this year...probably opening a day or two before the special actually broadcasts.
Next week, we'll return to our exploration of 'Classic' WHO with a look at the recently restored Vengeance on Varos (C. Baker, Story # 139). Truth be told, Varos will represent my first Colin Baker story. I'm carrying many pre-conception into my viewing of Varos, and am very curious to see how this story - and Baker's Doctor - will actually shake out.
That's next week. But for now...
THE FIRST FOUR EPISODES OF SEASON/SERIES 7 CAN STILL BE SEEN ONLINE...
Asylum of the Daleks (S07E01) HERE in HD and HERE in standard def.
Dinosaurs on a Spaceship (S07E02) HERE in HD and HERE in standard def.
A Town Called Mercy (S07E03) - HERE in HD, HERE in standard def!
The Power of Three (S07E04) - HD / STANDARD.
The Angels Take Manhattan - HD HERE, standard def HERE.
THE MOST RECENT EPISODE OF THE WHOTININNIES PODCAST IS ONLINE!!
In which A Site Called Fred's Ken Plume and I discuss fan/audience expectations of shows (DOCTOR WHO and more) and then unload on shitty Internet etiquett and message board conduct. More serious than our usual fare, but heartfelt, based on many years in the trenches, and we both stand behind what we say.
Find it HERE, while past installments are HERE.
THE BBC AMERICA SHOP IS HAVING A SALE!!
20% off all a lot of merchandise, including DOCTOR WHO awesomeness.
TARDIS beach towels!?!?!?? (WANT!) This 'Don't Blink!' shirt to commemorate this weekend's date with the Angels. So much more...
Enter promo Code FSO12 during checkout! Offer not valid on previous purchases, exchanges or special offers. Cannot be combined with other BBC America Shop promotion codes. For BBCCanadaShop.com, the promo code is FSC12.
Evidently, this sale ends October 1 - so move quickly if interested.
A MELODY MALONE MYSTERY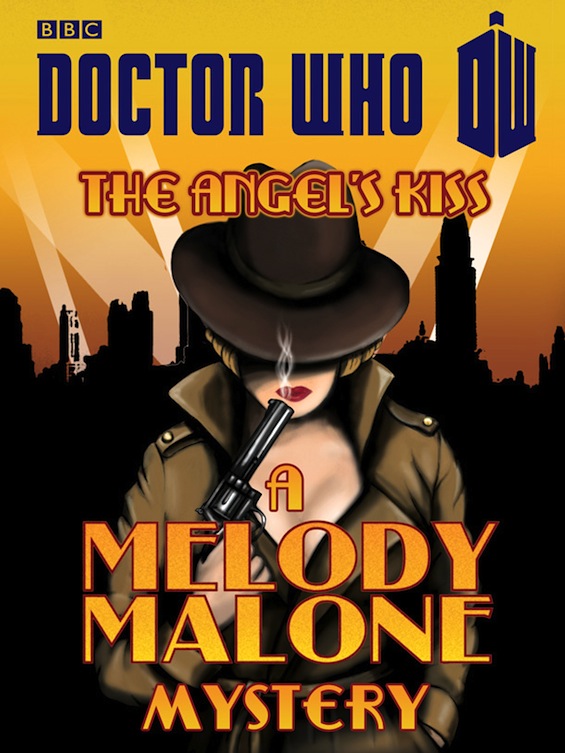 This is fun and clever, and will totally make sense to you after you watch The Angels Take Manhattan.
Per Random House's Australian website...
On some days, New York is one of the most beautiful places on Earth. This was one of the other days…
Melody Malone, owner and sole employee of the Angel Detective Agency, has an unexpected caller. It's movie star Rock Railton, and he thinks someone is out to kill him. When he mentions the 'kiss of the Angel', she takes the case. Angels are Melody's business…

At the press party for Railton's latest movie, studio owner Max Kliener invites Melody to the film set of their next blockbuster. He's obviously spotted her potential, and Melody is flattered when Kliener asks her to become a star. But the cost of fame, she'll soon discover, is greater than anyone could possibly imagine.

Will Melody be able to escape Kliener's dastardly plan – before the Angels take Manhattan?
Random House's Australian site already has this eBook available for pre-order HERE, and presumably it will also hit a variety of eBook stores (Apple? Barnes when it releases October 4!
AN IMPORTANT NOTE
RE: IMPENDING SPOILERS
Docbacks are regularly visited by participants from across the globe - which is tremendously cool. Global visitors are cool. Alas, DOCTOR WHO is shown in different times in different places across the world...
For example, it transmits in the UK early evening - which is early afternoon US time.
Accordingly...
This Docback will remain a SPOILER FREE ZONE until DOCTOR WHO's initial UK transmit (which occurs early afternoon Saturday, US time).
Once DW transmits in the UK, SPOILERS will be allowed in this forum. Thus, folks wishing to remain unsoiled by Angels Take Manhattan details until they've seen the episode for themselves may wish to tread very, very carefully if entering this Docback after late morning(ish) North American time.
Please note the Spoiler Warning Policy posted on the Code of Conduct below.
The Angels Take Manhattan - SPOILER FREE REVIEW
Much to my surprise, The Angels Take Manhattan is not a story in which Charlie's Angels are actually Weeping Angels, in Manhattan.
Yes, I'm joking about this expectation, although I'd suggest a CHARLIE'S ANGELS reboot featuring Weeping Angels in place of three beautiful women might be considerably more daring and far more interesting than any variation on the CHARLIE'S ANGELS premise we've see thus far.

With this out of the way....
The Angels Take Manhattan is an episode of bold vision and daring conception, forcefully (if not ingeniously) realized by returning director Nick Hurran (S6's The God Complex and The Girl Who Waited, and this years's Asylum of the Daleks).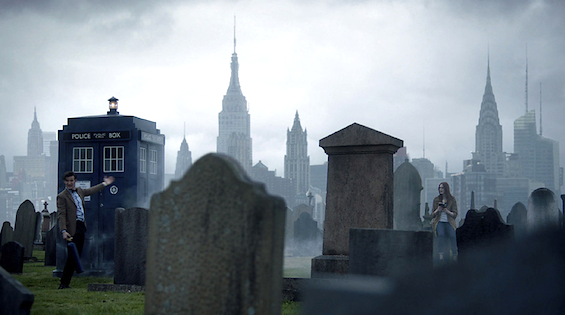 TATM shows the Doctor (Matt Smith), Amy (Karen Gillan), Rory (Arthur Darvill) and Melody/River (Alex Kingston) a very, very bad day. The kind of day only a very twisted and dark-spirited soul could conjure. Steven Moffat wrote this, and I'm thinking The Moff may need a hug. Everyone extend a cyber hug to The Moff via the Docbacks below. But, you know, keep it clean.
Yet within Angels' aggressive determination to shove its characters all the way through an emotional shredder, and then kick around the piece of what's left, there is still beauty...and no small portion of hope. Longstanding WHO tenets about love and dedication are pointedly re-validated here, and the relationship between a few of the show's regular characters are more clearly stated and sharply defined than ever before. More than being about time displacement or creepy alien 'don't blink' statue things, Angels in Manhattan is about love, commitment, and what they ultimately mean when all chips are down.
Last week's generally excellent The Power of Three began an emotional arc seen to fruition in Angels. While Power and Angels are more or less detached narratively, I very much feel the two work in concert together in a number of regards. As I wrote LAST WEEK, I view Power of Three as something of a pre-emptive wake for Amy and Rory's highly publicized departure from DOCTOR WHO. And, of course, it very much cemented an emotional undercurrent/backbone for what happens this weekend.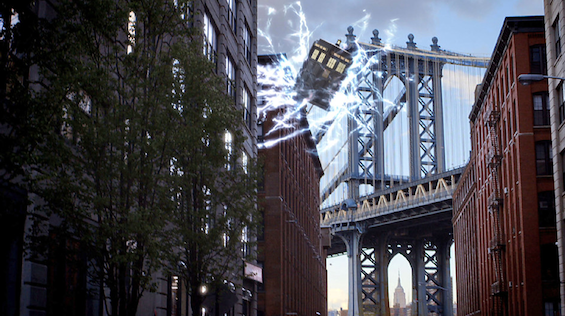 Performance are exceptional across the board, with a special emphasis and heartfelt tip-of-the-hat to Matt Smith and Karen Gillan - both of whom skillfully master this episode's abundant tonal shifts, mining them fully to bring about Angels' heart-wrenching and haunting power.
The Angels Take Manhattan is not an easy episode. When I say that it's not easy, I am referring to its emotional content...in part, at least...but chiefly to the ideas which fuel said emotional content. When I finished watching my screener Wednesday night, I wasn't sure how to react emotionally. My lady asked if I was OK...I suppose I was silent, or something. In that moment, I wasn't emotionally moved as much as I was compelled and seduced by some of the concepts which drive this story. There's something insidious about them...something a tad more disturbing than I was expecting. It was not until I was driving my dog to the vet the following morning that Angels' emotional component caught up with me...and floored me.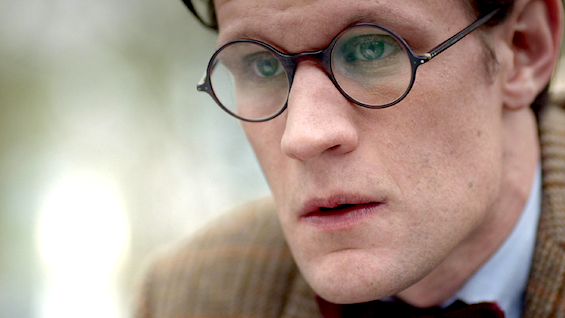 So, be prepared to travel a long arc with this one...your thoughts and feelings about Angels may shift as you move deeper into your processing of the episode. But do allow room for exploration of this one. It's very, very much worth it.
For its exit of Amy and Rory alone, Angels will undoubtedly be remembered as a hugely meaningful installment in DOCTOR WHO lore. Does this make it one of the best episodes ever? Hard to be certain at this juncture, but in the here and now, Angels is one helluva ride.
The Angels Take Manhattan. 9/8C BBC America (19:20 BBC One, 9/8C Space).
_________________________
NEXT WEEK
Vengeance on Varos (C. Baker, Story #139)
__________________________
___________
Glen Oliver
PREVIOUS DOCBACKS
[Season / Series Seven Docbacks - MOST RECENT DOCBACK IS HIGHLIGHTED]
[SEASON / SERIES SIX DOCBACKS]

"The Impossible Astronaut"

"Day of the Moon"
"The Curse of the Black Spot"

"The Doctor's Wife"

"The Rebel Flesh"

"The Almost People"
"The Doctor, The Widow and the Wardrobe" (2011 Christmas Special)
[RETRO-WHO DOCBACKS ]
"An Unearthly Child" (Story #1)
"The Daleks" (Story #2)
"The Edge of Destruction" (Story #3)
"Marco Polo" (Story #4)
"The Keys of Marinus" (Story #5)
"The Aztecs" (Story #6)
"The Sensorites" (Story #7)
"The Sensorites" (Story #7 - full DVD release)
"The Reign of Terror" (Story #8)
"Planet of Giants" (Story #9)
"The Dalek Invasion of Earth" (Story #10)
"The Rescue" (Story #11)
"The Romans" (Story #12)
"The Web Planet" (Story #13) / SHERLOCK - "A Scandal in Belgravia" (Story #4)
"The Crusade" (Story #14)
"The Space Museum" (Story #15)
"The Chase" (Story #16)
"The Time Meddler" (Story #17)
"Galaxy 4" (Story #18)
"Mission to the Unkonwn" (Story #19)
"The Myth Makers" (Story #20)
"The Gunfighters" (Story #25)
"The Tomb of the Cybermen" (Story #37)
"The Mind Robber" (Story #45)
"The Krotons" (Story #47)
"The Seeds of Death" (Story #48)
"Spearhead from Space" (Story #51)
"The Colony in Space" (Story #58)
"The Daemons" (Story #59)
"Day of the Daleks" (Story #60) + Preview of the DotD Special Edition
"The Three Doctors" (Story #65)
"Carnival of Monsters" (Story #66)
"Death to the Daleks" (Story #72)
"Invasion of the Dinosaurs" (Story #71) and SHERLOCK: "The Reichenbach Fall" (Story #6)
"The Android Invasion" (Story #83) and SHERLOCK: "The Hounds of Baskerville" (Story #5)
"The Face of Evil" (Story #89)
"The Robots of Death" (Story #90)
"The Talons of Weng-Chiang" (Story #91)
"The Sun Makers" (Story #95)
"The City of Death" (Story #105)
"Nightmare of Eden" (Story #107)
"Kinda" (Story #118)
"Snakedance" (Story #125)
"The Five Doctors" (Story #129)
"The Awakening" (Story #131)
"Frontios" (Story #132)
"Resurrection of the Daleks" (Story #134)
"The Caves of Androzani" (Story #136)
"Time and the Rani" (Story #144)
"Paradise Towers" (Story #145) + New WHOvian Documentary / Newsbits
"Dragonfire" (Story #147)
"The Happiness Patrol" (Story #149)
"The Greatest Show in the Galaxy" (Story #151)
"Doctor Who: The Movie" (aka TVM) - McGann)
DOCTOR WHO: THE COMPLETE SIXTH SERIES
Merrick's Personal Journey With The Doctor (How Merrick Got Hooked On DOCTOR WHO)
DOCTOR WHO Title Sequences & DW At Comic-Con 2011
"The Crash of the Elysium" (Manchester version - interactive DOCTOR WHO adventure)
Why Eccleston Left, Here Comes Caroline Skinner, And Season/Series Six Part 1 on Blu-Ray And DVD

New Trailer For Season/Series Six Part 2
The Companions of DOCTOR WHO + New Trailer & Artwork For Season/Series 7
DOCBACK CODE OF CONDUCT
1) a Docback should be about completely open and free discourse regarding all things WHO with, obviously, some variation on subject matter from time to time - the real world intervenes, discussions of other shows are inevitable, etc.)...

2) matters of SPOILAGE should be handled with thoughtful consideration and sensitivity.

Posts containing SPOILERS should clearly state that a SPOILER exists in its topic/headline and should never state the spoiler itself . "** SPOILER ** Regarding Rory" is OK, for example. "** SPOILER ** Battle of Zarathustra" is fine as well. " **SPOILER** Why did everyone die?" Is NOT good.
And, above all...

3) converse, agree, disagree, and question as much as you want - but the freedom to do so is NOT a license to be rude, crass, disrespectful, or uncivilized in any way. Not remaining courteous and civil, as well as TROLLING or undertaking sensational efforts to ignite controversy, will result in banning. Lack of courtesy may receive one (1) warning before a ban is instigated. Obvious Trolling or Spamming will result in summary banning with no warning. One word posts intended to bump-up any Docback's figures on AICN's "Top Talkbacks" sidebar will be considered actionable Spam - they not only complicate efforts to access Docback from mobile devices, but impede readers' abilities to follow or engage in flowing conversation.
In short, it's easy. Be excellent to each other. Now party on...