One of the coolest elements about this job is the joy of discovery, and never knowing how something one writes will be perceived...or resonate. This story encompasses both qualities.

For example: back in April, I posted a piece about amusement maestro / MASTERS OF THE UNIVERSE director Gary Goddard's now-defunct plan to construct a life-sized Starship Enterprise in Las Vegas (details HERE). In that article, I mentioned that Goddard was a creator of/driving force on the1980s TV series CAPTAIN POWER AND THE SOLDIERS OF THE FUTURE. I'd always kinda assumed CAPTAIN POWER was a 'Glen' thing, and that no one out there would either remember it - or gave a shit about it. Both of these assumptions were wrong. Very wrong.

Multiple enthusiastic Talkbacks and numerous reflective e-mails later, it became very evident to me that CAPTAIN POWER was not forgotten. In fact, it was still very much remembered...warmly so, in fact, by a great many people. And a few weeks after I posted that article, I learned that not only was CAPTAIN POWER fondly remembered...it was coming back. 
As a show called PHOENIX RISING!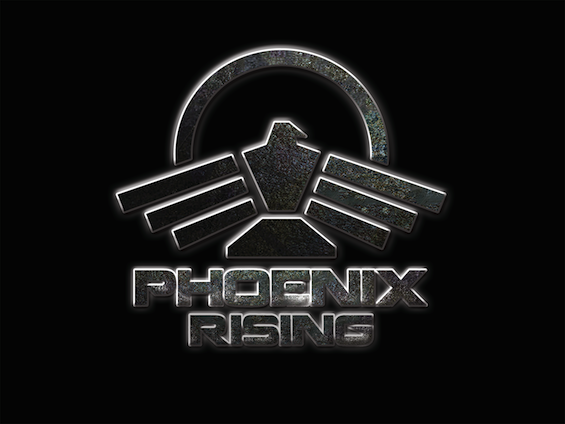 Seems the folks over at Goddard Film Group have been working on a new iteration of CAPTAIN POWER for some time. There are a number of currently-in-motion factors and details which can't be released at this time (like which networks are involved with the project, etc.) - but the folks over at Goddard have provided this short...yet official and formal...announcement to Aint It Cool News to get the ball rolling.

Goddard Film Group's producing team of Gary Goddard, Roger Lay Jr and Eric Carnagey are working with former Paramount Television Senior Executive Jeffrey Hayes, who was responsible for such television hits as STAR TREK THE NEXT GENERATION, FAMILY TIES, and CHEERS, to bring back Goddard's Sci-fi Cult classic CAPTAIN POWER AND THE SOLDIERS OF THE FUTURE in the form of a weekly one-hour drama series titled PHOENIX RISING.

They have enlisted writers/producers Judith and Garfield Reeves-Stevens to develop this next evolution of the series. Recent television credits for the Reeves-Stevens include creating the new science-fiction drama series PRIMEVAL: NEW WORLD, the North American spin-off of the UK hit PRIMEVAL. They also served as writers/producers on STAR TREK: ENTERPRISE for Paramount and RACE TO MARS for Discovery.
More details will be revealed soon...

So...CAPTAIN POWER AND THE SOLDIER OF THE FUTURE...now called PHOENIX RISING and presented as a weekly, one hour drama. This...is fascinating.

For those who don't fully remember CAPTAIN POWER, it was a television series which ran for one season back back in 1987-88. Set in a ravaged, post 'Metal War' future, the show followed Captain Jonathan Power and his squad of high-tech commandos as they battled humanity's subjugation by cybernetic devices and organisms.
While expressly positioned as a children's series (the show was structured to directly interact with a companion toy line - a gag which often didn't work out so well), CAPTAIN POWER gained quite a bit of attention and respect for being a surprisingly mature, unexpectedly gritty tale of struggle, combat, and sacrifice illustrating mankind's efforts to hold the line against technologically daunting adversaries. The show is often credited with assembling the super-team of John Copeland, Douglas Netter, and J. Michael Straczynksi - the guys who would, a few years later, bring us the groundbreaking, frequently wondrous BABYLON 5.

I've always felt CAPTAIN POWER was a concept...a universe...far grander and bolder than its toy-tie-in, 22 minute-an-episode format allowed writers and show makers to explore. As much as I enjoyed the series, and I very much enjoyed it, CP always felt like it suffered from an identity crisis. As if it knew it could be something greater, and was constantly resisting its constraints. I'm hoping this more adult, hour long, dramatic format will allow Goddard, Lay, and the Reeves-Stevens the freedom and breadth to not necessarily change CAPTAIN POWER, but more fully realize it. Which is, excitingly enough, what this hot-off-the-presses PHOENIX RISING promo video from the Goddard folk strongly implies...

The potential for hard-hitting badassity here...is pretty damn high. I'm very much looking forward to tracking this show, and seeing the POWERverse unfold once more in an embiggend and more fleshed out form.


A DVD set containing all episodes of the original series was issued not too long ago (and can be found HERE) , and an extensive CD featuring Gary Guttman's score for the show is just now seeing the light of day (find it HERE). Both would be excellent ways to refresh your memory about this rather remarkable show, or to introduce yourself to it for the first time.

I'd be inclined to point out how symbolic this new title seems. But, as I mentioned before, now...perhaps more than ever before...it's apparent that CAPTAIN POWER had never fully fallen into the ashes. 

More to come as we learn more...
___________
Glen Oliver