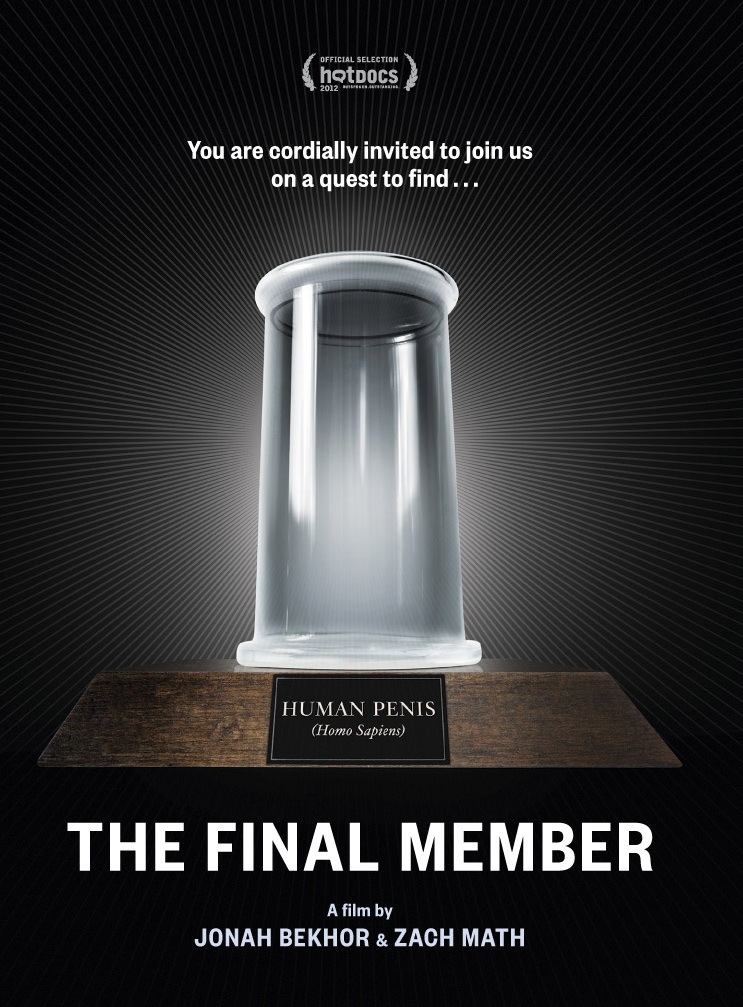 Nordling here.
No subject matter should be taboo, as long as it is handled with tact, dignity, and respect. So here we have THE FINAL MEMBER, a movie about the world's first penis museum, and its curator's search for the last piece for his collection, and it's one of the best documentaries to come around in a long time.
Yeah, make your jokes. Hell, the curator, Sigurdur Hjartarson, might even join you. It's not like he doesn't have a sense of humor about the whole affair – he knows how strange his hobby is. But Siggy, as his friends call him, is also a man of science and knowledge, and he feels passionately that there is nothing that shouldn't be explored by rational minds. He's collected every penis he can, of all shapes and sizes, from the smallest mouse to the largest sperm whale, and he happily displays them all in his Icelandic Phallological Museum. Ask him about a particular piece, and he'll tell you all about it – the animal's sexual habits, how he received each piece, and he speaks from a place of intelligence and passion. But he's also in on the joke as well.
But his museum is missing the one crucial piece that will complete the collection – a human penis. Since they come somewhat attached, Siggy has to wait for someone to die and donate his penis to the museum, and Siggy thinks he's found his donor in Pall Arason, a hero in Iceland who managed to open up the dangerous highlands to tourists. He's also claimed to have had sex with over 300 women, so he's rightfully proud of his penis and what it's done for him in his life. But he's also 93, and he's happily willing to donate it to the museum, where his wonderful penis can be immortal.
However, there's a distinct possibility that his penis may not be big enough to be approve for entry – believe it or not, according to Icelandic law, there's a "legal length" of 5 inches for a penis to qualify officially as a penis, and if it's less than that, it's not possible for donation. This law is spelled out in a very funny sequence that might have men around the world desperately reaching for the ruler to make sure that they have a penis that meets the legal standards.
If Pall falls through, there's always Tom, the American, who is so proud of his penis that he calls it "Elmo" – Tom assures us that he named it well before the Muppet from Sesame Street came onto the scene – and will happily donate his penis as well. He's so eager to donate it that he wants to have it removed before death, and just to make sure that people know that it's an American penis that people will be seeing, he has it tattooed. Tom has a fascination with his own penis that some would call unnatural, making all sorts of strange demands on Siggy on how it is to be displayed to visiting hours in the off season. So THE FINAL MEMBER becomes an odd race against time to see which penis will become part of the museum first.
Yes, it's a bizarre subject at the very least, and if you don't laugh at some part of THE FINAL MEMBER you just might be some kind of humorless bastard. Those with an aversion to penis in all its shapes and forms will probably feel a little uncomfortable, but what's remarkable about the documentary is that it treats its subjects very seriously even through the absurdity of it all. In fact, we begin rooting for Siggy in a big way – like it or not, he's something of a hero and a champion of knowledge and truth, even if it takes us to places we might not want to go.
But the true strange character of the movie is Tom, who is far more obsessed than is probably normal, and yet he does come from a place of pain and sadness. Through failed relationships and marriages, his penis may be the only thing that hasn't failed the man, and when it's revealed that he may have more of a motivation than we thought, his own journey becomes oddly poignant. He's still quite an odd duck though, and even Siggy gets frustrated in his dealings with him.
THE FINAL MEMBER might not be a movie for the squeamish, but it's surprisingly not as difficult to penetrate as you might expect. The directors, Jonah Bakhor and Zach Math, treat each of their subjects with sensitivity and never treat them like a joke. Because of that, the humor of the film (and there is a lot of it) doesn't come from a place of meanness. THE FINAL MEMBER is well aware of how absurd it all is. In its later scenes, the audience becomes incredibly invested in Siggy's quest and root for his success – Siggy comes from a place of passion and truth and demands that even if we can't take him seriously, that we take the subject seriously and with respect.
THE FINAL MEMBER is truly an innovative documentary – very reminiscent of the work of Errol Morris in that it never forgets that its subjects are very real people and that they come from places of real passion and curiosity. It's well worth the time of any audience brave enough to approach it with maturity and grace, and yet also uproariously funny in how it tells its story. It's seriously one of the best movies of Fantastic Fest and deserves to be seen.