Ahoy, squirts! Quint here with my thoughts on one of my favorite films I've discovered at this year's Fantastic Fest: Michael Stephenson's The American Scream.
On the surface the documentary is just about people who like putting on little spookshow tours every Halloween to entertain their communities, but just like with his previous effort BEST WORST MOVIE, Stephenson delves deeper into the individuals making these elaborate trick or treat destinations, peeling back the layers until we have an honest, raw look at what makes them tick as human beings.
The guys, who call themselves Haunters, aren't all that socially awkward (at least most of them) and aren't all stereotypical horror nerds with 20 pounds of piercings in their face, tat sleeves and heavy metal tees. The three focuses of the doc are all devoted family men, even if the particular build up of their families aren't exactly the same.
The lead family are the Bariteaus, with daddy Victor, his wife and two daughters all involved in turning their New England house into a haunted house every October. Victor's the driving force, but he's got some powerful allies… some more reluctant than others. His wife is supportive, but clearly doesn't have the same passion as her husband. His youngest daughter also seems to be reluctant to take part.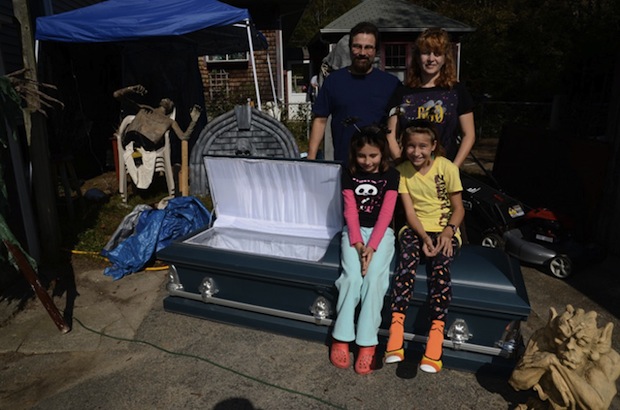 However his eldest daughter is so very onboard that it would be creepy if she wasn't so suburbanly innocent. In fact, this girl made me want to have kids just so I could maybe one day have a daughter to share in my geeky obsession with Halloween with.
And yes, I adore Halloween. I always have. Most kids prefer Christmas because of all the presents, but even as a tyke I leaned towards the horror holiday. Don't get me wrong, I love the atmosphere of the holiday season, love the feeling of warmth that Christmas brings, but I'd be lying if I said I didn't love Halloween more. In fact, even typing the word "Halloween" makes me smile.
Pumpkin carving, dressing up, watching non-stop horror movies, orange and black colors everywhere, kids trick 'r treating, the leaves changing colors… I just love it.
So, yes I was admittedly an easy target for this film, but as I mentioned as much as Halloween serves as the background it's really a film about family unity and passion. It could have just as easily been about Christmas decorating or wood carving or paper mache tee-pee building and been just as emotionally resonant.
"Haunting" is a family bonding experience and all three families featured have made it a yearly ritual. Whether it's the more normal Bariteaus or the Souzas who take a more "everything and the kitchen sink" approach to haunting or the comical father-son (and, no shit, part time clown) duo of Matthew and Richard Brodeur who spend the movie lovingly bickering at each other in thick Massachusetts accents there's a theme that envelopes the movie that is unmistakable: love. Love for family, love for creating, love for their community and love of the holiday. For a movie about planning how to scare the shit out of people The American Scream has a big heart that it wears proudly on its sleeve.
And that's the talent of Michael Stephenson. With both Best Worst Movie and The American Scream he's been able to cut right to the heart of his participants. He shows them as people in a way that highlights their flaws and makes us love them for it all.
I recently bought a house (my first) and was already planning on establishing my Halloween dominance in the neighborhood, but seeing this movie has really inspired me to up my game. I don't quite have the time or talent to build my own haunted house add-on like they do in the movie, but I'm definitely doing more than some pumpkins, lights and paper witches hanging from tree-branches, that's for sure.
I believe this doc is airing a couple of days before Halloween on the Chiller Network and I have no idea if it's getting any theatrical play before then but that'd be really awesome of them to put it out across the country in the weeks leading up to Halloween. It definitely put me in the mood and I bet it would have a similar effect for crowds all over the place.
I really loved this doc and it's already in the running for favorite of the fest for me. It also didn't hurt that one of the Haunters featured built a haunted house in the empty storefront next door to the Alamo and they made up some fake story about vomit being cleaned up outside the main entrance and herded us all through the back exit door, which lead us all straight through the haunted house.
As usual, Tim League and the Alamo folks have outdone themselves as consummate showmen. Today was a blast and I can't wait to see what tomorrow has in store.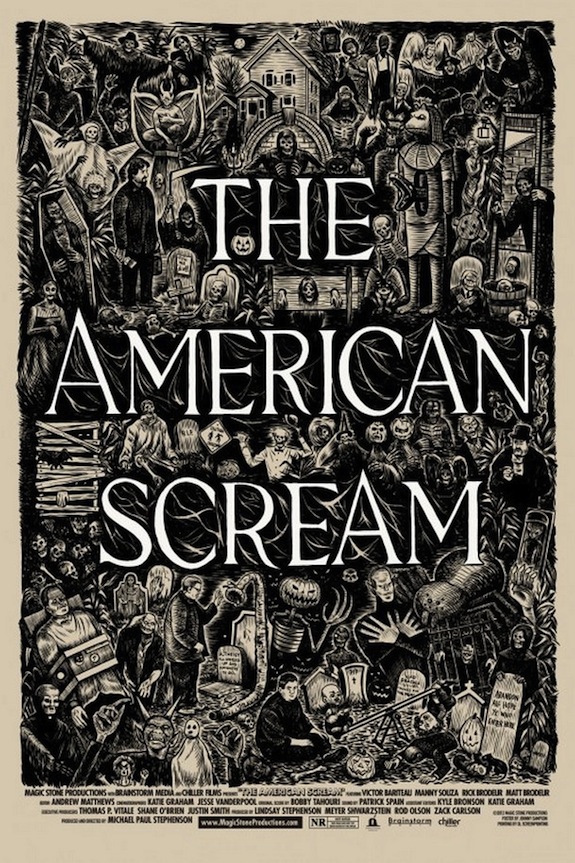 Make sure to follow me on Twitter to get my live reactions as I dive headfirst into Fantastic Fest!
-Eric Vespe
"Quint"
quint@aintitcool.com
Follow Me On Twitter