Ahoy, squirts! Quint here. Every year at Sundance there's one movie that hides from me. Sometimes this movie just didn't jump out on the schedule and sometimes I just plain overlook it for reasons unknown. The hider this year was Room 237 and thanks to Fantastic Fest I've finally caught up with the film.
A documentary comprised almost solely of footage from Kubrick films as conspiracy theorists float their crazy thoughts about hidden messages in The Shining should have been a home run for me, but I found myself bored out of my skull about 20 minutes into the movie.
Unfortunately the movie feels like an assembly of Youtube crazies stitched together when I was hoping for some nuttiness, but also some real subtextual ponderings to chew on after the movie. Half of the theories were being explained by people who have no idea how movies are made… I mean, I'm sure Kubrick paid closer attention to continuity than most directors, but some of these theories depended on deep background things not matching from scene to scene.
The doc touches upon something very interesting and that's Kubrick's meeting with marketing agencies to discuss subliminal techniques, but nobody could validate anything that's actually in the movie and the filmmakers either didn't care to follow up with Kubrick's estate or were denied access to his files, so there's no deep illumination, just a bunch of people with theories based on nothing but obsessive rewatches of The Shining.
If they had been able to get the advertising or one of Kubrick's collaborators people to comment or some notes of his showing that any of these crackpot theories were even close to being on the right track then THAT would have made a fascinating documentary, but as it stands it's just an hour and a half of inane babble by mostly articulate people with some bugnuts crazy ideas.
Wish I could have dug this one as it's very fertile ground to mine. Maybe in the next few years someone else will be able to do something more illuminating. But hey, at least it inspired this amazing Mondo poster: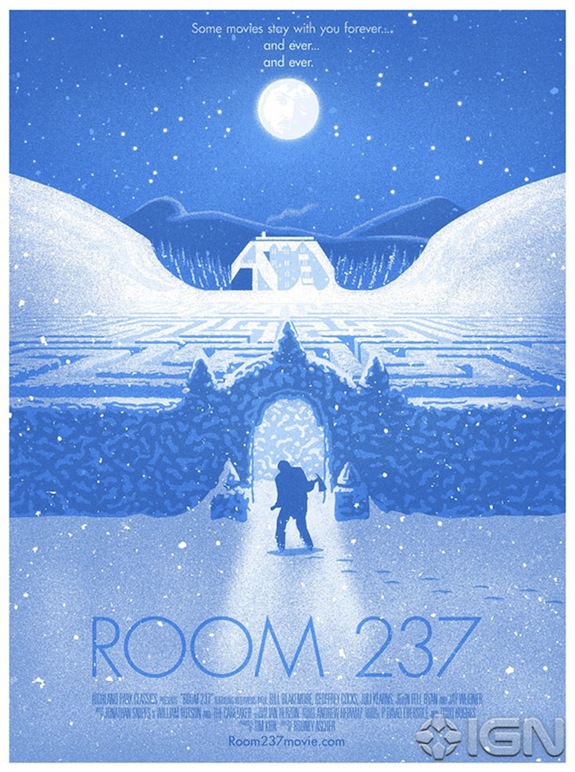 Make sure to follow me on Twitter to get my live reactions as I dive headfirst into Fantastic Fest!
-Eric Vespe
"Quint"
quint@aintitcool.com
Follow Me On Twitter