Merrick here...
...with a brief, SPOILER FREE REVIEW of Asylum of the Daleks, the first episode of DOCTOR WHO Season/Series 7, which debuts this weekend (Saturday Sept 1) on BBC One in the UK, BBC America here in in the States, and Space in Canada.
This posting also represents our first official Docback of Season/Series 7! We once again welcome returning participants, and warmly encourage new visitors or lurkers to jump in and join the fun.
PLEASE NOTE: this is a MODERATED FORUM - unlike other message boards here on Aint It Cool News. We take this moderation very seriously, and tend to allow extremely little deviation/margin for error.
THIS IS NOT a governance of ideas. Instead, this is about maintaining a high degree of civility and friendly, open discourse.
My best advice would be: to think very carefully about what you're saying and HOW you're saying it before posting, and ensure there's no room for misinterpretation of tone (i.e. no way to infer disrespect or hostility from your wording).
Please see the Code of Conduct posted at the bottom of each Docback before diving in. It's simple, it's fair, it works, and is key to creating a DOCTOR WHO-based message board experience which is warm, friendly, amazingly insightful, and apparently rather unique compared to many (most?) places on the Net. We truly hope you'll become a part of it, and will enjoy doing so.
AN IMPORTANT NOTE RE: IMPENDING SPOILERS
Docbacks are regularly visited by participants from across the globe - which is tremendously cool. Global visitors are cool. Alas, DOCTOR WHO is shown in different times in different places across the world...
For example, it transmits in the UK early evening - which is early afternoon US time.
Accordingly...
This Docback will remain a SPOILER FREE ZONE until DOCTOR WHO's initial UK transmit (which occurs early afternoon Saturday, US time).
Once DW transmits in the UK, SPOILERS will be allowed in this forum. Thus, folks wishing to remain unsoiled by Asylum of the Daleks details until they've seen the episode for themselves may wish to tread very, very carefully if entering this Docback after late morning(ish) North American time.
Please note the Spoiler Warning Policy posted on the Code of Conduct below.
More on Asylum below, but first...
HERE'S THE ENTIRE POND LIFE SERIES OF S7 PREQUEL MINISODES!!
Over the the last few days, BBC issued a series of prequel minisodes ramping up to this weekend's debut of DOCTOR WHO Season/Series 7.
PART ONE
PART TWO
PART THREE
PART FOUR
PART FIVE
ALL CONNECTED (thanks supertoyslast for pointing it out!)
A FEW DAYS AGO, BBC ISSUED NEW PROMO ART FOR SEASON/SERIES 7...
We've already seen some spectacular promotional art from Asylum of the Daleks, the first episode in DOCTOR WHO Season/Series 7.
BBC has issued further art from the first five installments in this Season/Series run. In keeping with WHO-overlord Steven Moffat's assertion that this new batch of episodes will be more self-contained and cinematic in nature (I'm paraphrasing), this art is very clearly designed to evoke theatrical one sheets.
CLICK IMAGES FOR HUGELY EMBIGGENABLE VERSIONS...The fifth image appears in my review below.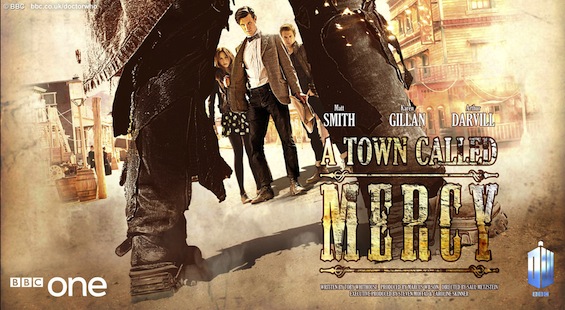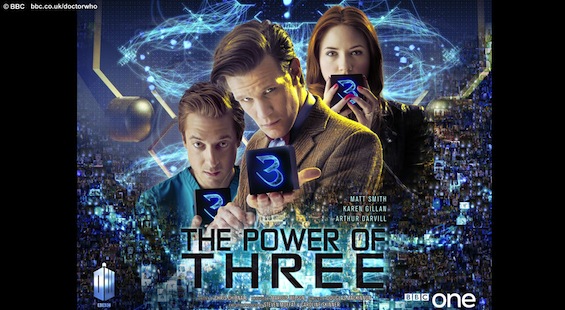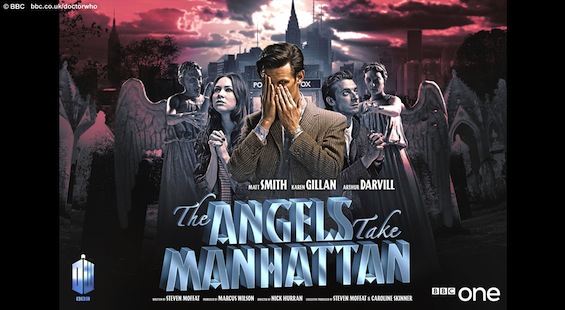 Asylum of the Daleks [Spoiler Free Mini-Review]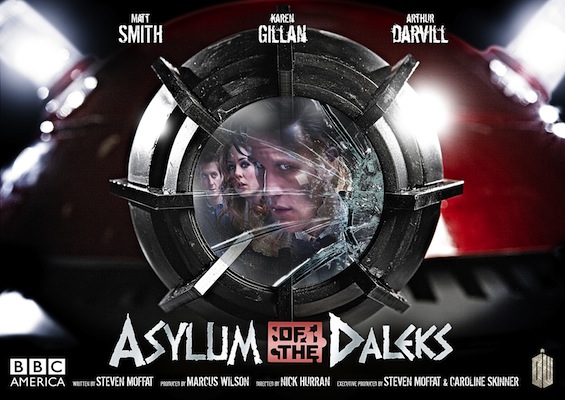 I want to be able to say, every week, we've got a big standalone blockbuster, and then a trailer that makes it look like nothing compared to what's going to happen next week! That's the form for next year.
I want slutty titles and movie-poster plots. I want big pictures and straplines. The first episode I'm writing is called [Spoiler] of the [Spoilers]. And it'll feel a bit like Die Hard, that first episode.
Steven Moffat said this in DOCTOR WHO MAGAZINE December 2011. If Asylum of the Daleks...or the movie poster-styled S7 promo art we've seen recently...or the agreeably titled Dinosaurs on a Spaceship follow-up to Asylum...are indicative, he's very much living up to the mandate he so brazenly put forth last Holiday Season.
Taken on its own, Asylum suggests a cleaner, more succinct path for Season/Series 7 than S6's previous run of stories - offering a self-contained tale which most assuredly leaves room for further exploration, while resolving itself internally quite nicely. Should several of its primary plot points never, ever be revisited, AotD could well be viewed as the end of a massive narrative arc. But it's a safe bet one or two of the threads introduced here will come back around, perhaps to resonate quite loudly, somewhere down the line.
In several key regards - Asylum feels like a funky, hybridized throwback to "classic" DOCTOR WHO - in pacing, in execution, even in concept. This isn't to say the tried and true trappings of Moffat Model (Moffel!) WHO have been completely abandoned...they're still very much present...but they've been stripped down to his reinvention's most base ingredients, with a commendable sensitivity towards avoiding excess. In Asylum, there's never too much smugness, never too much angst, never too much exposition or confusion. The Powers That Be seem to have recalibrated their measuring devices.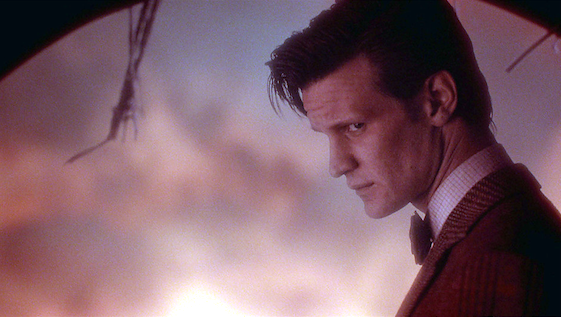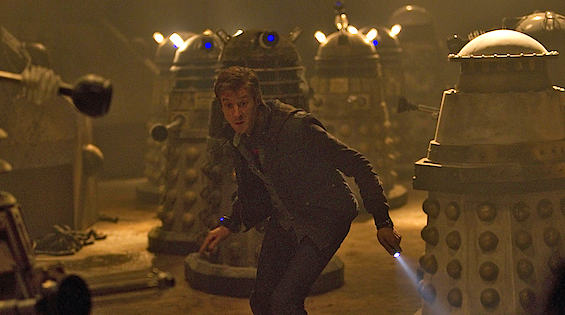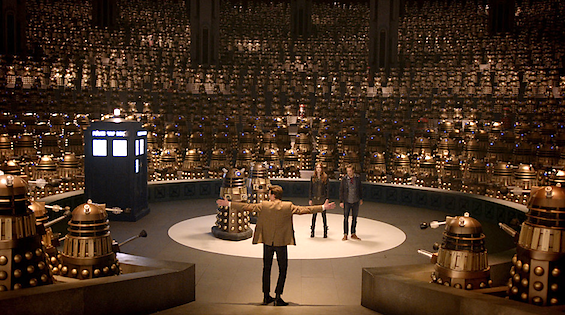 While the episode is quick on pacing and focuses predominantly on a straight-ahead mission-driven storyline (Moffat's DIE HARD analogy is very fair in several regards), it does swoop in for a few emotional gut punches - which it delivers sharply and succinctly. These scenes are smartly written and edited - wisely sidestepping melodrama and turgidity, they go in for the kill while remaining sensitive to overstaying their welcome. Another example of that recalibration mentioned above.
None of this is to imply that Asylum represents a complete reboot of Moffle WHO. It does not. It does, however, re-consider and (to a degree) reset the show's staging. It's the same DOCTOR WHO in many regards - merely delivered differently, via a markedly adapted thought process. This capacity for reinvention has fueled DW's longevity since its earliest years - and will continue to do so in the forseeable future I'd imagine. Which is exactly as it should be - may it remain vital, unpredictable, and...regenerative...for a long time to come.
Asylum of the Daleks...9EST/8C on BBC America (7:20pm BBC One, 8pm Space)
_________________________
NEXT WEEK
Dinosaurs on a Spaceship (S07E02)
__________________________
___________
Glen Oliver
PREVIOUS DOCBACKS
[SEASON / SERIES SIX DOCBACKS]

"The Impossible Astronaut"

"Day of the Moon"
"The Curse of the Black Spot"

"The Doctor's Wife"

"The Rebel Flesh"

"The Almost People"
"The Doctor, The Widow and the Wardrobe" (2011 Christmas Special)
[RETRO-WHO DOCBACKS - MOST RECENT DOCBACK IS HIGHLIGHTED]
"An Unearthly Child" (Story #1)
"The Daleks" (Story #2)
"The Edge of Destruction" (Story #3)
"Marco Polo" (Story #4)
"The Keys of Marinus" (Story #5)
"The Aztecs" (Story #6)
"The Sensorites" (Story #7)
"The Sensorites" (Story #7 - full DVD release)
"The Reign of Terror" (Story #8)
"Planet of Giants" (Story #9)
"The Dalek Invasion of Earth" (Story #10)
"The Rescue" (Story #11)
"The Romans" (Story #12)
"The Web Planet" (Story #13) / SHERLOCK - "A Scandal in Belgravia" (Story #4)
"The Crusade" (Story #14)
"The Space Museum" (Story #15)
"The Chase" (Story #16)
"The Time Meddler" (Story #17)
"Galaxy 4" (Story #18)
"Mission to the Unkonwn" (Story #19)
"The Myth Makers" (Story #20)
"The Gunfighters" (Story #25)
"The Tomb of the Cybermen" (Story #37)
"The Mind Robber" (Story #45)
"The Krotons" (Story #47)
"The Seeds of Death" (Story #48)
"Spearhead from Space" (Story #51)
"The Colony in Space" (Story #58)
"The Daemons" (Story #59)
"Day of the Daleks" (Story #60) + Preview of the DotD Special Edition
"The Three Doctors" (Story #65)
"Carnival of Monsters" (Story #66)
"Death to the Daleks" (Story #72)
"Invasion of the Dinosaurs" (Story #71) and SHERLOCK: "The Reichenbach Fall" (Story #6)
"The Android Invasion" (Story #83) and SHERLOCK: "The Hounds of Baskerville" (Story #5)
"The Face of Evil" (Story #89)
"The Robots of Death" (Story #90)
"The Talons of Weng-Chiang" (Story #91)
"The Sun Makers" (Story #95)
"The City of Death" (Story #105)
"Nightmare of Eden" (Story #107)
"Kinda" (Story #118)
"Snakedance" (Story #125)
"The Five Doctors" (Story #129)
"The Awakening" (Story #131)
"Frontios" (Story #132)
"Resurrection of the Daleks" (Story #134)
"The Caves of Androzani" (Story #136)
"Time and the Rani" (Story #144)
"Paradise Towers" (Story #145) + New WHOvian Documentary / Newsbits
"Dragonfire" (Story #147)
"The Happiness Patrol" (Story #149)
"The Greatest Show in the Galaxy" (Story #151)
"Doctor Who: The Movie" (aka TVM) - McGann)
DOCTOR WHO: THE COMPLETE SIXTH SERIES
Merrick's Personal Journey With The Doctor (How Merrick Got Hooked On DOCTOR WHO)
DOCTOR WHO Title Sequences & DW At Comic-Con 2011
"The Crash of the Elysium" (Manchester version - interactive DOCTOR WHO adventure)
Why Eccleston Left, Here Comes Caroline Skinner, And Season/Series Six Part 1 on Blu-Ray And DVD

New Trailer For Season/Series Six Part 2
The Companions of DOCTOR WHO + New Trailer & Artwork For Season/Series 7
[Season / Series Seven Docbacks]
DOCBACK CODE OF CONDUCT
1) a Docback should be about completely open and free discourse regarding all things WHO with, obviously, some variation on subject matter from time to time - the real world intervenes, discussions of other shows are inevitable, etc.)...

2) matters of SPOILAGE should be handled with thoughtful consideration and sensitivity.

Posts containing SPOILERS should clearly state that a SPOILER exists in its topic/headline and should never state the spoiler itself . "** SPOILER ** Regarding Rory" is OK, for example. "** SPOILER ** Battle of Zarathustra" is fine as well. " **SPOILER** Why did everyone die?" Is NOT good.
And, above all...

3) converse, agree, disagree, and question as much as you want - but the freedom to do so is NOT a license to be rude, crass, disrespectful, or uncivilized in any way. Not remaining courteous and civil, as well as TROLLING or undertaking sensational efforts to ignite controversy, will result in banning. Lack of courtesy may receive one (1) warning before a ban is instigated. Obvious Trolling or Spamming will result in summary banning with no warning. One word posts intended to bump-up any Docback's figures on AICN's "Top Talkbacks" sidebar will be considered actionable Spam - they not only complicate efforts to access Docback from mobile devices, but impede readers' abilities to follow or engage in flowing conversation.
In short, it's easy. Be excellent to each other. Now party on...