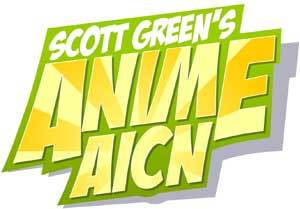 Logo handmade by Bannister
Column by Scott Green
This weekend, New York International Film Festival 2010 Grand Prize winner Toys in the Attic is back, in a brand new English language version!
Legendary Czech stop-motion animation master Jiri Barta's first feature in over 20 years is described as four parts Toy Story and one part David Lynch, as a group of abandoned toys stage an ambitious rescue of their kidnapped friend.
From NYAFF's description:

Set behind the doors of a dusty attic, the adorable doll Buttercup plays mom to a motley family of castaways: the station master Teddy Bear, clay-animated Schubert, and the Quixotic marionette knight Sir Handsome. In this enchanted world every day is a birthday, until a mysterious black cat kidnaps the beloved Buttercup and takes her to the Land of Evil ruled by the villainous Head of State, who commands an army of mechanical, mustachioed insects and an all seeing spying eye. Both a wonderfully spooky children's fairy tale and Soviet-era allegory, Toys in the Attic marks a career highpoint for Barta, who was among the first to raise stop-motion animation to an art form and paved the the way for modern hits like The Nightmare Before Christmas, Coraline, and Fantastic Mr. Fox.


New English language dub features the voices of Forest Whitaker, Joan Cusack and Cary Elwes.
The movie plays this weekend at this Saturday-Sunday, August 25-26, 11:00am at New York's IFC Center.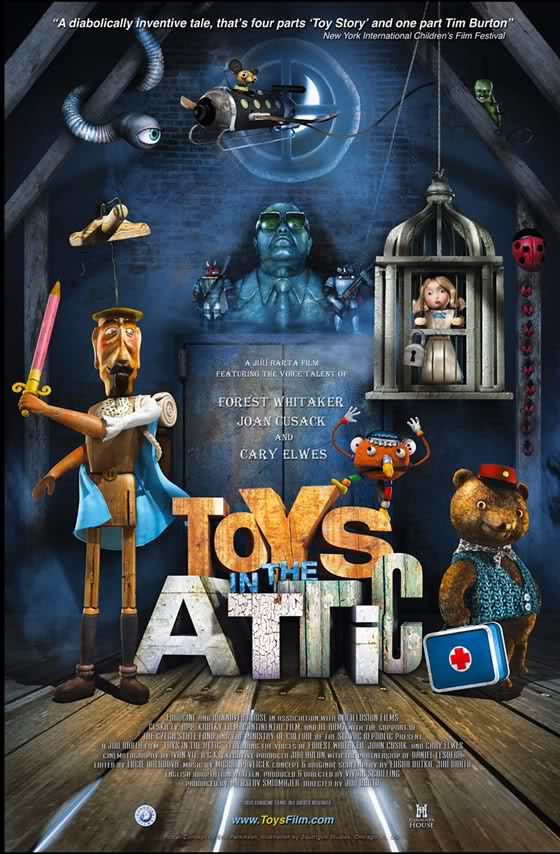 It's fall tour includes:
STARTS: SEPTEMBER 7, 2012

New York City

Regal Union Square

Los Angeles Metro

Sundance Cinema

Los Angeles Metro

Laemmle's North Hollywood

Los Angeles Metro

Laemmle's Pasadena

Los Angeles Metro

Hollywood-Westside (pending)

Los Angeles Metro

Regal Alhambra Renaissance

Los Angeles Metro

Regal Long Beach 6

Los Angeles Metro

Promenade Rolling Hills

Los Angeles Metro

Anaheim Hills 14

Los Angeles Metro

Garden Grove Stadium 16

Chicago

AMC South Barrington

Dallas-Ft. Worth

Regal Galaxy

Dallas-Ft. Worth

Regal Grand Prairie

Washington, D.C.

Regal Majestic Silver Spring

Washington, D.C.

Regal Kingstown Alexandria

Washington, D.C.

Regal Gallery Place

Memphis

Malco Wolfchase Cinema

N.W. Arkansas

Malco Razorback

N.W. Arkansas

Malco Towne Center

STARTS: SEPTEMBER 14, 2012

Atlanta Metro

Mall of Georgian (NE)

Atlanta Metro

Town Center Kennesaw (NW)

Atlanta Metro

Hollywood 24 (Central)

Atlanta Metro

Arbor Place (West)

Philadelphia Metro

Regal Riverview Plaza 17

Philadelphia Metro

Regal Burlington Stadium

Philadelphia Metro

Regal King of Prussia

Philadelphia Metro

Regal Warrington Crossing

Little Rock, AR

McCain Mall

Thomaston, GA

Ritz Theatre

STARTS SEPTEMBER 28, 2012

Boston Metro

Locations not yet set

Seattle-Tacoma

Locations not yet set

San Francisco Area

Locations not yet set

Houston Metro

Locations not yet set

Portland

Locations not yet set

San Diego

Locations not yet set

San Antonio

Locations not yet set

Bismarck, ND

Grand Theatre

Jacksonville, IL

The Illinois

Shelbyville, IN

Studio 10

Elizabethtown, KY

Movie Palace

Portsmouth, OH

The Portsmouth 8

Niles, MI

Wonderland 6

Ostego, MI

The M89 Theatre

Detroit, MI

Bel Air 10

STARTS OCTOBER 5, 2012

Phoenix

Locations not yet set

Denver

Locations not yet set

Detroit

Locations not yet set

Minneapolis-St. Paul

Locations not yet set

Indianapolis

Locations not yet set

Cleveland

Locations not yet set

Cincinnatti

Locations not yet set

Pittsburgh

Locations not yet set

STARTS OCTOBER 12, 2012

Charlotte

Locations not yet set

Miami-Ft. Lauderdale

Locations not yet set

Tampa-St. Petersburg

Locations not yet set

Pensacola

Locations not yet set

Jacksonville

Locations not yet set

Mobile, AL

Locations not yet set

Birmingham, AL

Locations not yet set

Nashville, TN

Locations not yet set

Louisville

Locations not yet set

St. Louis

Locations not yet set

Kansas City

Locations not yet set

Wichita, KS

Locations not yet set

STARTS OCTOBER 19, 2012

Columbus, OH

Gateway Film Cente