Britgeek here.
If you haven't read my preview of Film4 FrightFest yet, check it out for my thoughts on the line-up and more, and with added PhD no less. If you have, however, then you'll know that one of the films that both Dr Karen Oughton and I are looking forward to the most is body mod movie AMERICAN MARY, written and directed by the Soska sisters, otherwise known as the Twisted Twins, and starring Katharine Isabelle (GINGER SNAPS).
Here's the official synopsis:
AMERICAN MARY is a modern horror tragedy that follows the story of medical student Mary Mason as she grows increasingly broke financially and broken in her humanity. A series of terrible events mixed with Mary's ambition to become a master surgeon sends her off the path of the righteous and into the dark corners of the surgical underworld of body modification, where she finds more humanity than she ever found with the medical world she had so admired. An allusion to the struggles young women face in a harsh and unforgiving business world made up of real monsters, we see our title character develop not as a passive weakling, but as an end result to the torment and cruelty that are thrust upon her. As Mary's sanity begins to unravel, we see her messy surgeries change from hack job to perfected precision. The film is a statement on appearances; on beautiful young women to respected upper class to the thugs of society and the outcast of the alternative culture where we literally go under the knife to see what is the truth beneath.
The film is having a special preview screening on Monday morning, the final day of FrightFest, and early word is that it's going to be one of the highlights of the entire festival. We're very excited. So, if you're going, be sure not to miss it. But for those who aren't going to be in attendance at FrightFest for the next five days, I have a couple of pairs of tickets for that very screening to give away.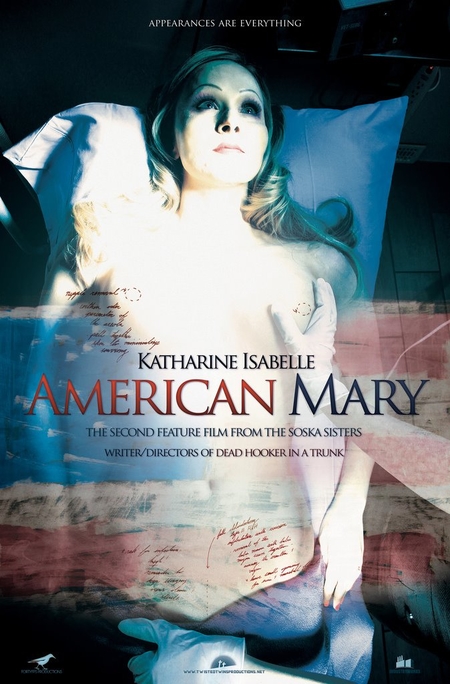 Monday's special preview screening of AMERICAN MARY begins at 11am and will be the first film of the final day.
If you'd like to win a pair of tickets (I'm giving away one (1) pair to two (2) winners, remember) to the screening, you're going to have to get creative. Here's an AICN-exclusive still from the movie.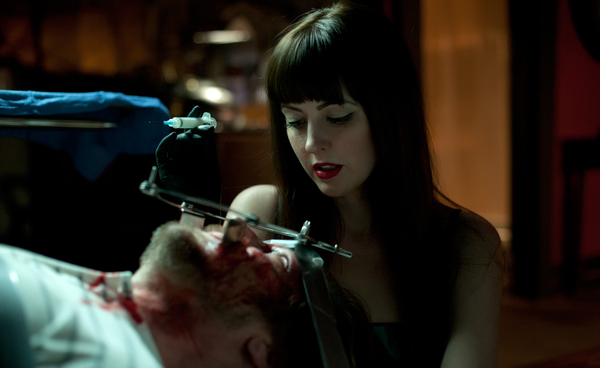 Nasty, eh? Email me your captions! The best two win the tix!
*** Please note that this contest is open exclusively to residents of the United Kingdom. ***
The winners will be selected and notified shortly after the competition closes at 5pm on Friday, August 24, with the victorious captions going up here on AICN. Winners will be required to be at the Empire Cinema in Leicester Square, London for 10am on Monday, August 27 to collect their tickets from yours truly.
Best of luck!
TTFN.