Britgeek here.
I can hardly believe that it's already been a year since I was exposed to the sheer brutality of Lucky McKee's THE WOMAN, the shameless absurdity of CHILLERAMA and the hard-hitting genius of Ben Wheatley's KILL LIST at the Empire in Leicester Square. But tomorrow, Film4 FrightFest kicks off once again for another five days of blood, guts and, well, who knows what else. What I do know, however, is that it's going to be gorily good fun. The beating heart of London is going to be ripped out, stomped on and possibly eaten.
Now in its 13th year, FrightFest continues to grow. Each year, the screenings sell out faster, the guest list gets bigger and the surprises get better. This time around, AICN will be there, covering the festival in full bloody force, so check us out daily for reviews, reports, killer (pun!) interviews, video content and much, much more. I'll be there along with my partner in utter chaos, Dr Karen Oughton, and we'll be living on way too much caffeine and too little sleep day and night for the entire festival.
Which films are we most looking forward to? It's a pretty skull-cracking line-up as always, so let's start with my picks for this year.
AMERICAN MARY
I enjoyed the Twisted Twins' debut DEAD HOOKER IN A TRUNK. It was a trashy, violent send-up of their favourite cult films with a comedic backbone that was, er, twisted. With a film like that (let alone with such a title), it's easy to get pigeon-holed as "the DEAD HOOKER IN A TRUNK people" and the movie business is an industry where escaping from the stigma of just one project is often a serious challenge, even when you least expect it, precisely like an actor when they find themselves typecast. With AMERICAN MARY, it seems that the Soska sisters have done a complete 180 in terms of tone and theme, and, if early word is to be believed, written and directed a potential FrightFest show-stealer with their warped tale of body modification. I'm truly excited to see what the twins have been able to muster with what is only their second feature.
NIGHTBREED: THE CABAL CUT
I have to admit that I've never seen NIGHTBREED, but I've read all the the stories of studio interference and the post-production butchering the film had to endure. Based purely on the excitement of other genre geeks upon the announcement of its inclusion in the line-up, I'm greatly anticipating NIGHTBREED: THE CABAL CUT. Maybe we'll see CABIN FEVER: THE DIRECTOR'S CUT at FrightFest 35.
MANIAC
Elijah Wood may be best known for playing a heroic Hobbit on a sprawling adventure across Middle Earth, but let's not forget that he played a sheepish teenager thrown in the face of horrific alien danger in THE FACULTY, and excelled on the other side of the personality spectrum as berserk blind cannibal Kevin in the magnificent SIN CITY. And, you know, it's just a guess, but I think we're going to get a little bit of Kevin when we see him on the big screen as the titular character in the MANIAC remake. It looks stylish and unrelenting and I'm really looking forward to seeing what Wood can do with the rather psychopathic role.
V/H/S
I long to be disturbed by horror. I enjoy being unsettled by movies. Scared even. You know, I like for them to actually have the effect they're supposed to, which unfortunately I don't see nearly enough these days. The buzz V/H/S has picked up since its first screening has been rather immense and I've been drawn to the comments that it is genuinely effective, original and deeply disturbing. That sounds good to me. Plus, Ti West is behind a segment of this anthology film, and after THE INNKEEPERS, one of my favourite horror movies of 2011, I'm very much a fan of his work in the genre.
I'm also especially looking forward to the following flicks in the line-up:
THE SEASONING HOUSE (this year's opening film, and a British movie to boot)
COCKNEYS VS. ZOMBIES (the first of James Moran's two FrightFest pictures this year, the greedy bugger)
THE VICTIM (written and directed by Michael Biehn)
TULPA
EUROCRIME! THE ITALIAN COP AND GANGSTER FILM THAT RULED THE '70S
SINISTER (co-written by AICN's own Massawyrm)
BERBERIAN SOUND STUDIO
DEAD SUSHI
TOWER BLOCK (the second James Moran-penned film of the festival)
THE POSSESSION (the closing film)
HIM INDOORS (the narrative directorial debut of BEWARE THE MOON's Paul Davis)
YELLOW (a just-announced neo-giallo short with a geat poster)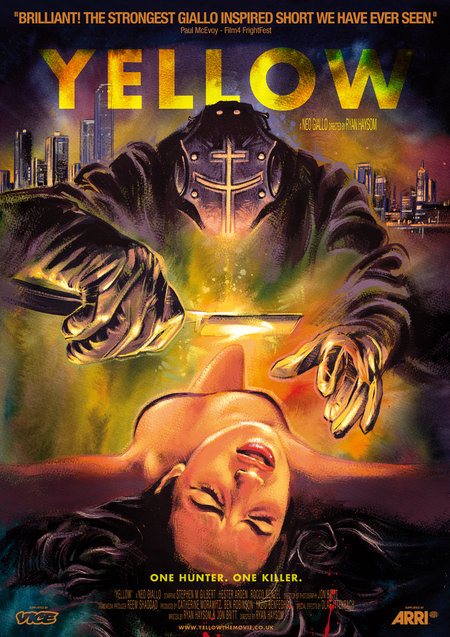 And let's not forget that Greg Nicotero will be presented with an award by Simon Pegg (let's hope he brings some footage from the third season of a certain zombie-based TV show with him) and the great Dario Argento will be making his first UK appearance in years for an interview and signing.
I hope you are looking forward to our coverage. Keep up with me on Twitter, and if you're around, be sure to say hello.
Here's Doc Karen with a little bit about herself, plus her top selections.
Hello AICN!
I'm Dr Karen Oughton and I will be working with the barking mad but rather wonderful Britgeek to bring you the best coverage of this year's FrightFest. So, what do I do and what do I like? Well, I teach university film studies courses, do the odd bit of broadcasting and specialise in writing about extremely nasty horror movies (think A SERBIAN FILM) for genre and mainstream film magazines and websites. I can watch anything from NOSFERATU to Troma as long as it meets one criteria: whether through terror, tears or red-faced and rocking with laughter, it has to blow the entire world away.

My want-to-watch list for FrightFest is as follows:

V/H/S

Strictly speaking, I'm not that big a fan of anthology films – I find them bitty – but I am a sucker for the immediacy of found footage and find myself oddly attracted by the plastic gaze of the mask in the FrightFest brochure. That Ti West is involved in this video-found-in-the-deserted-house tale is an incredible bonus – I screamed (yes, screamed – Britgeek hasn't let me live it down yet) my way through THE INNKEEPERS last year.

STICHES

The blurb in the programme gives me high hopes that this may be a fun exercise in seeing a killer clown who is callous and cool as well as all shits and giggles. Normally, this very description would have me running for the hills (KILLJOY anyhow, yeuch!), but the film stars Ross Noble, a British comedian who does the TV panel game circuit and has the quick wit, charisma and slightly twisted streak that I think will help pull the film in dark, if deliriously silly, directions.

TULPA

Having studied sex and sexually-orientated communities throughout my PhD, I love the fine line between style and sleaze that permeate gialli. To watch a film in which a girl not only balances a Tantra with the tensions of keeping the 9-5 taint-free and the pursuit of an assassin sounds both highly erotic and rather interesting – Dolly Parton, look on!

MANIAC

It features Elijah Wood with those slightly wild eyes of his and that constantly awake energy he carries with him. That this is a remake of a video nasty is a bonus – regardless of the story, I would watch him in anything. He's also one guy I can see being both wonderfully sadistic and masochistic in the role, and that will take some pulling off.

ERRORS OF THE HUMAN BODY

The quasi-scientific title caught my attention as being something potentially about how we can be revolted by our flesh before we even consider lashings of red sugar syrup. That this is set in Dresden, revolves around the research of embryonic abnormalities and features a personal redemption angle (rather a "look at the comedy Nazi" cue) has me fascinated. May it refuse to flinch.

NIGHTBREED: THE CABAL CUT

I got really quite obsessed with Clive Barker's THE BOOKS OF BLOOD when I was in my teens and still can't play UNDYING without having someone in the room with me. I love Barker's oddly twisted landscapes where the mythic becomes humdrum and yet inconceivable at the same time. I cannot wait to see this edition of his tale of the human monster's journey to the underworld.

AMERICAN MARY

We all know the plot taster: Mary the medical student moves into the world of body modification to dig her way out of debt (and look good in a bloody gown). I want to know whether the Soska sisters (who can obligingly become the poster girls for every horror fan's fantasy) can pull off a study of transgressive psychology and body modification that doesn't lose its reason when it focuses on the inevitable funnies. I suspect the trailer suggests a film far more throwaway than will be the case. I'm willing them to get it right. I truly hope the Twisted Twins can live up to their name.

Keep an eye out for my tweets, reviews and interviews during FrightFest, and if there's something you have a burning desire to ask the talent, let me know and I'll do my best for you. Play nicely, now – being a torture porn fanatic has taught me a thing or two about discipline!
TTFN