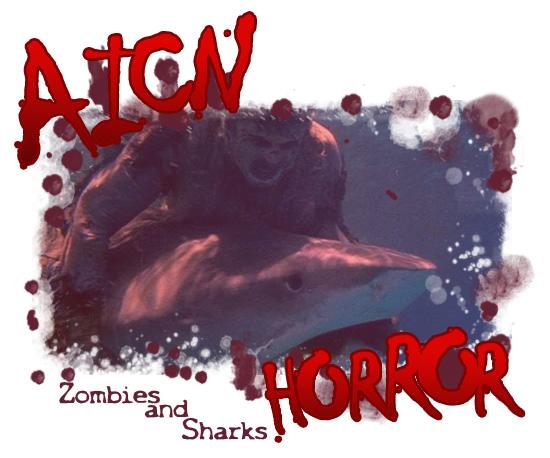 Logo by Kristian Horn
What the &#$% is ZOMBIES & SHARKS?
---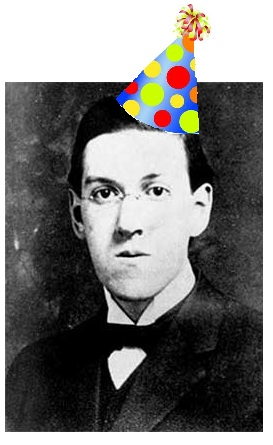 Greetings, all. Ambush Bug here with another AICN HORROR: ZOMBIES & SHARKS column. August 20th, 1890 was the day Howard Phillips Lovecraft celebrated as his birthday and today on AICN HORROR we're going to honor the master of all things wicked and otherworldly by taking a look as some films which serve as either direct translations or were inspired from his work. Though Lovecraft has proven to be difficult to translate to film, some brave souls have tried.
---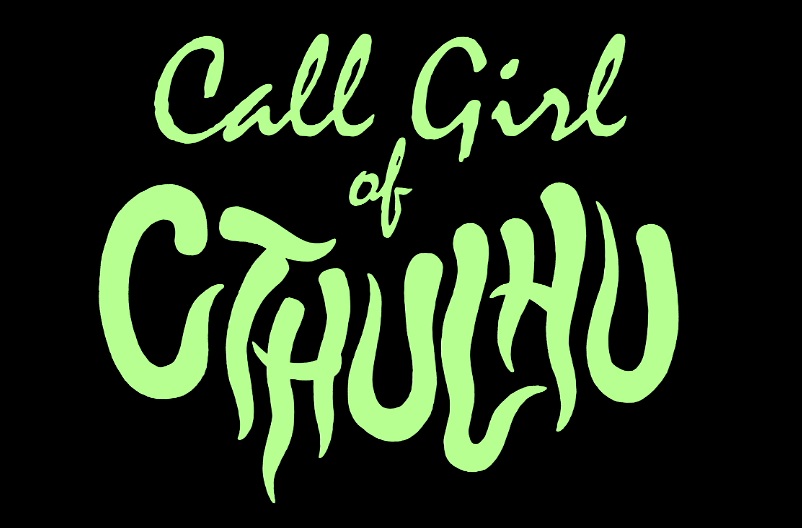 Before I forget, I got a message in my inbox about a Kickstarter campaign that seemed to be made for a column like this. CALL GIRL OF CTHULHU seems like twisted fun. Even the name made me laugh out loud. Here's the official synopsis:
A virginal artist falls in love with a call girl who turns out to be the chosen bride of the alien god Cthulhu. To save her, he must stop an ancient cult from summoning their God and destroying mankind.
And if you feel you want to see CALL GIRL OF CTHULHU made, you can support the Kickstarter campaign here.
There's about 40 days to go. I want to see this film and you should too.
---
Last spring, my fellow Lovecraft aficionado BottleImp and I did another Love Lovecraft column featuring looks at DAGON, THE WHISPERER IN THE DARKNESS, THE CALL OF CTHULHU, IN THE MOUTH OF MADNESS, and HEADSPACE. For a look at those reviews, click this link!

Now, let the party begin as BottleImp and I celebrate our love for Lovecraft!
Today on AICN HORROR
(Click title to go directly to the feature)
DIE MONSTER DIE! (1965)
THE DUNWICH HORROR (1970)
DEAD BIRDS (2004)
MASTERS OF HORROR: DREAMS IN THE WITCH HOUSE (2005)
CTHULHU (2007)
Advance Review: THE EVIL CLERGYMAN (1987)
And finally… Michael Granberry's FROM BEYOND!
---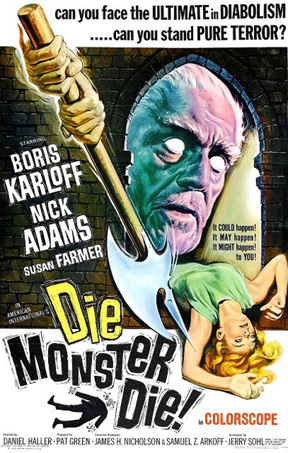 DIE, MONSTER, DIE! (1965)
Directed by Daniel Haller
Written by Jerry Sohl (based upon "The Colour Out of Space" by H.P. Lovecraft)
Starring Boris Karloff, Nick Adams, Freda Jackson and Suzan Farmer
Reviewed by BottleImp
H.P. Lovecraft's tale of a mysterious meteorite that falls into the well of a remote farmhouse and infects the inhabitants and the surrounding country is given the American International Pictures treatment here… which in this case means a decent-looking film that manages to get across the gist of Lovecraft's plot, while largely ignoring the overwhelming atmosphere of dread that gives the source material its power.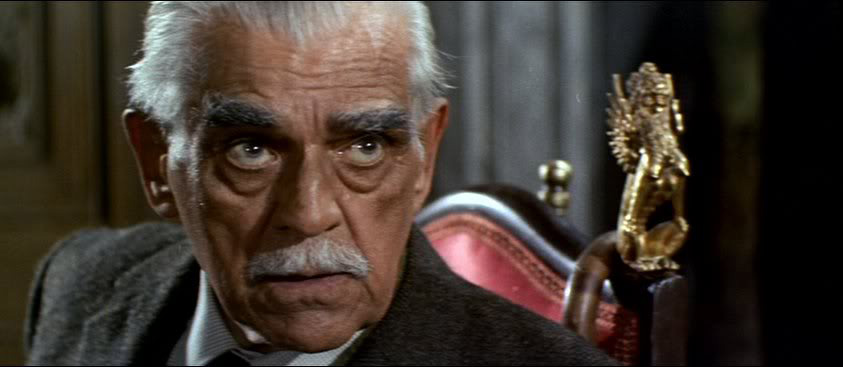 DIE MONSTER DIE centers on Stephen Reinhart (Nick Adams), a young American traveling to the rural English village of Arkham (that's right, HPL's fictional town has been transplanted from its home in Massachusetts and plopped down across the pond) to visit Susan Witley (Suzan Farmer), a friend from school. Met with a cold reception by the townspeople, Reinhart eventually makes it to the Witley Manor house nestled in the midst of the woods. There he meets Susan's father, the wheelchair-bound Nahum Witley (Boris Karloff) and her mother Letitia (Freda Jackson), who keeps herself hidden behind a veiled curtain. Reinhart soon realizes that there is a strange evil infecting the house and those who live there—one of the maids is missing and presumed dead, though she is seen wandering the surrounding woods, and the butler is mysteriously stricken ill, and just why does Mrs. Witley keep her face hidden, anyway?—and tries to take Susan with him and leave the manor. This, of course, is forbidden by Nahum, and what follows is a haunted house sort of plot that would feel right at home in any Gothic tale… or Scooby-Doo episode.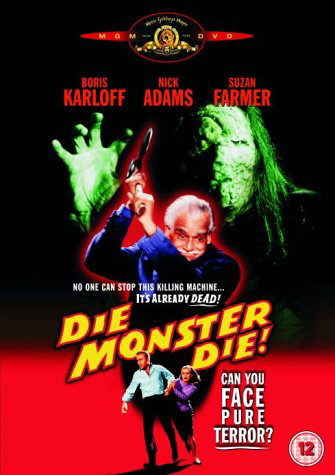 Those expecting a faithful adaptation of HPL here are sure to be disappointed, although the title alone should be a dead giveaway that Lovecraft's original story has been greatly altered. Aside from the more obvious changes made to the locale and characters, DIE, MONSTER, DIE! lacks the eerie sense of menace and creeping horror of the source material. The great blasted circle of dead trees is seen briefly at the beginning of the film, but from there on the action is mostly confined to the more traditional Gothic horror setting of the Witley manor house. The mutated animals that are fleetingly glimpsed in the short story have been turned into a bizarre menagerie of strange-looking puppets, kept in cages out in the Witley greenhouse. The trees that seemed to move under their own power—such a powerful, creepy image when described by Lovecraft's careful prose—are reduced to vines wrapping themselves around Susan Witley's legs in the same manner as the molesting tree branches from the EVIL DEAD films. Even worse than the execution of these supposedly horrific images are the characters' blasé reactions to them. Reinhart surmises that the radiation from whatever landed in the woods caused the plants in the greenhouse to grow larger than normal, yet the fact that the radiation also causes the same plants to move by themselves is largely ignored.
The film culminates in a flight from the manor house (which is on fire, in best Gothic tradition) as Reinhart and Susan evade the clutches of a goofy-looking, aluminum foil-headed radioactive monster. DIE, MONSTER, DIE! jettisons the scope of cosmic horror so effective in Lovecraft's story in favor of a horror/sci-fi hybrid that has more in common with the giant bug movies of the 1950s and their fears of radiation than with HPL's work. Worth a watch for Karloff fans and those who enjoy the Roger Corman adaptations of Poe's work, but there's not much to enjoy here for Lovecraft enthusiasts.
---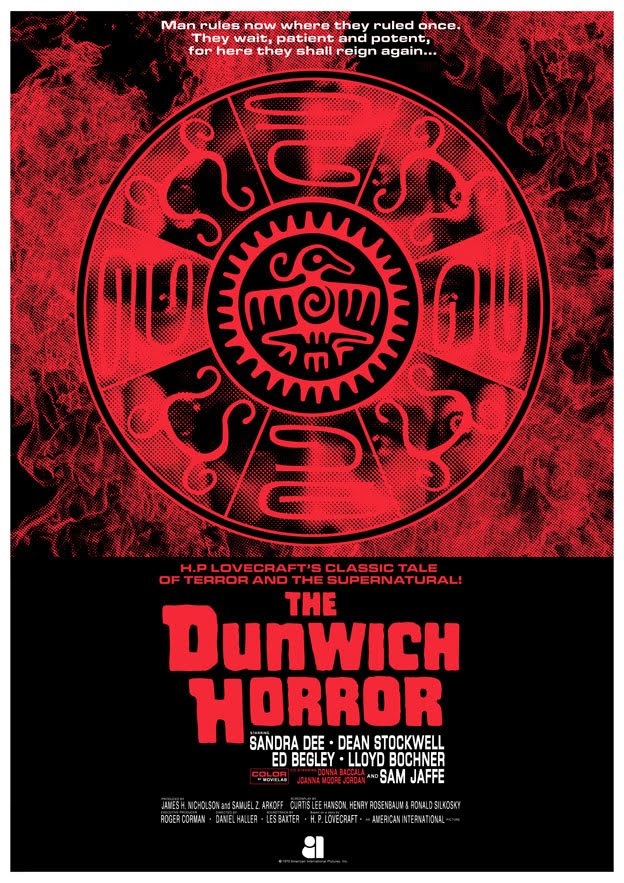 THE DUNWICH HORROR (1970)
Directed by Daniel Haller
Written by Curtis Hanson, Henry Rosenbaum and Ronald Sikosky (based upon the story by H.P. Lovecraft)
Starring Sandra Dee, Dean Stockwell and Ed Begley
Reviewed by BottleImp
HPL fares a little better in this Corman-produced film, which stays fairly true to the central ideas of the story's plot, if not as such when it comes to the details. "The Dunwich Horror," like much of Lovecraft's work deals with the unholy union of his otherworldly Mythos creatures and humans and their resulting spawn. The screenwriters here decided to take that notion and run with it, resulting in an interesting movie that still manages to have some impact even watching it today.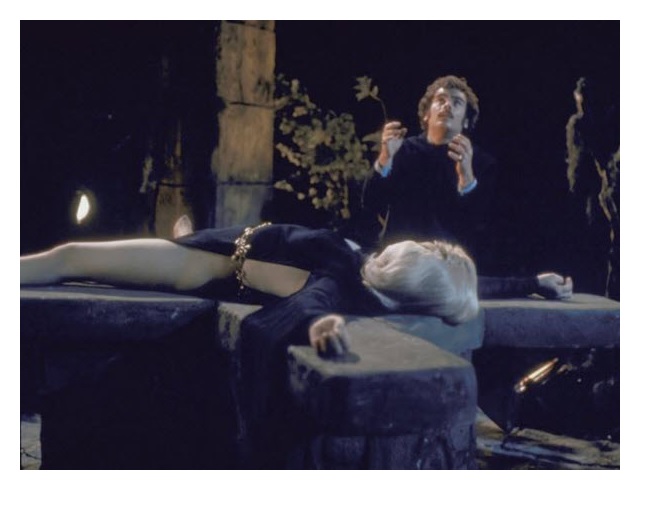 Wilbur Whately, described in Lovecraft's story as being somewhat brutish and animal-like in appearance, is portrayed here by Dean Stockwell. Stockwell's Wilbur is still slightly bestial—with thick eyebrows, wild satyr-like curly hair and a truly awful fake mustache—but his feral aspect goes hand-in-hand with a hypnotic sort of sensuality. Wilber only needs to focus his big black eyes on someone to exude his power, whether it be the wise old college professor, Dr. Henry Armitage (Ed Begley) or virginal co-ed Nancy Wagner (Sandra Dee). Nancy falls under Wilbur's spell almost immediately at the start of the film, leaving her friends to spend the rest of the movie trying to pull her away from Wilbur's clutches as they also investigate why Wilbur is so eager to get his hands on the dreaded Necronomicon (kept under lock and key in Miskatonic University, where Nancy attends Armitage's lectures). Meanwhile, there's the added menace of the mysterious creature kept locked away in Wilbur's house, and the rumors that Wilbur's father is not of this world.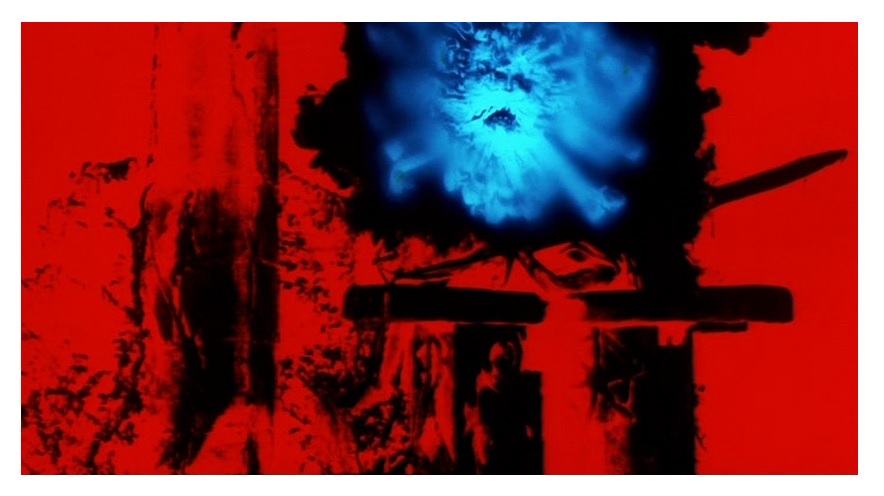 Like I said, it's this notion of humans mating with otherdimensional entities that seems to have fired the screenwriters' imaginations, and much of the movie revolves around Wilbur's seduction of Nancy so that she can be a virgin sacrifice to his dark gods. Indeed, Sandra Dee spends the majority of the film gently writhing and moaning whilst under the influence of Wilbur's power (and aided by the consumption of drugged tea). In one of the movie's most effective scenes Nancy has visions of a primal sacrifice-slash-mating ritual, with a fish-eye lens camera whipping around knots of paint-daubed, wild-eyed revelers. The "freak out" style of cinematography that came to fore in the late '60s with movies like THE TRIP is used to great effect here, and actually manages to convey a strange sense of horror that, while not strictly Lovecraft, aids in giving the film a dark, twisted atmosphere of its own. Likewise for the effects used to convey the alien nature of Lovecraft's cosmic deities; the simple tricks of running a single-color blocked film negative interspersed with the normal film frames gives the viewer the sense of seeing the world through strange, evil eyes.
Of course, there are some goofy parts to THE DUNWICH HORROR. Though the dreaded, dangerous and rare Necronomicon is supposed to be kept safely locked away, at the start of the film Dr. Armitage blithely hands it to Nancy to have her bring it back to the library…while they both stand out in the open surrounded by other students. The climax of the film also elicits some snickers as Wilber, eyes bugging out and hands held up to the sides of his head, intones "Yog… Sothoth. YOG… SOTHOTH!" while Armitage counters by yelling his own gibberish.
Minor quibbles aside, THE DUNWICH HORROR still manages to hold true to the core of Lovecraft's story while adding a visual flair that makes it a fun film to watch for Lovecraft fans and general horror fans alike.
---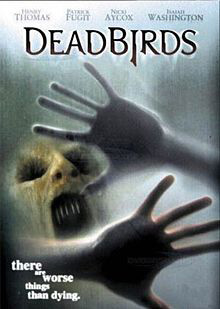 DEAD BIRDS (2004)
Directed by Alex Turner
Written by Simon Barrett
Starring Henry Thomas, Patrick Fugit, Nicki Aycox, Isaiah Washington and Michael Shannon
Reviewed by BottleImp
Though not an adaptation of any of H.P. Lovecraft's stories, DEAD BIRDS does include some Lovecraftian elements and an appropriately ominous sense of atmosphere that make it worthy for inclusion in this HPL tribute column. The movie, set during the years of the Civil War, opens with a band of criminals led by William (Henry Thomas) storming a small-town bank and seizing two sacks of Confederate gold, killing the soldiers and every other person in the bank in a bloodbath of gunfire. The gang rides off into the surrounding woods and heads for their pre-determined hideout, a deserted farmhouse surrounded by a vast, dead cornfield. The five men and one woman have barely ventured into the cornfield (already seeing the ominous sight of a scarecrow that looks a little too much like a real man to be a dummy) when a monstrous creature bursts out of the rows straight at William, only to be shot dead by Sam (Patrick Fugit). The creature, a hairless, skinned-looking thing with a disturbingly human-like face is left in the field as the gang makes their way into the farmhouse. As night falls, strange things start to happen. Doors open and close on their own. A door leading to the house's basement refuses to open, even though unlocked. Children's voices are heard, and Annabelle (Nicki Aycox) glimpses a boy hiding under one of the beds… a boy with a face not unlike that of the creature that attacked them earlier. As tensions rise between the members of the gang, they begin to realize that their hideout presents a far greater threat to them than the law does.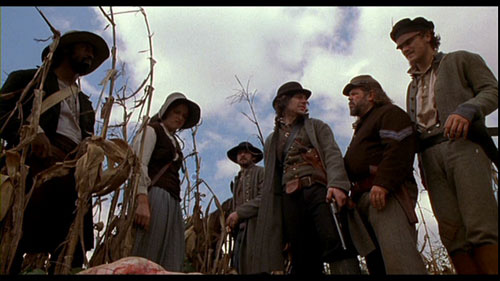 This simple haunted-house premise is given several twists that help elevate DEAD BIRDS above your standard-issue horror fare. The 19th century time period and Southern setting add a certain character to the story that sets the film apart from other, contemporary-set haunted-house movies. Then there's the Lovecraftian element-- the basement door, so mysteriously sealed when the gang first explores the house, is later found gaping open by Todd (Isaiah Washington). Descending the stairs, he finds a torture chamber of rusty blades, ropes and chains, along with an ancient book in a strange language that seems to depict rites for raising the dead. As the movie progresses, it is revealed that these rites allow the demons that live in dimensions apart from our own to enter into our world by possessing and transforming humans… making it fairly obvious as to the origins of the monster in the cornfield.Along with the evoking Lovecraftian horror, DEAD BIRDS reminds me of the non-"Conan" horror stories of Robert E. Howard, a contemporary of HPL who contributed several of his own stories to Lovecraft's Mythos. The Southern setting and haunted-house setting brings to mind Howard's "Pigeons From Hell," which deals with a similar menace of demonic evil for unwary travelers in a deserted house. I'd actually be willing to bet that the filmmakers had Howard's story in mind while writing the screenplay based solely on the similar avian-themed titles (actual "dead birds" are mentioned, and seen, only briefly in the film), in addition to the aforementioned parallels.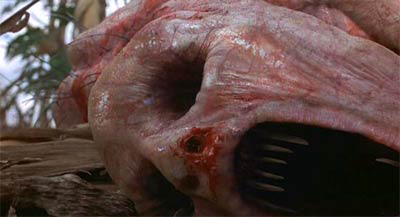 Unfortunately, all the disparate elements of DEAD BIRDS don't quite gel enough to make the movie as effective as it could have been. The acting is serviceable all around, but nothing exceptional. The special effects and makeup, a mixture of practical and CGI, run the gamut from being incredible (in a scene where Todd is assaulted with a vision of one of the farm's slaves being sacrificed for the dark ritual, there is a practical effect of the slave being disemboweled by an invisible tormenter that is horribly gory and wonderfully executed) to laughable (there are several shots of obvious-CG demon-face morphs that look cheesy as hell, and a couple of instances where demon heads and hands look more like stick puppets than menacing hell-beasts). Pacing is also an issue, as the middle of the movie drags while the gang members sleep, play cards or wander through the house in scenes that I'm sure were meant to ramp up the tension, but fall flat.
In short, DEAD BIRDS is not by any means a great horror film, but it is a fairly good one. Subtle Lovecraftian elements, a seldom-used period setting (for horror movies, in any case) and a decent ensemble of actors give the film a unique character that makes it worth a viewing for fans of the genre looking for something a little different.
---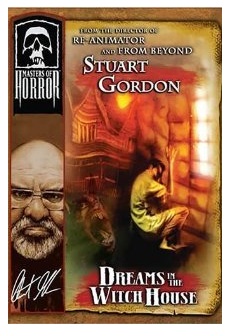 MASTERS OF HORROR: DREAMS IN THE WITCH HOUSE (2005)
Directed by Stuart Gordon
Written by Mick Garris, Stuart Gordon, Dennis Paoli, (based on a story by H.P. Lovecraft)
Starring Ezra Godden, Campbell Lane, Jay Brazeau, Chelah Horsdal, David Racz, Nicholas Racz, Yevgen Voronin, Susanna Uchatius
Reviewed by Ambush Bug
If you're looking to adapt H.P. Lovecraft right, always look to Stuart Gordon. Though he is known for his HPL adaptations in the past with THE RE-ANIMATOR and FROM BEYOND, but more recently, Gordon revisited Lovecraft's world in the excellent MASTERS OF HORROR series which ran on Showtime during the mid-00's. Gordon offers up as especially diabolical story about madness vs reality. Ezra Godden who starred in another one of Gordon's HPL adaptations (DAGON,
reviewed here!
) stars as an everyman student Walter Gilman looking for an apartment to rent. And he finds one along with a group of eccentric new neighbors. After forming a relationship with a single mother across the way and getting creeped out by an old man warning him of rats with human faces, Walter begins to see things at first in nightmares and then in real life. Fearing his own sanity, he uncovers that the house used to belong to a witch and that it may be a portal where three realities meet. After being visited by a truly creepy rat with a human face, Walter becomes obsessed with uncovering the truth.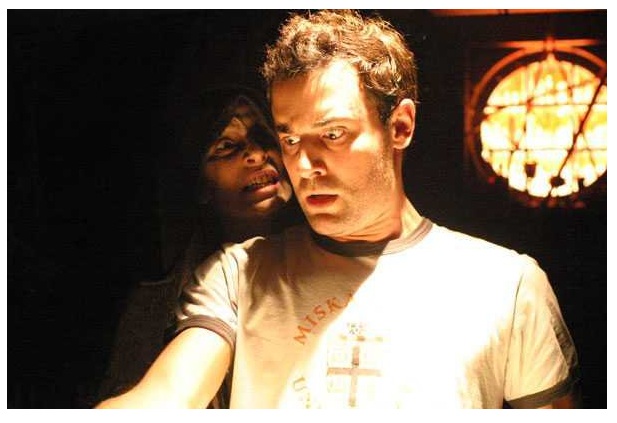 The tone of this hour long tale is pitch black. Though there are some quiet moments of sincerity as Walter begins forming a relationship with the single mother, most of the rest of the hour delivers in somber mood and truly horrifying scenes. Though I recall that in the original tale, Walter knows about the witch's occupancy of the room prior to moving in, here is plays out well that he uncovers the mystery as the story goes on. Gordon also shows how good he is at directing effects with many elaborate practical effects going on such as the human faced rat by the name of Brown Jenkins played in a nose-twitching sinister fashion by Yevgen Voronin that makes for a truly haunting image that will be hard to forget once it burrows into your brain. In fact, Gordon serves up quite a few frightening images here.
One of the issues I have with Lovecraft adaptations is that a lot of the horrors we've seen as horror fans is so derivative of his work. Being that the writer has been so influential, bits and pieces show up in horror stories either in homage or by blatant ripoff. I sort of feel the same way about the recent WATCHMEN film, if I dare cross media for a second. When WATCHMEN came out, there was nothing like it in comic books at the time and it was lauded as a masterpiece. Since then, the tone, treatment of character and theme, and overall storytelling has been made part of the norm in comics and at the same time, Hollywood has adapted superhero films as seen through a WATCHMEN-esque lens. Had the WATCHMEN film been the first superhero movie released out of the gates, it would have been received in a much more positive fashion, but because BATMAN and the rest of the films were released prior, WATCHMEN was blamed for being too much of a rip off of other super hero films.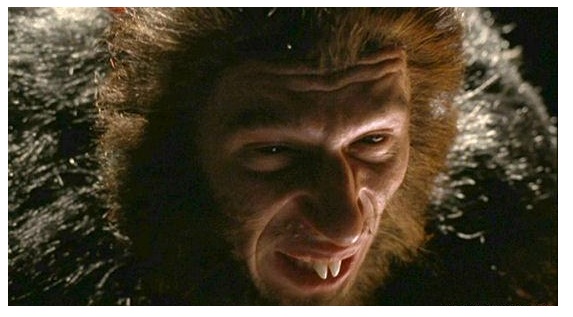 I view a lot of Lovecraft's stuff the same way and this is especially at play here in DREAMS IN THE WITCH HOUSE. There's a scene where Walter dreams he is kissing his neighbor, but soon it is revealed to be an old witchy looking lady. Now, had I not seen THE SHINING, this would have freaked my shit out, but since I did, all I said was, "Oh, that's like that scene from THE SHINING." Same with the ending of DREAMS IN THE WITCH HOUSE which takes place in an asylum which reminded me both of the asylum sequences in Carpenter's IN THE MOUTH OF MADNESS and Gordon's own FROM BEYOND. Again, because I had seen this scene in other films, the impact was lesser for me. Some of this may have a lot to do with the fact that these themes arose often in Lovecraft's work (the human faced rat appears in THE EVIL CLERGYMAN which is reviewed further down this very column).
That aside said, Gordon has crafted a really solid tale in DREAMS IN THE WITCH HOUSE. I urge HPL fans who haven't given it a try to do so.
---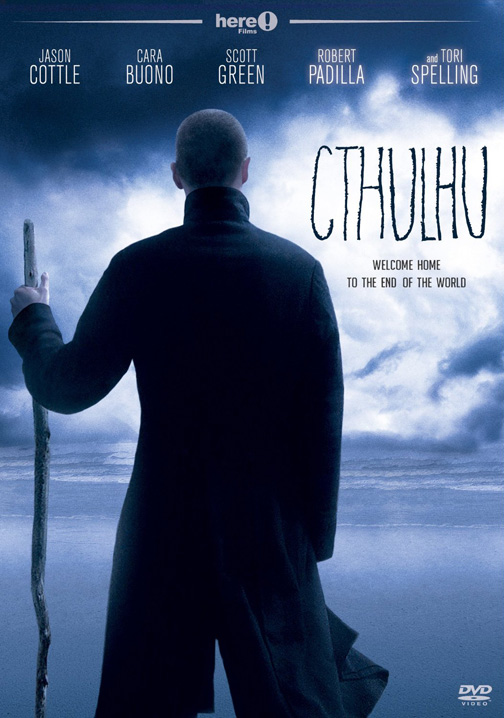 CTHULHU (2007)
Directed by Daniel Gildark
Written by Grant Cogswell (based upon the works of H.P. Lovecraft)
Starring Jason Cottle, Cara Buono, Scott Green, Dennis Kleinsmith, Robert Padilla and Tori Spelling
Reviewed by BottleImp
Low budget independent movies are always a gamble for the viewer, no matter what the genre, but horror films can have the widest gulf between quality and crap. I took a chance on this movie with some degree of apprehension; I mean, come on-- the only "name" star here is Tori Spelling, for chrissake! But I was astounded and amazed that CTHULHU not only is a quality film, it also happens to be, in this viewer's opinion, one of the best H.P. Lovecraft-inspired movies yet made.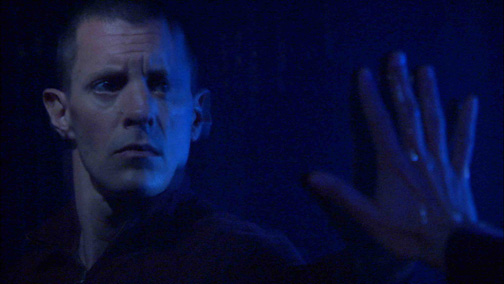 Upon the news that his mother has passed away, Russell Marsh (Jason Cottle) is called back to his boyhood home in the town of Rivermouth, in the Pacific Northwest. The movie sets the off-kilter mood almost immediately, as Russell is passed on the road leading into the town by a couple of kids yell to him out their windows as they speed by, recognizing Russell as the returning Marsh "prodigal son." Moments later, Russell rounds a curve to see their car overturned on the road, the people inside bleeding and still babbling to him. Russell eventually makes it into town and the viewer meets the rest of his family: his father Reverend Marsh (Dennis Kleinsmith), the leader of a cult known as the Esoteric Order of Dagon, and his sister Dannie(Cara Buono) married and seeking to make peace between the estranged father and son. Forced to remain in town to sort out his mother's will, Russell finds himself drawn back into the strangeness of Rivermouth and his father's bizarre religion just as he renews his relationship with his boyhood friend/lover Mike (Scott Green). He begins having strange dreams, wakins up clutching a black stone inscribed with an alien script, and is soon falling into mysteries, murders and the very real possibility that the End Of The World is nigh.
The bones of CTHULHU's plot are structured along the lines of Lovecraft's "The Shadow Over Innsmouth," but there are dashes of other stories added to the mix-- "The Call of Cthulhu" being obviously referenced by the movie's title, but a couple of almost-throwaway lines regarding Shoggoths bring "At the Mountains of Madness" into the mix. But aside from the straight page-to-screen translations that do make it into the movie (such as the use of "Innsmouth"s town drunk Zadok telling the backstory to the protagonist), CTHULHU has succeeded in accomplishing what so many other HPL film adaptations have failed to do: latch on to that Lovecraftian theme of Man's insignificance and isolation in the vast cosmic scheme. As Russell drives towards Rivermouth, the car radio drones on about the miseries of the world, setting up a bleak, apocalyptic mood that lasts throughout the movie and culminates in the final few minutes. The theme of the Outsider, so prevalent in Lovecraft's work, is reinforced here with Russell's homosexuality setting him apart from the rest of the town and from his father, who above all wants his son to continue the Marsh legacy. Most HPL movies seem content to just focus on plot; Russell's sexual identity and the conflicts that arise because of it add a certain level of allegory and nuance that deepens these Lovecraftian themes for the viewer.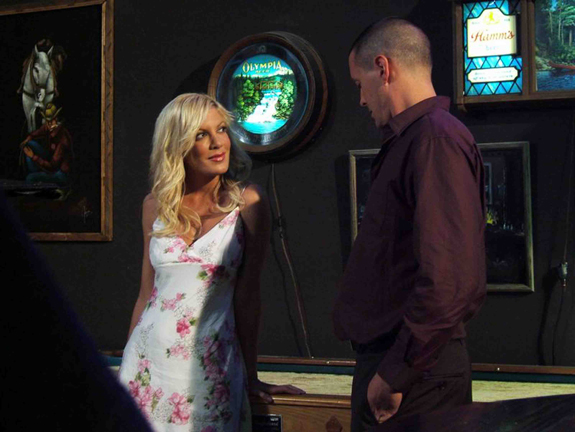 The really impressive part about CTHULHU is how good it looks in spite of its obviously microscopic budget. If you want to see the monstrous creatures of Lovecraft's mythos up on screen, this won't be the movie for you. The viewer catches almost subliminal glimpses of what may or may not be Shoggoths in a couple of scenes, and the half-breed spawn of humans and the fish-like Deep Ones are seen in staccato, strobe-like shots that barely have time to register. The most horrifying creature on display is the wig that Russell wears for the first ten minutes of the movie (thankfully, he "shaves" his head soon after coming to town, and the mop-top is seen no more). But the cinematography is excellent, with sweeping shots of the everlasting ocean waves, the oddly lit, nearly empty town, and the surreal, almost Lynchian vignettes of Russell's flashback visions of his father's nightmarish cult. There's one scene in particular, where Russell discovers a boy who has been missing for years sitting all alone in a darkened, empty house, watching the static on a television set, waiting, he tells Russell, for Cthulhu. It gets even creepier when the viewer realizes that the boy is in fact blind. What does this have to do with the rest of the plot? Damned if I know, but it sure is creepy. The actors also elevate the low budget with solid performances all around; Cottle brings an intensity to his role that helps to ramp up the nervous tension as Russell looks for explanations for the nearly-empty town and its strange inhabitants. And, believe it or not, Tori Spelling is picture perfect in the part she was born to play: a slightly creepy, fish-faced slut.
My only criticism of the film is that it ends with a cliffhanger-- a bold, dramatic choice, perhaps, that leaves the audience wanting more, but I still wish that the filmmakers had brought it to a more definite conclusion. Still, when it comes to truly capturing that sense of Lovecraftian atmosphere that permeates the best of the Old Gent's work, the ultra-low-budget CTHULHU has it all over the vast majority of its big(ger)-budget counterparts. I highly recommend it for any Lovecraft fan.
---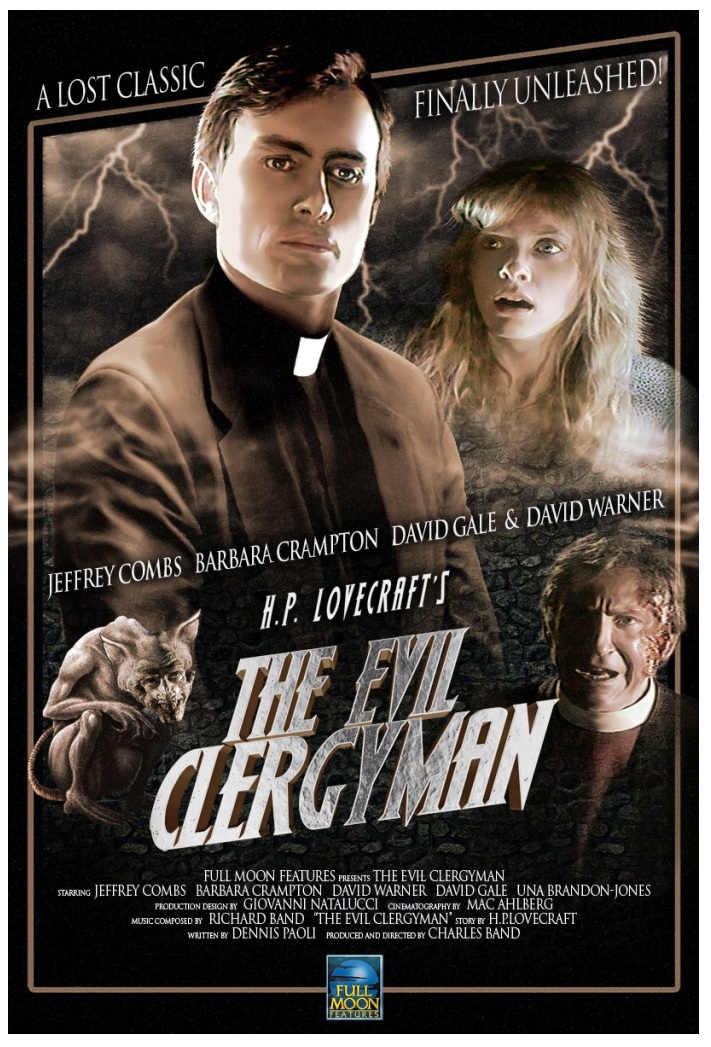 Premiered at Flashback Weekend Chicago: Will be available in October 2012!
THE EVIL CLERGYMAN (1987)
Directed by Charles Band
Written by Charles Band, (from a short story by H.P. Lovecraft)
Starring Jeffrey Combs, Barbara Crampton, David Gale, David Warner
Keep checking this site for more info on how to get your own copy!
Reviewed by Ambush Bug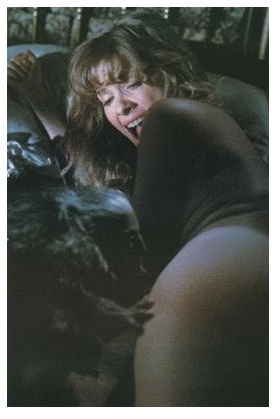 I had a chance to catch this 30 minute section of the lost film PULSE POUNDERS at Flashback Weekend a couple of days ago. The original print of the film was lost, but the negative was found, dusted off, remastered and rescored by Richard Band, the director Charles Band's brother. With stars Jeffrey Combs and Barbara Crampton (who looks like she hasn't aged a day since the 80's) and director Charles Band in attendance, this was a truly special occasion.
The story follows a woman (Crampton) returning to a castle after the death of a clergyman (Combs). The mistress of the house makes it quite clear that she disapproves of Crampton and that the often heard the two of them having sex in the clergyman's quarters. When Crampton asks to be alone in the room where the holy man hung himself, things start getting kuh-ray-zee.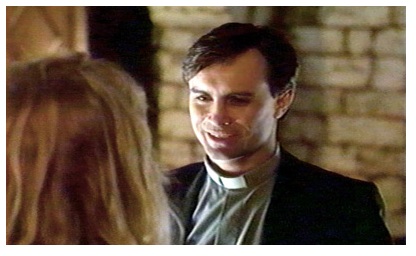 This is classic Band directing classic Combs and classic Crampton. Crampton is dazzling as she experiences the creepy sights and sounds with wide-eyed terror and not afraid to bellow out a scream that makes one hold their ears in the theatre. Combs is, as always, treating the script as if it were Shakespeare, giving almost a mock seriousness here. The love scene between Combs and Crampton may make Tommy Wiseau blush as Combs tears off his shirt before peeling off Crampton's. Yes, it's over the top, but dammit if it isn't fun to laugh at how serious everyone is taking it. Plus it's nice to see Crampton in a love scene, youknowwhatImean?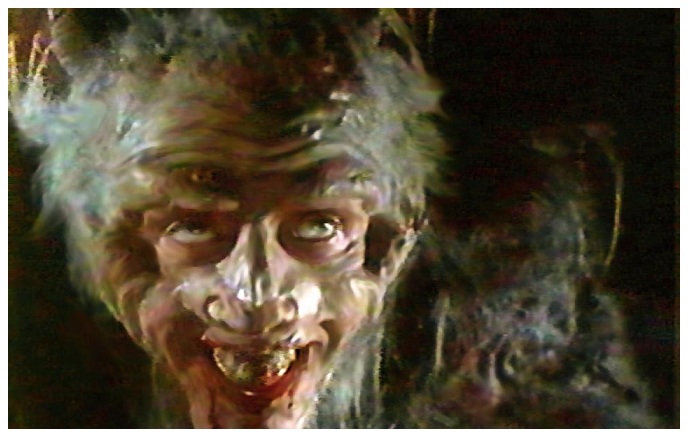 But it's not all dry humping on the bed and swooning violins. After she is visited by the clergyman's ghost, the real craziness happens. As with the aforementioned DREAMS IN THE WITCH HOUSE, a human faced rat (this time played by the late great David Gale, who most will recognize as the beheaded doctor from THE RE-ANIMATOR) haunts Crampton throughout this entire story—first scurrying around and then accosting her on the bed and licking her ass (I kid you not, you read that right. Look at the pic!). After that David Warner shows up to warn Crampton of the evils of the evil clergyman and…well, you'll just have to check it out to see what happens.
I will say that there's a lot packed into a 30 minute little film. Band promises the rest of PULSE POUNDERS will be restored with the story that occurs between TRANCERS and TRANCERS II being remastered next (starring Tim Thomerson and Helen Hunt). In the meantime, THE EVIL CLERGYMAN will be available in October. With a creepy ass rat, some downright fun scenes of melodrama, truly scary atmosphere, and delicious scenes of the gorgeous Barbara Crampton, THE EVIL CLERGYMAN is one all Lovecraft fans must have.
---
And finally…here's a claymation nightmare set to one of H.P. Lovecraft's FROM BEYOND. The film is by Michael Grasberry and seeing this nightmare through the medium of clay is almost as cool as Gordon's film and definitely more faithful to the source material. Enjoy!
See ya next week, folks!
---
When released from his bottle, the Imp transforms into Stephen Andrade, an artist/illustrator/pirate monkey painter from New England. He's currently hard at work interpreting fellow @$$Hole Optimous Douche's brainwaves and transforming them into pretty pictures on AVERAGE JOE, an original graphic novel to be published by Com.x. You can see some of his artwork here.
---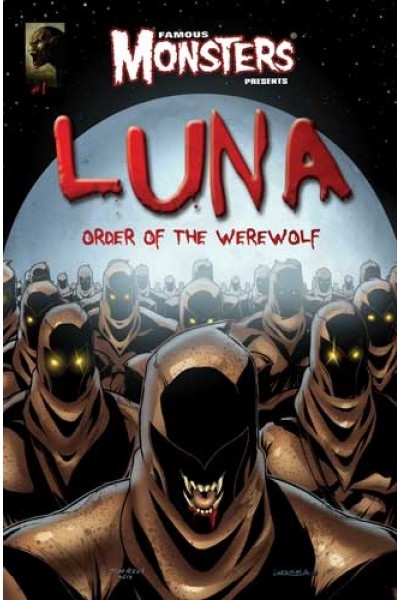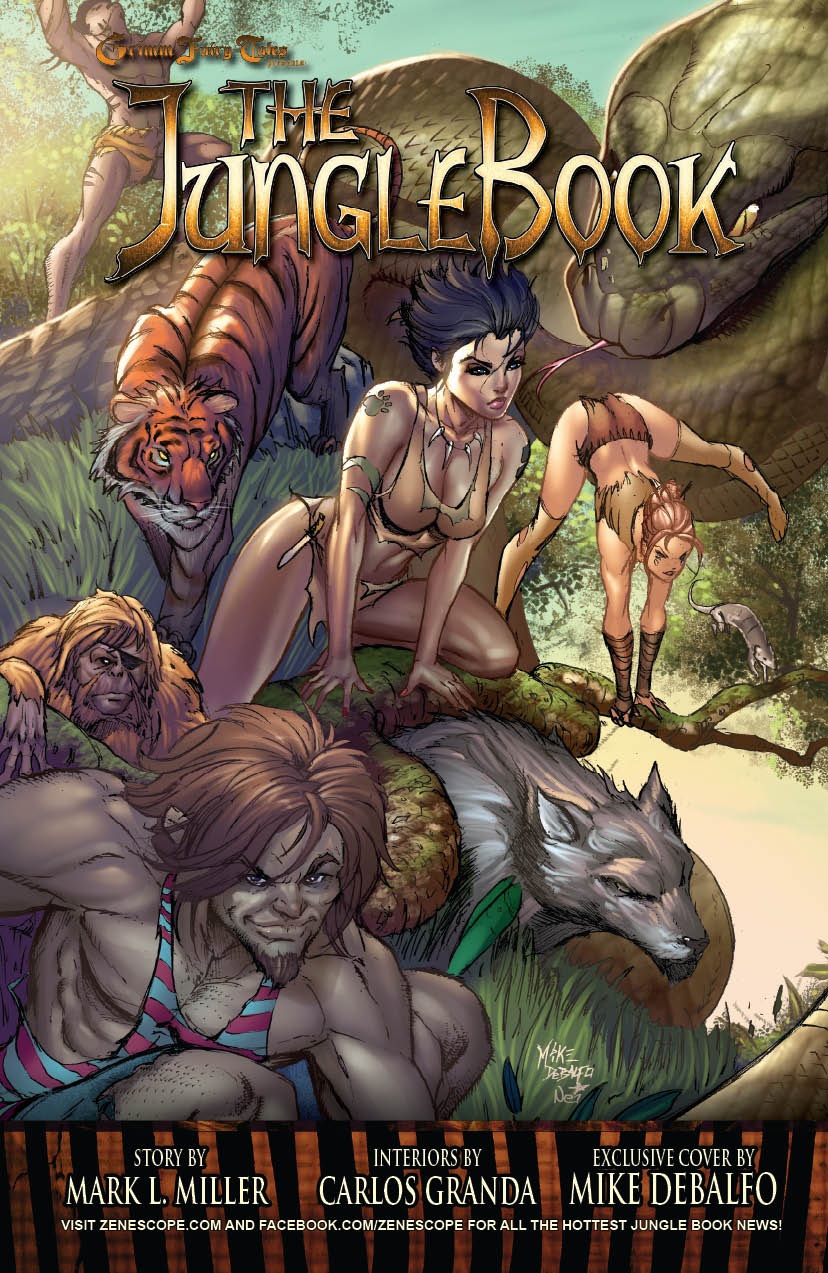 Ambush Bug is Mark L. Miller, original @$$Hole/wordslinger/reviewer/co-editor of AICN Comics for over ten years. He has written comics such as MUSCLES & FIGHTS, MUSCLES & FRIGHTS, VINCENT PRICE PRESENTS TINGLERS & WITCHFINDER GENERAL, THE DEATHSPORT GAMES, WONDERLAND ANNUAL 2010 & NANNY & HANK (soon to be made into a feature film from Uptown 6 Films). He is also a regular writer for FAMOUS MONSTERS OF FILMLAND & has co-written their first ever comic book LUNA: ORDER OF THE WEREWOLF (to be released in late 2012 as an 100-pg original graphic novel). Mark has just announced his new comic book miniseries GRIMM FAIRY TALES PRESENTS THE JUNGLE BOOK from Zenescope Entertainment to be released March-August 2012. Also look for Mark's exciting arc on GRIMM FAIRY TALES #76-80 which begins in August 2012.
---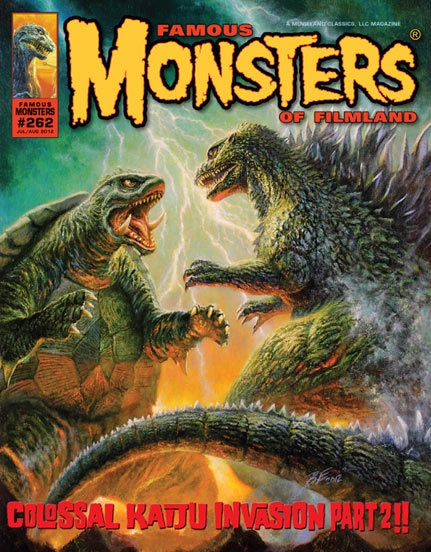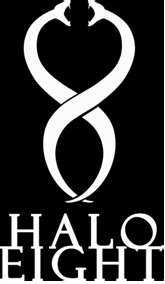 Check out the FAMOUS MONSTERS OF FILMLAND Website for all things horror!


Interested in illustrated films, fringe cinema, and other oddities?
Check out Halo-8 and challenge everything!
---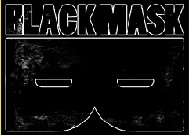 Find out what are BLACK MASK STUDIOS and OCCUPY COMICS here and on Facebook here!
---
Find more AICN HORROR including an archive of previous columns
on AICN HORROR's Facebook page!