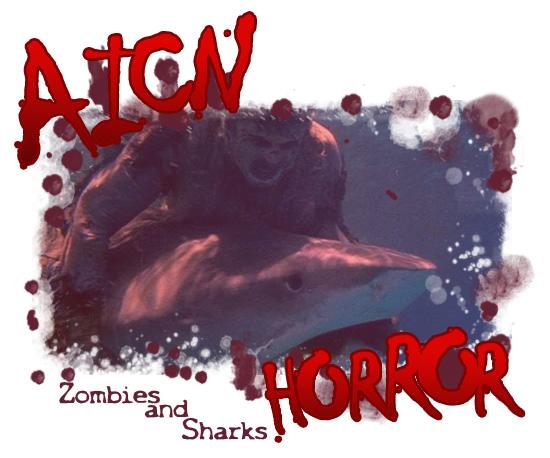 Logo by Kristian Horn
What the &#$% is ZOMBIES & SHARKS?
---
Greetings, all. Ambush Bug here with another AICN HORROR: ZOMBIES & SHARKS column. Though computer issues have forced me to do this column without all of the usual pretty pictures, I didn't want to delay the column as I had to do last week. So while I take a sledge hammer to my computer to see if I can fix it, go ahead and check out the new reviews below. I still have previews of the film when available, so you've got that.

In this column, I'm reviewing two premieres from last weekend's FLASHBACK WEEKEND in Chicago, as well as a DVD I picked up at the con. But before we do that…there's this!
---
As promised, I have the world premiere of CAESAR & OTTO'S DEADLY X-MAS trailer.
I reviewed the film just a few weeks ago,
but a trailer wasn't ready, so here it is in all it's bloody and funny glory!
---
I also have heard word about a new film from the creative team behind the recent short film STEPHEN KING'S SURVIVOR TYPE (
reviewed here!
), director Chris Ethridge and writer Jayson Palmer, called THE MORNINGSIDE MONSTER. Here's the official synopsis;
The story unfolds around the discovery of a brutally murdered corpse in the woods of the otherwise-peaceful small town of Morningside, NJ. As the bodies pile up, Sheriff Tom Haulk and his deputy, Klara Austin, embark on a desperate race against time to catch the killer, pitting them against friends, enemies and even each other.
The film stars indie horror icon Tiffany Shepis (Nightmare Man, The Violent Kind, The Frankenstein Syndrome), Atlanta star Robert Pralgo (The Vampire Diaries, Teen Wolf, The Blindside) and Georgia native Catherine Taber (Star Wars: The Clone Wars, The Old Republic, Just Like Heaven).
More info can be found here
and I'll definitely be reviewing the film for you all when this film is ready.
---
And now, let's get rolling with some new horrors!
Today on AICN HORROR
(Click title to go directly to the feature)
Advance Review: WHEN DEATH CALLS (2012)
MR. HUSH (2012)
TEDDY/POPULARITY KILLER (2011/2012)
Advance Review: BLOODY BIBLE CAMP (2012)
KILL LIST (2011)
JUAN OF THE DEAD (2011)
Advance Review: AMONG FRIENDS (2012)
And finally…JohnMark Triplett's HORROR MOVIES SUCK!
---
Advance Review: New on DVD next week!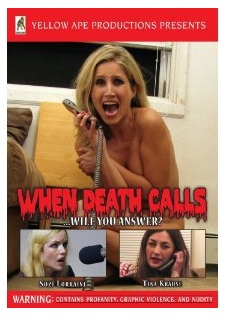 WHEN DEATH CALLS (2012)
Directed by Jim Haggerty
Written by Jim Haggerty
Starring Suzi Lorraine, Tina Krause, Nathalie Bryant, Jae Mosc, Pooya Mohseni, Robert Lincourt, Katt Masterson, Darlene McCullough, Rebecca Rose McCain, Stephen Alan Wilson, Jim Haggerty, Alex Kruz, Dennis Newman, Angela Alvizuri, David Tapias
Find out more about this film on the Yellow Ape Productions website here!
Reviewed by Ambush Bug
WHEN DEATH CALLS is low, low budget with amateur performances and low fi effects. It is also kind of fun. The film is made up of interlocking mini-stories that kind of flow into one another; opening first with a woman being stalked by an obscene phone caller then moving to a midnight-call in radio show with a sassy, sexy hostess looking for creepy tales to tell over the radio waves, finally the stories from the callers are elaborated on and illustrated into short narratives.
Though WHEN DEATH CALLS' structure plays it loose, there are some tight and genuine chills from time to time during this one. My favorite story of the bunch is the last involving a husband trying to kill his wife, but she ends up coming back to life every time and is so oblivious that she still loves the guy. Another one involves a monster in the basement made up of the most rudimentary special effects which I found to be endearing.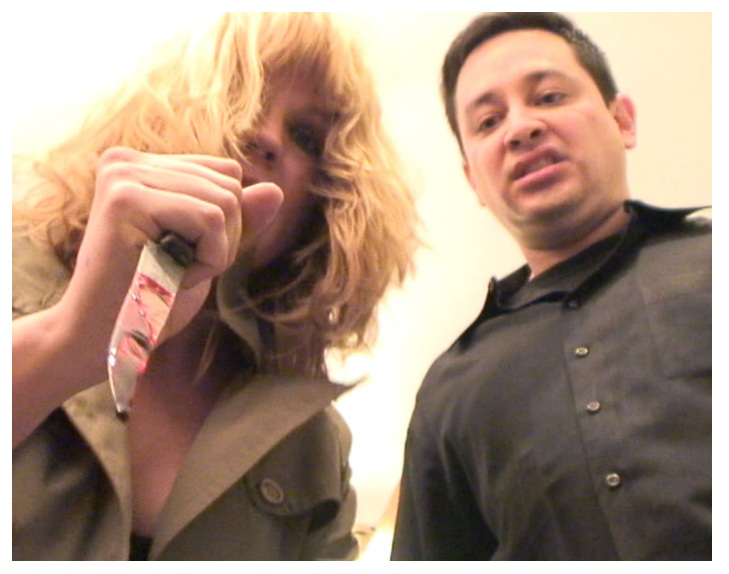 Now, as I said, most of these actors are amateurs, but that doesn't stop writer/director Jim Haggerty from talking the women out of their clothes. There is a bevy of naked women in this film, which is nice. But some of them shouldn't really be naked on screen, which is not so nice. Most of the women in this film serve to do one of three things; kill, get naked, or die, and some of them do all three.
Much of these stories are predictable and involve cheating spouses and murder, which seems to be the common thread linking all of these little ditties together. Most have some pacing problems, especially the overly long, aforementioned dead wife story, but Haggerty at least knows how to time a good scare and does so multiple times in this film. If low budget horror scares you in a bad way, then I'd give this one a pass. But if you don't mind the amateur lighting, acting, storytelling, effects, and pacing, then WHEN DEATH CALLS is well worth a jolt or two.
Sorry, no trailer for this one.
---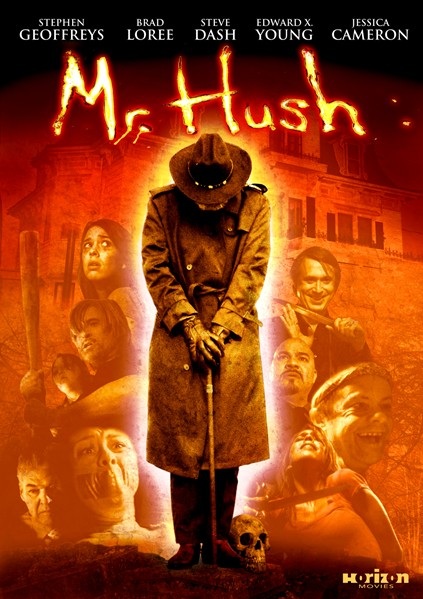 New on DVD!
MR. HUSH (2010)
Directed by David Lee Madison
Written by David Lee Madison
Starring Brad Loree, Edward X. Young, Stephen Geoffreys, Steve Dash, Jessica Cameron, Connie Giordano, Brian O'Halloran
Find out more about this film here!
Reviewed by Ambush Bug
Wow, I try to be as positive as I can with reviews and focus on the pluses rather than linger on the minuses, but what happens when there are almost no pluses to speak of?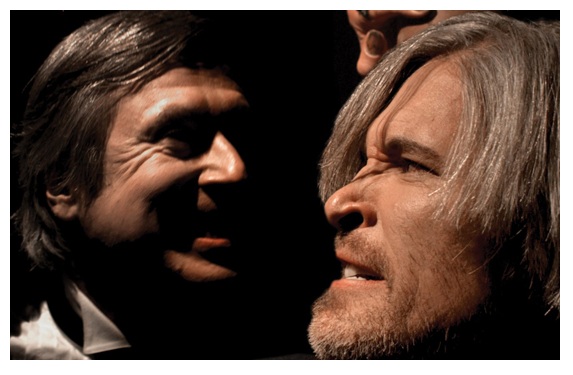 This is the problem I had with MR. HUSH, which tries its damndest to be a throwback to the 80's slasher craze and tries even harder to make the serial killer in the title a franchisable character and forgets the main thing about franchises, the original has to be good enough to deem a sequel necessary.
Where do I begin. Script? By the numbers as a family man's family is killed in front of him by a serial killer, then when the guy finally gets over the loss of his family and starts to date again, the killer shows up again for more murder and mayhem. The script requires the star Brad Loree to be overly saccharinated to the point of where I was suspecting this was going to be a film about a good man snapping and killing his family, but that doesn't happen. The schmaltzy first half hour is actually trying to be genuine. Of course, the villain Mr. Hush and his henchman Stephen Geoffries shows up and of course, of course, they have to stop and monologue about Hush's intricate history with Loree's family that is told and not shown…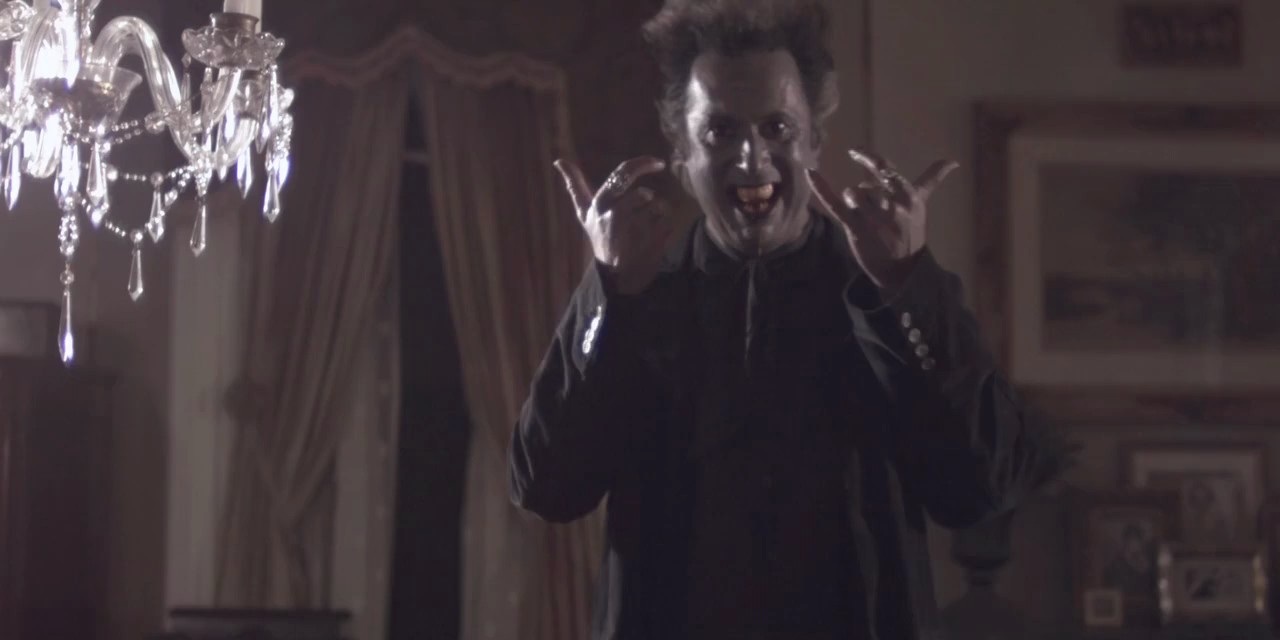 Ahhh, fuck it. I don't know why I'm explaining it. On top of the bad scripting, every actor feels the need to scream their lines. That is, when they're not screaming "NOOOOOO!!!" at the top of their lungs.
Very little by way of gore is present save some blood drank from glass jars and splattered on faces and necks. Oh yeah, in the final scene we find out it's not a serial killer we are dealing with! It's a vampire with the worst looking makeup imaginable that actually looks like blackface.
Toss in an unnecessary cameo by CLERKS Brian O'Halloran and a theme song from three members of Huey Lewis & the News that sounds a lot like a Huey Lewis & the News song and you have a very, very bad film.
I wish everyone involved a good life and I'm sure the filmmakers had the best of intentions, but this bland, badly acted, badly paced, and badly conceived film should be avoided at all costs. Please stay away from MR. HUSH.
---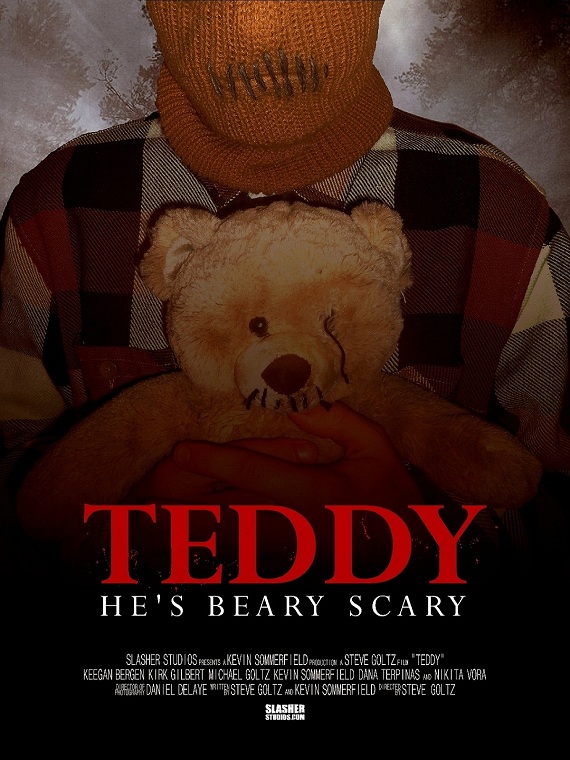 New on DVD!
TEDDY/POPULARITY KILLER (2011/2012)
TEDDY
Directed by Steve Goltz
Written by Steve Goltz & Kevin Sommerfield
Starring Keegan Bergen, Kirk Gilbert, Mike Goltz, Kevin Sommerfield, Dana Terpinas and Nikita Vora
POPULARITY KILLER
Directed by Steve Goltz
Written by Kevin Sommerfield
Starring Courtney Ellen Bay, Matty Dorschner, Mike Goltz, Jennifer Frey, Hannah Herdt, Dana Michele, Jamie Jo Roen, and Kevin Sommerfield
Find out more about this film at Slasher Studios!
Reviewed by Ambush Bug
I picked up this double disk at Flashback Weekend recently looking for low budget horror films to whet my indie horror appetite and after seeing TEDDY and POPULARITY KILLER, consider my appetite whetted.
Both films are about serial killers (something I should have expected from a production house calling themselves Slasher Studios) and though both tread down well worn path, both show some skill in pacing, original concepts, and camera work. Sure the acting is amateur and most likely this is something done by a group of friends, but in the end, these two short films turned out to be pretty fun digestible nuggets of slasher horror.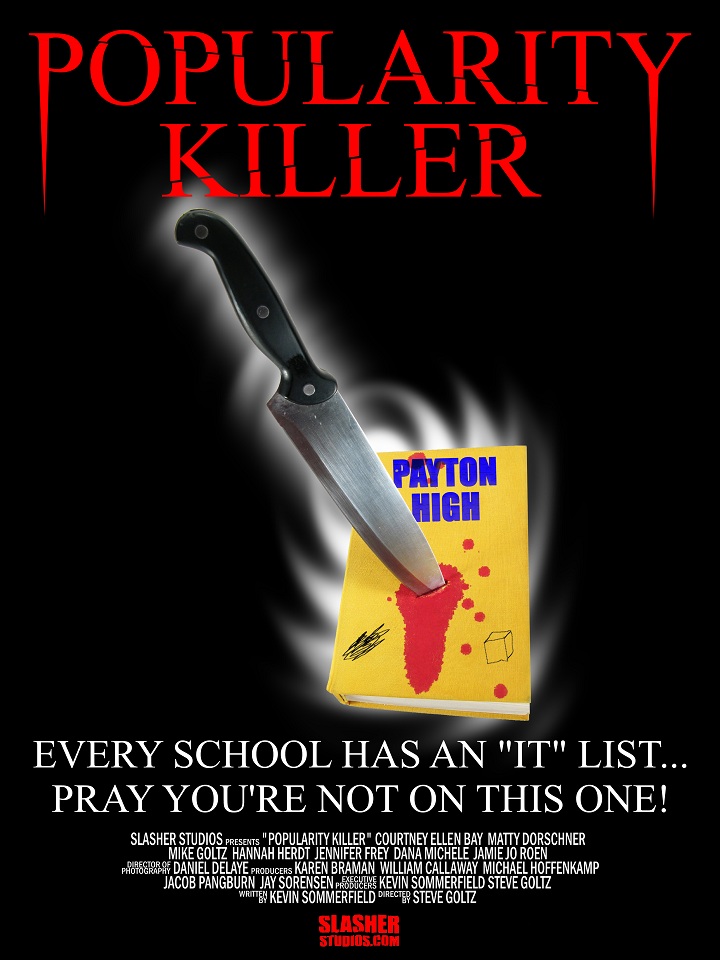 TEDDY is a revenge film, nicely paced with some funny acting by the cast of soon-to-be-deads, about a mentally handicapped young man who's abusive father is killed by drunk driving campers and sets out for revenge on them using various sharp objects laying around the campsite while carrying a beat up teddy bear.
POPULARITY KILLER has a much more complex plot involving a group of kids who has a killer among them targeting the popular kids in the school. SCREAM-esque, sure, but fun nevertheless. Though the ending is a bit convoluted, it still is well paced with some nice gory kills.
I'm not building these films up as blockbusters, but they are a pair of fun shorts by obvious fans of the genre. Both shorts show some technical skill and the passion is definitely present enough to make me want to look out for future Slasher Studios productions.
---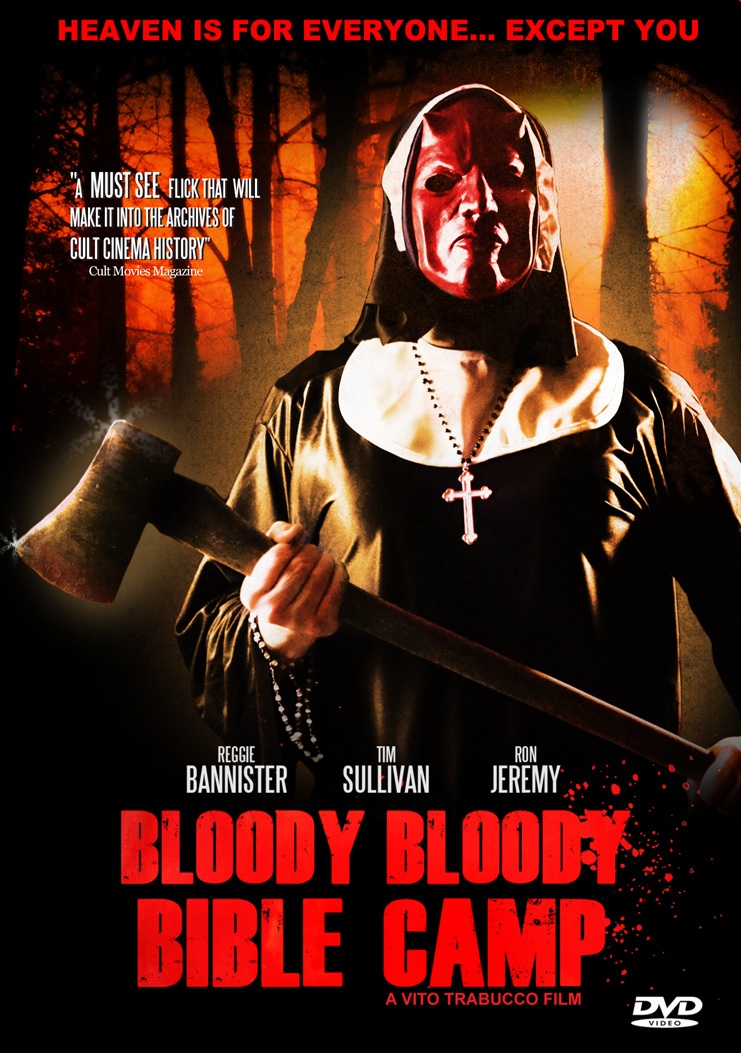 Advance Review: Recently played at Chicago's Flashback Weekend!
BLOODY BIBLE CAMP (2012)
Directed by Vito Trabucco
Written by Vito Trabucco, Reggie Bannister, Shelby McIntyre
Starring Reggie Bannister, Tim Sullivan, Ivet Corvea, Matthew Aidan, Jessica Sonneborn, Deborah Venegas, Jeff Dylan Graham, Elissa Dowling, David C. Hayes, Christopher Raff, and Ron Jeremy as Jesus
Find out more about this film here!
Reviewed by Ambush Bug
Intentionally lurid and twisted, like some of the best John Waters films before he went Hollywood, BLOODY BIBLE CAMP may be too low budget for some to take, but there are definitely enough laughs and more than enough gore to satisfy this gore hound.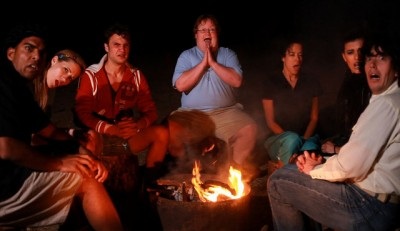 The film opens with a group of kids at a bible camp stalked and slashed in a quick fashion by a killer wearing a devil mask and a nun's robe. After the first group of counselors and "teens" who look more like they are in their late twenties are slaughtered, we flash forward to 1984 where another busload of kids show up for the killer to slash down. Really, that's all this film is, forging down well tread pathways, but the folks behind this one make sure this trip is filled with both clever and gross-out humor.
And the humor hits its mark for at least the first half of the film. The opening credits sequence taking place in 1979 is by far the funniest portion of the film and it surprises me that the actors used in that sequence were killed off so quickly because their comic timing is definitely bull's-eye every time. The bare bones storyline using such '79-isms as references to STAR WARS (when a person who saw it is asked how it was, he responds, "It sucked."), Spanish Fly, and funky 70's disco wear. After they are dispatched, we travel forward to the 80's, and while there are plenty of things about the 80's worth parodying, less of the humor is geared towards the era the story is taking place in and more is directed toward dirty jokes about sex. Some of this is pretty funny as well, but by not taking advantage of some of the 80's colloquialisms, the humor falls short. There are a few good laughs, including some misconceptions about how you get AIDS which ran rampant in the 80's, but for me, the 70's stuff was much more clever.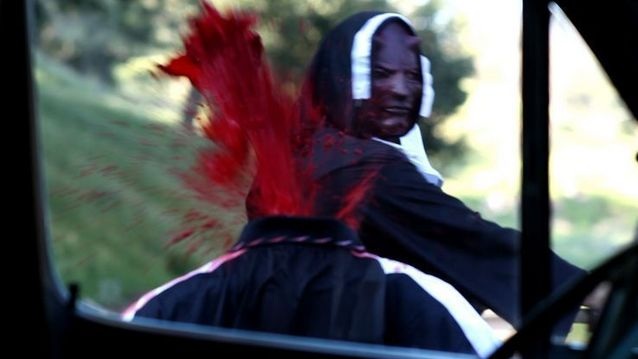 What BLOODY BIBLE CAMP lacks in laughs, they make up for in outrageous gore in the last half. Heads explode, guts are spilled, and grue is tossed to and fro with reckless abandon. Much of the gore is done for laughs and cartoony kills such as a cinder block dropped onto a head resulting in much splatter make them happen proficiently.
At the same time, BLOODY BIBLE CAMP does seem to lose its steam about a half hour before the end credits as campy humor and gore give way to bringing the story to a close. Cameos by Ron Jeremy as Jesus make for a fun one liner or two, but things just kind of sputter to a stop by the end.
That said, BLOODY BIBLE CAMP did incite a lot of laughs at both the comedic and gory attempts, so for that, it is definitely worth seeking out.
It's available now on DVD for purchase on it's website here
.
---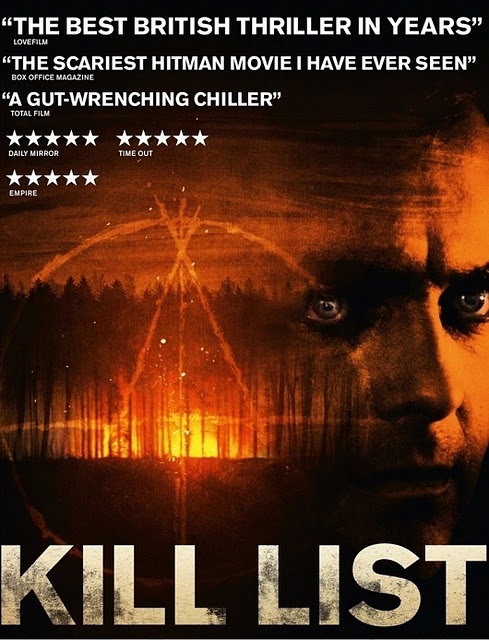 New on DVD/BluRay!
KILL LIST (2011)
Directed by Ben Wheatley
Written by Ben Wheatley & Amy Jump
Starring Neil Maskell, MyAnna Buring, Harry Simpson, Michael Smiley, Emma Fryer
Find out more about this film here!
Reviewed by Ambush Bug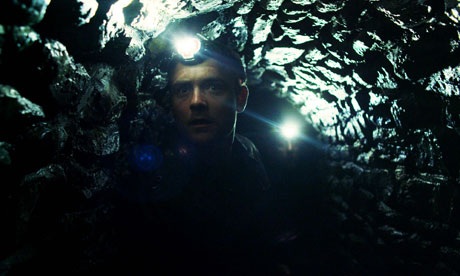 I've been hearing about KILL LIST for quite some time and was very much looking forward to checking it out. I hate that feeling, because usually my expectations are not met when I anticipate the viewing of a film so much. But occasionally, as with KILL LIST, they are met and exceeded.
I've heard many folks say that in order to go into KILL LIST, it's most effective to know nothing of the film before hand. I have to agree, since I avoided reading plot synopses and reviews, wanting to be surprised. I'm going to try to go spoiler free, but for the sake of this review, I have to talk about some details here.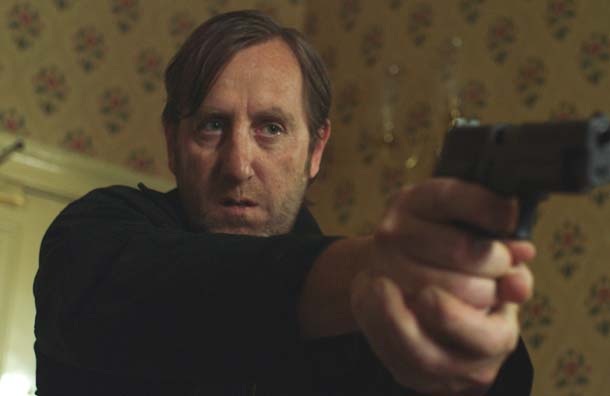 That being said, I love the way KILL LIST plays out. I could easily see some folks lured into this movie thinking it's one thing, then being totally shocked and appalled finding out that by the end of the movie it is an entirely different film. Throughout, though, the tone is dark, be it set in a quaint homestead where a couple fight and make up in a tumultuous relationship or in a dark cave system with two men running for their lives. There's rarely a moment of levity and even when it does occur, as with a scene in a diner when two hitmen's dinner is interrupted by religious singers, it plays out with a wicked black sense of humor.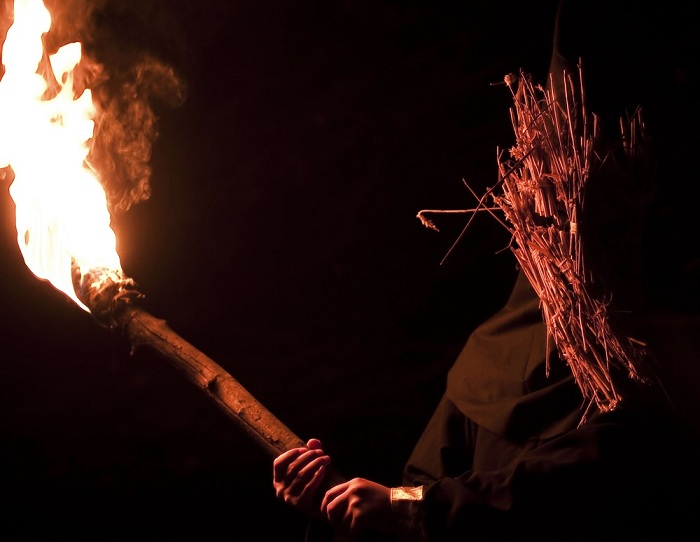 KILL LIST begins slowly and unravels meticulously, centering on one man, Jay (played stone cold by Neil Maskell), who seems to be having a banal argument with his beautiful wife Shel (MyAnna Buring) about bills and working. When another couple comes over for dinner, the normalcy continues as both couples laugh over food and wine, get tipsy, argue, then make up. Again, nothing really out of the ordinary. Soon, though, it's revealed that Jay and his partner Gal (Michael Smiley) are hitmen. As the curtains are pulled back on their shady life of taking pay for busting skulls, we are witness to a whole new level of normal for Jay, who continues to walk around like a ticking time bomb and enacts his jobs with brutal force. When Jay and Gal take a job from a mysterious grey-haired gentleman with a list of kills for the two, things start getting…dire.
That's all I'm saying. Though moving from inner home argument drama to hitman angst is enough of a shift, the shift into the realm of horror makes this film a must see for fans of all cinema, not just horrorphiles. KILL LIST is downright terrifying in parts and ends with an impactful blow to the stomach that leaves you reeling long after. It's a film that curbstomps expectations, delving into dark and scary territories.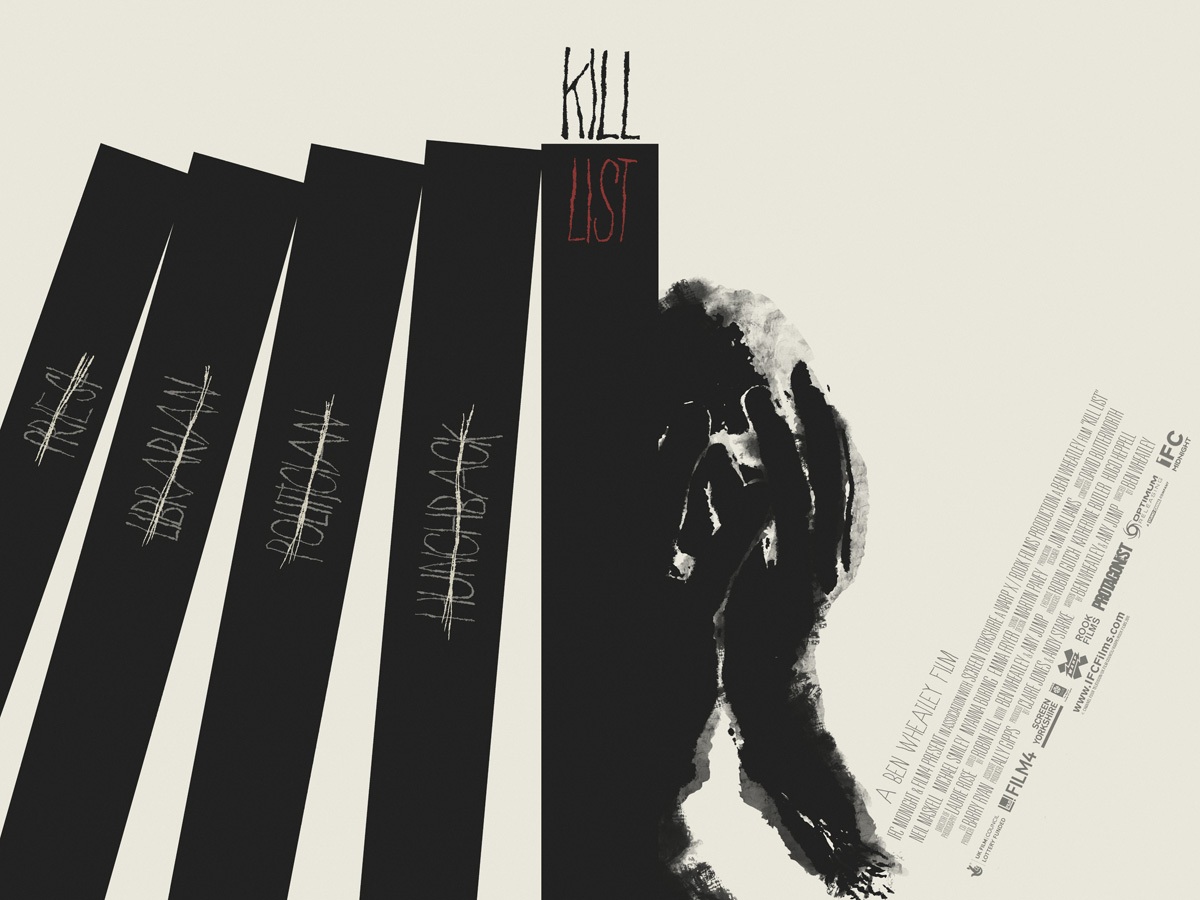 Director Ben Wheatley takes his sweet old time getting to the horror, but those patient enough to sit through some commanding performances from Maskell, Buring, and Smiley will definitely find the horrific payoff at the end shocking and satisfying. Though on a second watch shades of the horrors to come are scattered throughout the story, Wheatley makes the actors' lives on screen so fascinating that you are bound to miss it on first showing.
I've already said too much, I'm sure. Just check out KILL LIST if it's at a theater near you. It's a harrowing film that is bores deep into your heart and leaves painful scars.
---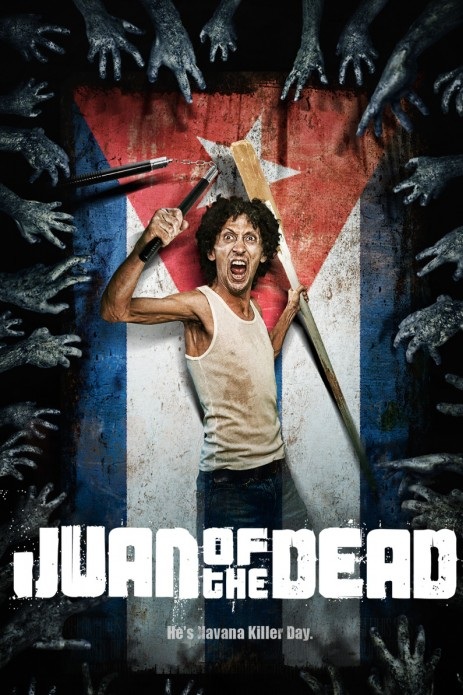 New on DVD!
JUAN DE LOS MUERTOS (2011)
aka JUAN OF THE DEAD
Directed by Alejandro Brugués
Written by Alejandro Brugués
Starring Alexis Díaz de Villegas, Jorge Molina, Andrea Duro, Andros Perugorría, Jazz Vilá, Eliecer Ramírez, Antonio Dechent
Find out more about this film here!
Reviewed by Ambush Bug
Lauded much by critics across the cosmos as the coolest of cool, JUAN OF THE DEAD is finally available for the masses this week on DVD & BluRay. This happens to me a lot and I don't mean to be divisive or contrary. I'm not one of those people who dislikes the thing that is popular, but I am one of those people who is often mislead by hype. Had I stumbled upon JUAN OF THE DEAD without hearing how awesome it was, I'm sure I would have fallen head over heels for it. But hearing folks hype it up to universal levels of coolness is the surefire route to disappointment for me.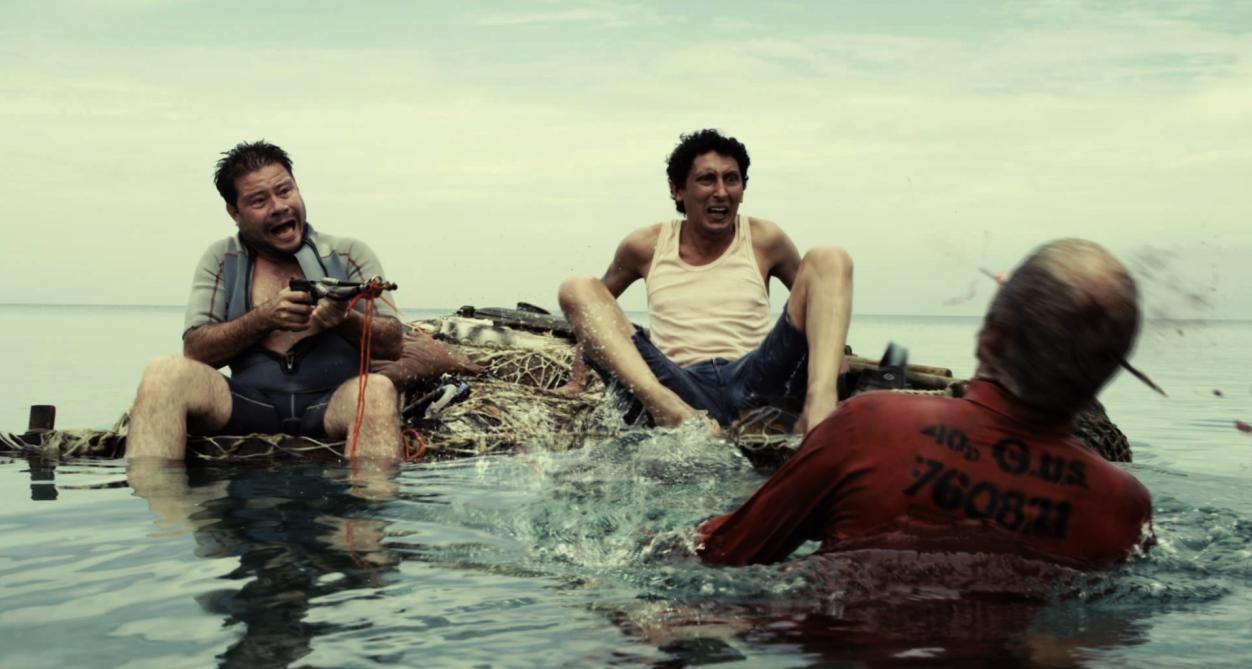 I think part of the reason why my experience watching JUAN OF THE DEAD was less than jaw dropping was the overall theme of homophobia throughout the entire movie. As much as the film is filled with amazingly comedic takes on age old zombie lore and cinematic tradition, there is an uncomfortable amount of off color humor about homosexuals. Ranging from Juan's friend calling those he dislikes derogatory terms for homosexuals to Juan's own distaste towards his openly gay partners in crime, this film is rife with homophobia from beginning to end. On the one hand, this is a Cuban film, made in Cuba, by Cubans, and while I want to respect that Cuba may not be as culturally accepting toward homosexuals, it doesn't make me any more comfortable sitting through a film which occasionally treats gays almost as bad as the zombies that are raging through the streets. There's nothing overtly violent towards homosexuals in this film, but the disdain put upon them by using the term in a derogatory fashion as well as the way the homosexual characters are looked at by the title character is enough to make any open minded individual uncomfortable.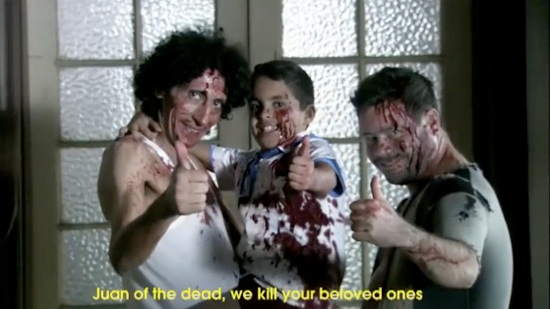 That said, I can recognize JUAN OF THE DEAD as a delightfully blackly comedic film, despite it's cultural insensitivity. There are plenty of wonderful sight gags and goofy situations the opportunistic Juan and his ragtag band of misfits get themselves into. From trying to convince a senile old lady that her weirdly acting old husband is actually a zombie to making a final run for the border in a convertible through the zombie masses, there are stunning visuals that definitely deserve to be applauded. There's a sequence that occurs underwater which makes reference to ZOMBIE 2 and the title of this very column involving a bunch of zombies and a shark. Juan starts a service dispatching the newly departed making the best of a bad situation and collecting a little pocket change to boot. In fact, unlike most zombie films, this is one of the most feel-good zombie films I've ever seen.
The cast is pretty good here as well with Alexis Díaz de Villegas (Juan) offering up charisma galore, despite the fact that it is highly unbelievable the lanky John Turturro-esque looking actor could be the gigolo the script casts him to be. That said, he does have a commanding presence and by the end of the film, I was rooting for him along with the crowd to make it through the zombie apocalypse.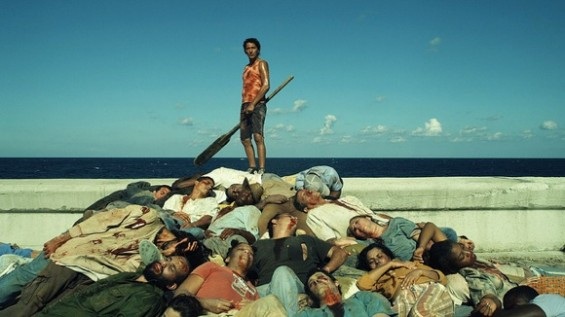 As with SHAUN OF THE DEAD, which was rooted in the British culture it takes place in, so does JUAN OF THE DEAD serve as a travelogue of sorts for the sights, sounds, and the rich culture celebrating great pride in calling itself Cuban. Like SHAUN as well, JUAN takes a very serious turn towards the end and ends on a cool, but somber note that I won't ruin here. But because the comedy has been occurring around the characters and not making fun of them, this turn of tone doesn't feel alarming or out of place. It serves as a meaningful note to finish this story we have grown to care about and does so in a heartfelt manner.
I look forward to seeing what writer/director Alejandro Brugués has in store next. He certainly has an eye for an epic scope and I definitely can see the director becoming highly lauded by geek and normal movie goer alike. While some of the depictions of Cuban culture pushed my American cultural sensitivity to the limit while watching JUAN OF THE DEAD, I can understand why the geeks are going ga-ga over this one. At times, I found myself in awe of the coolness of it too with strong characters, fun performances, and fantastic scenes of action and gore. I can't do a back flip over this one, but it definitely is one of the best zombie films to come along since SHAUN OF THE DEAD.
---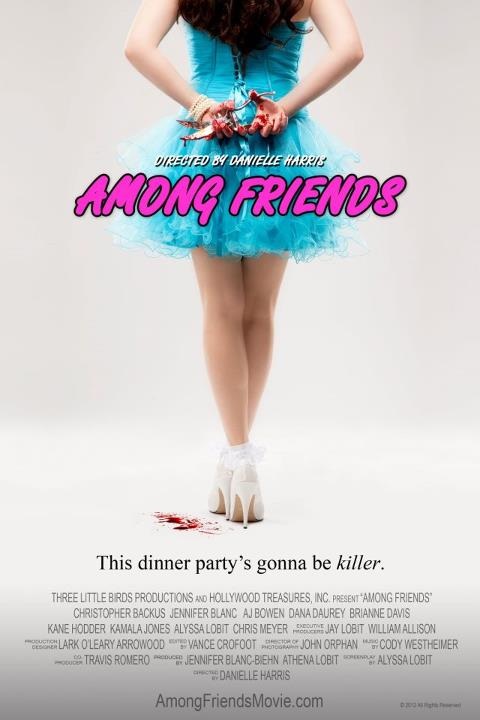 Advance Review: Recently played at Chicago's Flashback Weekend!
AMONG FRIENDS (2012)
Directed by Danielle Harris
Written by Alyssa Lobit
Starring Christopher Backus, Jennifer Blanc, AJ Bowen, Dana Daurey, Brianne Davis, Kamala Jones, Alyssa Lobit, Chris Meyer, Danielle Harris, Kane Hodder, Xavier Gens
Find out more about this film here and on Facebook here!
Retro-reviewed by Ambush Bug
I had a chance to catch HALLOWEEN veteran Danielle Harris' directoral debut at Flashback Weekend recently with the director there in attendance. It was a late show and after a long day of tooling about the convention and across the street at the Wizard World Convention, I was definitely worried that I wouldn't make it through her new film AMONG FRIENDS.
All worries ceased to be when the film began. Right off the bat, I could tell I was in for an energetic ride and there wasn't a chance of falling asleep at this one. Though the cuts between scenes were quick and bouncy, Harris did a great job of letting the viewer know just enough to understand bits about the characters as each of them pile into a limo and are identified by a snapshot with their name. As the group of friends—decked out in eighties garb for a theme dinner party, approach their destination, I began to recognize some of the faces starring in this film. First was AJ Bowen, who I recently interviewed for his role in RITES OF SPRING. Bowen continues his trend of picking good horror films to star in and a lot of the likability of the characters comes from interactions with his character. Though bumbling and a recovering alcoholic/drug abuser, Bowen's puppy dog charisma shines through here more so than in his more devious roles in HOUSE OF THE DEVIL and A HORRIBLE WAY TO DIE. Jennifer Blanc (star of VICTIM and wife of Michael Biehn) also appears as one of the party goers and does a great job of amping the emotion when things get crazy. Another standout cast member is Brianne Davis who plays a free spirited party girl who spends most of the time whacked out on mushrooms and coke and is downright gorgeous to boot.
In fact that is the only problem I had with this film, in that basically everyone in the cast is so damn ridiculously good looking. Harris does a great job of getting around that though by painting them all in a pretty despicable light almost immediately. So while the fresh faces of the cast are immediately attractive and as we get to know them on a surface level, even likable, as the night goes on and the ugly truths are revealed, it is pretty clear that this is not your typical horror film with pretty boy and girl actors screaming and running from a hatchet killer. Those who often feel distanced from films depicting the rich, famous or both will most likely feel more akin to these characters because of the horrible light they are placed in which inevitably brings them down to earth.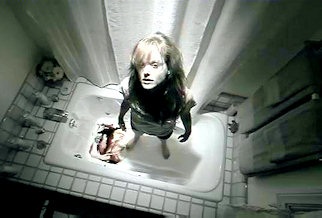 In fact, most of the film takes place sitting at a dinner table as the cast is forced to confront one another for the despicable things they've done to each other through the years. Things get nasty quickly and Harris keeps things kinetic despite the serene and decadent surroundings with POV shots of the drugged up dinner guests and flashbacks showing their acts in motion. There's an incredibly trippy scene where Brianne Davis' Jules wigs out and realizes she is in a film. This is a fantastic reality shredding scene with cameos by the director herself, director Xavier Gens (FRONTIER(S), THE DIVIDE), and even Michael Biehn reprising his role as the maintenance guy taped to the chair in THE DIVIDE.
There are a few moments where the pacing of the scene is a bit off. The camera lingers a bit from time to time, but this is nothing a few nips and tucks in the editing room couldn't fix. Despite that, Harris shows a lot of promise and was able to keep a pretty static story bouncing all over the place. Dragging glamour through a pool of sticky blood, Harris impressed me with AMONG FRIENDS and I look forward to seeing what this scream queen has in store for us next always in front of and now behind the camera.
---
And finally…here's a little shortie that is all about some of the more well-tread tropes of horror. But at the same time, it is a fresh and funny take on the genre we know and love and often think sucks. Here's JohnMark Triplett's hilarious HORROR MOVIES SUCK! Enjoy…
See ya Monday for a special column I know you'll love! And hopefully, we'll have our pretty pictures back on track for you.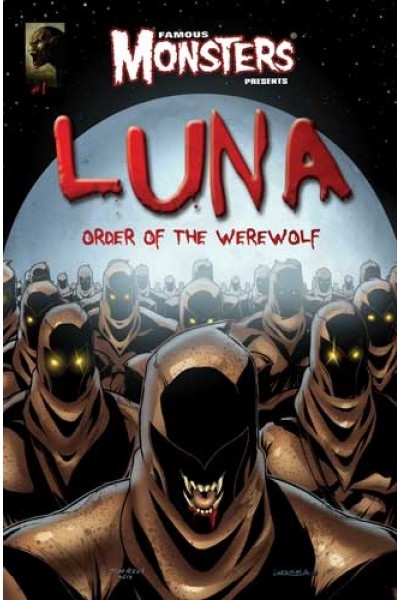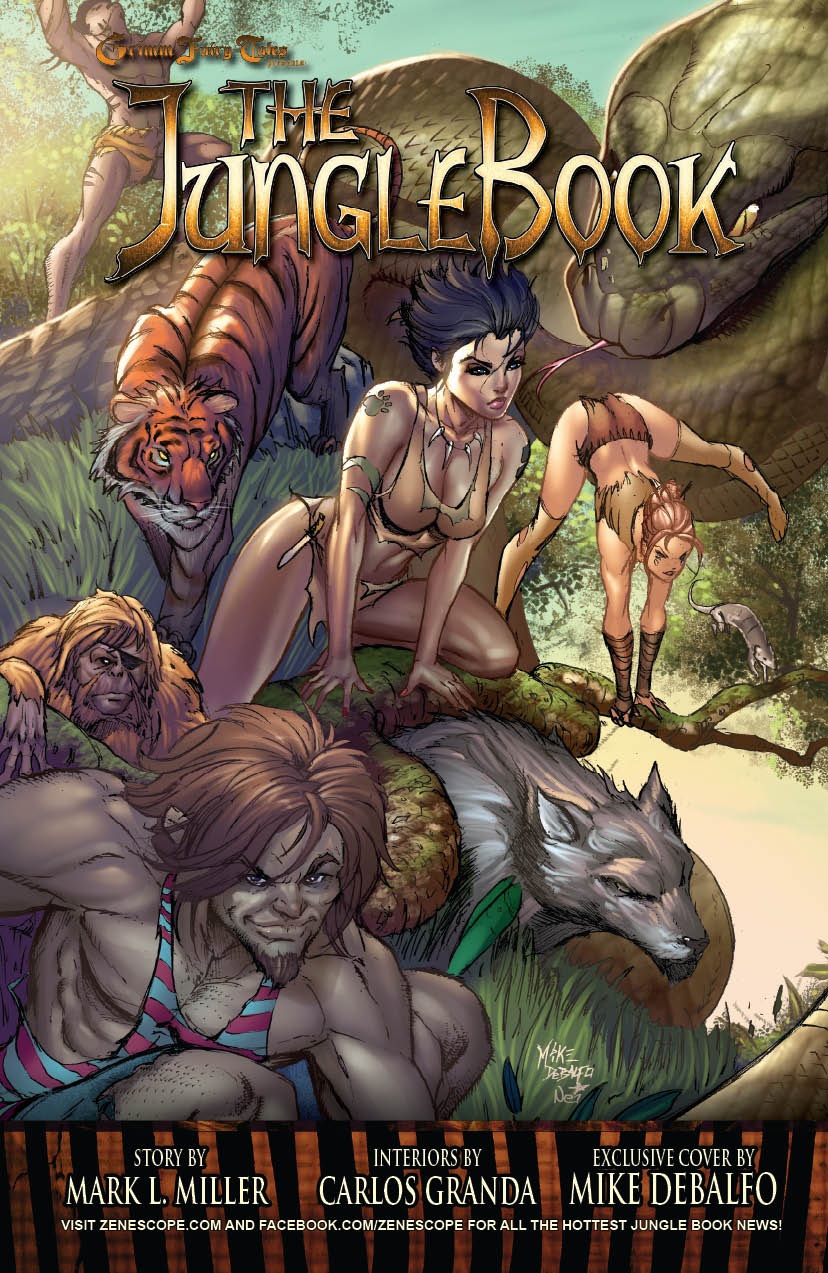 Ambush Bug is Mark L. Miller, original @$$Hole/wordslinger/reviewer/co-editor of AICN Comics for over ten years. He has written comics such as MUSCLES & FIGHTS, MUSCLES & FRIGHTS, VINCENT PRICE PRESENTS TINGLERS & WITCHFINDER GENERAL, THE DEATHSPORT GAMES, WONDERLAND ANNUAL 2010 & NANNY & HANK (soon to be made into a feature film from Uptown 6 Films). He is also a regular writer for FAMOUS MONSTERS OF FILMLAND & has co-written their first ever comic book LUNA: ORDER OF THE WEREWOLF (to be released in late 2012 as an 100-pg original graphic novel). Mark has just announced his new comic book miniseries GRIMM FAIRY TALES PRESENTS THE JUNGLE BOOK from Zenescope Entertainment to be released March-August 2012. Also look for Mark's exciting arc on GRIMM FAIRY TALES #76-80 which begins in August 2012.
---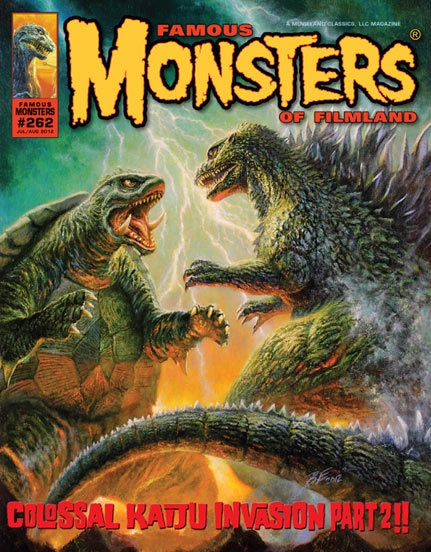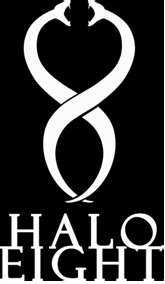 Check out the FAMOUS MONSTERS OF FILMLAND Website for all things horror!


Interested in illustrated films, fringe cinema, and other oddities?
Check out Halo-8 and challenge everything!
---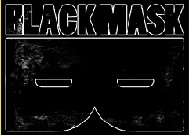 Find out what are BLACK MASK STUDIOS and OCCUPY COMICS here and on Facebook here!
---
Find more AICN HORROR including an archive of previous columns
on AICN HORROR's Facebook page!