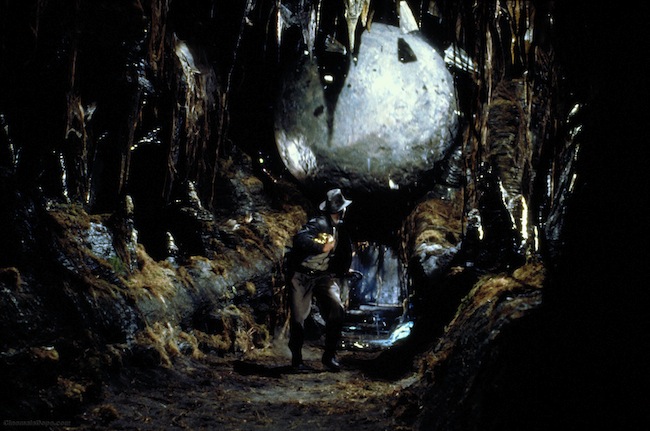 The Kidd here...
I only wish more studios would get behind this idea of retrospective screenings without tacking on 3D. But in a true sign of awesomeness, word has leaked out that Paramount is planning a re-release of RAIDERS OF THE LOST ARK, in anticipation of the INDIANA JONES: THE COMPLETE ADVENTURES Blu-ray box set
release in September... and to truly ring in the fortune and glory that comes with such an idea, this isn't just any old re-release. This one's coming in IMAX.
El Mayimbe of Latino Review blew the lid off this one via Twitter, and, after checking in with my sources, it looks like a window of Friday, September 7 through Thursday, September 13 (giving you less than a week to take advantage of this chance to see Indiana Jones again, this time on the big, BIG screen... and right before the September 18 street date for the Blu-ray).
Paramount hasn't returned any calls for comment, so the number of screens right now remains a mystery, but I'm anticipating a huge roll-out here to build excitement for the box set. That means you should be able to see RAIDERS in both the traditional 70mm IMAX format as well as the Digital IMAX with those screens free and clear of new fare until RESIDENT EVIL: RETRIBUTION hits on the 14th, which explains the tight window of the release.
Oh, sure... you can save your pennies for the Blu-ray release if you want... but who knows when you're going to get another chance to see Indiana Jones projected like this again. I know I'm getting my ticket.
* * * * * * *
Courtesy of Yahoo!, here's your trailer for RAIDERS OF THE LOST ARK in IMAX...
Plus, the icing on the cake is that AMC is also rolling out an entire Indiana Jones marathon on September 15. That's all four movies - RAIDERS OF THE LOST ARK, THE TEMPLE OF DOOM, THE LAST CRUSADE and KINGDOM OF THE CRYSTAL SKULL - back in the theatre for your adventurous viewing pleasure. The Blu-ray box set comes only a couple days later, but is that really the same as being able to watch Indy in a theatre again surrounded by fellow Indy fans?
-Billy Donnelly
"The Infamous Billy The Kidd"
Follow me on Twitter.