Quint interviews JAWS production designer Joe Alves about building the Orca and the Amity sign! On Video!
Ahoy, squirts! Quint here. When the offer to conduct some interviews about Jaws on the Universal Backlot (and on Jaws Lake, no less) came through there was about a millisecond between that hitting my eyes and me responding with a "hell yes!"
The Jaws Blu-Ray is outstanding, one of the hands down best transfers I've ever seen (up there Alien and Aliens), but that's kind of beside the point. I've been at a few functions with Joe Alves, share a couple mutual friends, but have never had the chance to geek out on the man who put so many personal flourishes on my favorite film. Meeting him was worth the trip just by itself.
Our chat was so much shorter than I wanted it to be, but we do cover a bit of ground including discussing the importance of the colors red and yellow, a little bit about the building of Quint's vessel, The Orca, and a nice bit of trivia about this: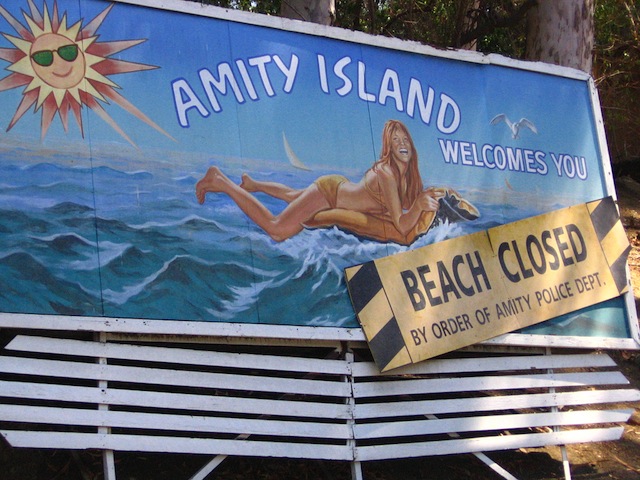 Oh, and you'll notice this is one of those futuristic video interview things. As usual, we here at AICN are proudly 6 years behind the curve, but I have four Jaws video interviews where you get to hear my beautiful, stammering dorky voice and see the lovely and talented human beings I'm chatting with. First up is Mr. Alves, but keep an eye out for screenwriter Carl Gottlieb, The Shark Is Still Working's J. Michael Roddy and Mike Daruty, the guy who headed up Universal's amazing restoration.
And throughout them all you'll get cameo appearances by Bruce himself, trying to take a bite out of tourists in the background!
Enjoy!
Okay, so I Jaws-nerd failed thinking Quint's Shack was built in Gay Head instead of Menemsha. Cut me some slack! I've actually been there, made the pilgrimage, so I get a couple of geek points reinstated.
Hope you guys enjoyed the chat. Keep your eye peeled for a couple more. And for the love of God, buy JAWS on Blu-Ray and watch it a few hundred bazillion-trillion times! It's beautiful!
-Eric Vespe
"Quint"
quint@aintitcool.com
Follow Me On Twitter