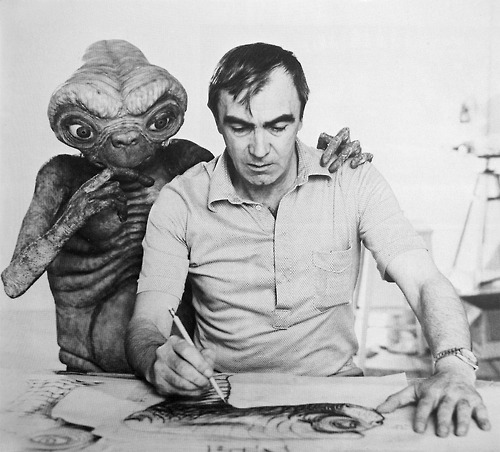 Carlo Rambaldi, like Stan Winston and Ray Harryhausen, dreamt of wonderful creatures and made them reality. Before coming to Hollywood, Rambaldi worked with such great Italian directors as Mario Bava and Dario Argento. His work made a real impact in science fiction and horror filmmaking. He helped create the head mechanics of H. R. Giger's Alien (for which he won an Oscar), helped design the aliens from CLOSE ENCOUNTERS OF THE THIRD KIND, the sandworms for DUNE, and worked on many other films. He made these wonderful creatures exist, and gave them real personality.
Of course, it is Rambaldi's Oscar-winning work with E.T. THE EXTRA-TERRESTRIAL that will be the most fondly remembered - E.T. is squat, ugly, and completely loveable, and that's due to Rambaldi's ability to make him as real as possible, not only to the audience, but even to the actors on set. I remember Drew Barrymore's reaction in the movie when they fibrillated E.T. - a genuine, shocked cry from the aching heart of a child. You can't fake that, and that's due to Rambaldi giving E.T. life. Here's Rambaldi talking about his wonderful, timeless creation:
Carlo Rambaldi passed away today, at the age of 86. We here at Ain't It Cool give our deepest condolences to his family. Thank you from the bottoms of our heartlights for your beautiful work throughout the years.