..with a look at Death to the Daleks, a four part Pertwee-era adventure originally transmitted February - March 1974.
Due to a death in the family and the above-average complexities grappling with it entails, my writings will be rather brief this week. I may very well re-visit this story via an ammended post within the next few weeks. I'll post a link back to this article if and when this happens.
Also, to be completely frank, I feel like a bit of douche posting a regular ol' Docback in the slipstream of last night's events in Aurora, Colorado. I thought long and hard about whether to do this at all...but, after careful consideration...I decided to move forward.
Why? Firstly, I'm very much a "The show must go on..." type of personality. Another reason is because I believe consistency in our ways of life are critical when conrfonted with this kind of apalling circumstance - lest the darkness overtake us. Lest those who are filled with so much hate, anger, coldness, and confusion emerge victorious by weilding subversive power of us.
As such, it is with the utmost respect, and most profound honor possible, that we recognize those whose lives were taken in Aurora last night. Our thoughts are with you, and our heartfelt sympathies are extended to the loved ones left behind.
THE MOFF'S ULTRA-AMAZING AND SUPER-DUPER-INCREDIBLE SHERLOCK GETS SOME EMMY NOMINATIONS!! LIKE, A LOT OF THEM...
Miniseries or TV Movie (A Scandal in Belgravia)

Lead Actor in a Miniseries or TV movie (Benedict Cumberbatch as Sherlock Holmes)

Supporting Actor (Martin Freeman as Dr. John Watson)

Directing for a Miniseries, Movie, or Dramatic Special (Paul McGuigan - A Scandal in Belgravia)

Writing for a Miniseries, Movie, or Dramatic Special (Steven Moffat - A Scandal in Belgravia)

Art Direction For a Miniseries of Movie (A Scandal in Belgravia - Arwel Wyn Jones, Dafydd Shurmer & Joelle Rumbelow)

Casting For A Miniseries, Movie, or Special (A Scandal in Belgravia - Kate Rhodes James)

Cinematography for a Miniseries or Movie (A Scandal in Belgravia - Fabian Wagner)

Costume for a Miniseries, Movie, or A Special (A Scandal in Belgravia - Sarah Arthur & Ceri Walford)

Single-Camera Picture Editing for a Miniseries of Movie (A Scandal in Belgravia - Charlie Phillips)

Music Composition for a Miniseries, Movie, or Special (A Scandal in Belgravia - David Arnold & Michael Price)

Sound Editing for a Miniseries, Movie, or Special (A Scandal in Belgravia - Jeremy Child & Doug Sinclair)

Sound Mixing For A Miniseries or Movie (A Scandal in Belgravia - Howard Bargroff)
...per L.A. Times.
A most giddy congratulations to Team SHERLOCK on these beyond-deserved nominations. SHERLOCK represents, easily, among the best work on television right now and I'm moved to see it receiving so much respect.
THE DOCTOR WHO EXPERIENCE IS NOW OPEN IN CARDIFF!!
Recently relocated from London, the Experience now has a permanent home in Cardiff and is open for business. Details, pricing, videos, etc. can be found HERE.
IN CASE YOU MISSED IT EARLIER THIS WEEK: NEW SEASON/SERIES 7 TITLES AND EPISODE DETAILS!!
BBC has released more information about some forthcoming DOCTOR WHO Season/Series 7 episodes. Specifically: a few more titles, and a better sense of their pedigree.
We recently learned that episode one of S7 will be entitled Asylum of the Daleks. We now know that the second installment of this Season/Series is, quite magnificently and most promisingly, called Dinosaurs on a Spaceship - written by Chris Chibnall (who scripted S5's Silurian-centric The Hungry Earth and Cold Blood) - about which current DW overboss Steven Moffat indicated:
The Doctor will come face to face with some of the most monstrous creatures evolution has ever produced, on some of the most monstrous sets we've ever built.
The third S7 episode is called A Town Called Mercy, and guest stars FARSCAPE's Ben Browder. It's scripted by Toby Whithouse (S5's The Vampires of Venice and S6's The God Complex (Docback HERE, see it HERE). This is the show we saw some material from in the first Season/Series 7 promo a while back (HERE).
Both Dinosaurs and Town are directed by Saul Metzstein, an accomplished television director with titles like the recent UPSTAIRS DOWNSTAIRS to his credit. Metzstein also served as Second Unit Director on the upcoming Karl Urban-starring JUDGE DREDD adaptation, DREDD.
A few more details can be gleaned via a BBC release on the mater, HERE.
The DOCTOR WHO News Page also indicates that the title of S7, E4 was announced at San Diego Comic-Con over the weekend. It's evidently called Cubed.
A TRAILER FOR RED DWARF X IS NOW ONLINE!!
Unless something's changed that I missed, this is comprised of six thirty-ish minute episodes. Presumably RED DWARF: BACK TO EARTH mini-series is essentially RED DWARF IX? - as the show has only had eight proper seasons/series thus far...
Thanks to Talkbacker/Docbacker royston lodge for the heads-up!
Death to the Daleks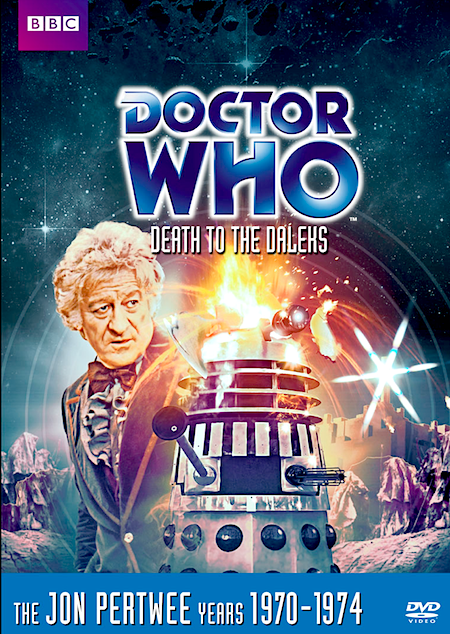 "I've just had a face to face confrontation with a rather nasty root."
- the Doctor, Death to the Daleks Part Three
The Doctor (Jon Pertwee) and companion Sarah Jane Smith (Elisabeth Sladen) arrive on the planet Exxilon after their TARDIS experiences a tremendous an inescapable power drain.
The same affects are felt by a group of humans whose vessel has also been grounded (humans carrying supplies which will save the lives of tens of millions of people), and by a Dalek craft whic arrives shortly after our heroes materialize.
There's a strange secret behind this power drain - a secret which forces the Doctor, Sarah Jane, the human survivors, and the Daleks into a fragile and potentially catastrophic truce...
In short, Death to the Daleks - scripted by the mighty Terry Nation - is a tremendously conceived story which very much watered down by Michael E. Briant's

unimaginative
direction, and a sleepy, plodding, almost painful score (credited to the London Saxophone Quartet). This music would sound more at home as the background track of a children's audio book than this broad-canvased science fiction adventure - it is an utter and shameful fail.
Briant had previously directed The Robots of Death (T. Baker, Story #90), which showed a high degree of self-assuredness and some boldly

imaginative
visual styling. No such qualities are evidenced here; greater vision and artistry would've certainly helped Death to gain some much needed traction. What chiefly undercuts Death is its abundant lack of energy and drive - it's an amazingly rich tale, whose backstory spans many thousands of years and includes living cities and a society which (essentially) advanced itself out our existence. Yet all of this is conveyed with little sense of awe, magic, or resonance.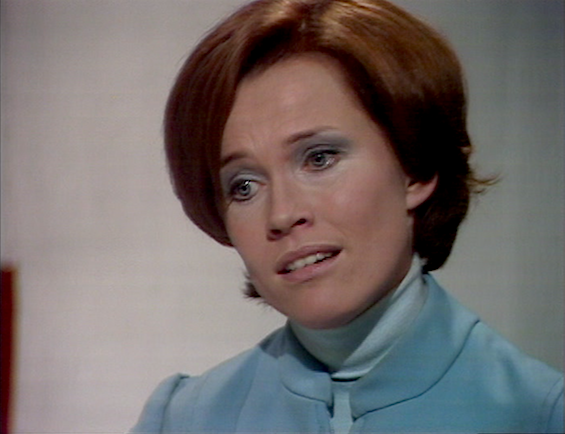 Joy Harrison as sexy futuregirl Jill Tarrant - desperate to save tens of millions of lives, but stuck on Exxilon and unable to do so.
This said (and this may be the first time I've assesed a classic WHO in this way): while Death to the Daleks comes up short in many artistic regards, it holds fast as interesting and important addition to DOCTOR WHO. It's great DOCTOR WHO, poorly told. There's a breadth of story here worthy of the best of Nation's previous Dalek tales (and much of that breadth comes from the conception of the Exxilons rather than the Daleks themselves). Death marks Sarah Jane's first encounter with Daleks, and is only her third adventure with Pertwee's Doctor. 'Tis fascinating to see this duo's relationship forming and evolving even within the struggling confines of this story, and is charming to witness Sladen...who would go on to become (perhaps?) the Doctor's most beloved companion...learning the ropes so early in the game.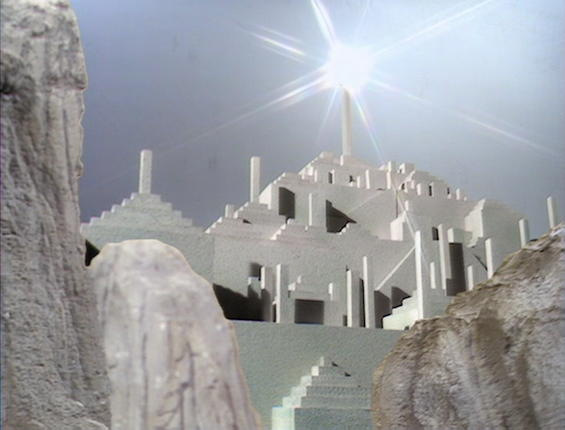 In this sense, Death to the Daleks manages to succeed...to a degree at least...despite itself. Even so, it's a bittersweet success...and feels like a wasted opportunity in many key regards, especially given that Nation provided such a concise a vibrant road map with which this story's makers could've easily found their path. Too bad they seem to have gotten lost along the way.
__________
PREVIOUS DOCBACKS
[SEASON / SERIES SIX DOCBACKS]

"The Impossible Astronaut"

"Day of the Moon"
"The Curse of the Black Spot"

"The Doctor's Wife"

"The Rebel Flesh"

"The Almost People"
"The Doctor, The Widow and the Wardrobe" (2011 Christmas Special)
[RETRO-WHO DOCBACKS - MOST RECENT DOCBACK IS HIGHLIGHTED]
"An Unearthly Child" (Story #1)
"The Daleks" (Story #2)
"The Edge of Destruction" (Story #3)
"Marco Polo" (Story #4)
"The Keys of Marinus" (Story #5)
"The Aztecs" (Story #6)
"The Sensorites" (Story #7)
"The Sensorites" (Story #7 - full DVD release)
"The Reign of Terror" (Story #8)
"Planet of Giants" (Story #9)
"The Dalek Invasion of Earth" (Story #10)
"The Rescue" (Story #11)
"The Romans" (Story #12)
"The Web Planet" (Story #13) / SHERLOCK - "A Scandal in Belgravia" (Story #4)
"The Crusade" (Story #14)
"The Space Museum" (Story #15)
"The Chase" (Story #16)
"The Time Meddler" (Story #17)
"Galaxy 4" (Story #18)
"Mission to the Unkonwn" (Story #19)
"The Myth Makers" (Story #20)
"The Gunfighters" (Story #25)
"The Tomb of the Cybermen" (Story #37)
"The Krotons" (Story #47)
"The Seeds of Death" (Story #48)
"The Colony in Space" (Story #58)
"The Daemons" (Story #59)
"Day of the Daleks" (Story #60) + Preview of the DotD Special Edition
"The Three Doctors" (Story #65)
"Carnival of Monsters" (Story #66)
"Invasion of the Dinosaurs" (Story #71) and SHERLOCK: "The Reichenbach Fall" (Story #6)
"The Android Invasion" (Story #83) and SHERLOCK: "The Hounds of Baskerville" (Story #5)
"The Face of Evil" (Story #89)
"The Robots of Death" (Story #90)
"The Talons of Weng-Chiang" (Story #91)
"The Sun Makers" (Story #95)
"The City of Death" (Story #105)
"Nightmare of Eden" (Story #107)
"Kinda" (Story #118)
"Snakedance" (Story #125)
"The Five Doctors" (Story #129)
"The Awakening" (Story #131)
"Frontios" (Story #132)
"Resurrection of the Daleks" (Story #134)
"The Caves of Androzani" (Story #136)
"Time and the Rani" (Story #144)
"Paradise Towers" (Story #145) + New WHOvian Documentary / Newsbits
"Dragonfire" (Story #147)
"The Happiness Patrol" (Story #149)
"Doctor Who: The Movie" (aka TVM) - McGann)
DOCTOR WHO: THE COMPLETE SIXTH SERIES
Merrick's Personal Journey With The Doctor (How Merrick Got Hooked On DOCTOR WHO)
DOCTOR WHO Title Sequences & DW At Comic-Con 2011
"The Crash of the Elysium" (Manchester version - interactive DOCTOR WHO adventure)
Why Eccleston Left, Here Comes Caroline Skinner, And Season/Series Six Part 1 on Blu-Ray And DVD

New Trailer For Season/Series Six Part 2
DOCBACK CODE OF CONDUCT
1) a Docback should be about completely open and free discourse regarding all things WHO with, obviously, some variation on subject matter from time to time - the real world intervenes, discussions of other shows are inevitable, etc.)...

2) matters of SPOILAGE should be handled with thoughtful consideration and sensitivity.

Posts containing SPOILERS should clearly state that a SPOILER exists in its topic/headline and should never state the spoiler itself . "** SPOILER ** Regarding Rory" is OK, for example. "** SPOILER ** Battle of Zarathustra" is fine as well. " **SPOILER** Why did everyone die?" Is NOT good.
And, above all...

3) converse, agree, disagree, and question as much as you want - but the freedom to do so is NOT a license to be rude, crass, disrespectful, or uncivilized in any way. Not remaining courteous and civil, as well as TROLLING or undertaking sensational efforts to ignite controversy, will result in banning. Lack of courtesy may receive one (1) warning before a ban is instigated. Obvious Trolling or Spamming will result in summary banning with no warning. One word posts intended to bump-up any Docback's figures on AICN's "Top Talkbacks" sidebar will be considered actionable Spam - they not only complicate efforts to access Docback from mobile devices, but impede readers' abilities to follow or engage in flowing conversation.
In short, it's easy. Be excellent to each other. Now party on...