Here's a look at the STAR TREK: THE NEXT GENERATION Season One Blu-ray trailer which screened at Comic-Con over the weekend.
I wish an Internet video format existed which fully and adequately conveyed the powerful image offered on these S1 Blu-rays. This is NOT just an upscaled version of the seasonal DVD sets which have been in circulation for some time. This is something entirely different...and no online video has come close to capturing the crispness and vibrancy of image brought about by the TNG restoration team's painstaking efforts.
No matter what your feelings towards TNG, I'd be shocked if you weren't moved by the quality of presentation alone. My late teen son...who hasn't seen a single moment of TNG beyond the movies...walked through the room while I was watching the S1 Blus the other night, stopped in his tracks, and said "Holy shit that looks good." So, evidently, one doesn't have to love TNG to appreciate the sheer magnitude of this accomplishment.
With this in mind, here's a comparison image to give you a sense of how much picture quality has been affected by the restoration. Note, of course, that the picture on the right...the Blu-ray image...is a clumsy screen grab and is not even being presented in full HD herein. This is from 11001001. One of the better Season One episodes in my opinion, one of the better episodes of TNG on the whole, and Carolyn McCormick's Minuet is one of the sultriest and hottest (perhaps THE sultriest and hottest?) TREK Babes ever. Good God...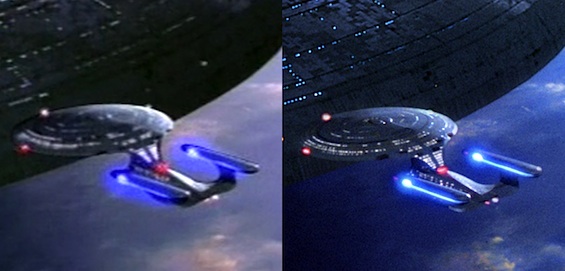 (l -DVD, r -restored Blu-ray)
Along these same lines, here's the Comic-Con clip...which I encourage you to consider only as an appetite whetter than fully indicative of what's in store for you.
Also, here's a trailer for the Season Two Blu-rays via TrekCore - thanks to @Aatrek for calling it to our attention. This trailer appears on the Season One Blu-ray and gives us our first look at the Q Who - which introduced the Borg (in true HD on the actual S1 Blu-ray). It looks dazzling.
This episode has always struck me as rather well produced to begin with, so I'm not altogether certain why I'd be surprised that it's HD appearance is so...agreeably cinematic. All hail Rob Bowman!

Word on the streets is that an extended version of the legendary The Measure of a Man episode will be included on the Season 2 Blus - I'm comfortable this will indeed be the case, and am eager to see what material will be restored.
The second season of STAR TREK: THE NEXT GENERATION looks to be arriving on Blu-ray later this year, if I understand correctly - Season One streets next week and is up for pre-order HERE.
More TNG Blu goodness within the next few days...
__________