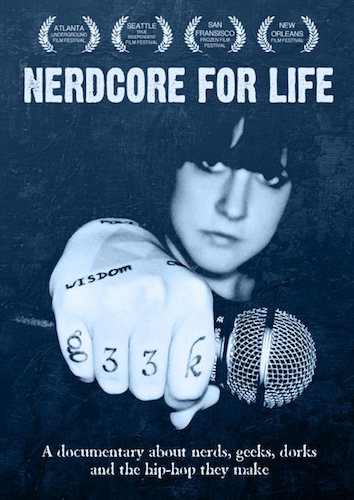 …Keep your ratios up or I ban you off my tracker
if you ain't sharing you're prolly a hacker
my switch lights up like a Christmas tree
when I'm online surfing p2p…
(YTCracker – Warez Loder)
That's a line from the second verse of one of artist YTCracker's most prominent songs of his career, "Warez Loder." He's one of the many artists featured in NERDCORE FOR LIFE, a music documentary that delves into the somewhat underground world of nerdcore hip-hop and all of the elements of its culture, in an effort to give you an in depth look at the phenomena that had been silently building across the nation.
While the "hurts" aspect of NERDCORE FOR LIFE being so good isn't so much the film itself as it is the subgenre of music it showcases, the film is definitely interesting no matter how you view the topic of a bunch of nerds coming together to rap. From all traditionally accepted definitions of hip-hop and the culture surrounding it, one would never expect artists like Monzy (a Stanford computer science PhD candidate), mc chris (a voice actor of Aqua Teen Hunger Force fame) and MC Hawking (a computer text-to-speech rapper purporting to be physicist Steven Hawking) to pick up a mic and seriously try to make a living off of rhyming. While quite strange at first, this film manages to present these artists in a light that is neither mocking nor undeservedly praising, but just a account of their lives trying to do what they love and survive the uphill battle set before them.
The meat of the film focuses on introducing you to some of the more prominent artists involved on the scene, introducing you to them and going a bit into their struggles. There are quite a few of the artists that are briefly touched upon, each with their own interesting tale of where they came from, how they got involved in the movement and where they want to take it. My personal favorite was a kid from Pasco, WA who went by the stage name Beefy. He's one of the bigger personalities in the film, who thoughtfully – and hilariously - comments on the majority of the topics presented from the comfort of his Jacuzzi, smoking on a cigar and sipping on a cocktail. Listening to his quips alone is worth the fare, but watching him interact with the rest of the crew truly makes for an entertaining and truly educational experience.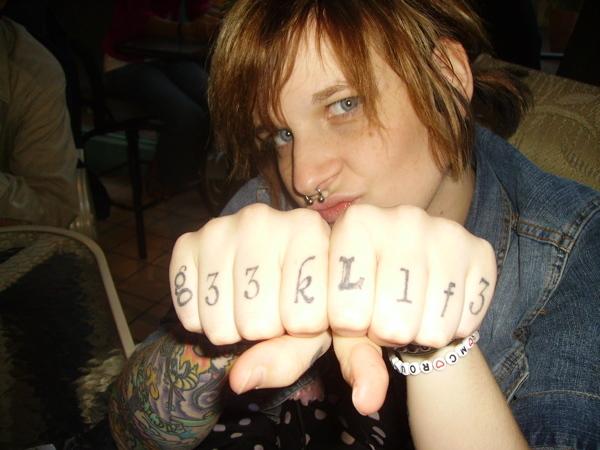 In addition to the positivity exuded amongst the artists, much like that which exists within the more popular talent of the larger genre, there are also the essential rifts in the group and NERDCORE FOR LIFE spares no expenses in bringing their "beefs" to the forefront. Covering the battles between several different emcees, including Monzy's attack on MC Plus+…

…Your problem, Plus Plus, is that your typing isn't strict
In ML my type is realand your type is 'a dict…
(Monzy - So Much Drama In The PhD)
…and MC Router's backlash on the lovely, sexy, beautiful, totally hot Nursehella's proclamation of being the first female nerdcorer on the scene,
…I'm a surgeon with my lyrical explosion
Don't need you merging on the shit that I'm splurging
Don't need a nurse, I do surgeries on the daily
Smack in the face just cause I use melee…
(MC Router – I'm The Surgeon)

Lamoureux doesn't shy away from giving the artists an outlet to speak their minds. One of the main issues within the film, one that completely seems to divide the entire community, concerns rapper High-C and his unsolicited handling of the marketing of nerdcore hip-hop. From starting the forum by which many artists were discovered to being responsible for organizing press events and concerts, he is the face of the movement to many of those who would otherwise have no idea about their music. Sadly not everyone involved is excited about how he handles this responsibility and power, but as in all walks of life, with all good comes bad and the not so glamorous sides of the story are fully covered here in the attempt to give a well rounded perspective on nerdcore hip-hop as a whole.
With Dan Lamoureux doing such an excellent job showcasing everything about the nerdcore life, it's more of the hip hop stereotypes they are trying to break, the nerd stereotypes they are trying to maintain and the music itself that truly hurts so good. With the film only able to showcase so much of the music itself without having to sacrifice coverage, I honestly recommend going out and listening to some of the music. It's some really interesting stuff. It's artists with names like MC Frontalot and Optimus Rhyme rapping about Magic The Gathering and Internet porn addictions, in the cleverest ways possible, something I'm sure quite a few of you will be able to relate to. While their incantations may seem ridiculous at first, as you get past the shock of it all, the lyrics truly begins to grow on you, with their love for the craft shining through in their music.
Hell, I can still jam to Frontalot's "Nerdcore Rising" all day long.
At the end of the day, NERDCORE FOR LIFE is a great documentary on a subject that had gone under the radar for so long and pretty much needed to be exposed. Showing that while nerdcore's talent bank may walk, talk and look different than those traditionally associated with the genre of hip-hop, they are legitimate artists that similarly want to voice their opinions in the only way they know how… by spitting dope lyrics onto banging beats. While it's true that they deviate from the norm in content and their basement production values may be well beneath that of the more mainstream cast of characters, if this documentary reaches enough people, it may pave a way for them to reach even bigger audiences. While we're a long way from hearing the likes of MC Lars and Baddd Spellah being mentioned in the same sentence as your household Jay-Z's and Kanye Wests, with a film like NERDCORE FOR LIFE in the atmosphere, it's no longer completely out of the question that it may one day happen.
I mean, there was once a time when...
"…They never thought that hip hop would take it this far..."
(Notorious B.I.G. – Juicy)Deuces.
Follow me on Twitter.