"Monty Cristo" here.
I continuously updated this article as information came out this afternoon. Here's the rundown: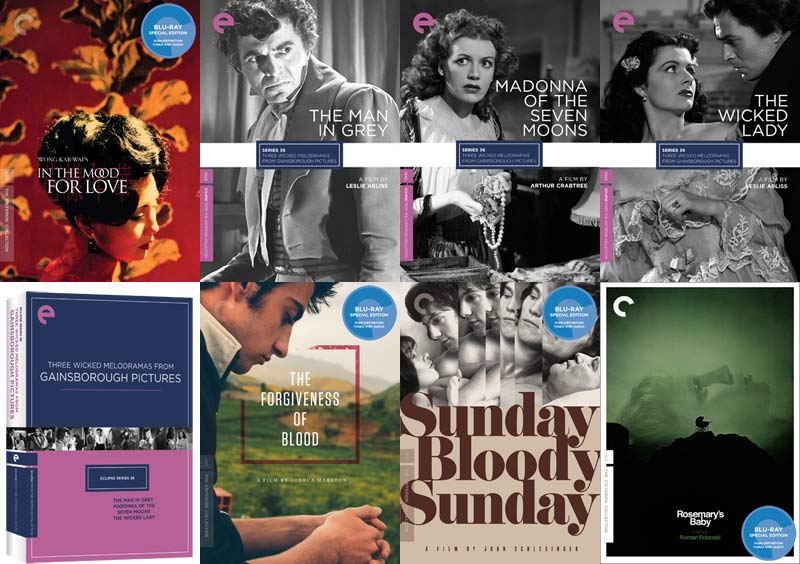 2 October
IN THE MOOD FOR LOVE (2000) Blu-ray Upgrade
9 October
Eclipse Series 36: Three Wicked Melodramas from Gainsborough Pictures
The Man in Grey
Madonna of the Seven Moons
The Wicked Lady
16 October
THE FOREGIVENESS OF BLOOD (2012)
23 October


SUNDAY BLOODY SUNDAY (1971)
30 October


ROSEMARY'S BABY (1968)
What is kind of...odd...is that the spine numbers at Criterion's site jump from #629 (Sunday Bloody Sunday) to #634 (Rosemary's Baby). Where did the missing spine numbers go...? It would seem to be a comparatively light month.
Just a few minutes ago, CriterionCast's Ryan Gallagher posted an image of alleged cover art for Pier Paolo Pasolini's Trilogy of Life (The Decameron, The Canterbury Tales, and Arabian Nights), an image which has apparently gotten passed around the net this afternoon.
You can get further detail and commentary about October's releases over at Arthouse Cowboy.
Moisés Chiullan / "Monty Cristo"
@moiseschiu
email
Arthouse Cowboy