Hello ladies and gentlemen, Muldoon here with this week's badass line up of killer shorts, that (go figure) involve quite a bit of blood, guts, and over all immense levels of creeptastic fun. You'll have to excuse my tardiness with posting so late in the day, but I've been hard at work fighting the good fight at home for our hardworking men and women on the front lines of a little thing called Comic Con out in San Diego. (Yeah, I don't know either - never heard of it.) Slightly bummed you're not out there in that mess of crazy fun? It's cool, time to just relax and check out some damn fun flicks with you're pal Muldoon right in the comfort of your home free of charge, only real price of admission is the use of your neighbor's unprotected wi-fi.
Seriously, we've got a great set of films from some incredible filmmakers, all of which seem to have a unique point of view that I think you folks will dig. I sure did and do, but feel free to sound off in the talkbacks below with your thoughts. Dig a short in particular? Toss out a few nice words to the filmmakers. Have a question/unclear about something? Toss that at the filmmakers too. Curious what someone's got going on next? Toss that at the filmmakers. Want to bash a short and be a jerk? Toss that... No, wait - please refrain from that, but seriously it's amazing how many filmmakers are in the audience and it's always interesting to see how they pulled off something or got the damn thing made, so speak up if you're curious.
Enough yacking on my end, go grab yourself some popcorn, lock your kids in a closet, kill the lights, relax and check out this little weekly film fest we've got ourselves here: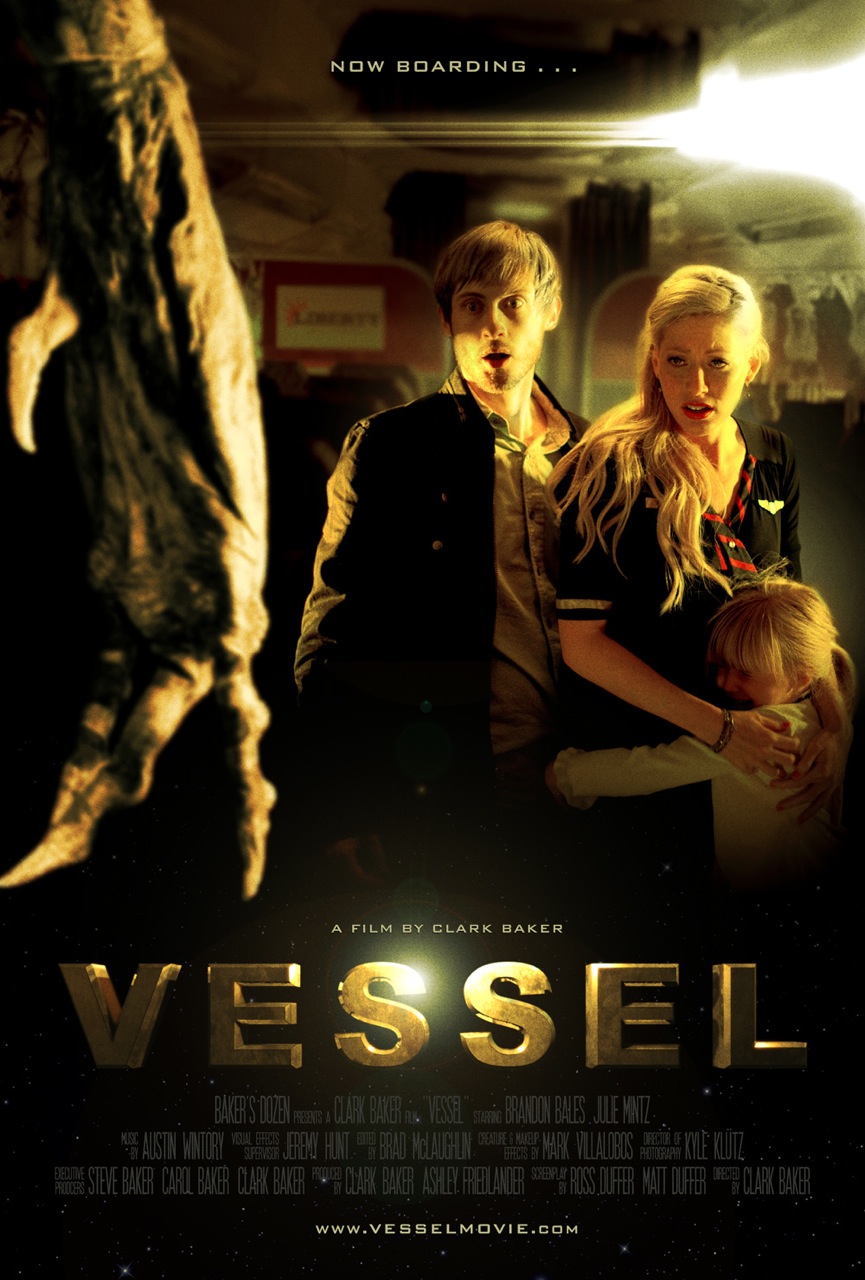 VESSEL
TRT: 13:33
Oh hell yes, this short is flipping awesome, a hell of a way to kick off this weeks swan dive into the strange and creepy. Clark Baker's film kicks all kinds of ass, from the acting, to the creature design... I'm all over this one. Clark, what the hell have you got up next? Seriously, I think you folks can't help but dig this one.
"VESSEL is a very ambitious scifi / horror short in the vein of Alien, The Thing and Close Encounters of the Third Kind. VESSEL features a blend of old school, practical creature effects and slick, modern day VFX. The story focuses on Liberty Airlines' Flight 298 and its passengers. Shortly after takeoff, the passengers encounter an otherworldly force and are thrown into a fight for their lives!"
VESSEL - A short film by Clark Baker from Clark Baker on Vimeo.
STILL MEADOWS
TRT: 33:00
Next up is 33:00 minutes of great storytelling from director Louis Matta. It feels like a love letter to AMITYVILLE HORROR and THE SHINING mixed with an interesting style, very much not your standard spookfest. "Washed up horror novelist Owen Slater has hit rock bottom following his exploitation of a family's tragedy in one of his best selling novels. But, when paranormal investigator Jack Grady recruits him for his next investigation in the town of Still Meadows (which was the setting of Owen's book) Owen feels this is the perfect opportunity to redeem himself. What neither man knows is there is more than just tragedy and memories lying in Still Meadows."
Still Meadows from Louis Matta on Vimeo.
NEGATIVE IMAGE
TRT: 10:40
Here we are with Karl Holt's heavily eerie and atmospheric tale of a a paranormal journalist's attempt "to regain kudos of a front page story." I'm not going to lie, I'm a very production design minded movie lover and this short's got exactly what I need, a fun/creepy story, great acting, well lit and visually interestingly composed shots that all add up to 10:40 of pure uneasy fun. Check out more from Karl and Darkline Entertainment HERE.
Negative Image from darkline on Vimeo.
[WELCOME TO] LEVEL 7
TRT: 11:07
This next one comes to us from director Matthew D. Wilson, and if you're not hooked in the first minute or so, then I just don't know what to tell you. It's got aliens and big guns. If that isn't your thing, no biggy - but I absolutely dug the hell out of it.
"[WELCOME TO] LEVEL 7 takes viewers on a terrifying eight-minute thrill-ride into the bowels of a secret government-run underground facility where humans work side-by-side with extraterrestrials in an effort to forward a mysterious agenda.
The short film follows John, an unwary abductee, who awakens in this hostile techno-dungeon with no sense of where he is or how to escape. As John flees for his life through the perilous labyrinth of horrors, we come face-to-face with the inhuman denizens that stalk the shadows and gain an unwelcome glimpse into the dark purpose of this forsaken place."
Be sure to check out the film's website HERE.
So there we are, take that San Diego Comic Con! At any amazing rate, that's it for this week. I hope you dug these shorts as much as I did. Now it's back to the trenches of Comic Con goings on and sneaking around behind the scenes all over the place.
If you're new to SATURDAY SHORTS and want to check out some other really cool shorts that have screened here, here's an evergrowing list of filmic fun:
If you have a short and think it belongs here or are on the fence about whether to send it in, please do send it in - I'd love to see what you've put together. I've already seen hundreds of fresh new filmmakers' shorts and like any good addict, I need more!
Shoot me an email at "Mike@aintitcool.com"
In the subject line include:

"SHORTS" + "Your film's name" + "The film's genre"

Then, in the body of the email, please include a synopsis of the film and any contact information you might think I need or would want published.

Please don't feel the need to submit multiple times. I swear to each of you I truly check every email I get, and sending the same short a few times just makes it a bit messier.
Remember, the filmmakers might still be in the audience, so feel free to share your thoughts in Talkbacks below. (JUST DON'T BE AN ASSHOLE). I picked them, so you know I think highly of all of these, but how about you fine folks? How'd you like 'em?
- Mike McCutchen
"Muldoon"
Mike@aintitcool.com